10 of the Greatest Scott Steiner Moments (WWE, WCW, TNA)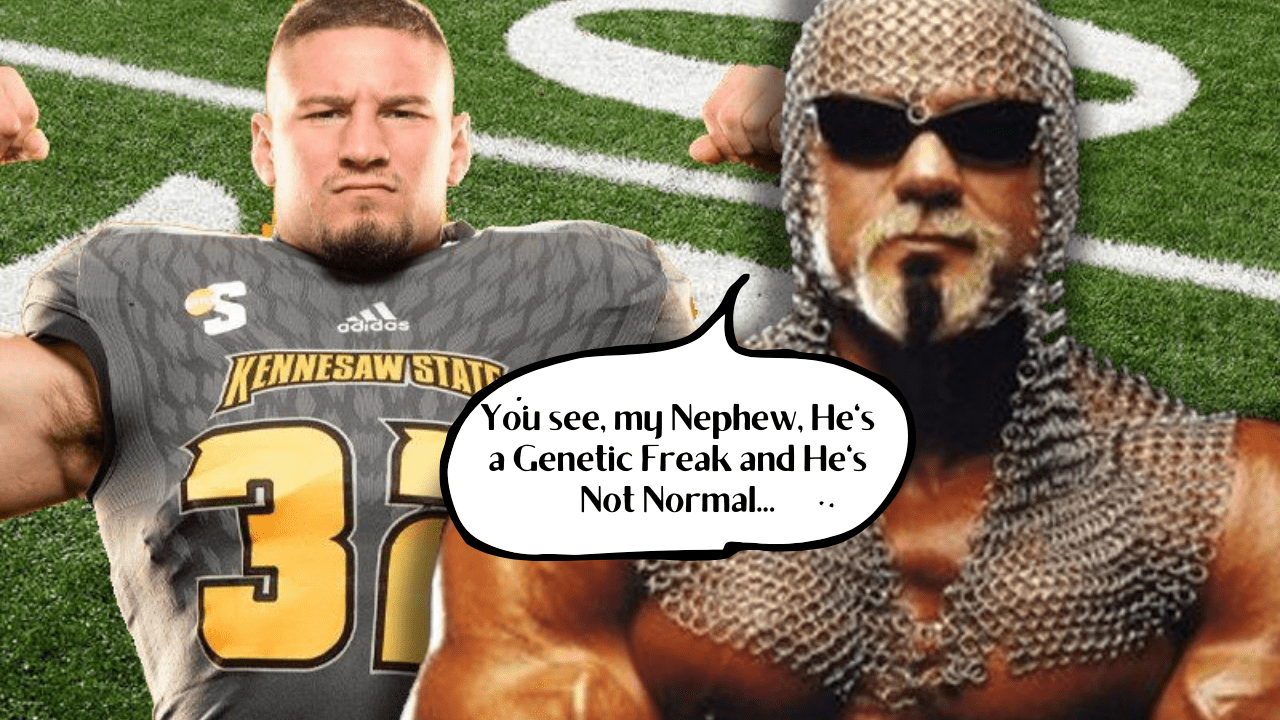 Bron Breakker made his on-screen debut on September 14th's WWE NXT soft-reboot. You can think of the episode what you will, but it marks the first time a Steiner (Bron Breakker, real-life Bronson Rechsteiner, Son of Rick Steiner, and nephew of Scott) had been on WWE Programming since 2004.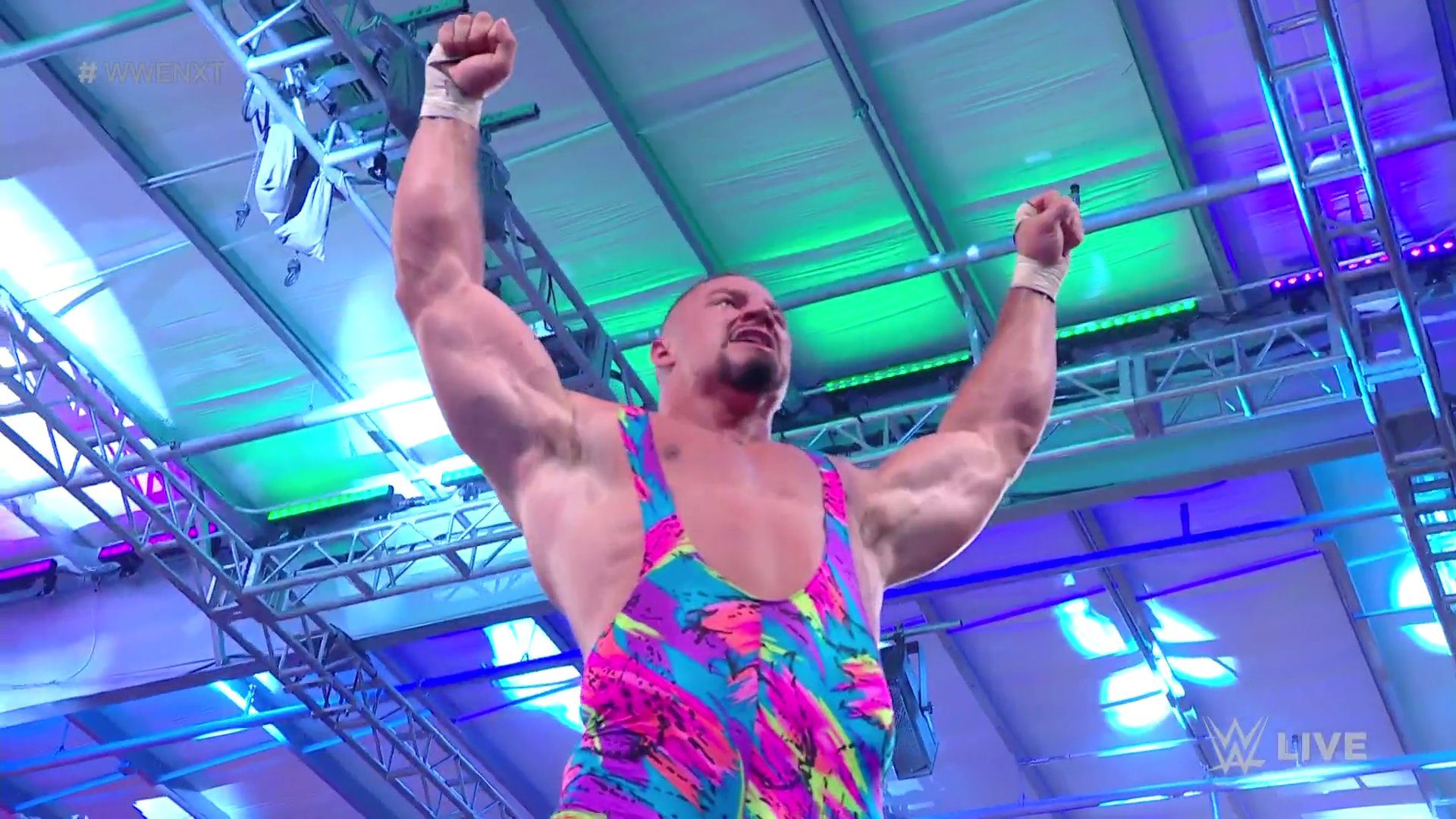 The ring gear is reminiscent of the Steiner Brother's tag team run from the 1980's and 1990's. But it could be an allusion to the new color scheme of NXT 2.0 and the hopes he will be the face of the new stage in the Developmental Divisions brand.
Rick was a great worker and hilarious with the stick in his own right (shout-outs to the Chucky Promo in WCW, October 12th, 1998). But he can't hold a candle to one of the most entertaining wrestlers in history: the Big Bad Booty Daddy himself, Scott Steiner.
With the arrival of the "New Generation" of Steiner, it's time to look back and appreciate the insanity of Freakzilla. Now give me a f***in mic!
Scott Steiner vs. Chris Nowinski: The Iraq War Debate
RAW is a two-hour show, and that time won't fill itself. Accordingly, in 2003, just as the first wave of troops headed for Iraq deployed, a debate between the Harvard Graduate, Chris Nowinski, and Steiner (who comes from a highly educated university) was booked. The legendary segment got off to an amazing start when Steiner claimed to have "wrestled a lotta countries." More than likely, he meant to say"'wrestled in many countries," but we are already off to the races.
Scott Steiner: Worlds Greatest Ring Announcer
The January 29th, 2009 episode of TNA iMPACT was taken over by the Main Event Mafia. You had Kurt Angle booking the matches, with Booker T and Kevin Nash on commentary. But the best was Big Poppa Pump as the ring announcer. The highlight announced a 4 on 1 handicap match in the Knockouts Division as "four bitches on one." He later joined the commentary team, but clearly, Scott missed his calling as the reincarnation of Michael Buffer.
Reunited Steiner Brothers vs. Team 3D
Early in Scott's run, TNA brought in his brother, Rick, for a nostalgia tour for the Steiner Brothers (something everyone is well aware of if they know TNA). They immediately squared off with Team 3D, WWE/ECW's Dudley Boys.
This backstage promo hyping up their match at Bound for Glory has the most infectious rendition of insults that you are ever going to hear. Once you'd heard it, you'd run lickety-split away from it, but you can't after it's all said and done.
Scott Steiner 2002 Survivor Series Return
It had been eight years and a complete physical transformation since WWE audiences had seen the former tag team specialist in the ring. Matt Hardy and the previously mentioned Chris Nowinski were in the ring when the sirens hit. Freakzilla cleaned house. Unfortunately, the mic that Steiner was looking for was already live, pal. The tone was set for the year-long run of insanity.
Scott Steiner vs. Triple H: The Pose Down
WWE has a fascination with big, sweaty men (anyone remember the WBF?). Pose downs have been happening forever (Rick Rude and Ultimate Warrior circa 1989), so when you have a Genetic Freak in a feud with the World's Heavyweight Champion at the time who also fancies himself a body guy, WWE knows what to do. There was a botched bench press competition, so ultimately, to hype up their Royal Rumble match (that and the No Way Out clashes were absolutely dreadful), The Game and Steiner had a good old-fashioned posing competition. Hunter was great in his role and the superior poser, but Steiner was over with the crowd big time; that cannot be overstated.
Scott Steiner vs. Japan
Bless him, but in another quick backstage TNA promo alongside the Christian Coalition, Steiner recalled that fateful day when "Hirojima, when Pearl Harbor bombed the Germans." Oh, the humanity.
Scott Steiner: The Purple Warrior
Coming down to the ring with the rest of nWo 2000, Scott looked like he had just stopped by a Party City and picked up the pimp costume. Surrounded by his Freaks, Scott cut what seemed to be a pretty standard promo for him (which is a trip on its own), but everything got Steinerized right around the time he referred to himself as "The Purple Warrior" (he has yet to ever refer to himself with that moniker) and shot on Ric Flair. Also, he told the WCW Nitro audience that WCW sucks and to change the channel to watch Stone Cold Steve Austin. All while dressed up as a 1970's New York pimp. I wonder why WCW never hired the original Nature Boy, God rest his soul…
Scott Steiner vs. Diamond Dallas Page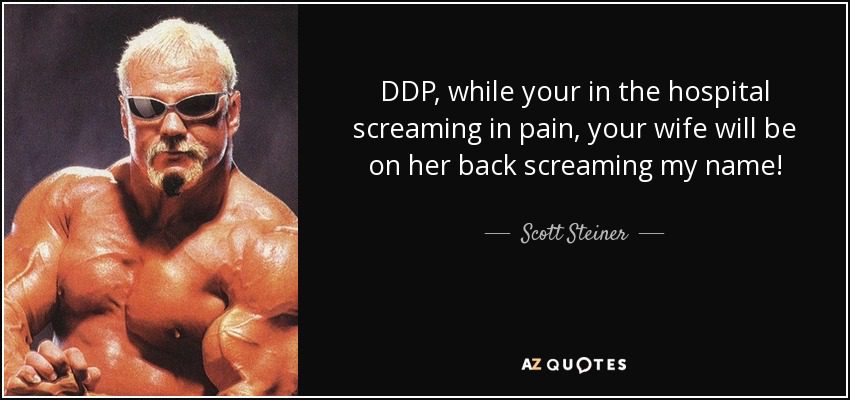 This story had a ton of legitimate good promos, but the story behind the scenes is far more of the genre of Steiner madness. In 2001, the dying days of WCW, Kimberly, DDP's real-life wife and central to the Steiner/DDP feud, found what appeared to be an illegal substance backstage, took it to WCW management (who were busy fielding calls on how to break the bad news of the doors closing in a couple months), denying it was hers and saying that the substance belonged to Tammy "Sunny" Sytch. Steiner heard of the situation and, knowing that he might have had a questionable item or two backstage, subsequently chased Kimberly not just out of the area but off of television for good.
The next round of television tapings came around, and Steiner, fed up with being gassed up, cut a shoot promo (not like that was any different from what he was doing those days) on DDP. Page, being fed up with the Steiner shenanigans and having a wife to defend, waited backstage to knock out the former NCAA Division I All-American, who was also *allegedly* 'roided out of his skull. Recounts of the story vary, but most focus on Steiner getting DDP to the ground and attempting to gouge out DDP's eyes. Holler if you hear me because you can't see.
Scott Steiner's FREAK SHOW: The Big Poppa Pump Workout DVD
Have you ever wanted to get peaks on peaks? Do you wanna make ya body grow? Well, just block out the pain and get a couple a freaks on your lap while you do some dips and you can look like the Big Bad Booty Daddy in no time flat! Unfortunately, the website to purchase the DVD is no longer active, so please settle for the clips online to make you more of a Genetic Freak.
Scott Steiner Math
Some promos need no introduction. Some promos, like Ultimate Warrior's "Rocket Fuel" promo hyping the "Ultimate Challenge," Stone Cold Steve Austin's "Austin 3:16," Ric Flair after winning the Royal Rumble "With a tear in my eye!" transcend the world of professional wrestling and break into the mainstream. For various reasons, the shear absurdity, the amount of Steinerized words, or the fact that the math all checks out, the Steiner Math promo is the greatest promo ever cut and will be the standard that Bron Breakker will have to top in order to be the most memorable member of his legendary family.
So, remember, this one goes to all his Freaks out there; Big Poppa Pump's your hook up. Holler if you hear him!