Social
A First Look at Studio 71's Pet Evil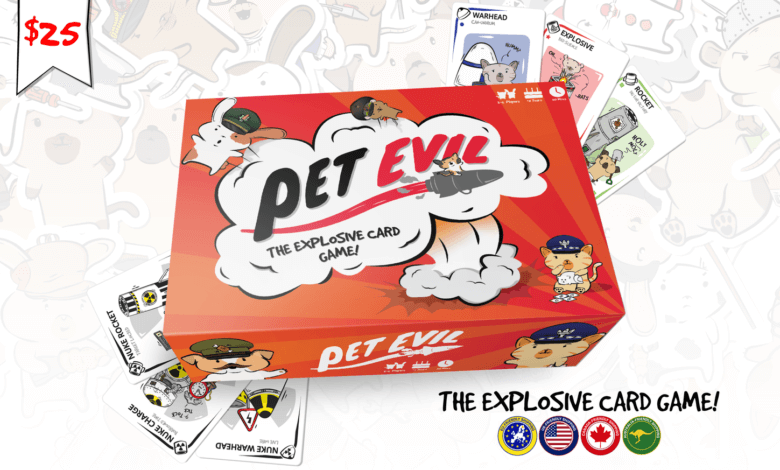 When one thinks of animals, thoughts of cat videos and taking care of your pets immediately flow through your head. I can still remember my dog, believing he was a pit bull rather than a terrier, barking at passersby in a misguided effort to protect us. It is not often that someone would think of animals building rocket ships and missiles to take over the world. Yet that is what the zany minds at Studio 71 have bought us in Pet Evil, an upcoming card game soon to be available through Kickstarter.
When I first heard about Pet Evil, I was intrigued, in part because it reminded me of card games like Yugioh and the Pokémon trading card game. While this may seem a little out there at first glance, the more I looked into how this card game worked, the apter I felt this parallel was. Before going into that, however, I want to briefly talk about the box art. Much like a book cover, if the box art doesn't pop out at a prospective buyer, the game would be DOA. Fortunately, Pet Evil cover art is immediately evocative. Pets with myriad military coverings abound and are designed to provoke, at the very least, a chuckle, and hopefully inspire people to pick up and delve into the game. Upon reading the rules, it immediately becomes clear that this game is intuitive and accessible, something at which Studio 71 has excelled (look no further than their work on the Ken-Jennings-Richard-Garfield-created Half-Truth). Pet Evil presents a fun new concept for people to dig into, and almost has a way of transporting the player into a new world thanks to all the detail that is presented right when you open the box. This is something that the very well-designed rule pamphlet shows, with fun and engaging detail that serves as a reminder that even the smallest detail matters, and that crowdfunding can, should, and will continue to compete with anything else on the market.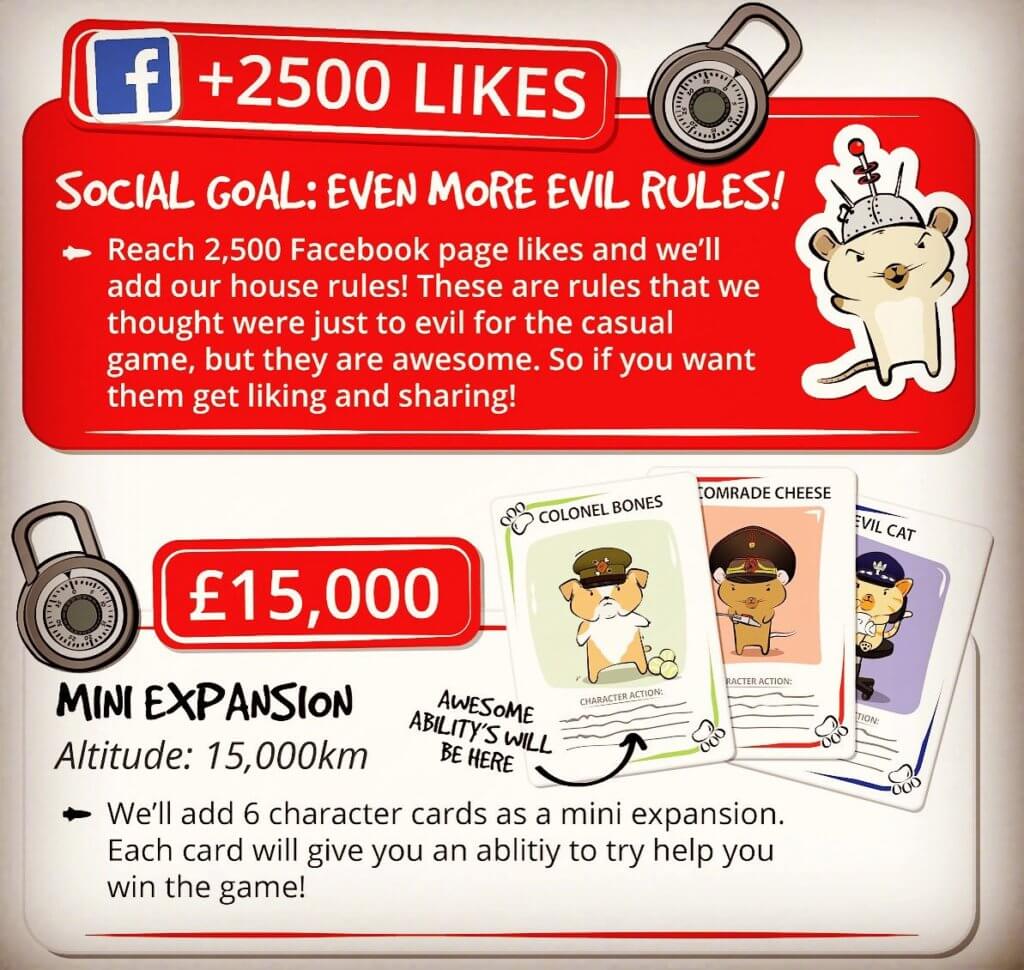 Initially, the rules seem very simple: draw cards, build missiles, and defeat your "frenemies." Despite this, there's a lot of minutiae that goes into the game, starting with what kind of game everybody wants to play. For instance, let's say everyone has plans, but they want to sneak in a quick game. Pet Evil has an option for that, allowing the group to play a quick game, or, rather, a tiny game of about 20 minutes with only 20 health, the health increasing depending on how long everyone wants to play (though it is important to note that the max is considered 60 minutes for an "epic game"). The game starts with each player choosing a color, the idea being to match the colors in order to create the missiles so that you can destroy your opponent via a layout that is easy to understand. To continue, you must set up your component deck and the scrap piles, which are created by drawing four cards from the component deck and laying each one face-up on the designated spaces on the playing mat. From there, you have three separate actions you can take to kick the game into high gear: supply, command, and instant actions, all of which will most likely result in the cards being discarded. With supply, you either draw, scrap, steal, or trade. However, all of these options come with caveats. For example, with trading, one player doesn't have to tell the other the truth about the cards, thus allowing them to maintain the upper hand in the right circumstances. To me, this is one of the more fun aspects of Pet Evil, as each player needs to calculate what the best of course action will be to progress through the game.
Amid all the strategy, it's easy to forget that Pet Evil features some very fun animals that make the player laugh and remember not to take things too seriously. As a result, the game is a good combination of zany fun and strategy. It is this combination that makes it a fun new option for people looking for a new card game. It gives the "characters" personalities that allow Pet Evil to reach across myriad demographics; Pet Evil has something for everybody. That fact is perhaps the card game's biggest selling point. When screens dominate our lives as much as they do nowadays, it's good to know there's a new old-fashioned game coming out that will make everyone at turns laugh and think. As a result, Pet Evil is an ideal candidate to bring people together, whether it's over a snack or just talking about their daily lives in a way that doesn't involve texting for a change – perhaps even unwind after a long day (another good use for the mini-game). The fact that there is a strategy to Pet Evil just makes things better because it keeps players sharp, even after a long day, thus rewarding players from all walks of life. No matter how old you are, this game provides an avenue for some fun back and forth that, under the right circumstances, envelopes the players as they endeavor to join these animals on their quests for world domination.
With so many entertainment options these days, it can be hard to choose which one is best. However, thanks to Studio 71 and Kickstarter, people of all ages have a new option. Pet Evil is the next generation of strategy game fun, and I can't wait to see what Studio 71 will come up with next. If the game is right up your alley, be sure to back the Kickstarter, which is now live and open to backers!