AEW Double or Nothing Results (2022)
AEW Double or Nothing Results
AEW Double or Nothing results and commentary from Danny Damage!

AEW Double or Nothing Results 2022
Three years on, and Tony Khan has still been tripping over his own feet and getting in the way of AEW growing bigger than it was when it started. Sure, this last year has seen the quality of the roster improve significantly, but cutting some of the dead weight will only get the promotion so far. With more serious pro-wrestlers in the AEW locker room than ever, and how little effort WWE appears to be making, Dynamite and Rampage should be knocking it out of the park every week – but they're not.
The ratings are often so embarrassing that Tony has to hop on Twitter and roll out his big list of excuses; time slot change, a real sporting event was also on, Dancing on Ice, his dealer had a flash sale on, whatever. Amusingly enough, the grass isn't always greener; Vince McMahon used to behave that way, too… before he stopped caring and just watched his bank account grow.
Another Vince-ism came at the start of the main show, as we got an advert for a gambling company before any action. Steady on.
HOOKHausen vs. Tony Nese & Mark Stirling (Buy In/Pre-Show)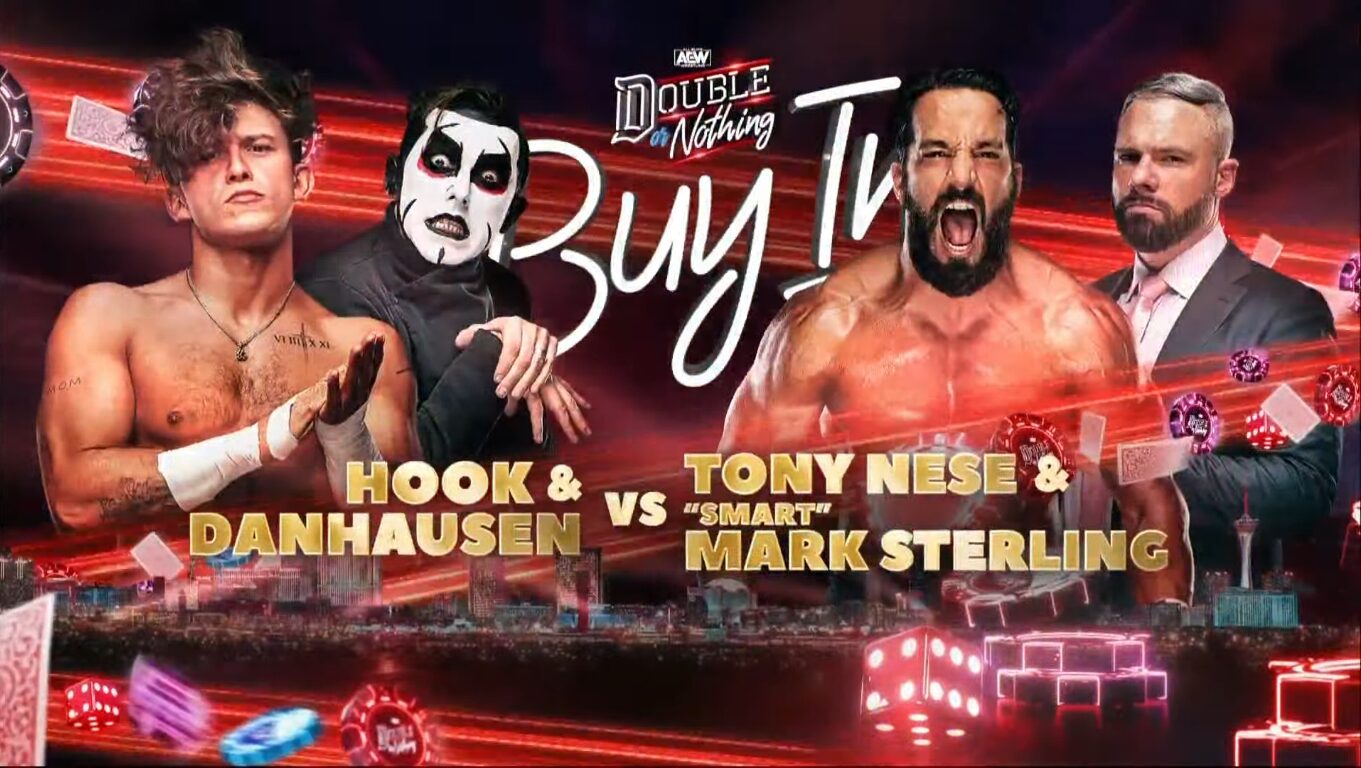 Winners: HOOKHausen (pinfall)
Daunhausen got knocked around for a couple of minutes, got the hot tag, let Hook murder the heels, then Danhausen was tagged in to pin a KO'd Stirling. Every time Hook did one of the things that got him over as a legit badass, Danhausen popped his face into the shot and turned it into a joke; I'm pretty sure I could hear Taz on commentary sucking air through his teeth each time.
People complain about Vince McMahon taking people/gimmicks that get over on their own and then covering them in seven layers of shit… and rightly so. However, people don't seem to hold Tiny Tony to the same standard. Hook was red hot a couple of months ago, and now he's being diluted with the new bad-comedy act. I'm not even saying that there isn't a time and/or a place for Danhausen; there's just no need for him to latch onto a serious-natured, legitimate grappler that's on his way up the ranks and still learning his craft.
Hook was doing great before; dropping this in his lap is like bonking him on the nose with a newspaper.
MJF vs. Wardlow
Winner: Wardlow (pinfall)
MJF tried to weasel his way around both Wardlow and the referee with his underhanded tactics, but he was caught every time. He even tried to say his leg hurt, but the crowd told him that was bullshit. Once Wardlow got ahold of MJF, he power-bombed him into a fine paste. A fun way to start the PPV. MJF got his comeuppance, and Wardlow got his justice and a new contract. MJF making stars while he's still making his way up the ladder is impressive.
MJF is an MVP of AEW. He may not be the biggest thing in wrestling today, but he's well on his way. If Tony Khan plays ball, keeps MJF smiling, and uses him to present some more serious pro-wrestling, they're both going to be laughing all the way to the bank. If not, Tony will let MJF get snatched up by WWE in a couple of years, and Vince McMahon will get whatever use out of him before over-exposing him.
The Hardy Soyz vs. The Hardy Boyz
Winners: The Hardys (pinfall)
The Corpse Referee was on duty, so it was obvious we were getting a Young Bucks "match" and not a Hardys match. That means it may as well have been a tornado tag match, where both Bucks have 9999 special moves and kick-outs stored. After 20 minutes of video game wrestling, a Twist of Fate and a Swanton bomb won it for the Hardys.
Matt and Jeff only have a limited number of bumps left in their careers. Watching Matt limping for the last ten-plus years makes me sad enough; now, seeing Jeff hobble in a similar way just adds weight to that concern. Stop with the daft bumps for Tony's amusement, please.
The Hardy Soyz, Matt and Nick Jackson have been a constant skid mark on the brand-new carpet that is AEW. Let them go away for a while and see if the fans miss them; I suspect they won't.
Caprice Coleman was on commentary for the match too, which was nice. Well, not for ExcaliBORE. Just like Ian Riccaboni the other week, Coleman's a pro and shines a spotlight on the masked mess's flaws. Jim Ross will be pushing Excalibur's chair off the ramp to make room for Coleman (or Riccaboni) in no time.
Jade Cargill vs. Anna Jay (TBS Championship)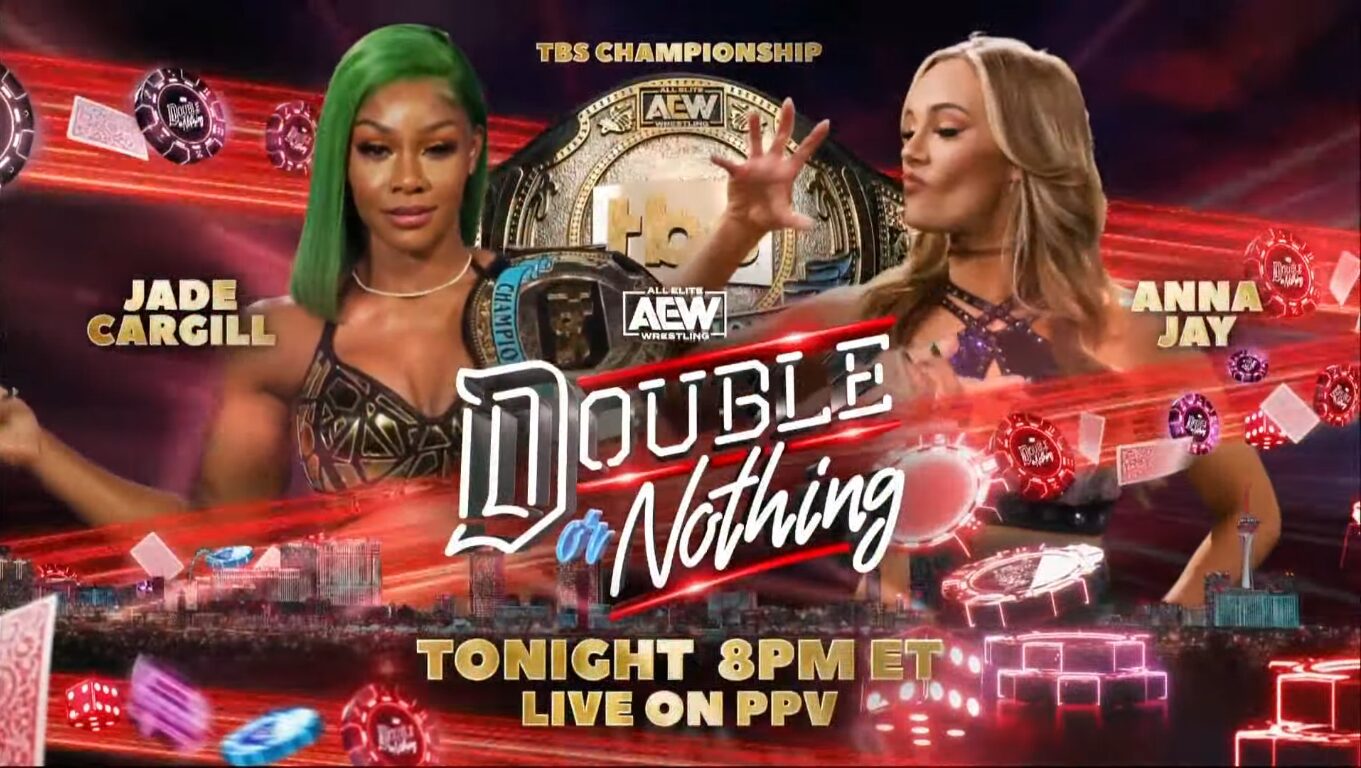 Winner: Jade Cargill (pinfall)
Jade won with her finish off the top; the match wasn't her best, to be honest. The blame probably lies with her opponent, too. I get that people like-like Anna Jay, but like I've said for decades now about WWE, "Just because you fancy 'em, it doesn't make 'em a good wrestler." People grumble when WWE favors lingerie models over talented naturals, but it's cool when AEW plays that game? I see ya!
Malcolm Bivens and Ember Moon showed their faces during the aftermath, but with new names. Bivens sided with Cargill, and Moon backed up Anna Jay and Kris Statlander.
Don't take the belt off of Jade, maybe forever. There are already too many championships in the promotion. Despite winning the Hos/TBS title, I get huge Million Dollar Man/Million Dollar Title/"This belt is mine, and I'm just about the only person you'll remember holding it" vibes from her setup. The more the belt gets passed around, the less it will mean to anyone that has it around their waist. Jade's getting better each week, but she could do with more opponents that can teach her. There's only so much she can learn wrestling lasses that are greener than she is.
House of Black vs. Death Triangle
Winners: House of Black (pinfall)
Corpse Referee again, so the match was obviously dog shit. On top of the usual "Tag matches have rules?" stupidity, it was a six-man tag, and everyone had to get their lame poses and catchphrases in at every opportunity. As with every Lucha Bros. match, nobody even attempted to make this match look anything similar to a contest. Everything they did looked so staged and cooperative, it did more harm than good.
Everyone ran through their checklists of shit to get done per match, then Pac looked to be close to winning when the lights went out. Julia Hart appeared in front of Pac, sprayed mist in his face, and Malakai kicked his head off for the win.
Dumb.
Adam Cole vs. Samoa Joe (Owen Hart Cup Final)
Winner: Adam Cole (pinfall)
I know I laugh and joke frequently, but I'm being deadly serious here: is Adam Cole unwell? Honestly, what's going on with him? I haven't walked past a gym in years, let alone made use of one, yet I'm pretty confident I could wrestle him to the ground and ragdoll him around a bit. I don't expect everyone to adhere to Lesnar/Lashley goals, but come on, Britt Baker getting it on with Cole must be like – and I mean this with no disrespect to anyone other than Cole – a remake of Chyna and Sean Waltman's bedroom escapades.
Getting "hit" with Cole's knee-strike must feel like someone threw a chicken nugget at you from the front row, but Joe had to take it and sell it like being hit by a truck.
Britt Baker vs. Ruby Soho (Owen Hart Cup Final)
Winner: Britt Baker (pinfall)
The women had a slow-paced, even match until Baker came out on top of a series of rollup attempts. The crowd was dozing a little until the end, and the mood changed after the match when Martha Hart was presented by Tony Khan to give a heartwarming speech about Owen Hart and pro-wrestling.
As I stated earlier with Jade Cargill, Britt isn't going to get much better working with people at her level and below. Ruby Soho hasn't been the G-G-G-G-G-GAME CHANGER!!! that people raved about when she signed up, but she's the perfect opponent for the younger/greener gals. Baker had a fantastic breakout year, but her work/character/routine has been stuck on a loop since. Soho's been spending time on Dark and Dark Elevation with the super newbies, but the television and PPV tier women's matches have been what needed attention.
Scorpio Sky, Ethan Page & Paige Vanzant vs. Frankie Kazarian, Sammy Guevara & Tay Conti

Winners: Scorpio Sky, Ethan Page & Paige Vanzant (pinfall)
Mixed tag rules mean the men's fight will pause when just one of the women tags in, negating any momentum they've built and allowing the opponent they've just weakened to recuperate. Fortunately, Conti and Vanzant's involvement was kept to a minimum, and the majority of the match was a tag match with the guys. Kazarian became frustrated by Sammy and Tay's constant lip locks, which eventually left him open for Sky to drop him with a TKO.
Paige Vanzant's debut went… uhm, a little messy. But with the right training, she might go far. And it's nice to see how Sammy and Tay have embraced how unlikable they naturally are.
Darby Allin vs. Kyle O'Reilly
Winner: Kyle OReilly (pinfall)
Early on, Darby started doing dives. One of them was messed up, and he undershot it and planted his skull into the floor. The daft twat's going to cause his own end. Hopefully, he doesn't take someone with him.
Kyle battered the absolute piss out of Darby in this stiff exhibition. The finish saw two penalty kicks and a knee drop from the top by Kyle. I'm liking how dominant O'Reilly has been looking lately, even with that recent loss to Samoa Joe.
Thunder Rosa vs. Serena Deeb (AEW Women's Championship)
Winner: Thunder Rosa (pinfall)
A great wrestling match between these two women; much better than any other female action on the card, and so far in AEW history. Deeb lost to a Fire Thunder Driver after an exciting back and forth.
Rosa's getting better, and Deeb is a great member of the roster to keep on top of in-house training. Good stuff.
Jericho Appreciation Society vs. Blackpool Combat Club & Pals (Anarchy in the Arena)
Winners: None of us… but also Jericho & Co.
I'm not listing all the stupid shit they did in this match. What a disgrace.
Chris Jericho may not be a blubbery, embarrassing mess anymore, but that doesn't mean he can't still be a waste of time. Everyone brawled with Moxley's theme song playing on repeat until Jericho broke some sound equipment, they all bladed, and they broke the ring. This was terrible. This is the worst of Jericho's juvenile joke matches so far; it was like the work of a ten-year-old.
As well as Jericho's fingernails scraping down the chalkboard, Bryan Danielson being involved in this whole piss-take is a shame as well. Danielson was the best thing about Dynamite and Rampage a few months ago, upsetting the live crowds and kicking some babyface's head in. Now, he's working a 2:1 support worker role with William Regal, looking after Moxley at the behest of Renee Young/Paquette.
Dumb.
Jurassic Express vs. Starks & Hobbs vs. Lee & Strickland (AEW Tag Team Championship)
Winners: Jungle Express
After a chaotic free-for-all match with ten men, we're given another Corpse Referee-observed masturbatory spot fest. Absolutely zero structure, rhyme, or reason for any of the stuff that happened, and it was just a series of fancy/dangerous moves back to back. Eventually, Starks hit Lee with his belt behind the ref's back, but it's a triple threat match and, therefore, no disqualification and a pointless spot. Eventually, Jungle Express picked up the win.
Hobbs and Starks are wasted mucking around with the tumblers. Swerve and Lee are guilty posers, Luchasaurus is as much use as a chocolate fireguard, and Jungle Boy has used up all of his chances. He looked like he had potential, but like a few others in AEW and the promotion itself, he hasn't really gone anywhere since day one.
"Hangman" Adam Page vs. CM Punk (AEW World Championship)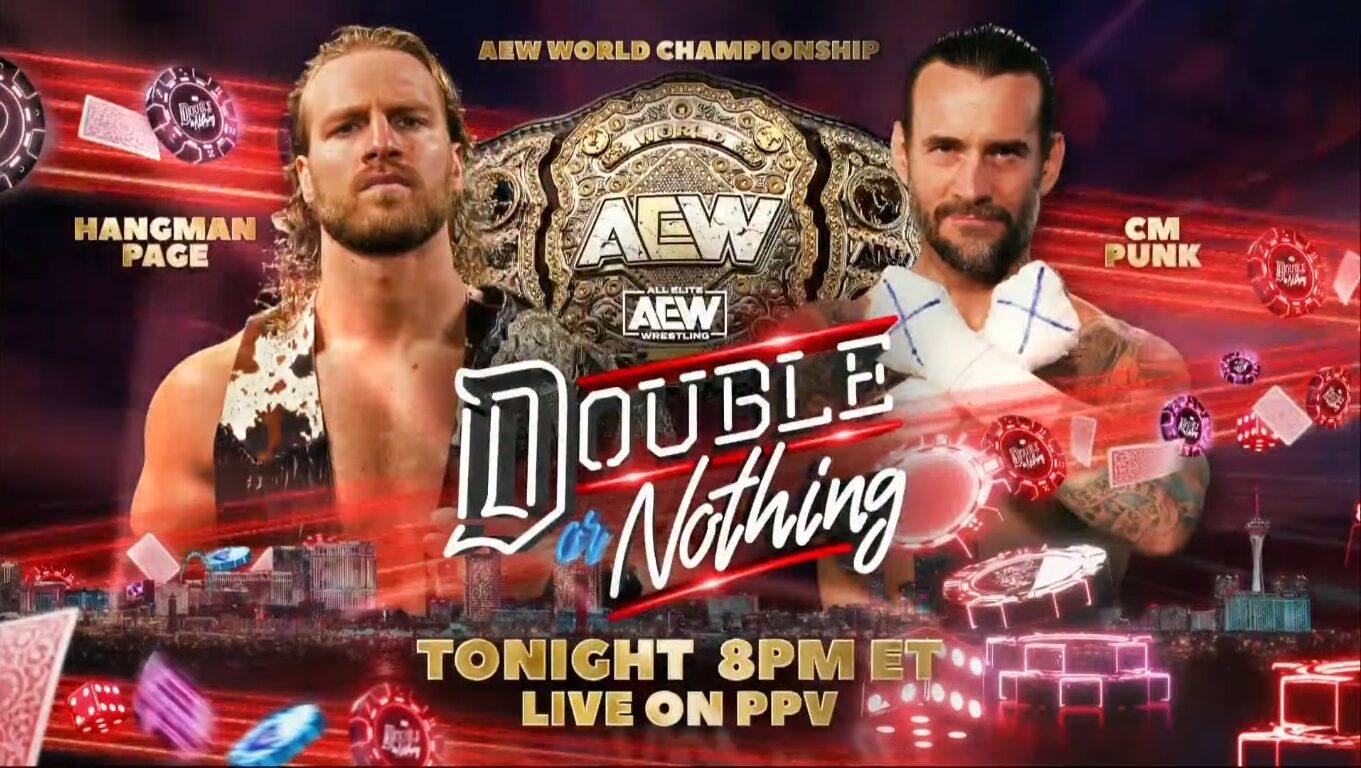 Winner: CM Punk (pinfall)
The crowd began split 50/50 and then they started booing whoever was on the offensive. Punk and Page exchanged blows until Punk failed to execute a Buckshot Lariat twice! It looked bad both times, and like Punk's knees buckled a bit. Then, Page almost had the match won with a GTS and a 2.9999-count. Punk went for a GTS of his own, but Page's struggle to counter the move caused the referee to get kicked in the head. With the ref down, Page grabbed his title belt and lined up Punk. Page changed his mind and went for the Buckshot Lariat instead but got caught with a GTS and was pinned. The right man won!
Last year I mentioned that Adam Page's push in AEW was too little and too late, AND THEN little Tony went and put the belt on him anyway. Sure, he's over with everyone for 30 seconds (if that) when the crowd chants "cowboy shit" until they get bored, but once Page starts talking and doing his fake-tough-guy act, even the die-hard AEW nuts zone out.
When CM Punk hasn't been virtue signaling on TV by trying to condense a complicated issue into half a sentence on (what he thinks is) a witty t-shirt, I've enjoyed most of what he's done in AEW. Well, he didn't have to sell so much for John Silver, but I understand that Punk's trying to give lessons on the fly; some are people that he sees something in, others are just over with the fans that would be entertained with a jingly set of house keys, but Tony wants to cater to them anyway.
There's still too much nonsense in AEW overall. The show started off well, we got the Rosa/Deeb match, and then it finished on a high note. It could have done with more consistency, however, as we're still running on about 25% wrestling and 75% mud show.
–  OLDER RESULTS –
Thanks for reading these AEW Double or Nothing results! Feel free to get in touch on Twitter, SUBSCRIBE to my YouTube channel, and check out everything else I write about over on: