AEW Forbidden Door Results (2022)
AEW Forbidden Door Results
AEW Forbidden Door results and commentary from Danny Damage!
AEW Forbidden Door Results 2022
Why are we here? This seems really forced and unnecessary. Dynamite and Rampage have both been relatively weak since BEFORE the series of unfortunate injuries. Yet, Tony Khan still struggles to be patient and attempts to run before he can walk properly.
It's nice to see and hear Kevin Kelly, at least; it's just a shame ExcaliBORE won't be able to resist shouting over Kelly and Taz throughout the night.
Buy In/Pre-Show
There are four matches on the pre-show alone. Brace yourselves; this is going to be rough. I'll put the kettle on…
QT Marshall & Aaron Solo vs. Hirooki Goto & Yoshi-Hashi
Winners: Hiroki Goto & Yoshi-Hashi (pinfall)
QT almost KO'd himself trying to leap over the top rope to the outside. Then, he struggled to do a handspring elbow before Solo ate the pin.
Lance Archer vs. Nick Comoroto
Winner: Lance Archer (pinfall)
A quick, hard-hitting back and forth between these two big lads. Blackout for the win.
Swerve Strickland and Keith Lee vs. El Desperado and Yoshinobu Kanemaru
Winners: Swerve & Lee (pinfall)
Swerve and Keith Lee did the same G-G-G-G-G-G-GAME CHANGER stuff they've been doing since joining the AEW roster and then hanging around on YouTube soon after.
After the match, Powerhouse Hobbs and Ricky Starks issued a challenge to the faces for some time in the near future.
Max Caster & The Gunn Club vs. NJPW LA Dojo

Winners: Gunn Club & Max Caster (pinfall)

Before the match started, Danhausen aggravated the baby Gunns, so Billy Gunn and Max Caster essentially won a handicap match. Caster got knocked around for a while; then, he got the hot tag to Billy, who cleaned house. Then, Caster tagged back in to end the match with the Mic Drop. It's just a shame that Danhousen has been stepped in all over this group now that they're over, just like what happened with Hook.
I appreciated Kevin Kelly explaining the purpose behind some guys wearing plain black trunks and boots. I mean, it totally exposes all of the posers in AEW who think they're superstars because their mom told them they were, but that's on them, not Kelly.
 AEW Forbidden Door Main Card
Four matches into the night, and I'm sure Tony Khan's already made light work of two boxes of Kleenex. I'm eating coffee out of the jar with a spoon.
Chris Jericho, Sammy Guevara & Minoru Suzuki vs. Eddie Kingston, Wheeler Yuta & Shota Umina
Winners: Jericho, Suzuki & Guevara (pinfall)
Two minutes after the bell and everyone was outside of the ring, brawling on the floor. Aubrey "the show pony" Edwards was as much use as tits are to a bull, but that's to be expected now; she's just there to get herself and her dancing on TV.
There was no rhyme or reason to the majority of this match, which I'm sure surprised nobody. In the end, Mr. Mid-life Crisis hit the Judas Effect after kicking out of everyone else's stuff.
FTR vs. Roppongi Vice vs. United Empire (winner-takes-all)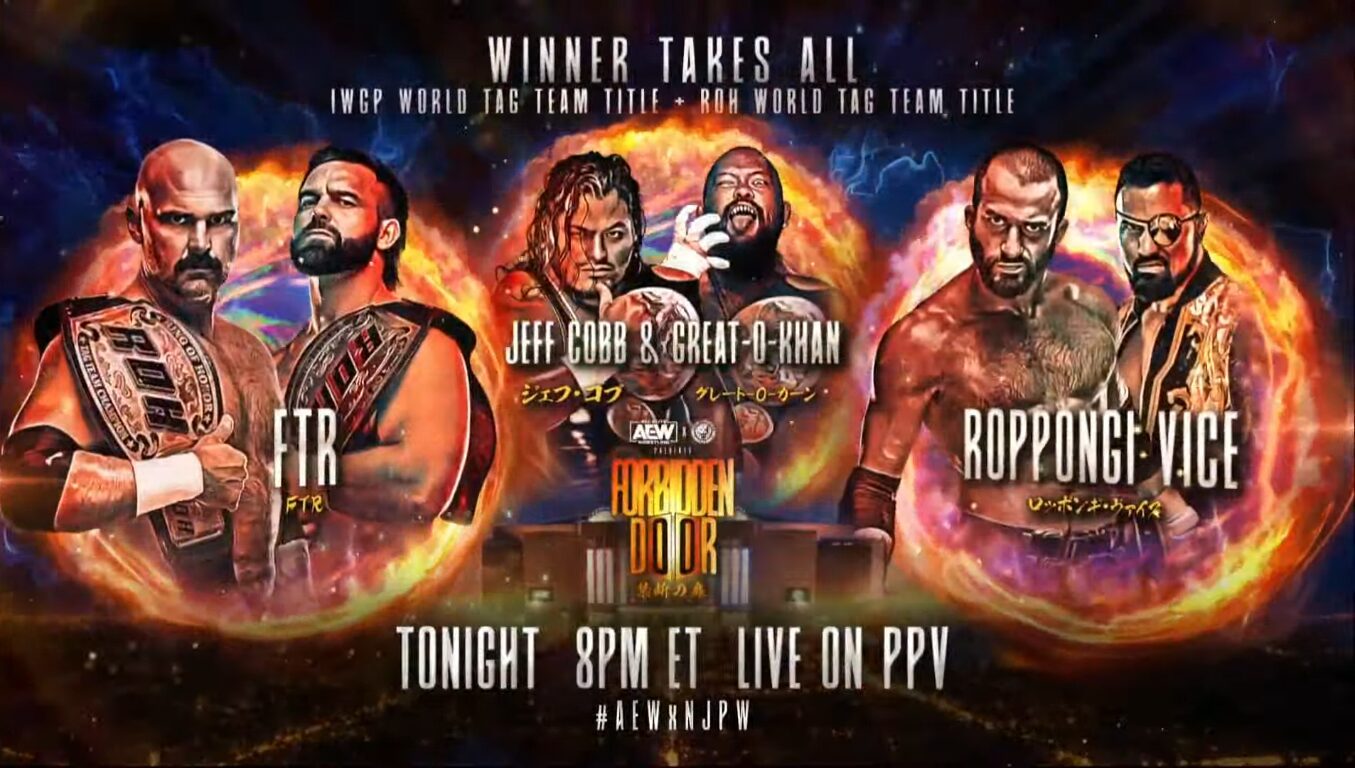 Winners: FTR (pinfall)
The triple threat disappointment came into play rather quickly. The teams adhered to the rule of only two legal men in the ring for a little while, but then the no disqualification aspect overruled everything, and chaos ensued.
There were some good near-falls towards the end, and FTR hit the Big Rig to win both sets of belts. Now, they just need the AEW tag titles.
Malakai Black vs. Miro vs. Clark Connors vs. Pac (All-Atlantic Title)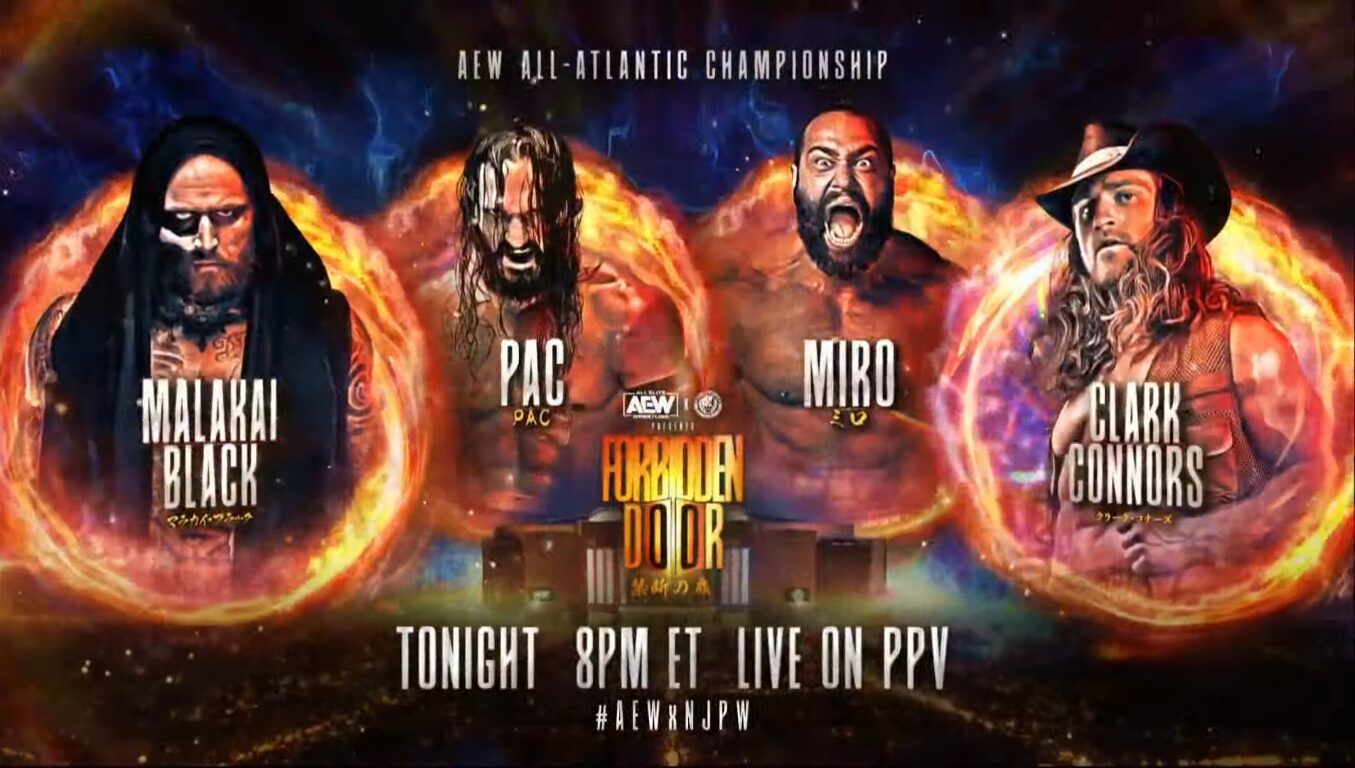 Winner: Pac (submission)
From a triple threat to a fatal four, the same issues with the previous match are present here. It's like watching an action film where the FULL 90 minutes is just explosions, nobody takes a moment to explain why there are explosions, and it gets very old, very fast.
Miro was made to look like a legitimate threat to everyone in this bout, even Malakai Black. All three men needed to work together to take Miro out by putting him through a table. It wasn't enough to keep the monster out of the match, though, and Malakai gave him a face full of black mist.
Pac locked the Brutalizer on Connors to get the tap-out win and become the first-ever AEW Intercontinental All-Atlantic Champion.
The Young Bucks & El Phantasmo vs. Sting, Darby Allin & Shingo Takagi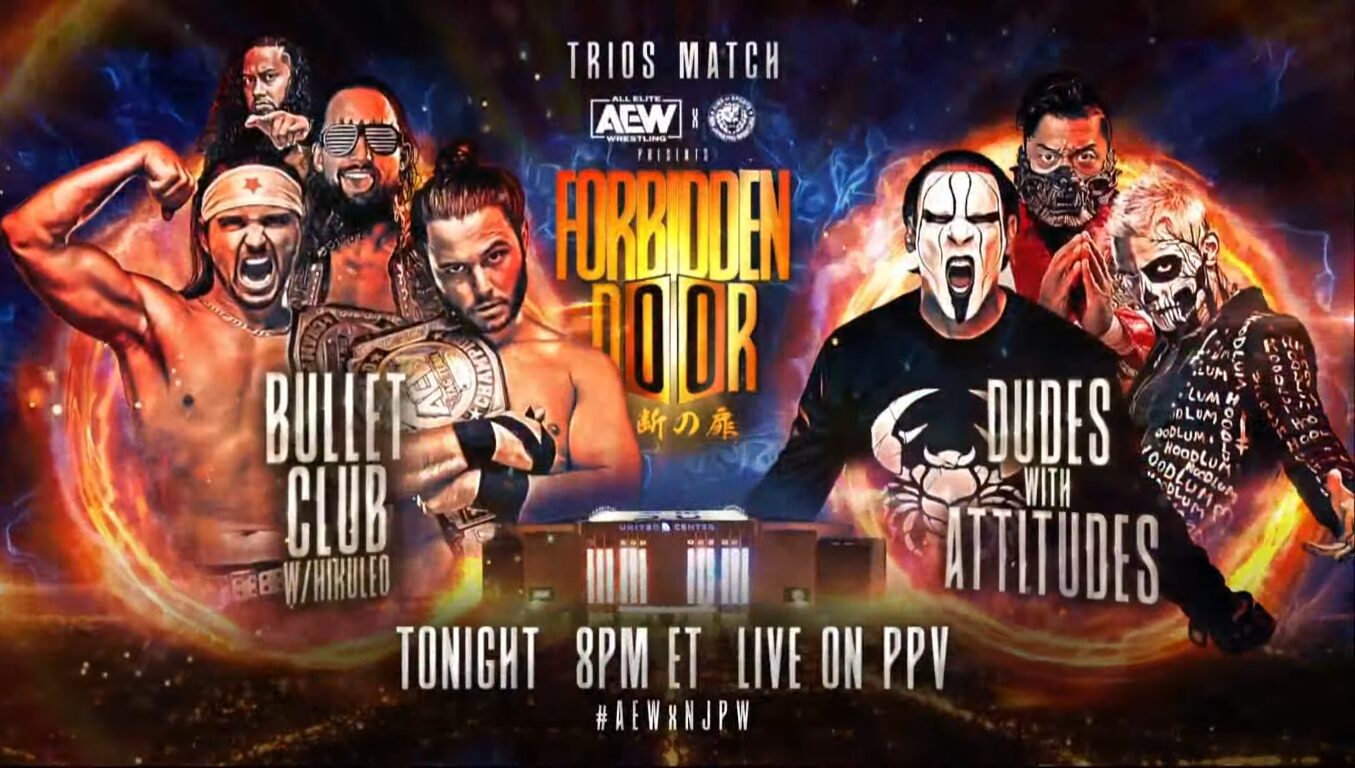 Winners: Dudes with Attitudes (pinfall)
Before I had the chance to write "Sheeesh, another free-for-all?" here, 63-year-old Sting entered the arena by diving off the staging onto the heels. Corpse referee is on duty again, which adds up, as he is the legal care worker for the Young Bucks.
This match was a joke and a waste of everyone's time. If the back of your toilet hasn't been cleaned in a while, I recommend tackling that bad boy instead of watching this.
Shingo pinned El Phantasma; the end.
Thunder Rosa vs. Toni Storm (AEW Women's Title)
Winner: Thunder Rosa (pinfall)
A good match between Rosa and Storm. Rosa won with Dustin Rhode's Reckoning. The two lasses shook hands before and after the match. Less is more with the AEW women's roster. It's a good call to give spots on the PPV for the best of their roster, not just throw out as many women as possible for diversity optics.
Will Ospreay vs. Orange Cassidy (IWGP US Title)
Winner: Will Ospreay (pinfall)
This match was everything you'd expect when one competitor's whole personality revolves around his ability to put his hands in his pockets. If you have friends that want to get into pro wrestling and you're the designated person to show them the way, this is yet another match from tonight you should avoid using as your example.
Cassidy kicked out of 100 high-impact moves before finally staying down for the three-count – not very believable. The average bloke's fly-swatting swing is enough to put Cassidy into a coma. Give it a rest.
Zack Sabre Jr. vs. Mystery Opponent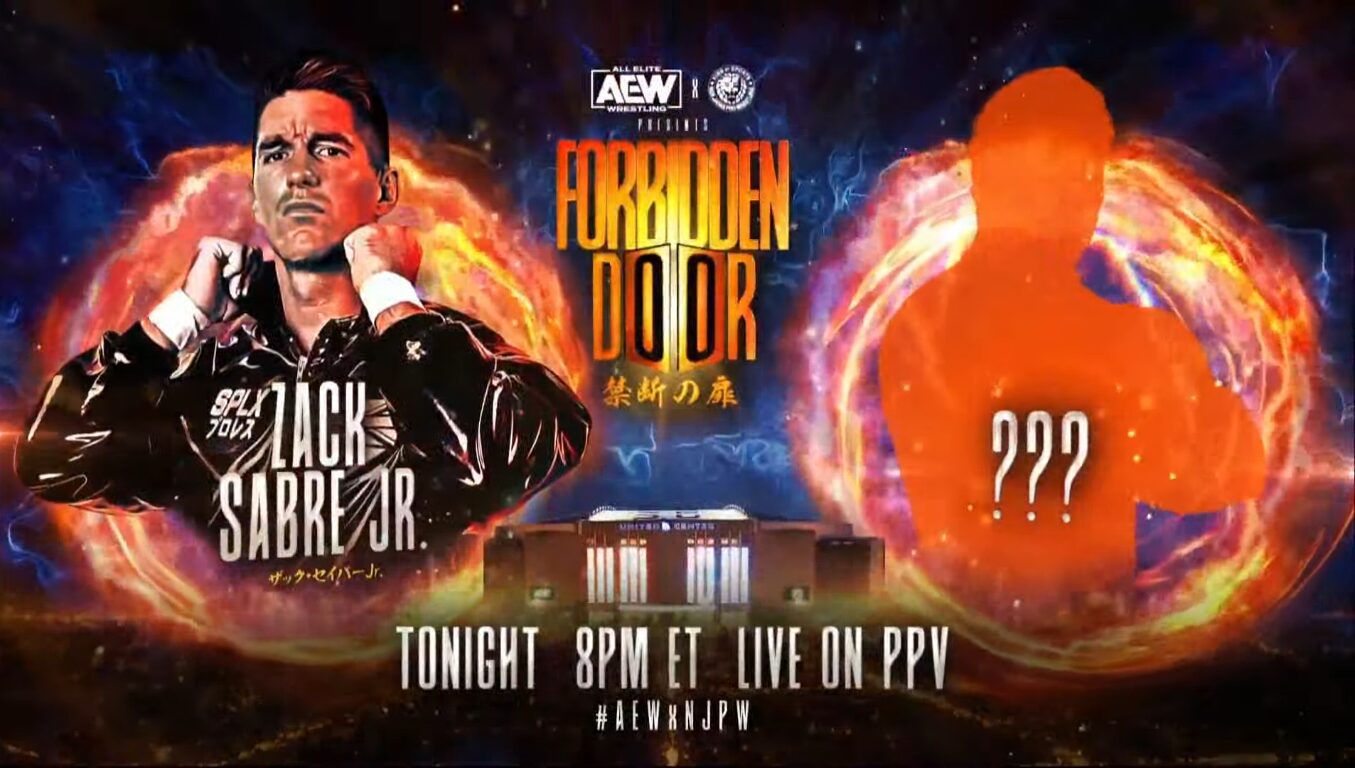 Winner: Claudio Castagnoli (pinfall)
The "mystery" opponent was Cesaro/Claudio. This would have been a much bigger moment if people hadn't been talking about him filling Danielson's spot all week.
It wouldn't have hurt ZSJ one smidge if he'd lost quickly to give Claudio's debut some impact.  It's not really that impressive to have the element of surprise, quite a large weight advantage, and years more experience than someone and only manage to scrape by them. Typical AEW.
With that in mind, a great signing for the company; fingers crossed he's used well.
Jay White vs. "Hangman" Adam Page vs. Adam Cole vs. Kazuchika Okada (IWGP Title)
Winner: Jay White (pinfall)
I know I've gone on about this a few times already, but we've got another multi-way match that looked really cooperative, and it's just getting ridiculous. It's like an active effort is being made to ensure almost every match has constant flips, spins, and spots, and telling any kind of story is a foreign, or even offensive, concept. I mean, they tried to tell a little story here with Cole and White working together, but it didn't last forever, and it was crafty-heeling 101; nothing to write home about.
The finish to the match saw a series of close-calls, reversals, and people being dumped out of the ring. White was the guy who managed to time it all correctly and retained his belt when he pinned Cole. However, Cole hadn't actually been hit with anything in a while, and I think he was supposed to kick out, but he didn't. It was a bit awkward, and it caught the crowd off-guard.
Jon Moxley vs. Hiroshi Tanahashi (Interim AEW Title)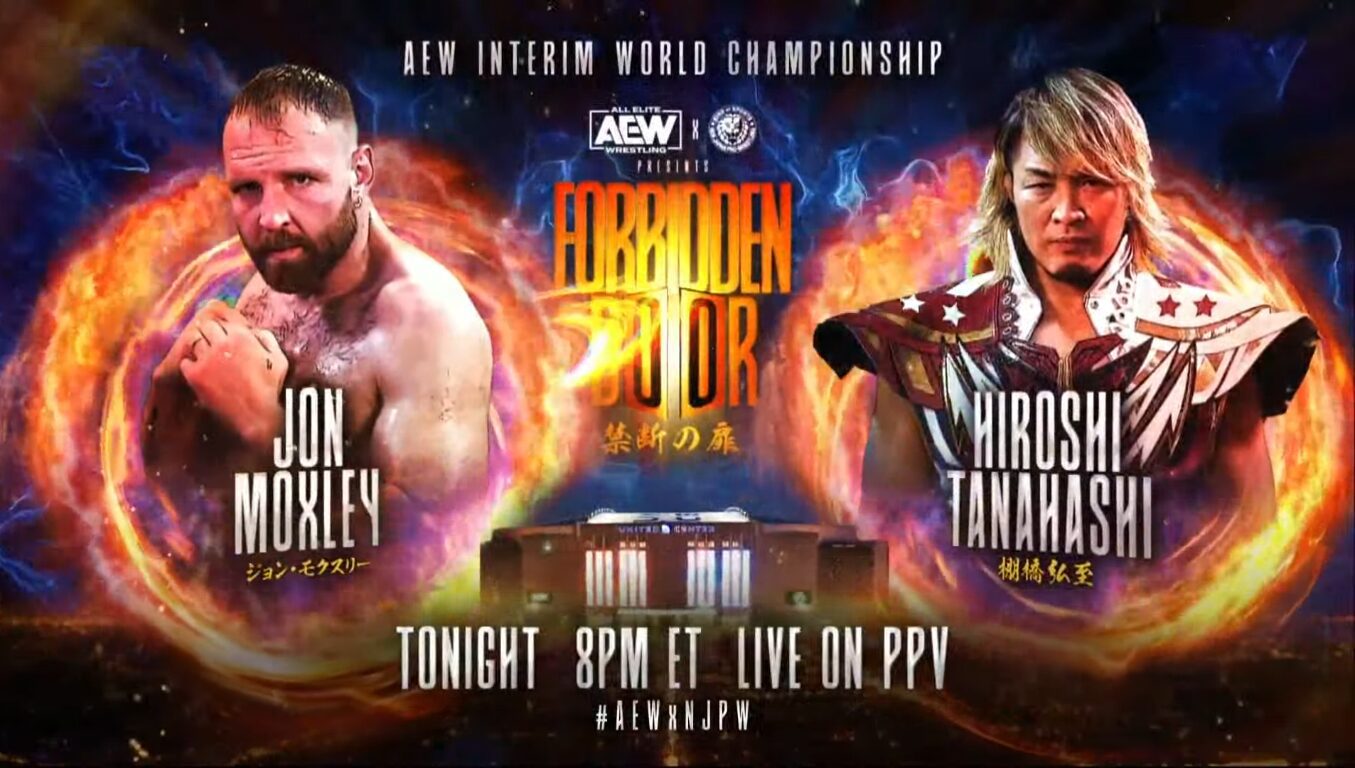 Winner: Jon Moxley (pinfall)
Jon Moxley can have actual wrestling matches; I've seen it! What we got from him tonight was in the same neighborhood, at least, and wasn't the worst Moxley match to close a PPV. Partway through the match, the crowd was visibly distracted by something going on off-camera, but they eventually calmed down and refocused on the match. The fight eventually went to the floor, but they didn't go there within the first minute, so that's an improvement.
Moxley also got cut open, but again, it was later on in the match, and it was the first bit of blood we'd seen all night. That's what we call moderation; well done! Mox followed through on his promise: he picked up Tanahashi and dropped him on his head as hard as he could to become the interim AEW Champion.
After the match, Chris Jericho and Eddie Kingston's pals spilled into the ring and started brawling. The two teams were at a stalemate until Claudio ran down and started hitting all the heels in the face. Jericho's obviously a little upset he wasn't asked to be the champion again after Punk got injured.
Quality over quantity, please. Some of the best PPVs over the last ten years have been NXT Takeovers, where there were only four or five matches on the card. Forbidden Door was just a case of throwing all available ingredients indiscriminately in the pot and hoping it turned into something tasty.
Max Caster's ovation and performance were a joy, and the women's title match was good. FTR would have been ten times better if they'd just been in a regular tag match, but I'm a fan of their eventual destination. Claudio's debut was more than welcome; you can build a promotion around the guy if you do it right. Knowing AEW, though, he'll be on YouTube in a matter of weeks and getting ignored by all the kids backstage who think they know everything about everything already.
Anyway, it's daft o'clock now, and I'm off to bed. Tiny Tony Khan, I hope you enjoyed your succession of coke-fueled wanks…
–  OLDER RESULTS –
Thanks for reading these AEW Forbidden Door results! Feel free to get in touch on Twitter, SUBSCRIBE to my YouTube channel, and check out everything else I write about over on: