AEW Revolution Results (2022)
AEW Revolution Results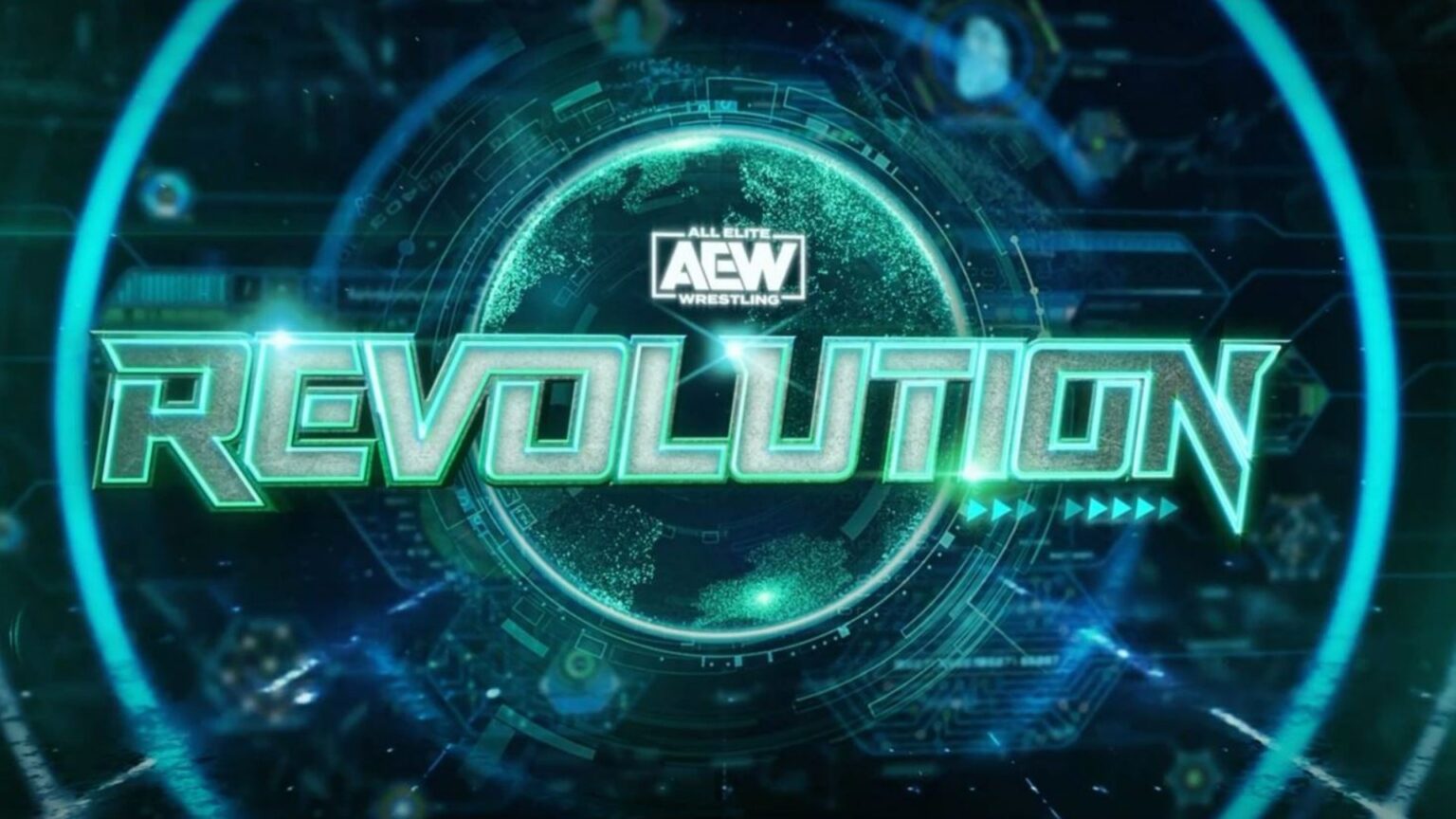 AEW Revolution results and commentary from Danny Damage!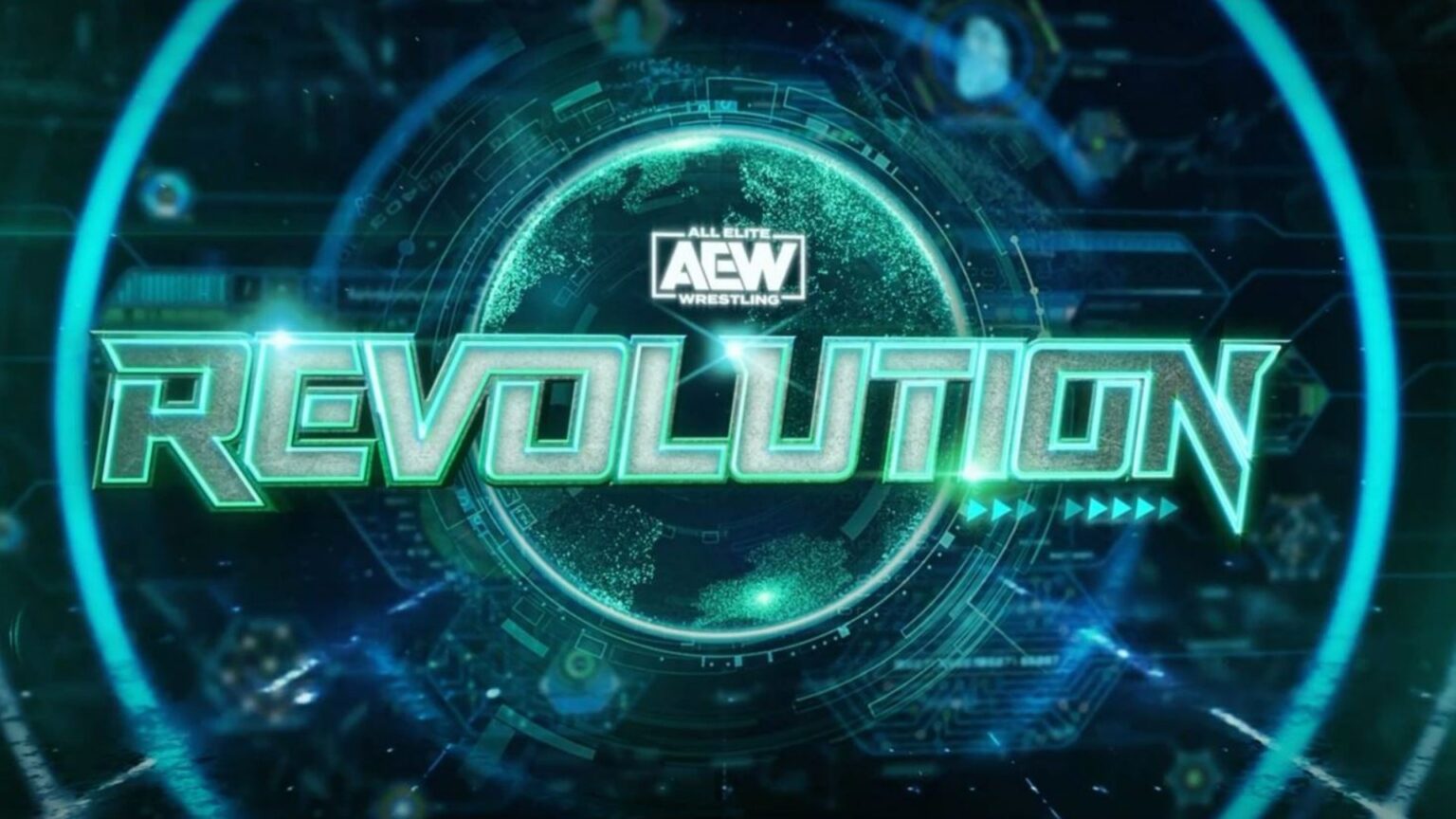 AEW Revolution Results 2022
It's hard to tell which of AEW's big four is the equivalent to WWE's Wrestlemania. They act like they all are, but this one's had "the road to Revolution" ground into our ears quite a lot. I wouldn't bring it up and make the comparison between the two companies (so soon, at least), but AEW has been mentioning it and trying to measure theirs up against WWE's.
That aside, I was relatively excited for the show tonight – more than I have been for a while when parting ways with money for something AEW-related. There's a lot on the card, and I'm expecting to thoroughly enjoy a portion of it; Hook running over QT, Bryan Danielson's smugness, the potential train wreck of Jade Cargill and Tay Conti, and, obviously, MJF vs. CM Punk. If history has taught me anything, I know that I'll also be actively finding chores around the house during some of it. Let's hope I don't regret putting my hand in my pocket!
Kris Statlander vs. Leyla Hirsch (Buy-In Pre-Show)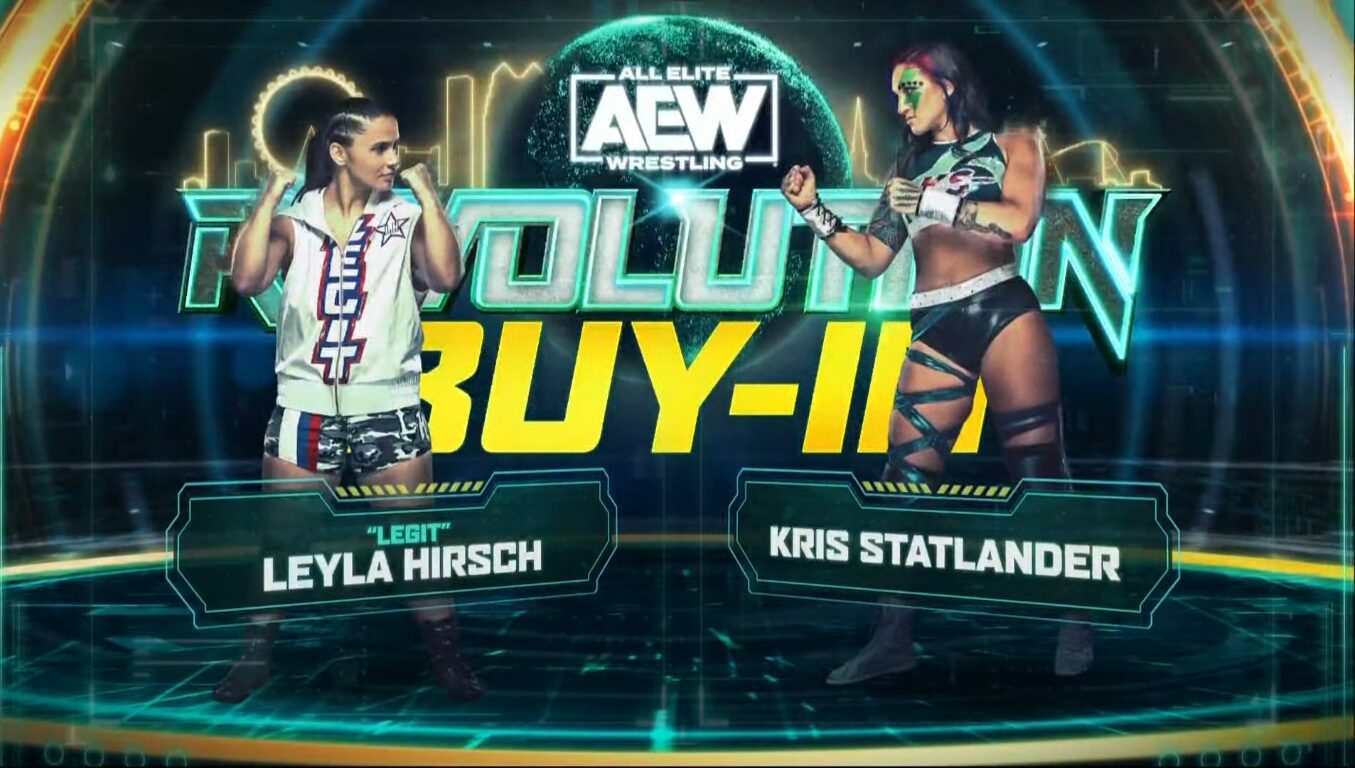 Winner: Leyla Hirsch (pinfall)
The match started off well; Hirsch is showing loads of improvement, despite the near-slip off the ropes. Statlander worked from underneath while Hirsch worked on her arm. Even though this was the first match on the pre-show and these lasses are still greener than Kermit's arse, they had to get an off-the-apron spot in AND have Hirsch crack Statlander with a foreign object behind the referee's back.
Hook vs. QT Marshall (Buy-In Pre-Show)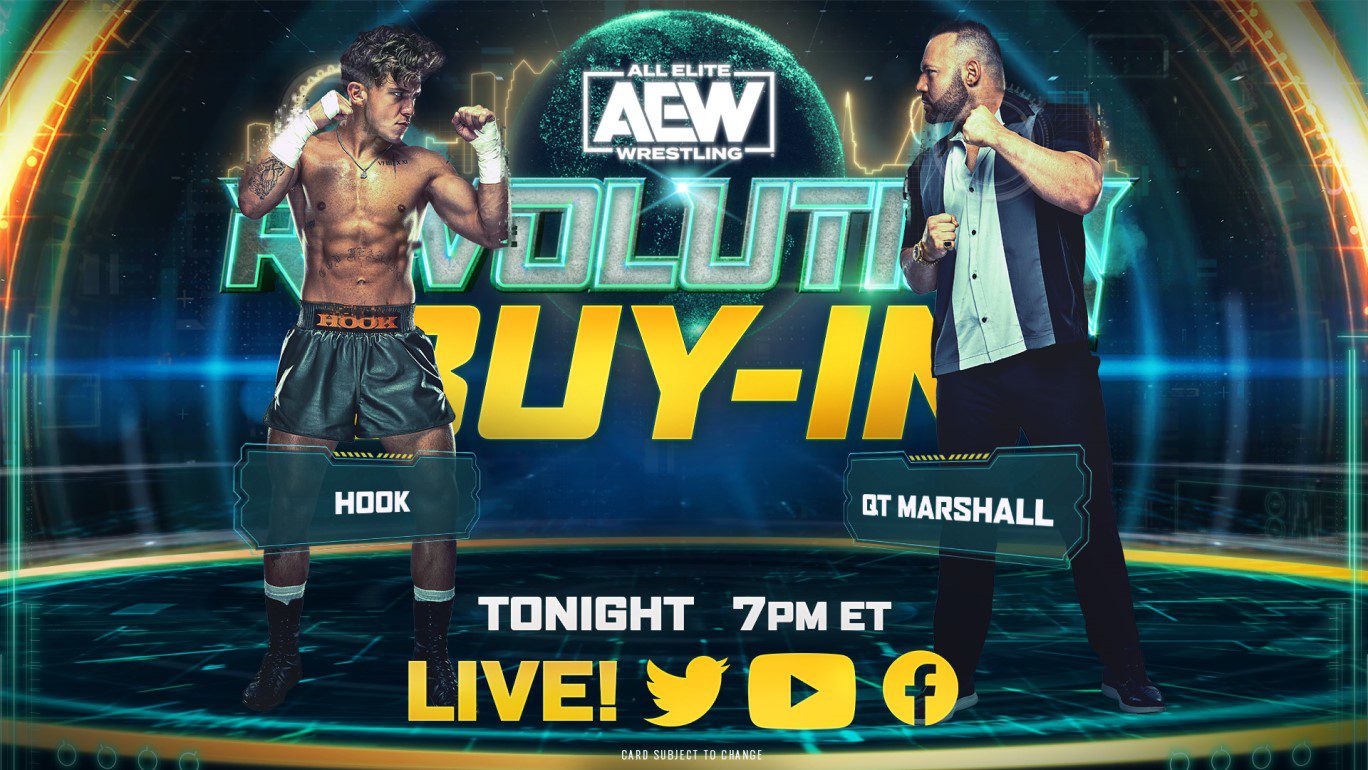 Winner: Hook (submission)
QT managed to slip around Hook a couple of times and get a few shots in, but it didn't take much for Hook to lock in his Redrum and make QT tap.
The House of Black vs. Pac, Penta & Erick Redbeard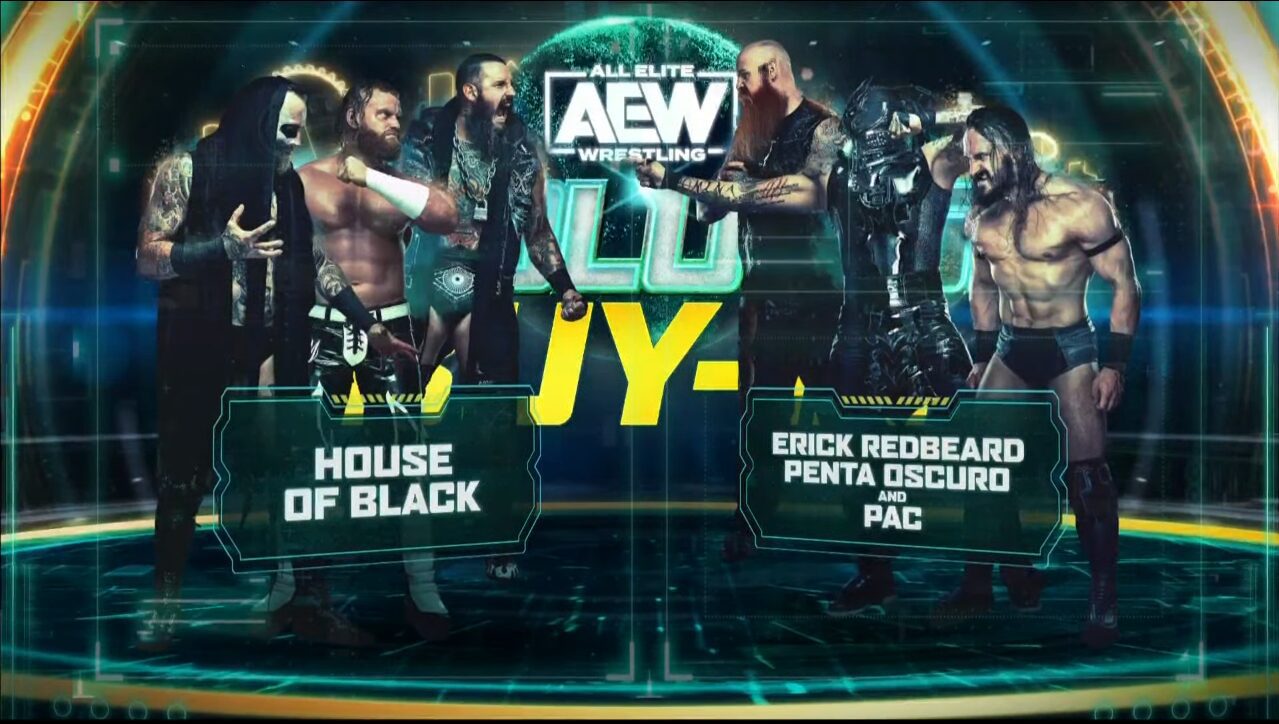 Winners: House of Black (pinfall)
This match got thrown in at the last minute, and they all went 100MPH from the bell, and the rules were ignored. As per usual in these trios matches, the referee was useless and seemed to welcome the chaos. Black mist to the eyes set up the win. Redbeard still hasn't mastered that spinning heel kick; ouch.
The crowd has had three matches in the pre-show already; I hope they've had their coffee.
Chris Jericho vs. Eddie Kingston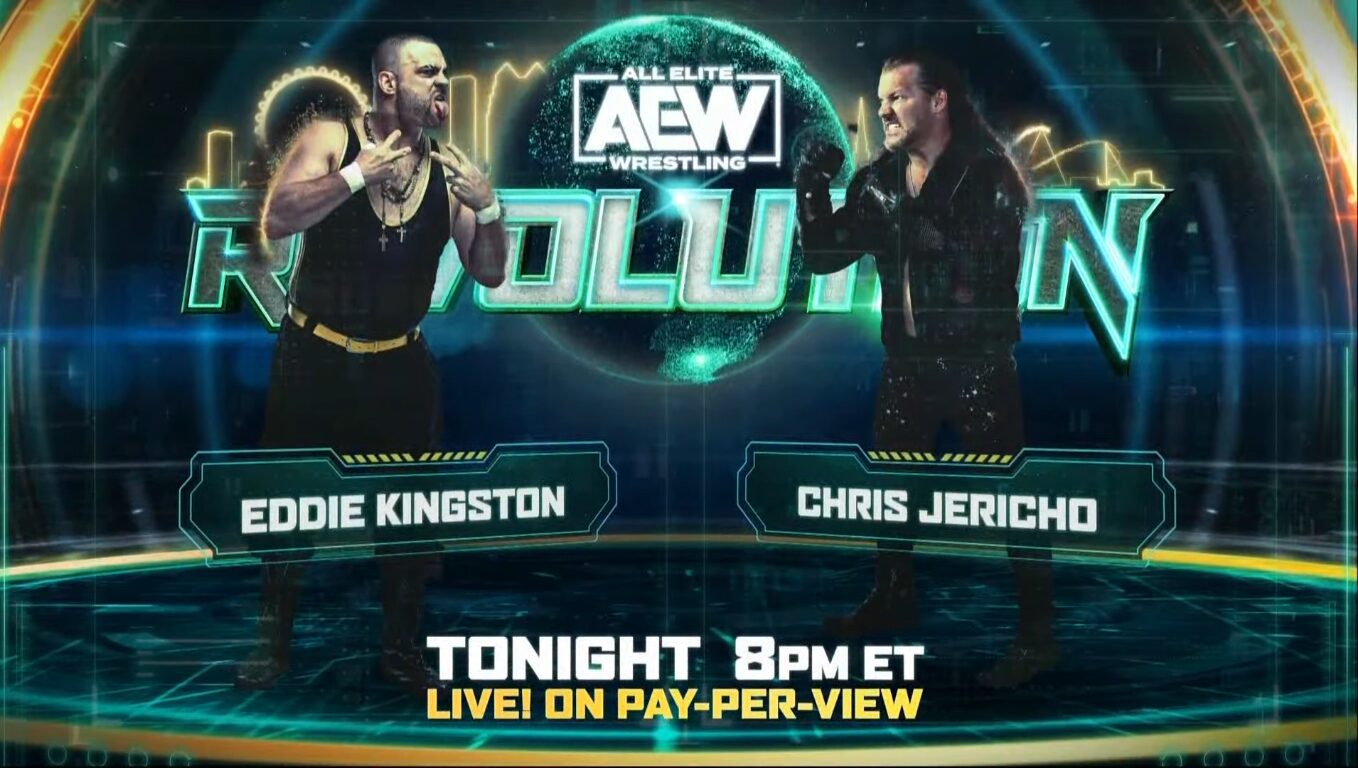 Winner: Eddie Kingston (submission)
Jericho almost died during the first move of the match when Kingston suplexed him onto his head. It didn't take long for them to become two sweaty, angry potatoes, slapping each other and gasping for breath. In the end, Kingston made Jericho tap trying to twist his arm off. Jericho was expected to shake Kingston's hand if Eddie won, but Jericho refused.
I appreciated Kingston's "Kayfabe may be dead, but there's no need to piss on its grave" comment last week, but then he breaks the fourth wall more than John Cena and Deadpool combined, so there's that.
Jurassic Express vs. reDRagon vs. Young Bucks (AEW Tag Team Championship)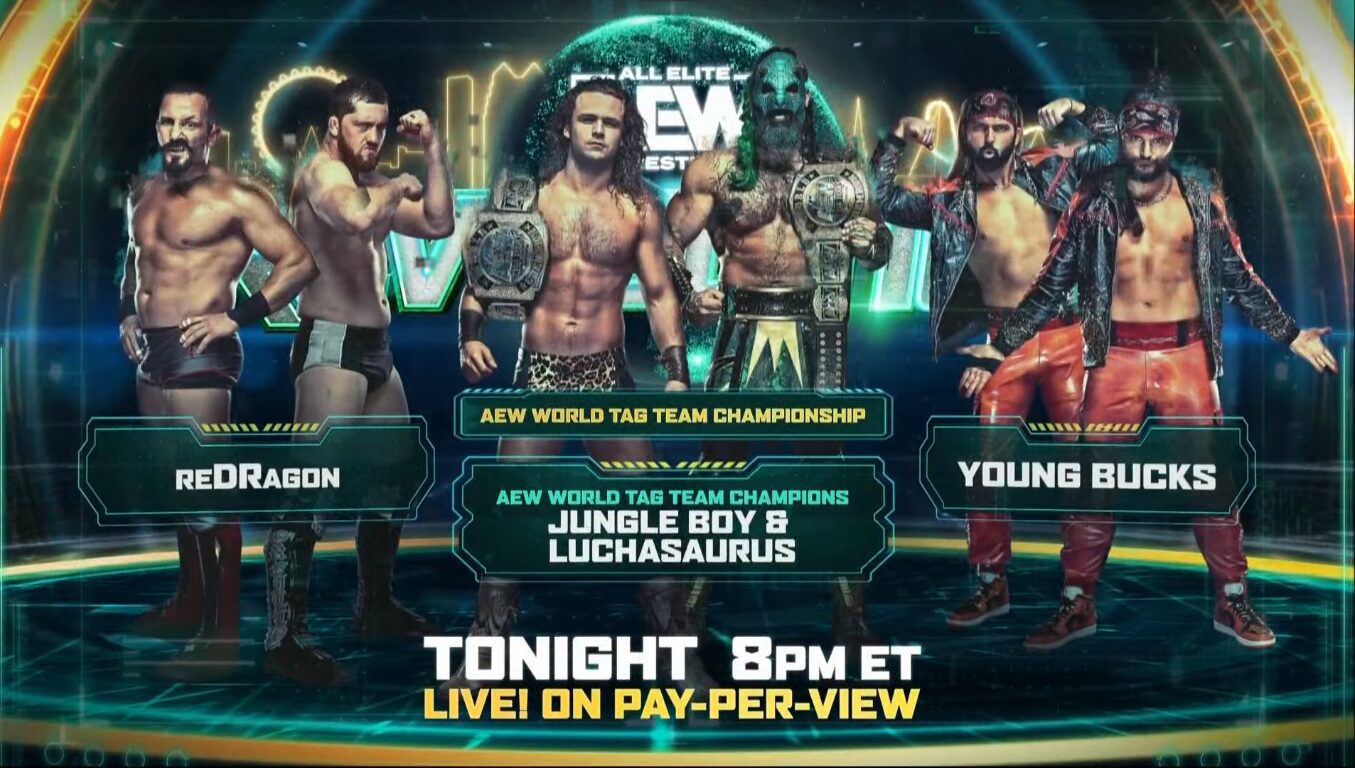 Winners: Jurassic Express (pinfall)
Jungle Boy was the target of a four-man wear-down effort from the Bucks and ReDRagon. After they maintained that for five or so minutes, everyone got 100 special moves in the bank, and we saw all the spots in a short time, leaving nothing else for anyone on the card. The referee was redundant 90% of the time.
This bollocks is what we're given for the cream of the tag team crop, and FTR aren't even on the card. Utterly clueless.
Face of the Revolution Ladder Match
Winner: Wardlow
People were risking life and limb to compete for the TNT Championship, yet if any of them just turned up to a TV show, they'd see that Sammy issues open challenges on a very regular basis.
Now that I've poked a hole in that logic, this match also went 100MPH from the start. Back-to-back spots with no time for anything to breathe or soak in. However, if you're the sort that enjoys mindless car wrecks, you'll love this. Funnily enough, Orange Cassidy was used as a weapon and tossed around like the useless sack of shit he is.
Jade Cargill vs. Tay Conti (TBS Championship)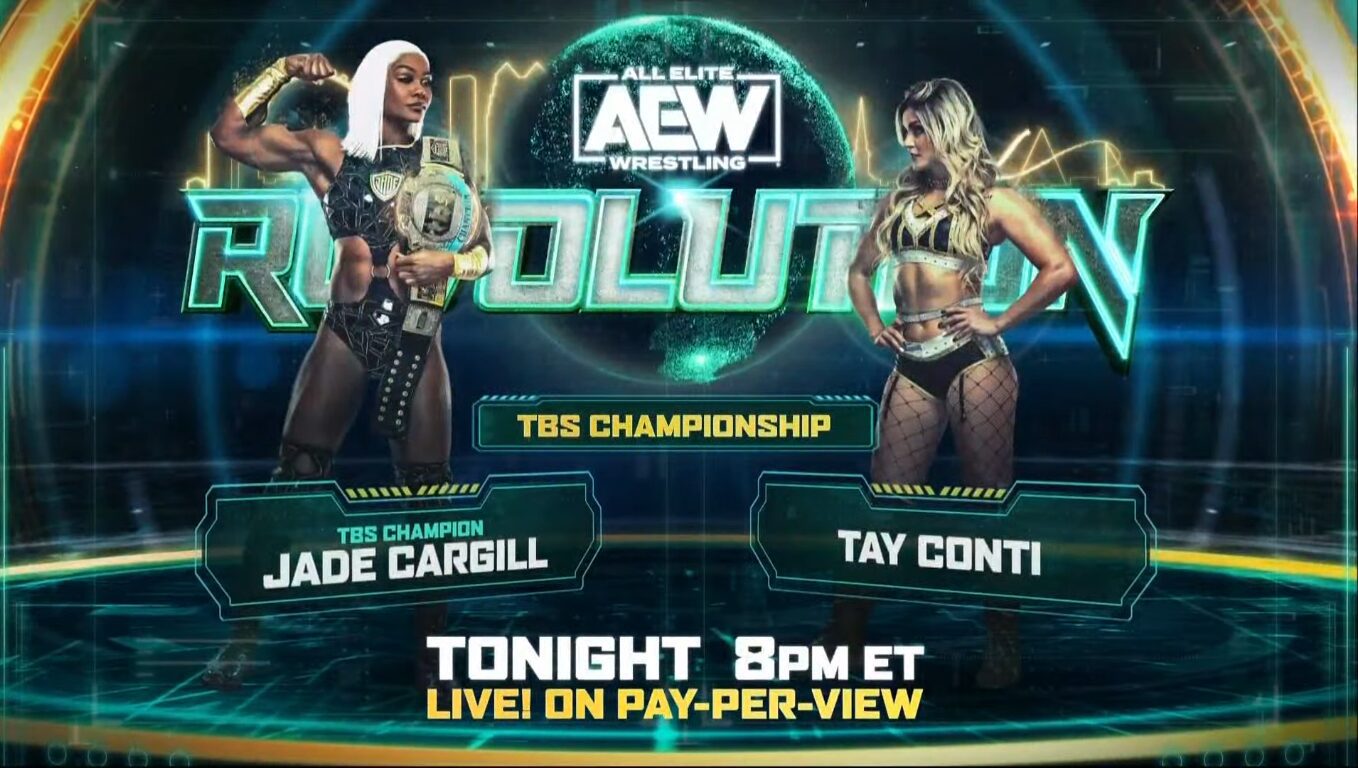 Winner: Jade Cargill (pinfall)
Not quite as sloppy as everyone expected, but at least nobody broke anything. AEW is letting their super green talent bust out the advanced moves/spots on a regular basis, and it's only a matter of time before they roll the dice too many times. At least Conti got to arse-vertise her social media galleries profiles on PPV again.
CM Punk vs. MJF (Dog Collar Match)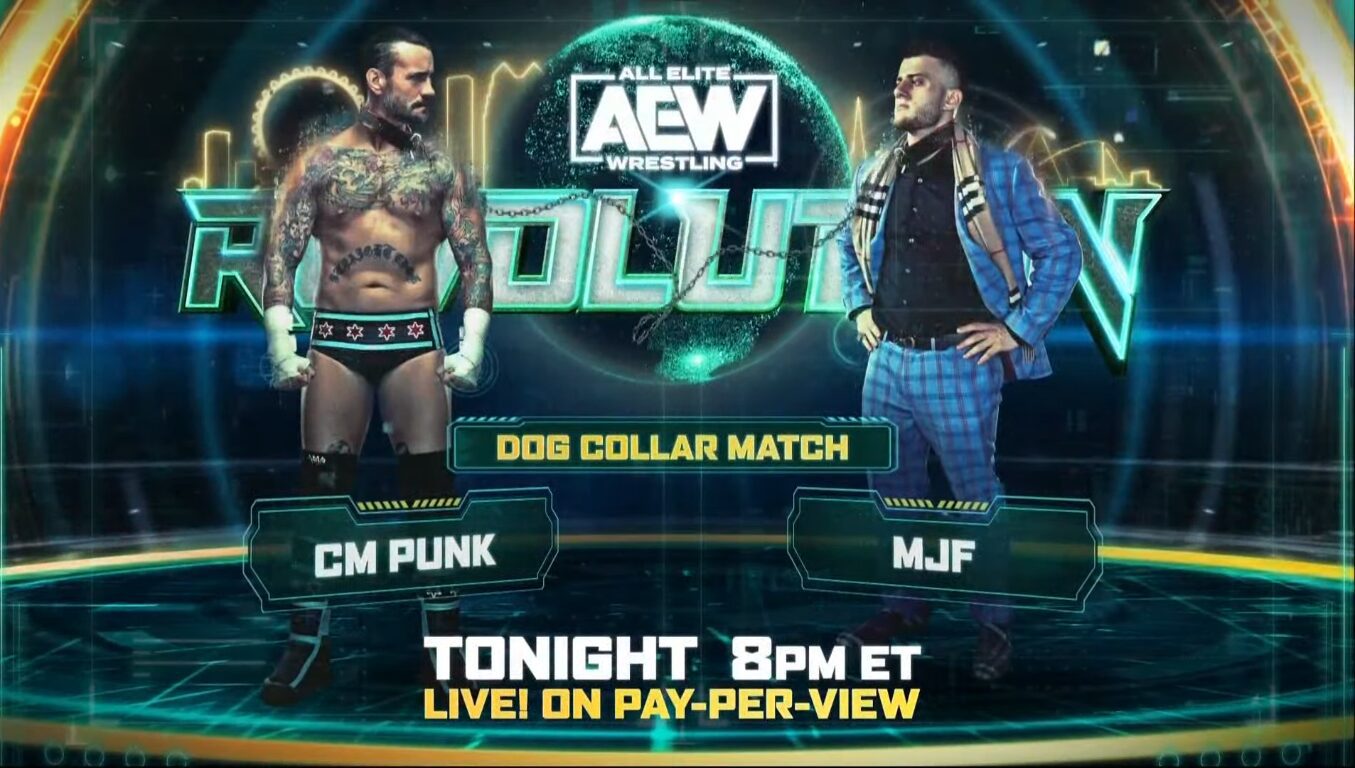 Winner: CM Punk (pinfall)
This was the AEW Revolution result everyone was waiting for. Punk and MJF's interactions have been the best thing on both Dynamite and Rampage for a little while now. It didn't take much for MJF to re-open Punk's head wound, and he was pissing blood early on. MJF joined in later on and bled a bunch too, and then brought thumbtacks into the match. They were a bit unnecessary, to be honest.
MJF summoned Wardlow, who finally turned on his boss and left him to get knocked into the thumbtacks and KO'd by the diamond ring that Wardlow passed to Punk.
Britt Baker vs. Thunder Rosa (AEW Women's World Championship)
Winner: Britt Baker (pinfall)
People had been expecting a bit more from these ladies. I'm not sure if it was a lack of chemistry on behalf of Baker and Rosa or if the crowd were tired, but something didn't quite click here. Baker's minions opened the door for her to finish Rosa with a Curb Stomp.
Bryan Danielson vs. Jon Moxley
Winner: Jon Moxley (pinfall)
Essentially, this match was a pissing contest between two employers of heavy violence. Both of them ended up bleeding everywhere, and they battered the piss out of each other until Moxley reversed a submission and pinned Danielson's shoulders to the mat.
After the match, they began brawling again. William Regal marched down and got between them, slapped them both in the face, and told them to get on the same page. They agreed by shaking hands, and Danielson and Regal walked off up the ramp.
A.H.F.O. vs. Darby Allin, Sting & Sammy Guevara
Winners: Darby, Sting, Sammy (pinfall)
Tornado tag rules meant there were no rules. Everyone was legal at the same time; weapons were legal and introduced several times. The corpse/referee was on duty, and he just bent over and made sure he was out of the way for 95% of the time. Aubrey Edwards was prancing and dancing around outside the ring like the narcissistic show-pony she is.
After a load of trash cans got dented, tables were broken, and Sting jumped off another balcony, Darby put Matt Hardy away with the Coffin Drop.
"Hangman" Adam Page vs. Adam Cole (AEW World Championship)
Winner: Adam Page (pinfall)
The match was fine, but it was nothing special. It had quite a lot to follow, and if the crowd hadn't already found their favourite thing in the night before the main event, they were probably tired after being there for five to six hours. ReDRagon came out to help Cole, but the Dark Order neutralized them. Both of them kicked out of everything until Page took Cole's head off.
During the week, I saw that meme of Coleberg (Cole's head on Gillberg's body) and immediately knew it was dodgy because there was no way Cole could have beefed up that much in such a short time.
See ya next time!
–  OLDER RESULTS –
Thanks for reading these AEW Revolution results! Feel free to get in touch on Twitter, SUBSCRIBE to my YouTube channel, and check out everything else I write about over on: