Another Week of Wrestling #15 (23rd August 2021)
CM Punk returns, SummerSlam, NXT Takeover 36, news, and more!
CM Punk return, Summerslam, NXT Takeover 36, news, and more!

<—Last week's installment of Another Week of Wrestling!
Thanks for joining me!
As well as bringing you That's Not Wrestling every Thursday and ranting about PPVs on YouTube, I'll also be mouthing off on a Monday regarding other wrestling events that catch my eye. I'm Danny Damage, writing for Geeks + Gamers, and this is Another Week of Wrestling!
Another Wrestling Boom?
For all of those that have jumped on the bandwagon in the last week and have been circle-jerking with people who are convinced that AEW has been two years of pure gold and that WWE will soon be out of business, calm your passions. I'd give pause for thought before letting that guy next to you grab your junk, and before you grab someone else's!
While recent events indicate that things in AEW (and pro-wrestling in general) are about to get a lot more interesting, there are still a few obstacles in the road and two-year established bad habits that we need to keep an eye on. Also, despite the WWE's fluctuating quality level, they're not going anywhere any time soon. To think AEW's success will put WWE out of business is rather daft.
WWE has had a few moments in the past where they've had to keep the fans happy while some "competition" hangs around for a bit, but WWE (like Disney) is ingrained in so many people and places that making sure you're still around after their counter-attack is where your focus should be – not JUST coming up with a plan to make Vince/WWE react.
Where She Left Off, Kind Of
Becky Lynch made her surprise return at SummerSlam on Saturday and recaptured the Smackdown Women's Championship. Lynch relinquished her Raw Women's Championship last year when she took time off to have her first child. Now that she's had the little one and dropped that baby weight, she's feeling a bit light around the waist. What better way to rectify that than her reclaiming the belt that was crucial to her becoming "The Man" and becoming a fan favorite?
Sasha Banks was unable to compete against Bianca Belair at the PPV, and this wasn't announced until the then champion, Belair, was in the ring, ready and waiting. Carmella was announced as the new challenger for the belt, and there was an air of disappointment in the arena. Before the bell rang, however, Becky Lynch's music kicked off and the people "went bananas." As soon as the song started and people realized what was happening, you could see them flocking to the entrance to greet Becky.
It was obvious that Belair hadn't encountered a pop like that before as she failed to suppress her excitement by literally jumping for joy while Lynch marched towards her. Once Carmella got chucked out of the ring by Becky, Belair agreed to the new challenge and then regretted it in moments. Becky lured Bianca in with a handshake, smashed her in the face, hit her finish, and got the three-count.
Redneck Rampage
Brock Lesnar is also back in WWE. He also returned at SummerSlam to a huge ovation, but he showed up at the end, after the Roman Reigns vs. John Cena main event. Roman Reigns looked like he'd shat a brick, and Paul Heyman acted like he'd seen a ghost. Brock and his new look walked down the aisle, got in Roman's face, and caused the Head of the Table to walk away, Heyman having no idea what to do.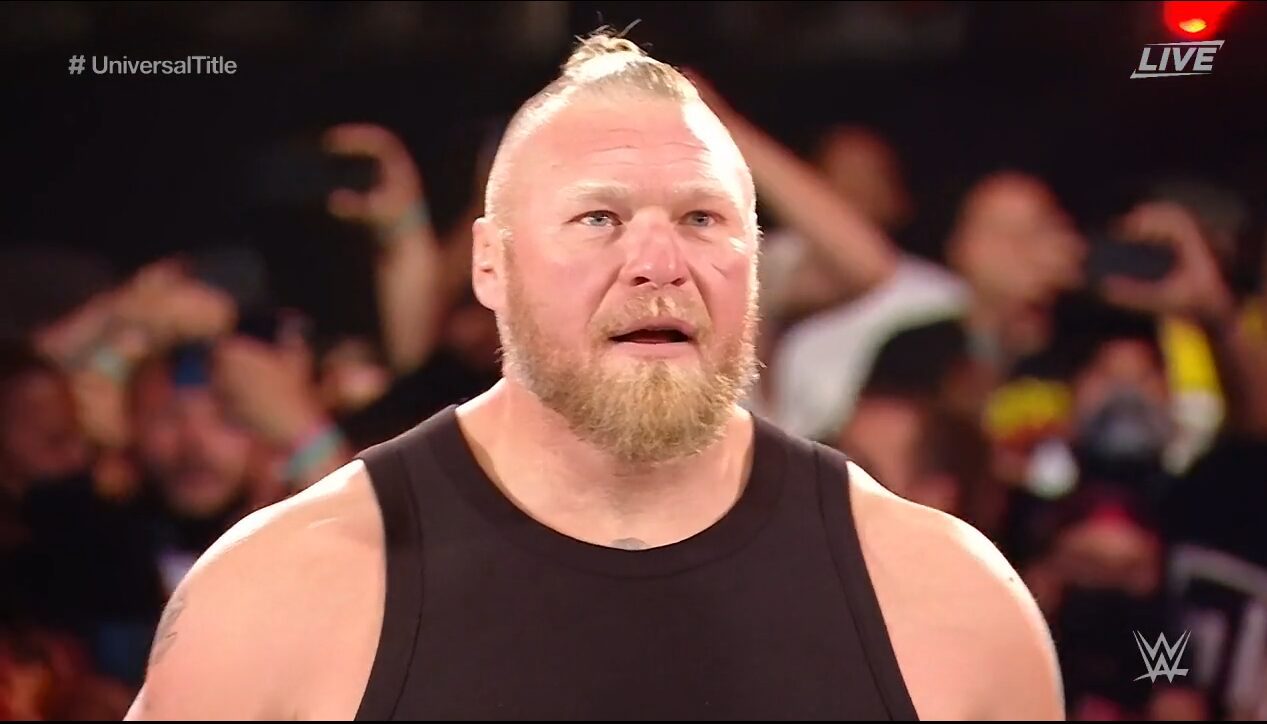 Now, I know that Brock's return is nowhere near as exciting as CM Punk's, but it's a good move on WWE's behalf. Lesnar is still a huge name in wrestling and UFC/MMA to an extent. If the average viewer finds out that both Punk and Lesnar have returned to wrestling, there's a good chance some would chase after Brock before looking for Punk on a promotion they've not seen/heard of before.
Brock offers a hell of a lot more legitimacy as a combat athlete than Punk, and that's not me throwing offense Punk's way. The average sports fan (you know, those people Vince and Tony try ever so hard to hook in) look at Brock's UFC and NCAA efforts and often conclude, "Wrestling may be rigged, but you know, if Brock were in a real fight, I'd rather not be on the other end of it." When it comes to Punk, well, many of those that are saying they're fans now that it's trending again are the same that laughed at him when he competed in UFC against outmatched professional fighters.
What Kevin Steen said about the fans when he won the ROH title was absolutely spot on.
Change Places!
Despite the SummerSlam PPV lasting five hours, WWE managed to show that they're aware of their potential for stagnation, and they had mixed things up significantly when all was said and done. I wrote up the results for SummerSlam here, and PUTTING IT BLUNTLY: WWE SummerSlam 2021 (Review) has you covered if you wanted a video commentating on the whole show.
If two surprise returns weren't enough to get people's attention, WWE switched four titles at the biggest party of the summer too. By the end of the night, the US Championship, the Raw Tag Team Championship, and both women's titles changed hands. Becky Lynch and Charlotte Flair are staples of the modern era of women's wrestling, so those choices are obvious. Damien Priest is the rising star from NXT that represents the future, and the same goes for Matt Riddle. While Riddle's tag partner, Randy Orton, is a veteran and a solid choice for any title picture/angle.
People are certainly starting to take things a little more seriously, it seems.
Samoa Joe's Back on Top.
Last night's NXT Takeover 36 PPV saw WWE's third brand sneak up from behind and steal the whole week of wrestling. Now, there was a bigger, single moment that occurred over on AEW Rampage on Friday (I'll get to that), but as a whole, there was a lot more wrestling to be entertained by on Sunday night. Written results for NXT Takeover 36 can be found here and in more detail on PUTTING IT BLUNTLY: NXT Takeover 36 (Review).
As with all the points I made regarding SummerSlam reshuffling the deck, NXT also seems to be putting their best foot forward by entrusting their belt with Samoa Joe. Karrion Kross is an absolute beast, but he's still pretty green and isn't connecting with the crowd in the way that management wants him to. It could also be that he went up to Smackdown to get slapped around by Jeff Hardy, which can never do too much to one's credibility at this point in Hardy's career. Either way, now isn't the time to be caught half-arsing anything, so the Samoan Submission Machine has been put on the front-line on the black and gold brand.
CM Punk's Return
As everyone knows by this point, Friday night saw CM Punk return to pro-wrestling a wrestling ring when it was finally confirmed he'd signed with AEW. Punk opened up AEW Rampage to a building full of emotion, and he was welcomed with open arms by the fans. There are obviously pros and cons to Punk returning to AEW over WWE or elsewhere. Taking Punk's situation into consideration, I would agree that AEW is the perfect place for him… assuming he's left to do his thing and people don't start getting in the way or hijacking his energy. *stares at Chris Jericho* With that said, it's best to go into this with an open mind AND open eyes. There's more to this than just the matches Punk can have.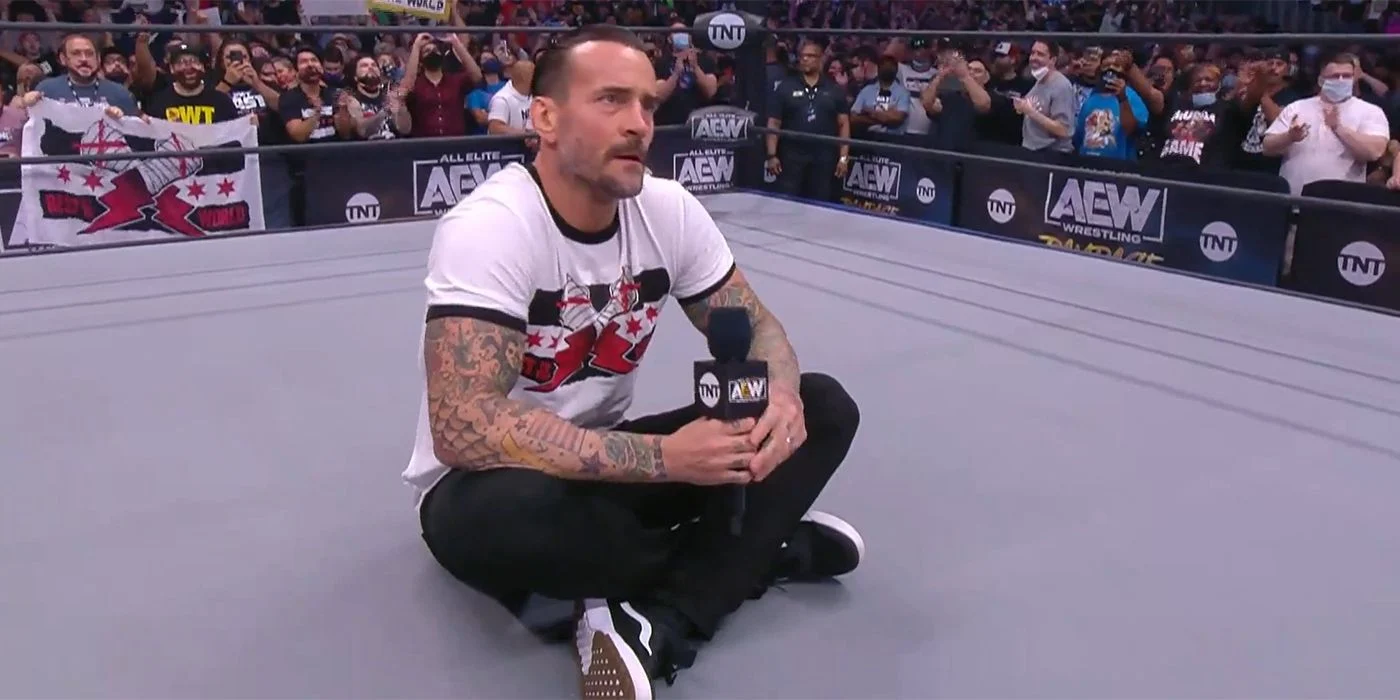 As well as AEW being good for Punk and what he wants/needs to do, he is obviously going to be a huge benefit to the company and the talent. No longer will one of the greenhorns backstage need an answer to something and look to the ring to see Kenny Omega or The Young Bucks dragging their arse on the mat like a dog with worms. They'll actually fill that lack of information in their head with some good advice and get better. Who knows? Maybe they'd end up outshining the EVPs in time.
Others that reference common sense and past experience have been constructively critical about the antics they've witnessed in AEW. These individuals have either been ignored or shouted into silence. Jim Ross had things to say up until he made Kenny Omega cry. Since then, Jim's been forcing out-of-place compliments and keeping his mouth shut (directly) when he sees/hears something dumb. Many that saw Jim's treatment have kept their heads down for the sake of an easy life in the short term. With Punk's presence, I imagine the shy guys and gals will find their voices and that points made from logic and facts will make a comeback in the locker room.
Oh yeah, I'm not sure if a CM Punk return will stop Tiny Tony Khan from censoring people that tell jokes and point out mistakes that his company makes… and there are a lot of botches, injuries, and general fuck-ups within AEW, both in and out of the ring. I think it's safe to say that everyone would like the number of casualties of Accident & Emergency Wrestling to decrease as soon as possible.
Nobody's perfect, and there are a lot of problems that need addressing in both AEW and WWE before anyone can claim we've landed in wrestling paradise. But it looks like we're going to get some interesting action in the upcoming months on the way there!
That's it for this week. Digest and discuss! Don't forget to look out for "That's Not Wrestling!" which lands here on GeeksandGamers.com every Thursday. Take care, and I'll see you then and next Monday to discuss #AnotherWeekOfWrestling!
Background Artwork Designed by Rachael Hope.
Thanks for reading! If you're looking to organize something more in-depth, have a quick natter, or just throw a passing insult, feel free to get in touch on Twitter, SUBSCRIBE to my YouTube channel, and/or check out everything else I do over on: