Another Week of Wrestling #21 (11th October 2021)
Adam Page, LA Knight, Roman Reigns, Dan Lambert, wrestling news, and more!
I discuss Adam Page, LA Knight, Roman Reigns, Dan Lambert, wrestling news, and more! Welcome, and thanks for joining me at Geeks + Gamers!
As well as previously bringing you That's Not Wrestling and ranting about PPVs on YouTube, I'm here to mouth off on a Monday about wrestling news, results, and events that catch my eye, ear, and sometimes my nose. I'm Danny Damage, writing for Geeks + Gamers, and this is Another Week of Wrestling for October 11th, 2021!
<—Last week's installment of Another Week of Wrestling!
WWE Raw
More stupid WWE Draft bollocks. It seems WWE has greenlit harsher language too. Get the shit-counter at the ready!
Jeff Hardy finally got his way and used one of his own songs to come to the ring. Hardy lost to Damien Priest and teased an alter ego change.
Austin Theory debuted and suckered Hardy into posing for a photo with him before dropping Hardy.
I'm sure the pairing of Randy Orton and Matt Riddle is a rib on Orton. He gets to keep the belts until Riddle breaks him and makes him piss himself laughing on camera.
Shayna Baszler tried to add Dana Brooke to her list of victims, but Doudrop got in the way. Brooke tried to swat Shayna away at least; Nia Jax and Eva Maria just kneeled down and waited for it to happen.
Xia Li has been drafted to SmackDown to potato some bitches in the face.
Big E's getting a little more serious now that he's the champ, but he's still not got the presence that Bobby Lashley has. Drew McIntyre seems to be taking up for Big E's lack of daftness; I can't take Drew seriously when he's playing with Vince McMahon's sword and waving it about the place.
Gatekeeper Dolph Ziggler makes an appearance; yes, it works both ways. He introduced both Big E and McIntrye to the main roster. Big E getting a semi from the crowd chanting "You deserve it" said a lot. Drew and E beat The Dirty Dawgs and then challenged each other for a title match at WWE Blood Money.
Apollo and the accent he got for Christmas are now on Raw.
The Miz missed Raw due to being on a reality TV show, Dancing With the Stars. Since Cody Rhodes announced his own face-planting reality show, I'd mentioned how Cody was more like a B-rate Miz than the Triple H-lite persona he'd aimed for. Miz missing shows because he's got better stuff to do is just like Cody, and it warms my heart to be proven right.
Nikki Cross/A.S.H. has gotten her odor on Rhea Ripley, and it seems WWE even managed to mess Ripley up. The whole thing is tacky and essentially just a women's version of the Orton and Riddle dynamic. Ripley and Cross successfully defended their belts against Natalya and Tamina, but I just feel bad for everyone involved. Ripley hit the Riptide but then tagged her partner in, struggled to get her onto her shoulders, and then unceremoniously dumped her on Tamina for the win. The setup of that move looked shit, and its impact paled in comparison to the Riptide that knocked Tamina out ten seconds before; give it a rest.
Goldberg was live in the arena, looking for something to lean on, as Vince McMahon leans on him at this time of year. Goldberg made out like he was crazy and unhinged, and then he threatened to kill Bobby Lashley. Lashley appeared and challenged Goldberg to a no DQ match at WWE Blood Money. Goldberg accepted and reiterated the use of life-threatening language again.
Seth Rollins' current persona is still just a lucky dip; he was silly-crazy this week. Nobody knows what we're going to get; he and Becky Lynch are both acting like those parents that get absolutely shit-faced to cope with the change and then revert to being party-mode 18-year-olds.
Kofi Kingston and Xavier Woods flattened Shelton Benjamin and Cedric Alexander with little effort and then had some fun with The Street Profits in the ring. I say fun – this segment was put here to advertise The New Day's straight-to-NonceFlix film, Escape The Undertaker.
Ridge Holland has been drafted to SmackDown and Gable Steveson to Raw. Steveson has appeared quicker than I'd hoped/expected. I'd hate for WWE to rush and ruin him.
Charlotte Flair and Bianca Belair had a decent main event match. Becky Lynch was on commentary, and although she's been great as a heel so far, she was shouting over a lot of stuff she should have just been watching and occasionally "ooohing" and "aaahing" at. Flair insists on replicating Andrade El Idolo's two moonsaults in a row spot, and as I've mentioned before, she doesn't have the grace or agility that Andrade has, and she's just going to fuck up her knees. Before the match could reach a conclusion, Becky jumped in and caused a disqualification. Sasha Banks appeared and took out Becky and Bianca, both of her opponents at WWE Blood Money.
NXT 3.0
I get that they're trying to get some fresh faces on the screen, but they're rushing, and the show is becoming unrecognizable in parts.
Mandy Rose defeated Ember Moon to open the show. I'm still convinced Rose's thighs could help a fire department that can't afford any jaws of life. Moon, well, fook knows what she's meant to be doing. Why on earth did she drop her previous thing where she'd slither out and down the aisle? They're saying on commentary that she's in a rut, so I'm guessing she's not looked so hot since returning from injury.
L.A. Knight pinning Odyssey Jones was a well-needed win for Knight. However, the fact that Knight had to rely on Andre Chase to help screw over Jones and not just have the wily veteran outsmart the newbie made little sense. Protect Jones, sure, but making Knight look useless isn't cool.
Joe Gacy gave off little hints of being a bit off his rocker. I'm not talking full-blown John Wayne Gacy clown costume style… yet… but we might be heading that way. It's pretty much the same gimmick as before; the one the internet reported had been canceled. But Gacy also held up the peace gesture with his hands and flashed facial clues that he's not as calm and balanced as he says. It's almost like the Jinder Mahal period, where he'd go around saying he was all about positivity and inner peace, and then he'd just cheat in matches to get the advantage and forget about it moments later.
Indi Hartwell pushes that content envelope again by reminding us all that people have sex. I mean, at least they're promoting proper condom use, but I'd prefer this cringe-worthy storyline just to book an appointment and get the snip.
I mentioned last week that WWE is using Happy Corbin to further advertise Draft Kings and the general practice of gambling. It seems that this isn't enough for WWE, as we are shown a vignette for Duke's Poker Room… whatever the fluff that is!
Cora "please don't call me a female Darby Allin" Jade ran down to have a match while carrying a mini skateboard, just because. Franky Monet jumped Jade's opponent and replaced her (because that's how it works in wrestling), but Monet was caught off guard and was pinned with a roll-up anyway. Another example of WWE's great use of a veteran that just joined the company! </sarcasm>
Joe Gacy confronted Tommaso Ciampa backstage and got himself a match with the champion next week. If Gacy can defeat Ciampa, Gacy will be added to the Tommaso Ciampa vs. Bron Breakker match at NXT Halloween Havoc.
Pete Dunne defeated Cameron Grimes with the help of Ridge Holland.
Tony D'Angelo squashed a jobber with a fisherman neck breaker/suplex.
Indi Hartwell took on the 1000-year-old Mei Ying and won… because she's in love or something.
Lash Legend tried to convince herself that her talk show last week was anything but a piss break, and then she mocked Tony D'Angelo for his outdated stereotypical gimmick… no, really, she did, without hesitation.
Raquel González was ambushed by Toxic Attraction but was saved by Io Shirai and Zoey Stark.
The video package for The Diamond Mine was nice. Ivy Nile has quite an intriguing presence. I'm interested to see how she's used and gets on in a match.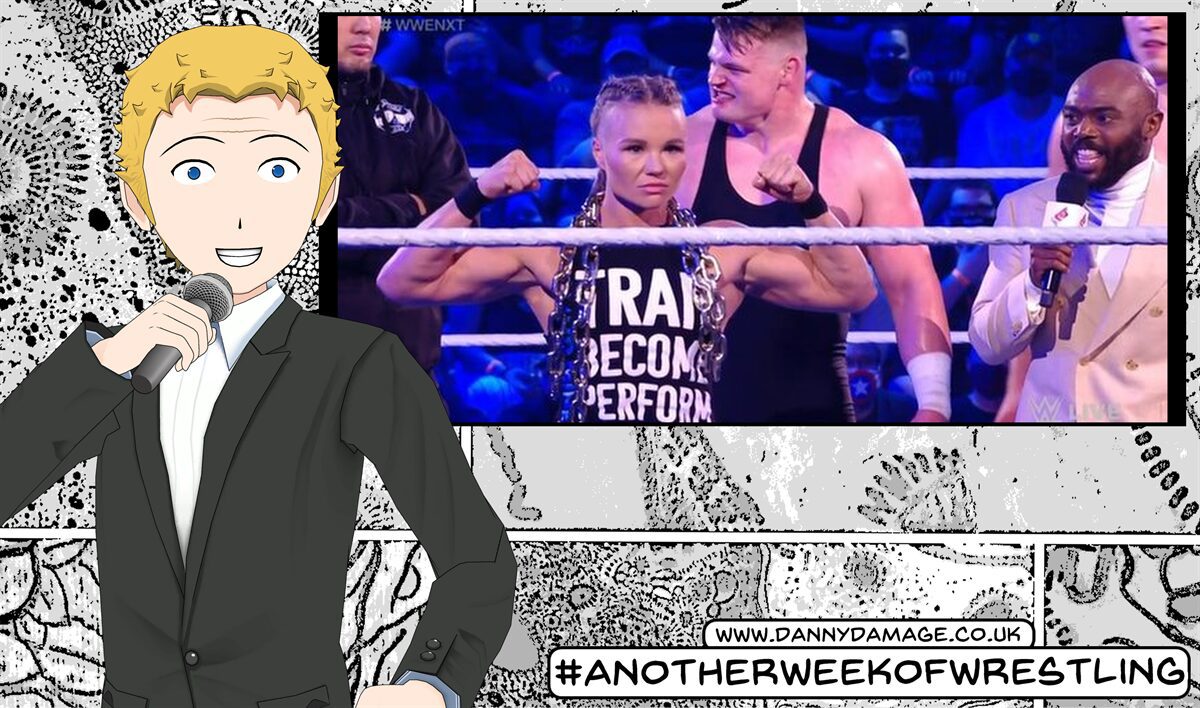 Bron Breakker has gone from a colorful 90s tag team Steiner to WCW black leather Rick Steiner now. I've no idea why.
Briggs & Jensen vs. Grizzled Young Veterans vs. MSK vs. Carmello Hayes & Trick Williams was the main event. Even though there were eight men involved, at least this match was elimination rules and not fatal-four-way/tornado tag rules; it followed some path of logic. Vic Joseph doesn't know the difference, or the voice in his ear doesn't, as fatal-four-way was mentioned about ten times. It came down to MSK vs. Briggs and Jensen at the end, seeing MSK win with a controversial (only one shoulder was down) roll-up. Post-match, Imperium returned to sneak attack MSK, which the crowd cheered for and chanted "Thank you" at the heels.
AEW Dynamite
The 2nd Anniversary edition of Dynamite kicked off with the eight-man tag team match, and everyone was already in the ring when the show started. Kenny Omega, Adam Cole, and The Young Bucks took on Bryan Danielson, Christian Cage, Jungle Boy, and Luchasaurus. It didn't take long for the match to turn into a clusterfuck of quail, and the referee predictably became as much use as tits are to a bull. Jim Ross' passive aggression warmed my cockles once more as his fed-up tone announced that the "match is out of hand," and during the quadruple team move for the finish, Ross questioned, "All four men in the ring; how did that happen?" Kenny and the Bucks also botched a three-man powerbomb on Luchasaurus.
Jon Moxley was seen backstage cutting his usual promo while trying to get a spider out of his jacket with his shoulders.
CM Punk challenged Daniel Garcia to a match at Rampage on Friday.
After Arn Anderson's gun violence promo got over well and was all over the wrestling news last week, Arn showed up at Cody Rhode's house and waited for him in the backyard. The purpose of Arn chewing Cody out (I think) was to tell him he's too much reality star in a suit and tie and not enough pro-wrestler. Arn threw Cody's tie in a barrel fire, slapped Cody in the mouth, and told him, "You might as well paint a star on your face!"
Bobby Fish got a nice little introductory video package before his match against Sammy Guevara. Fish lost, but they had a decent television match, and Bobby knocking around on the roster will only make things better.
While Sammy was still in the ring, Dan Lambert and American Top Team appeared and destroyed him. Sammy's bestie, Luchabama Man, ran in like a bunny running into a buzzsaw, and then Chris Jericho's music eventually hit. Jericho got a big pop, and he had Jake Hager with him as they cleared the ring. I mentioned last week about Lambert rushing through his verbiage like he's desperate for a piss; this problem is still in effect. His inexperience dealing with large and loud crowds became apparent, too, as the audience drowned out everything Lambert tried to say when they were singing Jericho's theme song. Eventually, Jericho had to interject and calm the crowd down, but the damage was done. A six-man tag team match was proposed and accepted. Jericho, Hager, and Guevara will take on three of the American Top Team next week.
The Acclaimed disappointed us with a weak, backstage Tony Khan Approved™ promo. What a massive shame; Max Caster's mouth was once the most exciting part of AEW shows.
Next up: "Tony's Big Announcement that he shouted about before the show, because fuck surprises," part 350. To be fair, there wasn't a huge amount to spoil, and Tony stayed in the back. But there are only so many times that I can hear "Tony Khan will announce" and brace myself for him to wander down the ramp. Aubrey Edwards wanted that new championship belt! She may have tried to hide it, but when she held the tacky new belt above her head, I'm pretty sure the humidity in her under-crackers changed a little.
Darby Allin spoke backstage and presented the charisma of wet grass on a compost heap.
The Dark Order continued to bicker among themselves, despite putting their differences aside last week. One of the lasses told them to knock it off; at least someone cares.
Dante Martin issued an open challenge in the ring. The lights went out, Malakai Black appeared, he spat mist in Dante's eyes, followed it with a spinning hook-kick, and done. They will face off next week on Dynamite.
A bunch of the women and one chap with special effects cut promos on how much they want the 2nd place women's championship. So now, that's two title belts that AEW shows off with another company's logo on them. Pfft, and I give WWE a tough time for being a giant whore-bag. Due to the choice of lowercase characters in the TBS logo, not only does their name read "tuh-buh-suh" and not "tee-bee-ess" but the belt also looks like it has the word "Hos" on it; fantastic.
Serena Deeb defeated Hikaru Shida next. Everyone was preparing to award Shida with a trophy for her 50th win in AEW; Deeb didn't appreciate being overlooked in this way and dialed up the brutality and saltiness for the match. She made Shida tap out and then walloped her with the trophy she hadn't yet earned. It was a good match, albeit more like a live training session that the veteran, Deeb, had put on. More passive aggression from Jim Ross (I love it) when he analyzed Deeb's supposed heel turn in the match and asked, "Is it a one-off thing? Just for one night?" knowing full well that AEW has a habit of inconsistency with their face/heel dynamics.
Darby Allin was assaulted in the parking lot by The Pinnacle, who were wearing balaclavas.
Ricky Starks called out Brian Cage and bailed when Cage arrived. They'll meet at Rampage on Friday.
Leo Rush is back, and he's still not retired… unless he's just on managerial duties now. If that's the case, it appears Rush is slowly making a move towards offering his services to Dante Martin.
Britt Baker agreed with me in that she thinks the "tbs Title" is just an admission that she's untouchable, and everyone else can argue between themselves who's the second-best.
The main event saw the return of the Poker Chip in the Bank Casino Ladder Match. Already announced for the match were Orange Cassidy, Jon Moxley, Pac, Andrade El Idolo, Matt Hardy, and Lance Archer. The joker/mystery entrant ended up being "Hangman" Adam Page, and the crowd blew the roof off the place when they heard his music. Pac looked fed up throughout most of the match, and I'm not surprised considering the bump he took off a ladder and through a table… he's only just returned from having a concussion! Anyway, Hangman won and is now in possession of the giant poker chip that he can cash in on Kenny Omega whenever he chooses. I fear this may be too little, too late for him as the top star he could have been.
WWE SmackDown
I watched SmackDown with my headphones on again this week, and the fake crowd chatter is like metal grating in my ears. I thought they'd keep this when The Thunderdome was dismantled (and hopefully set on fire… twice), and it's another time where I wished I was wrong.
The show started with Becky Lynch, Sasha Banks, and Bianca Bel Air not signing the contract for their triple threat at WWE Blood Money.
The King of the Ring tournament is back! Sami Zane rolled up Rey Mysterio in the first round.
In defense of Seth Rollins…he didn't write or book any of this shit. But WWE made a segment here where he claims he did no wrong in turning up to Edge's house last week.
At least Toni "1980s References" Storm isn't just out there in her knickers, wiggling her arse anymore. She's on the main roster and ready to wi-… oh, Zelina Vega beat her pretty quickly; nevermind. This match was, in fact, the first round of the "Queen's Crown" tournament, which isn't anything like letting the women do their own tribute act of something the men have done for years, all whilst patting them on the head and proudly declaring "equality."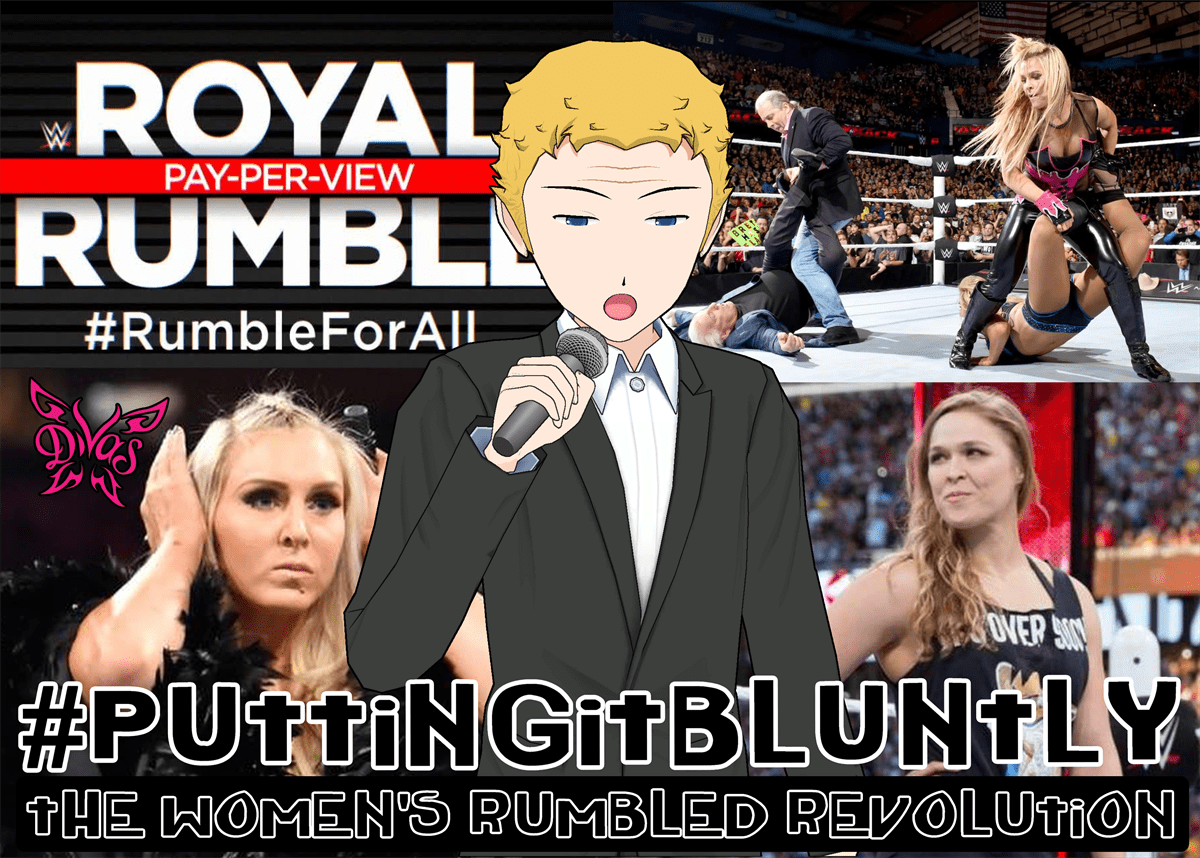 A cheap plug, I know, but for further details on how WWE hasn't been as cool with the ladies as the PR/marketing department would have you believe, please have a read of this 2018 article after you've finished reading wrestling news.
Roman Reigns, Paul Heyman, Jay Uso, and Drunky Uso marched out to the ring next. The crowd is enjoying cheering Reigns at the moment – not all the time, but while he's doing his "acknowledge me" bit. Heyman was given a chance to come clean about his dealings with Brock Lesnar, and Heyman reiterated that it would be stupid for him to turn on Roman. Heyman was allowed to look into the camera and cut a promo on Brock for the match at WWE Blood Money, and they left.
Carmella vs. Liv Morgan again; this time, it was part of the Queen's Crown tribute act. Carmella has a new face guard gimmick which distracted Morgan enough to be knocked out with a superkick. Pat McAfee failed to resist pointing out how redundant a mask so thin is in offering protection.
WWE and Draft Kings crossover gimmick time. Happy Corbin mocked the crowd and Kevin Owens. Corbin's sidekick, Madcap Moss, laughs like Killer from One Piece, for some reason.
Finn Balor defeated Cesaro in a King of the Ring tournament match… which is also going to be paid off at WWE Blood Money; the wankers!
Seth Rollins called out Edge to the ring. After a lot of Seth noises and faces, Edge finally pulled up at the arena. He chased Seth off and accepted Seth's offer of setting the stipulation; Edge chose Hell in a Cell at WWE Blood Money.

AEW Rampage
Rampage opened a little differently this week. We were presented with the three-way split screen pre-match interview hosted by Mark Henry. As expected, this was the best one of these things so far, mainly because of CM Punk, but 2point0 (or the Nasty Boys' little brothers, as Punk called them) and Daniel Garcia held up their end of the bargain too.
CM Punk hit two simple body slams on Garcia and got a pop from the crowd each time, proving you don't need to flip, dive, and execute complicated maneuvers every time. Tazz on commentary put over the qualities of the move compared to what AEW spams each week, and Chris Jericho added, "A good bodyslam puts you in your place every single time." CM Punk was in control of the match, to begin with, but 2point0 helped turn it around. Punk ended up split-legged under the bottom turnbuckle, with his legs on either side of the post. Garcia turned the referee, which allowed 2point0 to repeatedly smash Punk's legs into the steel. Punk tried to make a couple of comebacks, but it was easy for Garcia to clip Punk's leg and get back on top of him. After Punk dodged a corner dropkick and built some momentum, he made his comeback. The finish saw Punk only get a two count from his Pepsi Twist (his leg hurt too much to try the GTS), so he planted Garcia with a piledriver and made him tap with the Anaconda Vice.
The Lucha Brothers hit their stupid double-team moves on The Acclaimed for ten minutes or so before pinning them. Audrey Edwards ignored the rules of the match and jumped around like Mr. Mime on cocaine. At least Max Caster's pre-match putdowns were better than the last time I heard one of his Tony Khan Approved™ piles of dog shit.
Jade Cargill flattened Skye Blue in a handful of minutes. The post-match beat down was cut short when Thunder Rosa made the save.
We got another Mark Henry interview segment, and Mark got to do his "It's time, for the main event!" bit this time.
The main event was a Philly Street Fight between Ricky Starks and Brian Cage. The match was no DQ, so there were weapons and furniture brought into play, but looking back, nothing stood out. Thanks to the uncreative freedom that no DQ offered, Hook and Powerhouse Hobbs helped Starks out when they felt like it. They triple-teamed Cage; Starks hit his Roshambo onto a pipe and won. Ricky Stark's great; this match was just there, and Brian Cage is somewhere between Ryback and Batista… probably more the former.
Because it happened after Rampage, I'm not going to get at Tony for getting on screen… this time; but he's warming people up to the idea. I am, however, still going to leave this one last thing here. People can say that Tony Khan is the polar opposite of Vince McMahon all they fucking want, but here's someone showing off their toy box of things that his daddy bought for him…
That's it for wrestling news this week. Digest and discuss! If you're interested in a quick natter, or just to throw a passing insult, feel free to get in touch down below or over on Twitter.  Thanks for reading, take care, and I'll see you next Monday to discuss #AnotherWeekOfWrestling!
The amazing black and white background artwork that I've mucked around with was designed by Rachael Hope!
Please subscribe to my YouTube channel, my Twitch channel, and consider buying me a Kofi! You can also click below to be warped to my personal homepage: