Another Week of Wrestling #22 (18th October 2021)
CM Punk, Ivy Nile, Pat McAfee, Bryan Danielson, WWE SmackDown vs. AEW Rampage, wrestling news, and more!
I discuss CM Punk, Ivy Nile, Pat McAfee, Bryan Danielson, WWE SmackDown vs. AEW Rampage, wrestling news, and more! Welcome, and thanks for joining me at Geeks + Gamers!
As well as previously bringing you That's Not Wrestling and ranting about PPVs on YouTube, I'm here to mouth off on a Monday about wrestling news, results, and events that catch my eye, ear, and sometimes my nose. I'm Danny Damage, writing for Geeks + Gamers, and this is Another Week of Wrestling for October 18th, 2021!
<—Last week's installment of Another Week of Wrestling!
WWE Raw
Drew McIntyre is still swinging Vince McMahon's sword around on his way to the ring. He and Big E put over their match at WWE Blood Money in Saudi Arabia when they're rudely interrupted by Drunky and Jay Uso. If the brand division means so little that people can show up when WWE needs a rating they feel like it, what's the fuzzing point of the draft? It broke down, and the main event was set for Drew and Big E to take on Drunky and Jay.
Xavier Woods beat Ricochet in a King of the Ring tournament match.
Shelton Benjamin and Cedric Alexander ran over M'st'fa Ali and Monsoor in about 90 seconds. Ali and Monsoor couldn't get on the same page, and Ali sulked after being pinned so soon in the match.
Shayna Baszler KO'd Dana Brooke with a rising knee-strike in a Women's King of the Ring tournament tribute match.
Big E and Drew McIntyre showed they could get on later tonight and emulated Hulk Hogan and Randy Savage's handshake of power.
Bobby Lashley commented on Goldberg's threats to kill him at WWE Blood Money in Saudi Arabia. He did this several times to really push the fact that WWE is allowing more edgy language.
Jeff Hardy came out to hardly any noise whatsoever. Not because people dislike Hardy, but his self-performed theme song is crap, and nobody knows what's going on when they hear it. Hardy attempted to get revenge for Austin Theory's trap and cheap shot last week. Theory rolled out of the way of a Swanton Bomb and grabbed Hardy's attire to secure the win.
Jinder Mahal pinned Kofi Kingston to advance in the King of the Ring tournament. Before the match, Kofi and Xavier Woods were asked what would happen if they had to face off against each other in the next round. They both chuckled and deflected the question twice. With Kofi losing (and throwing himself on his own head with his stupid SOS move), my interest in Xavier winning the thing has depleted. I thought I caught a whiff of Xavier turning on/crossing a line with Kofi; showing how much winning the tournament meant to him. Both Big E and Kofi have been world champions; Xavier has not.
Sasha Banks & Bianca Belair vs. Becky Lynch & Charlotte Flair failed to start. Sasha and Bianca couldn't decide who would start, so they battled each other. Then Charlotte and Becky broke them up so they could kick their arse… which made no sense. Charlotte booted Becky in the face, and this caused Adam Pearce and Sonya Deville to appear and restart the match. There was no point to this, however, as both teams just fought with each other, made unwanted tags, and ended up staying in the ring beyond the referee's count, so both teams were disqualified.
Doudrop got a surprise win over Natalya in the Women's King of the Ring.
M'st'fa Ali and Monsoor argued backstage, and then Ali battered the piss out of his former friend. Ali claimed that Monsoor was too green and naive to survive on his own.
The main event of Raw was Drunky & Jay Uso vs. Big E & Drew McIntyre. On commentary, Cody Graves parrots what I said about Big E needing to take shit more seriously as he points out Big E punches people while stretching them and no longer spanks them. The faces worked well, to begin with, but Big E got a bit big for his boots and smugly tagged himself in. They started brawling and got themselves counted out. Drew dropped E with a Claymore and walked off.
NXT 3.0
Everything is changing very quickly in NXT, and this is not the first time I've mentioned that it's too much, too soon. The show is becoming unrecognizable, and Vic Joseph confirmed just minutes in what I'd suspected for a while now. "Social media wants new faces in the title picture," he said. What he didn't address is that social media is also very familiar with the WWE pushing someone the fans want (or thinks the fans want) hard for a couple of months and then driving 100 miles into the middle of nowhere and abandoning them the next day.
Also, before we get into the show, William Regal tweeted this out during the week.
I'm not sure who he's referring to with this, or if it's just a general bit of advice for the whole roster that was printed out and stuck in the Gorilla position, but people took note. I saw almost everyone put everything into their pins tonight.
NXT opened up with a kidnapping. It seems so long since we had one of those in either WWE or AEW; they used to be a twice-weekly thing not so long ago!
Joe Gacy now has the peace symbol as part of his entrance graphics, and I'm leaning more and more towards the idea that he's going to be a psycho cult leader/mass murderer before long. If Gacy turns up to Halloween Havoc in a clown costume, it's on! Maybe he'll just start a modern Straight Edge Society/Right To Censor or something.
Tommaso Ciampa's win over Gacy prevents Gacy from being added to the title match at Halloween Havoc. However, after the match, the odd-looking dude was in the crowd again, and he laid out Ciampa after the match. The stranger grabbed hold of Gacy next, but a gentle stroke of the face from Gacy is enough to send the guy elsewhere.
Toxic Attraction cut a promo in the ring. They're all challenging for gold at Halloween Havoc.
Xyon Quinn got another brief showing. He flattened Malik Blade with a flying forearm.
NXT showed a teaser for Elias' return, now that he's apparently buried his old gimmick.
While Tommaso Ciampa was being interviewed backstage, The Grizzled Young Veterans interrupted him. Zack Gibson is a great shit-talker, and before things got physical, Bron Breakker appeared and told Ciampa he'd make sure nothing happened to the champ before their match. Ciampa didn't look like he appreciated that much.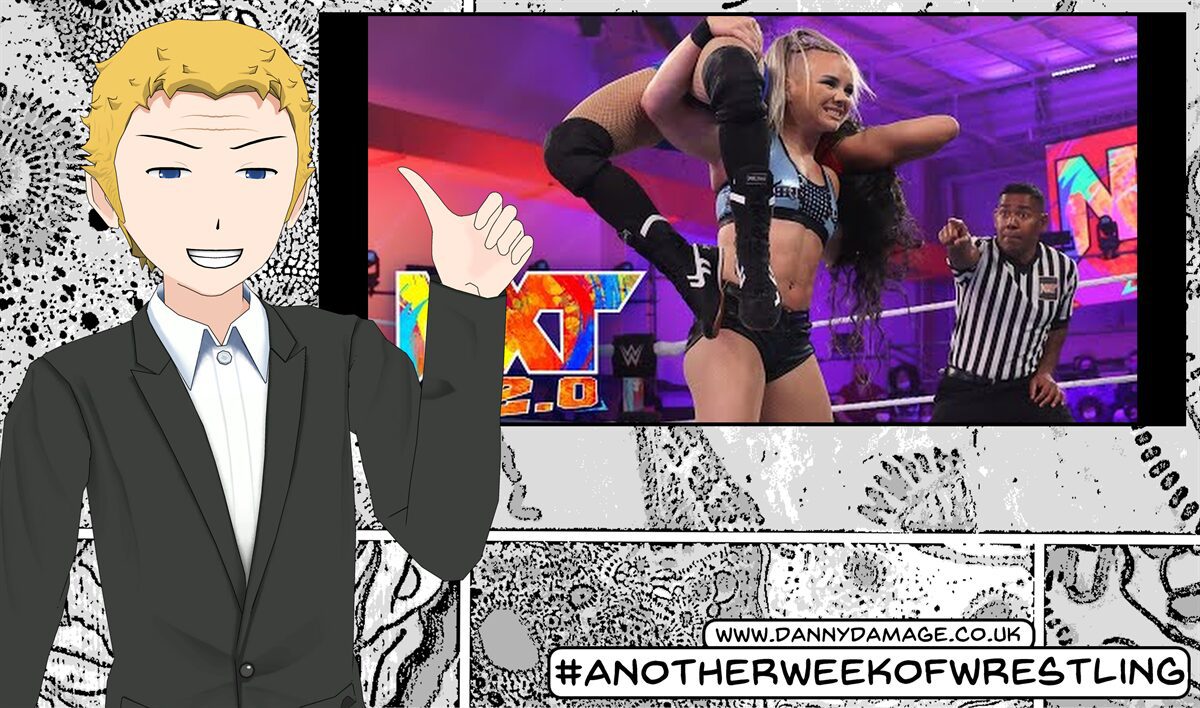 Ivy Nile won her debut match against Valentina Feroz. There was some uncertainty in there, but that will likely dissipate in time with experience. Nile made Feroz submit with a torture rack. She looks like the daughter of Luna Vachon and Ludvig Borga.
Julius Creed then ruined Ikeman Jiro's night in another match to showcase The Diamond Mine. Jiro's tacky and he doesn't do anything for me, but at least he's just being used to get pinned quickly. The rest of The Diamond Mine stuck their boots to Jiro after the match, and Kushida ran down… to get kicked in too.
Kyle O'Reilly (w/his PTSD) & Von Wagner vs. Pete Dunner & Ridge Holland. Although Holland has recently been drafted to SmackDown, he was the one that ate the pinfall here. Holland's a unit; I can't wait to see what else he can bring to the dance.
The Piss Break with Lame Legend did exactly what it said on the tin. This is poor. Lash Legend's speech and body language are like that of a child imitating a grown-up.
That embarrassment had a cheesy chaser in the form of a Chase U lecture from Andre Chase. He says "fuck" a lot, which is obviously beeped out.
Tony D'Angelo gloated about his win last week and then sulked about not being able to get on Lash Legend's talk show. He also alluded to having kidnapped the producer of the show and stuffed him in his car's boot. Look at that; we go months without a kidnapping in wrestling, and we got two in the same show.
Duke Hudson took on Grayson Waller next. Who are these people? Who came up with their stupid names? If a potential new viewer joined the show at this point, what was there to hook them in? I'm sure both guys are fine in their own right, but the mere mention of Waller's Golden Gloves boxing accomplishments just turned my mind to thinking about Anthony Ogogo and wondering how he's getting on. Hudson won with a handful of tights.
Indi Hartwell & Persia Pirotta vs. Sarray & Amari Miller. The match didn't go too long, which was the right call. Hartwell and Pirotta won, and they managed to surprise me. Because they've been involved in super-sized dollops of soap opera bullshit, I assumed they were hiding their in-ring work. I was wrong! Even Wade Barrett made a comment about how good the team was in the ring and how they need to wash off any of that stench as soon as possible.
Imperium had a pre-taper shown next, with subtitles. The lads reiterate how the ring is sacred to them, and they call MSK and other modern talent phone-addicted pussies… basically. I can't disagree with them. The NXT crowd agreed with them last week as they cheered and thanked Imperium (the heels) for laying waste to the tag champs, MSK.
Grayson Waller gives Cameron Grimes some tips on picking up ladies. He basically tells him to shave his chest and face, and get on dating apps.
Coming soon: Solo Sikoa… because we obviously need even more newbies rammed into these two hours.
Isaiah "Swerve" Scott vs. Santo Escobar for the North American Championship. Swerve was obviously angry that the rest of his group were kidnapped, so instead of getting in touch with the authorities and helping look for them, he turned up to his match and jumped Escobar before the bell instead. The rest of Legado Del Fantasma stayed in the back,to begin with, but it only took a near-fall or two to make them show up and get involved. The crowd got well into the match as it was full of fast-paced, high-flying action, and they were happy when Swerve retained the title. Carmello Hayes and Trick Williams came in great use, as it was them that ran out to neutralize Escobar's faction members on the outside.
As Swerve celebrated in the ring with his two temporary saviors, Hayes dropped Swerve hard and "executed his championship opportunity contract" on him. It's not quite as pithy as "cashing in his MiTB contract," but it got the job done, and Hayes is now the North American Champion, thanks to him winning the 2021 Breakout Tournament. It looks like this belt is staying on NXT after all and not heading to SmackDown with Swerve and Hit Row.
Wrestling News
WWE SmackDown
SmackDown opened with the Edge pop and a recap of his feud with Seth Rollins. Edge said he knew the game Seth was playing by going to his house last week, and he reminded us that he once slapped John Cena's father. So, now we're supposed to care that it's happened to Edge because it only works one way? Anyway, Edge hyped up their Hell in a Cell at WWE Blood Money in Saudi Arabia, and Michael Cole even said Saudi Arabia out loud!
King of the Ring time next, and Pat McAfee put over Finn Balor on his way to the ring. McAfee got a "too sweet" line in there as Finn throws the hand gesture as often as possible too.
Sami Zayn vs. Finn Balor was no match of the year contender, but it was a decent opening contest between a slimy heel and a valiant babyface. The crowd bought all their antics, and the near falls. And they cheered Balor on when he hit his finish and fell backward, turning it into a Coup De Grarse.
The hype video package for Brock Lesnar vs. Roman Reigns at WWE Blood Money in Saudi Arabia was fantastic. The modern entrance themes are nowhere near as good as anything Jim Johnston composed, but the scores for the packages are almost always superb.
Instead of delivering the advertised Naomi vs. Sonya Deville match, Deville abused her power and turned it into a two-on-one handicap match, bringing in Shayna Baszler as her damage dealer. Naomi put up a fight, but the numbers were too great. Baszler squeezed the life out of Naomi, and Deville put a foot on her chest for the three-count. What a cocky, gloating, prick…I love it!
Seth Rollins squawked on and on about Edge and Hell in a Cell. The audience gave him shit about his outfit and chanted "Harley Quinn" at him for a while.
During the Women's King of the Ring tribute act, things got a bit Inceptiony. By that, I mean we were served a tribute within a tribute, as Carmella and Zelina Vega dusted off Rick Martel and Shawn Michaels' thing by agreeing there were to be no shots to the face. Vega rolled Carmella up after some drama was caused by an instinctive blow to the face.
Happy Corbin and Mad Cat Moss laughed at everyone and were then scared away by Shinsuke Nakamura and Rick "Ear Rape" Boogs.
The Street Profits were defeated by Drunky and Jay Uso after the pair hit Angelo Dawkins with the double splash off the top; I'm pretty sure that move's called Diving Under the Influence. The match was no disqualification and therefore was tornado tag rules. Michael Cole made a big point of this deviance from the traditional rules, making the occasion a little bit more special. As far as a car crash match aimed at fans of AEW's style goes, this was a plate of relatively controlled chaos.
SmackDown went an extra half hour this week, commercial-free. Pat McAfee cracks me up when he acts dumber than he is. "Progressive must have written a pret-ty big cheque," he said.
When Becky Lynch walked down the aisle, I saw what she was wearing and didn't think she was competing. Then I was corrected when Sasha Banks got in the ring, and the two squared up. Bianca Bel Air joined the commentary table and was definitely not dressed to get physical – in public, at least. It looked like someone got two standard-sized napkins, folded them in half, placed them over her boobs, and then ran sellotape over them and around her back. What would one call that "outfit"? Titty tissues? Nip-kins? Either way, I'm assuming it was making up for the black bin liners and balaclavas they'll be wearing in their triple threat match at WWE Blood Money in Saudi Arabia.
Sasha Banks got the win over Becky Lynch when Lynch was trying to crawl away and cling onto the steel steps, Bel Air whipped Becky's hands when the referee wasn't looking, and Sasha hit the backstabber for the win.
As soon as the match ended, we could hear Adam Pearce barking orders to the crew to set up for the next segment as soon as humanly possible. Pat McAfee forgot about the fact there were no commercial breaks on the way and started scratching his head at Pearce's behavior. "Is that a big, bald doofus? It looks like Adam Pearce, but it sounded like something else," McAfee said before Cole corrected him and pointed at the time.
McAfee made up for it soon after by putting Roman Reigns over during Reigns' walk to the ring. He did the same for Brock Lesnar, despite the crowd's reaction to Lesnar being more than enough already.
Once both guys are in the ring and the contract signing table, Reigns got Paul Heyman to verify that the contract is as they'd discussed. Heyman says everything is in order, and Roman signs up. Throughout all of this, Lesnar had been chilling with his feet on the table, having a good time. Once he gets his hands on the contract, he signs it without reading or even looking at it; I'm pretty sure he was 10 miles away from the dotted line, but whatever. Reigns asked Lesnar how stupid he is for signing something without reading it first, and Brock calmly responds that he read it earlier that morning… with his advocate. Brock smiles, winks, and casually leaves. Heyman looked like he was pissing himself in fear, and Roman realized that if there is a trap being set between Brock and Heyman, he may have just officially signed his way into falling for it. To be continued!
AEW Rampage Buy-in
Tay Conti won what was meant to be a match against Santana Garrett. Conti confuses the fuck out of me. She piqued my interest when I first saw her in NXT, as she has black and blue belts in Judo and BJJ, yet her body language screams of inexperience in combat. Do they now have dojos where you just learn the moves to demonstrate but never spar with others? Garrett honestly looked more convincing, and she was dressed up like a really cheap Mickie James/Wonderwoman crossover cosplay. ExcaliBORE got into the match heavily… it's like he's never seen a woman's backside in XXS knickers before.
The video package showcasing members of American Top Team was well done, apart from Excalibur sat there wobbling his head like he's some authority on MMA. Feck off!
Bobby Fish made medium-light work of Lee Moriarty. It took Fish a little too long to knock off a scrub in his AEW debut, but he used an exploder suplex and a head kick combination to do so.
Bryan Danielson vs. Minoru Suzuki wasn't as good as everyone wanted it to be. It was put together last minute with no build, it was on the YouTube pre-show of a program that's been struggling with ratings for a little while, and it took Suzuki 20 minutes to defeat Joey Janella not so long ago on AEW. It was hardly a case of forces clashing.
The match itself was Bryan's worst (single) so far in AEW. The dumbtarded referee of Remsburg was about as much use as Mother's Day cards are at an orphanage, and the crowd was dead keen on getting themselves over. Bryan and Suzuki took turns hitting each other, and most of the bout oozed cooperation. I felt like I was watching an episode of Jackass mixed with a dare/pissing contest. Bryan won with his running knee, and AEW used its head by playing CM Punk clips for the last few minutes of the buy-in.
AEW Rampage
As Rampage started, Matt Sydell was already in the ring, and the show opened with the CM Punk pop. Punk and Sydell had a good match; the commentary team tried to put over that both men are veterans, and I wasn't aware people saw Sydell as such. Excalibur made a comment about Sydell trying to blow Punk up, and Taz instantly translates that for everyone else to understand. Punk went for his trio of slams again and was foiled on the third. He got the third one eventually later on, and he slammed Sydell on the ring apron. I almost got a whiff of mockery aimed at the crowd too. A heckler shouted something at Punk, and he replied, "It's a body slam," with a dash of smugness on his face. This took a bit longer than I think Punk should be taking to re-establish himself, but this problem is the least offensive issue I have with AEW at the moment. Punk blocked something in the area of a tornado DDT/head scissors, chucked Sydell on his shoulders, and hit the GTS to end it.
I got a bit sad next, and not just at the sight of The Mark Order on my screen. Colt Cabana lingered behind the masked misfits once more, and I'm guessing he and CM Punk haven't bumped into each other at the coffee machine or side by side at the urinals yet. They were friends for a long time. It's such a shame they fell out so hard. I said at the time of the falling out that Punk was presenting with (at least a little) PTSD and that he was struggling to determine friend from foe after leaving WWE. Punk himself admitted when he joined AEW that WWE was the place that made him sick. Maybe it's time these two buried the hatchet.
Ruby Soho rolled up The Bunny for an easy win, but she got double-teamed by Bunny and Penelope Ford after the match. Brass knuckles would also come into play. I liked the move that Bunny set up in the match; I don't think I've seen it before. She set Soho up on her hands and knees with the top of her head flat against the middle turnbuckle. Bunny then ran from the other corner and drop-kicked Soho right up the arse, causing her head, neck, and spine to be driven into the turnbuckle.
Mark Henry got to do his "It's Time!" bit, and Dan Lambert's twenty seconds of relentless line-rushing actually worked in this spot. Chris Jericho showed us how cool and edgy he is by saying "shit" and "bitch." Lock up your wives and daughters; there's a bad boy on the loose! </sarcasm>
Chris Jericho, Jake Hager, Sammy Guevara vs. Ethan Page, Scorpio Sky, Junior dos Santos. I've got no idea why JDS is holding his shots back when he's in the ring with Jericho. C'mon, Santos, Jericho's got plenty of insulation to absorb it; he'll be fine. Dan Lambert has enough heat to share around, and the heels kept Jericho on their half of the ring for the majority of the match. Eventually, it broke down to the point of two different spots occurring at the same time and the camera missing one of them. You could hear the crowd reacting, but the TV was showing the other spot shuffling into position. Jericho had Sky tapping, but the referee was busy reapplying her clown makeup and missed Jericho getting KO'd by a knee strike. There was a beat-down afterwards, of course. It's one of the only endings Tony Khan knows how to write, and for some reason, Santana and Ortiz were enough to scare off seven or so heels.
AEW Dynamite
Dynamite was moved to Saturday this week, so my wrestling news is a little jumbled.

The show opened with CM Punk joining the commentary table for another episode of Grapple Box, and I'm feeling like we may as well just set a camera up in Punk's living room so we can all watch wrestling with him that way. I jest; I love the chemistry he and Jim Ross have, and it's a delight to hear the fun they're having with this WHILE doing a fantastic job. Frustration found its way onto Punk's face once again; this time, it was while he was running around the front row of the crowd. People were close to spilling beer on him, and many had their backs to him, trying to capture a selfie instead of facing the event and performers they'd paid to see.
The opening contest was Malakai Black vs. Dante Martin w/Leo Rush. I get what they were trying to do here. The finish saw Black kicking Martin's head into next week, and then Black gave a nod of acknowledgment in Martin's direction as he disappeared up the ramp. This made sense, but a lot of the match was unnecessary. Malakai the monster shouldn't take this long to beat greenhorns up in television matches. Not only did Black "need" to employ a strategy of disabling the high-fliers' leg, but when Black finally took advantage of Martin holding his leg and leaving an opening, this was the third time it'd happened. The first time Martin stopped dead and failed to capitalize on an attack because of his leg, Black could have – and should have – ended it. They didn't need to do the spot thrice just so we'd understand what happened.
Before Jungle Boy and Luchasaurus could answer the question they were asked backstage, The NWO4Kids Cosplay team (The Elite) jumped them and put Luchasaurus through a table. Kenny Omega was as proud as a peacock because he managed to actually hit the powerbomb this week.
The Inner Circle's promo was cut short by American Top Team. FINALLY, Dan Lambert has heard the message about not sprinting through his verbiage like he's about to shit his pants if he doesn't speed things up. He'd say something, the crowd would instinctively react, then they'd settle into their response, and then he'd say something else. Good times. I hope there's a hypocrisy jar backstage somewhere for Chris Jericho to contribute to. He had the audacity to call someone else fat and another person a bimbo. Both myself and Jake Hager were tickled by Lambert's bad-mouthing towards Hager. He commented on the size of Hager's giant head and asked if he had to step into his t-shirt and pull it up to wear it; brilliant.
Andrade El Idolo unveiled his mystery tag team that will face The Lucha Brothers for the AAA tag titles. A pair of Lucha Frogs emerged (two guys in cheap green Power Ranger outfits), and they hopped around the ring. CM Punk and Schiavone poked fun at Excalibore, expecting him to know exactly who these guys were and what their record was in Mexico.
It didn't take long to realize who was under the masks, and even CM Punk didn't want to insult the viewer's intelligence any longer, so he said he was sure it was FTR. It was, and they got unmasked during the match confirming this. Once the cat was out of the bag, Tully Blanchard ran down and caused a distraction. One belt shot later, and FTR became the new AAA tag champs. Apart from the finish, the match was typical Lucha Bros. double-teaming while Mrs. Mime forgot the rules too and jumped around, reacting to the action.
Leo Rush was backstage, and he announced that he is now Dante Martin's tag partner… until he retires again.
MJF revealed that FTR are a pair of rent boys when he met Andrade El Idolo in the parking lot. Andrade handed over some cash and a cheque, and MJF reminded him that it was for one night only.
Jon Moxley vs. Wheeler Yuta was over in around a minute. Moxley marched to the ring on more of a mission than usual, knocked Yuta around, dropped him on his head, pinned him, and pissed off. That's all it needed to be; nice work.
Serena Deeb was interrupted by Hikaru Shida backstage, and they brawled. CM Punk mentioned that the backstage area appears to be more dangerous than the ring, and he also complimented the thick head of hair on Deeb.
The Super Elite vs. The Dark Order was another daft, clusterfluff of comedy spots and careless dives. Some people felt bad that Bryan Danielson got a little bit of this on him last week, but poor Adam Cole's been swimming in this muck since he joined the promotion. CM Punk pointed out, "The Bucks are great at making you hate them," and I could hear the joy in JR's voice (instead of trepidation) when he snarked that "at some point, the referee might want to consider counting." Punk and Ross were my salvation for this one. Thanks, chaps.
AEW played another episode of Cody Rhodes' redemption arc/audition for a TV show or film that will do better than HemorRhodes to the Top.
MJF introduced himself after telling Justin Roberts how useless he is. MJF knew that Darby Allin wasn't present but called him out for their match anyway. Nothing happened, so MJF instructed Wardlow to appear with a referee. He did, and the referee was forced to count to ten to prove MJF won. Once the count reached nine, Sting appeared with a baseball bat and got in the ring. MJF pushed Wardlow into danger so that he could escape, and he cheesed it up the ramp.
The only good thing about the Kiera Hogan vs. Penelope Ford match was CM Punk mentally flipping the commentary table and throwing his colleagues off their game. As soon as the two ladies began fumbling around with each other, Punk asked, "So, Kiera Hogan, any relation?" Although Tony Schiavone and Excalibur started naming a few other famous Hogans, I'm sure I heard the sound of them all bracing themselves on the table. Luckily, they had some sloppy wrestling to distract themselves with. Ford won with her springboard cutter and Muta Lock combination, and she looks a little better each week, but sometimes, two students don't have anything to teach/learn from each other. Tasha Steelz, Kiera's tag partner, would be a better choice for this slot; she's so much more convincing and experienced. But Steelz doesn't tick as many of those diversity boxes, and we know how Tony Khan loves talking about that.
Miro had an interesting video played next. He blamed his God for giving him a body of granite and a neck made of sand, but he doesn't understand why. He must continue his path of destruction to find his answers.
Tony Schiavone introduced "Hangman" Adam Page to the ring. The crowd got to do all their chants, and Page had to shout over them. Oh yeah, he said "cowboy shit" 20-odd times, too, because edgier content.
Bryan Danielson and Bobby Fish put on a cracking main event match. It looked and felt like a competition, and the finish came at an opportunistic moment for Bryan in between an exchange of grappling holds and counters. Danielson made Fish tap with a heel hook. CM Punk said "Daniel Bryan" a couple of times during the match, and I even caught him saying "former W-,…AEW champions…" earlier in the night. He made a point of bringing up his mistakes in front of Jim Ross, saying that Ross wasn't the only one to have done it now. What a guy! I love these two in my ears; they're all that's needed.
Dynamite ended with their King of the Ring Full Gear tournament bracket being announced.
That's it for wrestling news this week. Digest and discuss! If you're interested in a quick natter, or just to throw a passing insult, feel free to get in touch down below or over on Twitter.  Thanks for reading, take care, and I'll see you next Monday to discuss #AnotherWeekOfWrestling!
The amazing black and white background artwork that I've mucked around with was designed by Rachael Hope!
Please subscribe to my YouTube channel, my Twitch channel, and consider buying me a Kofi! You can also click below to be warped to my personal homepage: