Another Week of Wrestling #25 (8th November 2021)
Max Caster, Chad Gable, Dakota Kai, CM Punk, wrestling news, and more!
I discuss Max Caster, Chad Gable, Dakota Kai, CM Punk, wrestling news, and more! Welcome, and thanks for joining me at Geeks + Gamers!
As well as previously bringing you That's Not Wrestling and ranting about PPVs on YouTube, I'm here to mouth off on a Monday about wrestling news, results, and events that catch my eye, ear, and sometimes my nose. I'm Danny Damage, writing for Geeks + Gamers, and this is Another Week of Wrestling for November 1st, 2021!
<—Last week's installment of Another Week of Wrestling!
WWE Raw
The show opened with a video package of Becky Lynch and Bianca Belair, filled with talk of adversity while getting a huge push. This led to a match between Lynch and Belair. Lynch won after exposing a turnbuckle, pushing Belair into it, and rolling her up. Belair got to do loads of her Cesaro/strong woman spot checklist, and she once again did her gorilla press from the turnbuckle and not the floor. Good stuff.
Rey Mysterio vs. Austin Theory ended in a disqualification when Dominic Mysterio retaliated and hit Theory, and it looks like Kevin McInterviewer is paying homage to Tom Philips' interview style…
Seth Rollins explained his non-Money in the Bank contract before Big E joined him in the ring. Seth told Big E just to give him the belt now so that he can "go back to being a joke with his friends," which was a great line. E told Rollins he could have his title match tonight, but Seth declined. This brought out Kevin Owens, who challenged Big E to a match instead. Big E accepted the non-title match challenge.
During a tacky high school bitchy brat segment backstage, Rhea Ripley said, "Mate, this isn't high school." So self-aware.
Zelina Vega & Carmella defeated Nikki A.S.H. & Rhea Ripley in a non-title match. They're really going over the top with letting us know Cory Graves and Carmella are a thing. Despite her best efforts and posh accent, Vega is still in second place to Xavier Woods as this year's Queen of the Ring.
Backstage, Chad Gable told Big E that he could have done something to him and his career/persona like he did with Otis' comedic tragedy of a gimmick. Big E didn't seem impressed.
Chad Gable then put on a great performance against Finn Balor before Balor no-sold a super-plex and hooked Gable's legs to get the three-count. Nice match, dumb ending.
The Dirty Dawgs pinned the Street Profits after Omos caused another distraction. RK-Bro was on commentary, and the crowd seemed more interested in them than what was going on in the ring. Matt Riddle tried to be helpful during the beat-down, but he got ruined by Omos too.
I'm not sure if Damien Priest and M'st'fa Ali are getting made up by the same person backstage, or if they're doing each others' hair and make-up, but they kinda look the same now… just bigger/smaller. Priest defeated T-Bar in a no disqualification match, and then Apollo Crews and his wretched fake accent introduced himself to the U.S. champ. Apollo said he'll see Priest again soon.
John Morrison was meditating again; this time, he was disturbed by the tomfoolery of the 24/7 title.
Becky Lynch justified her behavior earlier in the night and said Bianca Belair is definitely off to the back of the line now. Liv Morgen stepped on screen, and Becky walked off.
Kevin Owens could smell Seth Rollins' snake oil a mile away and told Rollins he didn't want or need his help.
Seth Rollins swaggered down to ringside during the Big E vs. Kevin Owens main event. While the referee was turned, Seth cheap-shotted Big E and left. E and Owens had just clashed heads, and Owens seemed unsure of what just had happened, so he went for a pin and was rolled up himself. After the match, Owens tried to apologize to Big E, saying his head was fuzzy and he wasn't sure what happened. Owens challenged Rollins to a fight next week, and then Big E dropped KO with a Big Ending anyway.
NXT 3.0
Mandy Rose was the talk of online wrestling news last week, so NXT opened with her coming out to show off her new belt. Rose shot down the fans' "You deserve it" chant with the good old "I don't need your approval/validation" response; good stuff. The rest of Toxic Attraction was in the locker room, taking out Zoey Stark. Io Shirai challenges Rose. The challenge was accepted, but Rose hit Io with a cheap shot and knocked her around for a bit before the rest of Toxic Attraction joined in. Kayden Carter and the Ninja Midget made the save.
Dakota Kai told Mandy Rose that she didn't get involved last week to help Rose, just to end Raquel Gonzalez.
Cameron Grimes was in Duke Hudson's Poker Room this week. These lame comedy skits were sprinkled throughout the show.
Cora "No, that isn't 'Dammit' by Blink 182" Jade vs. Dakota Kai. Big running boot to the face from Kai for the win. Kai was considering injuring Jade with a table after the match, but she thought better of it. I'd always said that Kai was good at coming off as unstable, and with the faces, tics, and conversations she mutters to herself; I wouldn't put it past her to have a hawk blade in one of her boots.
For some reason, MSK were sat at a bus stop and missed their bus because they were too busy waffling shit with each other. They decided to walk to their destination instead. I've got my fingers crossed they're trying to get back to Impact Wrestling.
Xyon Quinn watched Robert Stone make a tit of himself singing and dancing in the ring. Then, for some reason, Quinn started singing and dancing to Shawn Michael's theme song in response. Terrible. It turned into a match eventually, and Quinn made light work of Stone. Did they start pushing Quinn and then forget about him when they signed the third Uso? "Quickly, make this guy a Samoan in a suit to look; it looks way different to Slimoa Joe."
Joe Gacy criticized social media and promised to change the world.
Kyle O'Reilly & Von Wagner vs. Legado Del Fantasma. Shennanigans and a rollup of Wagner won it for Legado.
Carmello Hayes and Trick Williams tried to gloss over the dogshit they were a part of last week at Dexter Lumis' haunted house. Nah, lads, there's still loads of it on both of your shoes; please don't walk it all over my wrestling news and results.
A second video of Cameron Grimes pretending to be crap at poker played. Sadly, this wasn't enough, as it was left to be continued.
Andre Chase was upset someone called him cowardly on social media, so he issued an open challenge. Bron Breakker answered the call and ruined Chase with minimal effort.
"Live" in the backstage area was Imperium, giving us another episode of "Psychic Subtitles."
Lash Legend and Tony D'Angelo, two nobodies trying to tell each other and everyone else that they're something. Two terrible characters.
Slimoa Joe vs. Jeet Rama. Uso Splash off the top for the win. Groundhog day, over and over and over again. Fickle and pointless.
Grayson Waller vs. Boa. LA Knight was on commentary during the match, and he distracted Waller long enough for Boa to knock him out and win.
Cameron Grimes embarrassed Duke Hudson and himself, but at least it's over… for this week.
Tommaso Ciampa walked out and put over all the title changes last week while pointing out he defended his belt. Camello Hayes and Trick Williams interrupted him with catchphrases and buzzwords; yawn. How am I to take people seriously when they make no effort to speak like adults? You'll get nothing positive from my wrestling news articles behaving like this. Seriously, this pair makes Eugene sound like Shakespeare. Williams started dancing around, Ciampa dropped him with a jab, and they both backed away from Ciampa. Johnny Gargano approached as Ciampa left, and they exchanged a glare.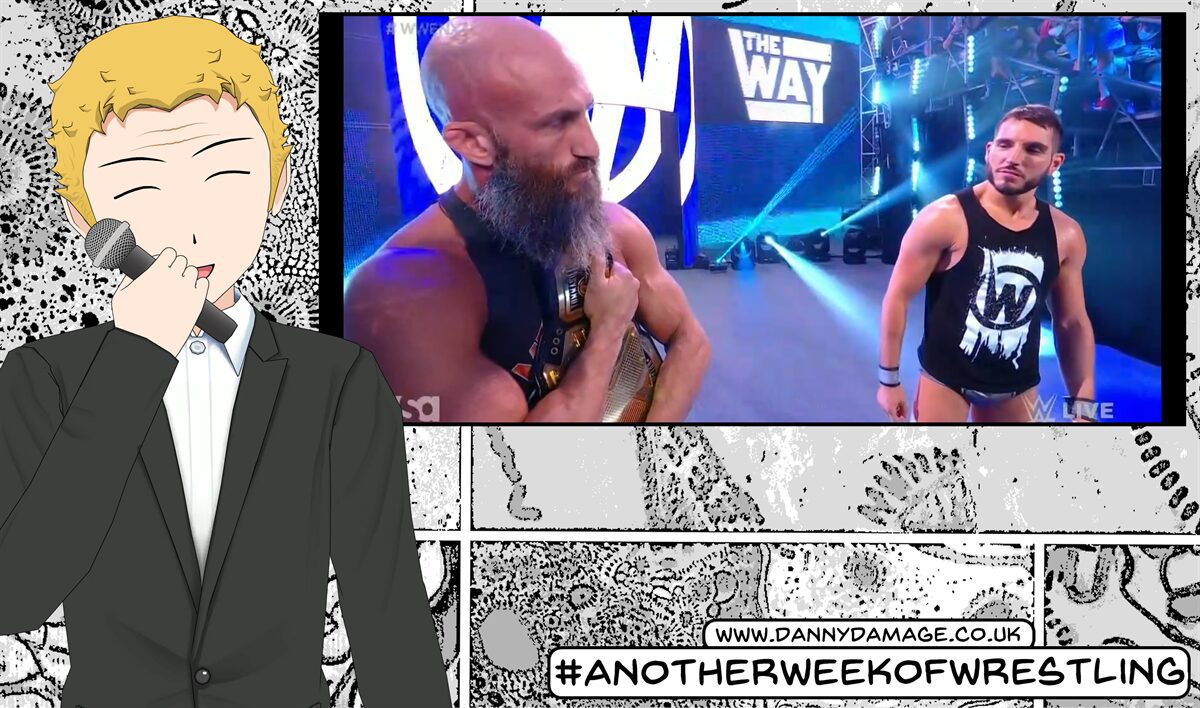 Johnny Gargano & Dexter Lumis vs. Carmello Hayes & Trick Williams. Early on, it remained evident that Lumis' special power is to turn anyone around him into a clown. Both Hayes and Williams oversold how scared they were of Lumis crawling around too. After a bit of sneaky double-teaming behind the referee's back and Williams taking off his shoe and cracking Lumis in the head, they pinned him.
AEW Dynamite
Oooof! After getting people used to hearing CM Punk or Bryan Danielson's music at the start of an AEW program, Booker of the Year Tony Khan thought it'd be a good idea to open Dynamite with the visual stench that is Kenny Omega.
Also, the wrestling news of Jon Moxley going to rehab is a very sad one, but ExcaliBORE going on about it on Dynamite isn't the time or the place for it. The announcement was made, and well-wishes were sent already before the topic trended online. If Tony Khan/AEW keep trying too hard to show how great they are at fixing this problem, I'm going to suspect they had more to do with it than they'd like you to know. Some people REALLY need boundaries; there are none in AEW. This isn't the first time I've discussed the matter.
Kenny Omega vs. Alan Angels. The crowd was into Omega and his dog-agility-show style of performing, but I'm not sure as many people watching at home will feel the same way. Historically, the ratings have agreed with me; I doubt it'll be any different this time. "Welcome to our show; our champion took this long to beat some scrub from the modern-day Job Squad." Then Omega cut a little promo… how embarrassing. "Hangman" Adam Page arrived just in time to prevent Omega from using a chair, the TV feed missed Page dropping Michael Nakazawa without breaking his stride, and Omega ran away.
"COMING UP NEXT: CM PUNK!" got a bigger reaction than anything from that first match.
Malakai Black warned Cody Rhodes about being betrayed. Malakai should really warn Cody about acting like working a summer with Nick Aldis and booking himself in AEW for two years makes him the John Cena of non-WWE wrestling, but I'm skeptical that we'd see any self-awareness, let alone that much.
The CM Punk graphic is shown again to make sure people don't tune out and find some wet paint to watch, and then CM Punk finally arrived. Punk said he's proud of Jon Moxley, and he gets the crowd chanting Mox's name instead of his own. He then moves on to Eddie Kingston interrupting him last week, but Kingston's not there tonight. Punk ended by saying he wants an apology on Friday at Rampage. I'm not as bothered about Punk's mention of Moxley as it came across as genuine. Excalibore delivering the philanthropical-industry-standard "thoughts and prayers" line at the star comes off just as disingenuous as any of the plastic platitudes we hear from WWE.
Miro cut another promo on his God and speculated if his inclusion in the title tournament was Miro being helped or being toyed with.
NWO4Kids had a backstage brawl with The Jungle House Party, which spilled out into the arena. The ending saw Adam Cole get his skull splattered by Christian Cage and two chairs.
FTR vs. Aero Star & Samuray Del Sol. If the "Lucha-Lucha" chant and finger-pointing didn't give it away, Samuray Del Sol is who you know as Kalisto. I just made the House Party joke with Jurassic Express; I honestly didn't know Kalisto was going to be on the show. I don't think I've seen Aero Star before; he nearly killed himself via dives a few times in the match so that it could be one of the Sin Caras. Too much stupidity in this match for my liking. One minute, the referee insists tags are made palm to palm, but then he watched the Luchas switch without tagging. I wish people would stop enabling this bollocks; it didn't make FTR look great. Cash Wheeler won them the match with a rollup and a hand on the rope.
Excalib-whore plugged everything on Chris Jericho's gimmick table as Jericho waddled down to the ring with the Inner Circle. Dan Lambert brought American Top Team out before Jericho got too far through his list of cheap pops. He's still not brilliant with his pacing/timing/breathing, but Lambert is getting better with his delivery. He did a grand job showcasing his team members, at least. Paige Van Zant wanted in the match, too, as she threatened to beat up Jericho. Obviously, Jericho made a sex joke towards her and picked Lambert as the fifth man.
Matt Sydal showed off that he's got a black friend, too, and that he's not jealous of Dante Martin and Leo Rush's relationship at all. Strange segment.
Jamie Hayter vs. Anna Jay – Hos Title tournament. Hayter won after some distractions on the outside, and the trio beat Jay down afterward. Tai Conti momentarily made the save (somehow) with the worst forearm strikes I've seen in a while, and Thunder Rosa even showed up to make it 3-on-3.
Jade Cargill and Double H  said it doesn't matter who she faces in the next round of the Hos tournament; she's just going to wreck everyone.
MJF came to the ring and addressed Darby Allin in the crowd. As per usual, he gave the crowd shit, as well as Darby, saying, "You're like them – an incel that can barely string together four words." Darby tried to speak but sounded like someone that's been overmedicated after a psychotic episode; maybe he should ask Sting for some uppers. More than likely, no one ever told Allin to "use your big-boy voice" when he was growing up, and this awkward mess is what we're left with. MJF is an absolute gold statue on fire in the lobby of AEW in comparison.
I thought that Andrade El Idolo vs. Cody HemorRhodes was the main event when I saw Cody's grandiose entrance, but then I remembered that Cody loves himself so much, he probably has the doors in his house rigged to recreate his entrance every time he enters a room. The crowd wasn't entirely against Cody as they have been in the recent past, but it was pretty close to being one-sided. FTR was hiding under the ring, and they clocked Cody with their championship belts. Andrade didn't even need to hook a leg to get the three-count. Before Tully Blanchard and Arn Anderson started to throw hands, The Lucha Brothers ran down to scare FTR away.
Tony Schiavone interviewed John Silver, who claimed he's going to defeat Adam Cole on Rampage.
Miro vs. Orange Cassidy. Miro replaced Jon Moxley in the title tournament, and he tapped Cassidy the fuck out. Bryan Danielson and Miro stared each other down as the show faded off the air.
WWE SmackDown
"Stupid baseball's over!" -Pat McAfee.
The Bloodline swaggered out as we saw a recap of The Usos and The New Day. This week, Roman Reigns was in poor man's The Rock mode, and not the biggest Uso mode. Reigns grilled Paul Heyman about what happened last week, Heyman thought he meant the interview where Heyman got over-excited about Brock Lesnar, but Reigns was referring to The Usos losing to The New Day. Reigns asked what Drunky Uso would do to fix being pinned last week.  The New Day skipped out and attempted to be amusing. Xavier Woods challenged Drunky to a match later.
Naomi vs. Shayna Baszler. A quick roll-up got Naomi the win, but Sonya Deville marched out and restarted the match. Baszler locked in the Kirifuda Clutch, and the referee called it.
Ridge Holland reminisced about his favorite Sheamus moments.
Shitzi Wetfart cut a heel promo backstage, saying that she's had enough of playing nice and losing out… just in case the "daddy" collar she wore around her neck didn't say all we needed to know.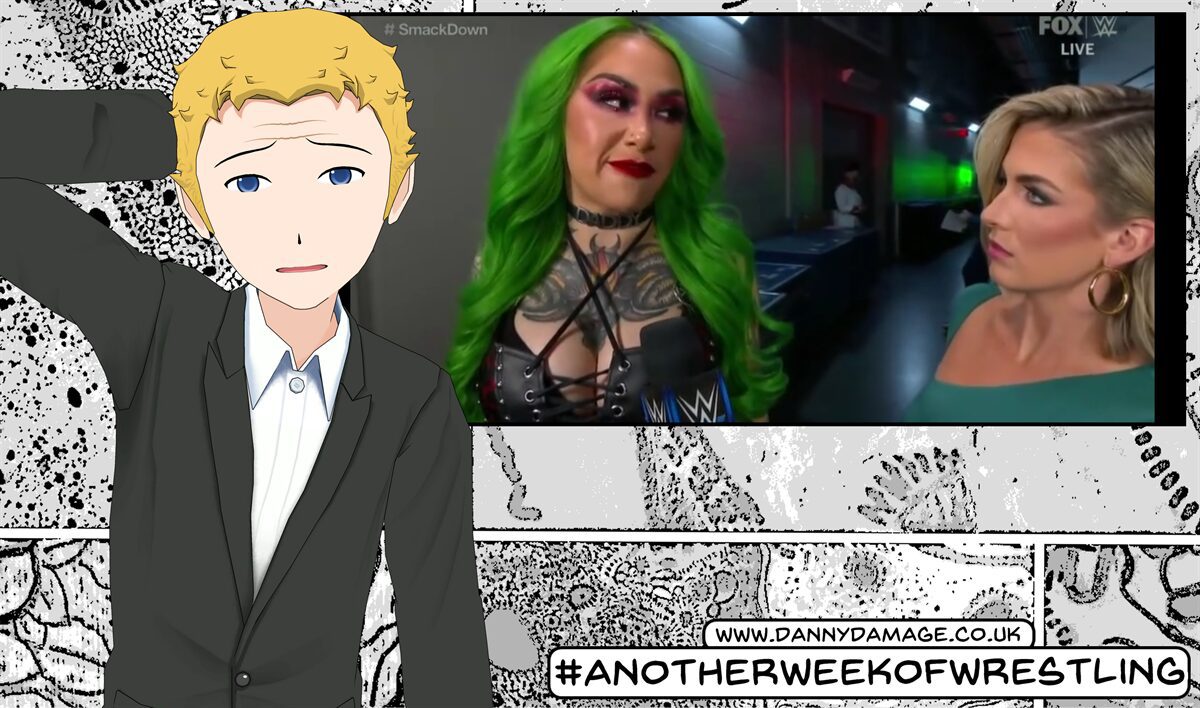 Los Lotharios defeated Cesaro & Mansoor.
Drew McIntyre's open kilt challenge was answered by Ricochet, who slapped Drew in the face. M'st'fa Ali was given a brief but full-screen interview partway through the match, for some reason. Claymore FTW.
More stupid New Day faces/voices again, and Kofi Kingston can complain about the dumb Jamaican accent and being held back all he wants, but he still chooses to clown around when given the opportunity.
Ricochet told M'st'fa Ali he's a whiner and a jerk when Ali asked to be Ricochet's tag partner in the locker room.
"Happy Talk" with Happy Corbin & Madcap Moss, and for some reason, The Viking Raiders were their guests. The Raiders ignored that stupid series they had with the Street Profits for a couple of months a year or so ago and said they don't take part in dumb comedy skits. This led to a match between the four, which Corbin and Moss ran away from and got counted out.
Sami Zayn tried to become the replacement fourth member of Hit Row, only to be made fun of by the trio.
Drunky Uso vs. Xavier Woods was the main event. If Uso loses, he must bend the knee to Woods. If Woods loses, he must bend the knee to Roman Reigns. Woods rolled Drunky up after the Usos tried to steal it. Just before the bending of any knees occurred, Reigns appeared and Superman Punched the crown off of Xavier's head. Then they just battered The New Day into mush as SmackDown went off the air.
AEW Rampage
The opening contest was booked as punishment for The Acclaimed, who has been having a series of issues with Tony Khan, who said he would not be an on-screen presence in any way. The platinum lining of this cloud was that Max Caster got to spit a brilliant promo on the way to the ring in front of the eyes there for his opponent and the opening contest. Also, has Bryan Danielson always given Justin Robert's tie a little squeeze when he gets into an AEW ring? He did tonight, and it tickled me thoroughly.
Bryan Danielson vs. Anthony Bowens. This was a fun opening contest. Bowens got some on-the-job training while having the best singles match of his career so far. He did well in there with Bryan, and Max Caster was great on the outside, trying to help Bowens get the win. In the end, it was the Labell Lock that forced Bowens to tap out.
Andrade El Idolo gave MJF a couple more envelopes full of money for using the services of FTR. They then called Pac a little British bitch.
CM Punk invited Eddie Kingston out to "his" ring, but Kingston didn't appear when his music hit. I'm not entirely sure what's going on with these two. They're obviously working the angle revolving around Eddie interrupting Punk's interview, but it felt a little awkward in there. Kingston muttered a bit and didn't make sense for a while; he said he missed Dynamite because of Covid. Punk told Kingston he makes excuses and blames everyone else, and then he called Kingston a bum. Eddie challenged Punk to a match at Full Gear, but Punk told him Dark Elevation was more Kingston's pace. Punk was eventually goaded into accepting the challenge, and a locker room full of referees had to flood out and pull them apart.
Christian Cage and the Jurassic House Party took shots at The Elite and their "little Cirque du Soleil flips."
It was during the next match where Excalibore shouted ticket information over the action. I've grumbled in my wrestling news and a That's Not Wrestling article before about how this shits on what we're trying to watch. Fortunately, Taz had no problem telling him to "hold on a minute" twice, as Taz called an exchange and then a pinfall attempt. Once Taz finished, Excalibore ran through the rest of his script at triple speed with his tail between his legs. Good job; he's just been allowed to plow through anything and everything so far.
The Bunny vs. Red Velvet. Good news, everyone! Red Velvet won the match after SUCCESSFULLY HITTING HER FINISH! No, she hasn't been practicing her moon sault and managed to land it properly twice; she's started using something else instead.
Adam Cole vs. John Silver wasn't as ridiculous as you'd expect when looking at everything else surrounding these two and their factions. Silver had a decent match with the veteran before Cole finished Silver with The Last Shot.
That's it for wrestling news this week. Digest and discuss! If you're interested in a quick natter, or just to throw a passing insult, feel free to get in touch down below or over on Twitter.  Thanks for reading; take care, and I'll see you next Monday to discuss #AnotherWeekOfWrestling!
| | |
| --- | --- |
| – BONUS ARTICLES – | – BONUS VIDEOS – |
The amazing black and white background artwork that I've mucked around with was designed by Rachael Hope!
Please subscribe to my YouTube channel, my Twitch channel, and consider buying me a Kofi! You can also click below to be warped to my personal homepage: