Another Week of Wrestling 26 (15th November 2021)
Roman Reigns, Kevin Owens, Hangman Page, Matt Hardy, wrestling news, results, and more!
I discuss Roman Reigns, Kevin Owens, Hangman Page, Matt Hardy, wrestling news, results, and more! Welcome, and thanks for joining me at Geeks + Gamers!
As well as previously bringing you That's Not Wrestling and ranting about PPVs on YouTube, I'm here to mouth off on a Monday about wrestling news, results, and events that catch my eye, ear, and sometimes my nose. I'm Danny Damage, writing for Geeks + Gamers, and this is Another Week of Wrestling for November 15th, 2021!
<—Last week's installment of Another Week of Wrestling!
WWE Raw
Kevin Owens tried to apologize to Big E again; E doesn't care. Throughout the whole show, Owens was scuttling around backstage, trying to find people that believed his apology to Big E. Seth Rollins would also try to ensure as many people distrusted Owens as possible. It's not exactly wrestling news that these two antisocial personalities won't stay pressed down for long.
I'm not saying I'm Mr. Fashionably Dressed 2021, but what the fudge is Seth Rollins wearing? He's just missing the clown nose, makeup, and wig.
RK-Bro & The Street Profits vs. The Dirty Dawgs, AJ Styles & Omos. Dolph Ziggler pinned Riddle after both teams began to implode.
Adam Pearce brought the Mysterios out and hyped Survivor Series. Pearce made Dominic earn his spot on Team Raw by putting him in a match against Bobby Lashley. As you'd expect, Lashley annihilated Dominic and took his place on the Survivor Series team. This put Dominic in the trainer's room with a neck issue, and Rey swore vengeance for his son.
Big E vs. Chad Gable. Gabled controlled most of the match until Big E beat him with the Big Ending. Another good showing for Gable.
Reggie vs. Drake Maverick for the 24/7 title. This was dumb; the whole concept is. On paper, it's enough to keep wrestling news more interesting, but it's been overdone to death. The 24/7 rules were suspended for the match, and Maverick won by roll-up. As soon as the match was over, Akira Tozawa rolled Maverick up. Then Cory Graves rolled Tozawa up. Then Byron Saxton rolled Graves up for a momentary reign. Maverick reclaimed it for a moment before Reggie pinned him and cheesed it out of the arena.
Bianca Belair vs. Rhea Ripley vs. Zelina Vega vs. Carmella vs. Liv Morgan. Bianca Belair looked to have the match won when Doudrop pulled her out of the ring. This allowed Liv Morgan to roll up Carmella for the win. To be fair, everything Doudrop said earlier in the night about Belair getting to the back of the line was spot on. She's had more than enough chances, and she's shined brighter than most in every match she's been in since coming to the main roster.
Seth Rollins vs. Kevin Owens. Big E was ringside for the match, and he accidentally got in the way of Owens attempting to return to the ring, causing Owens to get counted out. This pushed Owens over the edge, and he snapped and beat Big into a fine paste as the show went off the air.
NXT 3.0
Toxic Attraction vs. Io Shirai, Kayden Carter & Kacy Catanzaro. Toxic Attraction isolated Carter and pinned her.
Kay Lee Ray vs. Sarray. After too much time, Ray hit her KLR Bomb onto the announce table, and she needed to hit her finish in the ring again to win.
Joe Gacy vs. Boa. The match ended in disqualification when Boa's hand turned to a claw, and the lights and P.A. went 25% Fiend effects, and Boa strangled Gacy until the referee called it. Gacy looked at the camera, smiled, and said, "We did it, Harland," and that was the end of that.
Jacket Time vs. The Creed Brothers. It appears that Ikeman Jiro and Kushida have been lumped together in a tag team because… you know. Kushida's Back 2 the Future gimmick isn't the absolute worst thing in wrestling. At least it's just his outfit and the entrance-lights-controlled invisible watch he uses before a match. He's a pretty serious competitor once the bell rings. Jiro is the joke of the operation; he swims very close to Orange Cassidy waters. The Creeds won, of course, but then Odyssey Jones ran in and scared The Diamond Mine up the ramp.
Raquel Gonzalez called out Dakota Kai, but Cora Jade jumped Kai before anything was resolved. Gonzalez told Jade she has to wait to get a piece of Kai.
Cameron Grimes vs. Ru Feng. Grimes made light work of his opponent and put him away with the Cave In. Duke Hudson pissed and moaned at Grimes after the match; he was still upset about losing loads of poker money last week. Hudson challenged Grimes to a "Poker Showdown" in the ring next week. Can't they just have a fecking wrestling match?
LA Knight vs. Grayson Waller vs. Slimoa Joe. Before, during, and after the match, Knight and Waller continued bickering with each other. They begrudgingly worked together a few times to take Sikoa down, but Knight ate the pin after being hit by the Samoan Splash. I've got zero interest in another Uso on the roster. Samoa Joe had this role completely covered, yet he was mysteriously removed medically side-lined to make room for a newer, slimmer model.
Elektra Lopez flattened Erica Yan in an attempt to get Xyon Quinn's attention. She invited Quinn to join Legado Del Fantasma; he declined and was attacked by the faction. Quinn disposed of the chaps and blocked both of Lopez's strikes, causing them to essentially spoon in the middle of the ring. Quinn didn't wanna get caught pitching a tent on live TV, and throughout wrestling news outlets, so he headed to the back to grab a cold shower.
Pete Dunne vs. Carmello Hayes. Thanks to Johnny Gargano hiding under the ring and grabbing Hayes' foot, Dunne was able to pin the North American champion.
AEW Dynamite
Bryan Danielson vs. Rocky Romero. Orange Cassidy was in Romero's corner, and there was a brief interaction between him and Danielson on the outside. Hopefully, AEW isn't going to get any of that orange piss anywhere near Bryan. Danielson made Romero tap after ten minutes or so. I get that Bryan is having fun while facing all these new opponents, but him constantly wrestling anyone and everyone all the time is becoming a little pointless.
As the Inner Circle walked down to the ring, American Top Team sneak attacked them. This caused Chris Jericho to roll down the ramp like a beer keg down a hill and for Dan Lambert to laugh maniacally while his crew destroyed everyone. The high spot of the segment was Lambert being assisted with one of the worst table powerbombs on record. Lambert put Jericho in his own submission hold and screamed, "It's called a Boston Crab!" Brilliant.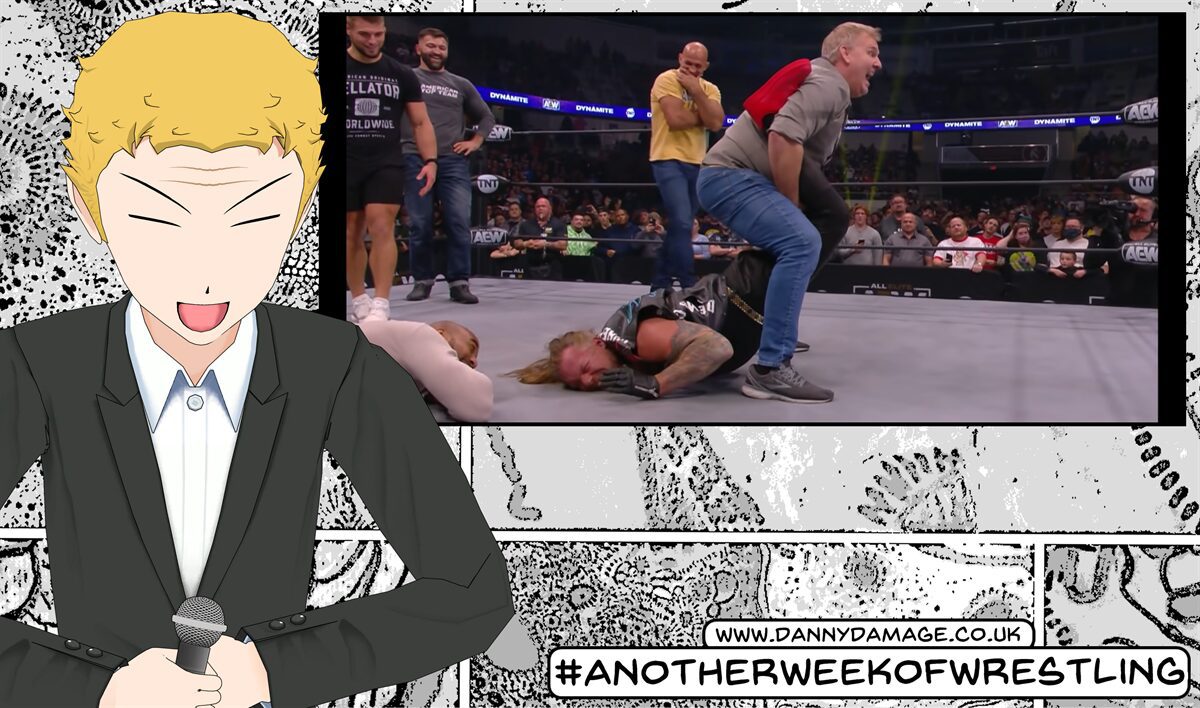 Britt Baker, Jamie Hayter & Rebel vs. Thunder Rosa and T&A Tay Conti, and Anna Jay. There was more terrible refereeing to add to the list in this one. After plenty of fumbling and sloppy strikes, Conti pinned Rebel while staring a hole through Baker.
Jungle Boy vs. Anthony Bowens. Two weeks in a row now, we've had some Max Caster put-downs to enjoy; good stuff. Just like last week again, Bryan Danielson, Caster did well on the outside, distracting and interfering with Jungle Boy behind the referee's back. Eventually, Jungle Boy defied the odds and made Bowens tap out, only to be beaten up by Bobby Fish while celebrating.
Wardlow vs. Wheeler Yuta. It didn't take much effort from Wardlow to ruin Yuta's evening. While the Best Friends were scraping their friend off the mat, The Hardy Family jumped them. Excalibore miss-called Hardy's Twist of Fate, so Tony Schiavone covered/corrected him and tried to move it along, but Excalibore (realizing his error) corrected himself while talking over Schiavone and totally derailed whatever he was about to say. What a useless prick Excalibore is.
Matt Sydal & Lee Moriarty vs. Dante Martin & Lio Rush. Another dose of redundant refereeing for all here. Impressive athletic abilities from all involved, but the whole thing was more like watching ten minutes of a dog-agility show rather than a tag team wrestling much. Martin and Rush won it.
Dax Harwood vs. Pac. This was a fantastic singles match with a dumbtarded finish. Wanker of the Year Tony Khan fuzzed up again. Harwood tapped the second Pac locked in his finish, and then Cash Wheeler ran in to break the hold. This prompted a domino effect of run-ins from Andrade El Idolo & Malakai Black, The Lucha Brothers, and Cody HemorRhodes.
Kenny Omega and Adam Page met to sign their contract for Full Gear on Saturday. A monotonous conversation about their history preceded Don Callis (posing as a crew member) busting Page's head open with an over-the-shoulder video camera. Omega signed his name finger-painted three letters of his name on the contract with Page's blood as Dynamite went off the air.
WWE SmackDown
Sonya Deville announced the SmackDown women's Survivor Series team. Their team stars Sasha Banks, Natalya, Shitzi Wetfart, Shayna Basley, and Aliyah. Shitzi and Banks got in each other's face, then Naomi stormed to the ring to mouth off at Deville. This caused all six women to brawl into the break, and a six-woman tag was made for when we returned.
Sasha Banks, Naomi, and Aliyah vs. Shayna Baszler, Natalya, and Shitzi Wetfart. Aliyah was able to roll up Natalya after a little teamwork from Naomi. After the match, Sonya Deville broke the bad news to Aliyah that despite winning her debut match, she's now off the Survivor Series team. She did not elaborate.
Los Lotharios vs. Rick Boogs & Shinsuke Nakamura. Thanks to some misdirection and sneaky double-teaming, the cute cousins pinned Nakamura.
Charlotte Flair was having fun with the crowd until Toni Storm and 95% of her arse cheeks wiggled down the aisle. The last time I saw Storm on TV, she'd switched to a trouser-length outfit. Storm challenged Flair and was denied. Rumors have since flooded wrestling news sites that this is WWE beginning to set up a match between the two.
Sami Zayn vs. Jeff Hardy. Hardy pinned Zayn and knocked him out of the SmackDown Survivor Series team. It's unsure who will replace Zayn, but Von Wagner was backstage with Adam Pearce when Zayn accidentally talked himself into the match that he lost.
Queen Xavier Woods vs. Roman Reigns. A surprising amount of offense was seen from Woods, and he put up a good fight, but Drunky and Jay Uso pulled Woods out of the ring and battered him with the ring steps. Once the bell rang for a disqualification, Reigns had avoided the loss-via-pin-fall punishment of kneeling to Woods, so he just stole his crown instead.
AEW Rampage
Jungle Boy vs. Bobby Fish. At the end of a short but good match, Jungle Boy made Fish pass/tap out. Post-match, Adam Cole and The Elite ran down to stick the boots into Jungle Boy, but he was saved by Christian Cage and Luchasaurus.
Jade Cargill vs. Santana Garrett was brief but not brief enough. Sloppy strikes and stumbling around for a few minutes before Cargill got the pin.
Dante Martin defeated Ariya Daivari before Team Taz approached Martin and offered him a position with them.
The main event last segment of the night was a Lumberjack Match between Matt Hardy and Orange Cassidy. Before we got there, Mark Henry got to do his "IT'S TIME" interview segment between the two, and, hilariously, Hardy referred to Cassidy as "Pockets." I wasn't laughing at the wittiness of Hardy, but at the irony of AEW "talent" using more of Jim Cornette's material after two years of throwing tantrums his way and calling him out of touch to all the wrestling news sites.
It's almost as amusing as YouTube smacking It'sAGundam's backside as often as possible but having zero issues ramming two, three, or even four adverts into his videos. Anyway, Hardy began the match offering money to anyone that knocked Cassidy out. Just about everyone took shots at Orange when given the chance, but it was The Blade and some brass knuckles that helped Hardy score the pinfall. The referee was turned, so Hardy dropped an elbow that made a noise to explain the sudden KO. This would have made more sense and clicked in people's heads if referees were used right in the first place; it kinda just looked like Hardy missed an elbow by three feet! There was plenty of .gif material in the match, but it was the usual spot/dive-fest from Tony Khan's favorite pet and a middle-aged Hardy trying to keep up with the fleeting trends like Randy Marsh does in South Park. What a letdown; the show started off well too.
It feels like this has been happening for months in AEW now – well, at least for as long as CM Punk, Bryan Danielson, and Adam Cole joined the fray. The AEW shows open with something good to catch your eye and your brain to set all the wrestling news sites on fire, and it puts your arse in the seat for the duration. The problem with this is, once you've been lured in with the bait, they switch it out for utter nonsense like the "main events" that have been slopped on a plate in front of us. It's like Gordon Ramsey has cooked me this wonderful starter dish, only for the rest of the meal to be a greasy bag with a Happy Meal inside, handed to me by the sticky hands of Tony Khan.
AEW Full Gear 2021
I posted the results for Full Gear HERE; enjoy! An appropriate PUTTING IT BLUNTLY video is also in the works with my usual, more detailed scrutiny. Watch this space!
That's it for wrestling news this week. Digest and discuss! If you're interested in a quick natter, or just to throw a passing insult, feel free to get in touch down below or over on Twitter.  Thanks for reading; take care, and I'll see you next Monday to discuss #AnotherWeekOfWrestling!
| | |
| --- | --- |
| – BONUS ARTICLES – | – BONUS VIDEOS – |
The amazing black and white background artwork that I've mucked around with was designed by Rachael Hope!
Please subscribe to my YouTube channel, my Twitch channel, and consider buying me a Kofi! You can also click below to be warped to my personal homepage: