Awesome Cheese: The Losers (2010)
Over a decade ago, cinema was on the cusp of a comic book movie boom. The Dark Knight came out in 2008 and redefined what a comic book movie could be, then a year after that Watchmen was released and, though it was ahead of its time, pushed the genre in directions many thought were impossible. The standout of this film was arguably Jeffery Dean Morgan's performance as Eddie Blake aka the Comedian, so it stood to reason that the actor would be given an opportunity to lead a film in the near future. That opportunity came in the form of the DC/Vertigo adaption The Losers.
In an era where costumed superheroes were typical for comic book adaptations (this film was released mere months before TV series The Walking Dead), it was great to see a sort of boots-on-the-ground comic adaptation like The Losers. Aside from Morgan, director Sylvain White (whose film Stomp the Yard is one of the most underrated dance movies of the aughts) peppered his cast with a host of up-and-comers and great character actors. You had Chris Evans, who had been cast as Captain America just a few weeks prior to this movie's release (which also gives added humor to the film's opening shot). Then you had Columbus Short reuniting with White after Stomp the Yard, who would later go on to star in ABC's political thriller series Scandal. Oscar Jaenda plays Cougar, the sharpshooter of the team; while he hasn't been seen in a lot of stuff in the last few years, he's about to costar with Daisy Ridley and Tom Holland in Doug Liman's sci-fi film Chaos Walking.
Then you have likes of Idris Elba and Zoe Saldana, the former coming off of an acclaimed run on HBO's The Wire as Stringer Bell and the latter having recently starred in the Star Trek reboot and Avatar. Both actors would go on to feature in the Marvel Cinematic Universe as Heimdall and Gamora, respectively. Morgan and Saldana were undoubtedly the main reasons why I was so excited for The Losers. Having been a huge fan of Morgan's since Supernatural, I was happy to see that he had gotten a major role in a big feature like Watchmen; when it was announced that he was the lead of a potential franchise starter like The Losers, Morgan fans like myself were the winners. To see Saldana and Morgan as an on-screen duo after their list of genre credits was incredibly exciting. But while their on-screen pairing didn't disappoint the movie itself did.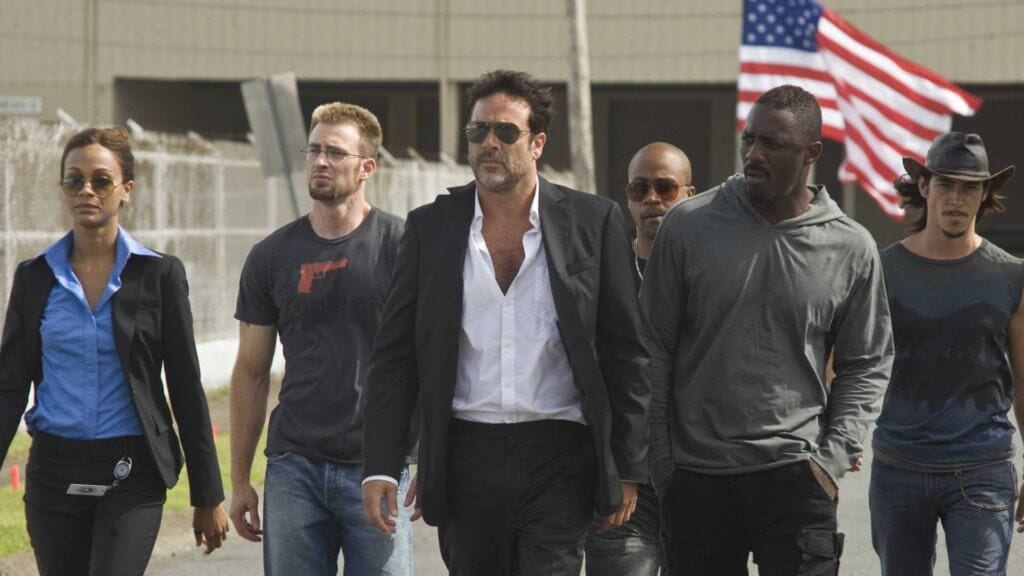 After the ironic opening shot, The Losers establishes the camaraderie among the team and the faith they have Morgan's Clay. Unfortunately, right from the introduction of  Jason Patric's Max, the movie falls apart. Framing them for the murder of over two dozen children would seem to set up the perfect goal for the Losers: get revenge on Max and get home. This is further cemented when we see that several of our heroes each have specific reasons why they want to come back. For Pooch, it's getting back to his pregnant wife, while Jensen hopes to return to his niece in time to see her play in the finals on her soccer team, looking up her scores while they're stranded in Bolivia. While this moment is played for laughs, it also serves as a stark reminder of their situation. After all, they don't want to be tracked by the CIA.
It's not like it matters too much, though, because the enigmatic Max is too busy having misunderstandings with his henchmen. Patric's campy performance is so over the top I was reminded of Gene Hackman's version of Lex Luthor, albeit with a bit more excessive violence. Look no further than when he, his henchmen, and assistant are on a beach as he lays out his grand "green" plan (Max refers to himself early on as a "green terrorist"); he ends up shooting his assistant essentially over a gust of wind. I really like Patric, and it's clear he was having fun and quite liked the comic book movie, something that he affirmed in various interviews at the time. This wasn't his last outing in the genre either, as he actually played Christian Walker in FX's failed Powers pilot). But when we should fear this character, instead we just don't care. It often seems like Patric is trying too hard to be, well, a comic book villain, and ultimately strains the credulity of the whole piece. Throughout the film, you almost get to the point where you can't wait to see the Losers take Max down just so we don't have to watch the character anymore.
It is this cartoony vibe that takes away from what at times almost feels like a meditation on the military. Occasionally throughout The Losers, Clay wrestled with the fact that, after being framed by Max, he can no longer define himself as a colonel, something that Jensen, unfortunately, spells out for us as the movie burns through plot at an alarming rate, thus robbing us of the opportunity to explore Clay's inner turmoil. While there are a couple of interesting double-crosses in the third act, the silly nature of the film limits the amount of pathos we feel despite the camaraderie of the team, The Losers ultimately falling apart under the weight of the mismanaged tone.
The Losers is a movie brimming with potential. Despite a great cast anchored by Saldana and Morgan, the film, unfortunately, cannot withstand a zany villain who ends up bringing the entire movie down. Despite this, I really enjoyed seeing these actors on screen together. Hopefully, one day we'll get to see some of them interact on camera again. Although it would probably be with a different cast, I hope Warner Bros. takes another shot at adapting this story, perhaps as a TV series. It would serve as a great alternative to the myriad of costumed superheroes permeating the genre.