BARNYARD PARTY AT DRUNK3P0'S FARM THIS WEEKEND
Get your hick on at the ground-quaking, leg-breaking, booty-shaking barnyard party happening on Drunk3PO's farm this coming weekend! Jay (known as Drunk3PO online), famous for his barnyard parties and love for tapeworms, is having the biggest redneck party of all time!
There will be multiple hick games and activities that everyone is welcome to enjoy. To name just a few…
Beer Belly Booze. This is one of Jay's popular games that he's, ironically, very good at. (Hence how he came up with the name 'Drunk3PO.') The rules are to drink with your bellies showing, and whoever ends up with the biggest belly full of beer wins the contest. Sounds like a dang good time!

And what's a party without a pool? Of course, Jay thinks of everything. No pool? No worries. Jay just simply fills his truck with water, and everyone can get inside to cool off. Everyone, and I mean everyone, is required to wear a swimsuit for this. No splashing, and don't let the gators in.
Of course, there's also a pie-eating contest; anyone who finishes the most pies wins a piggyback ride from Jay's cousin Billy Neck Bob (who will be mentioned more down below). All pies are made from the fruit that grows on Jay's farm. Mmmmm.
On special occasions, we have dancing in the rain, which is Jay's personal favorite activity because of all the worms that come out, which remind Jay of his beloved tapeworm. People don't usually join in on this activity. However, we have seating arrangements for anyone who would rather watch Jay dance on his own. Brings tears of joy to people's eyes, almost as good as a Broadway show.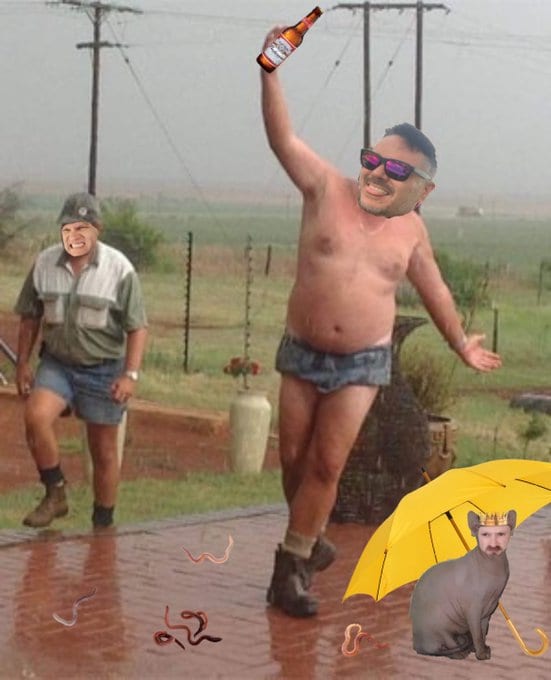 The best part about all of this is, if you choose to come to Jay's barnyard party, you get picked up in his very own private limousine. Regulars come back often. Once you arrive, you will be greeted by Jay himself and his hairless cat, whose eyes you shouldn't look directly into. (You've been warned; you can't sue us now.)
(Just look at the people pouring in!)
Disclosure: all of the food that Jay has to offer is grown by Jay on his farm. Jay only eats food with hair on it; he says, "If it ain't fuzzy, it ain't ripe." Plus, his tapeworm prefers it; he only does what's best for the environment. (You still can't sue us!)
If anyone is interested in coming to Jay's biggest barnyard party this coming weekend, the instructions are really simple. Print out this ticket here, which will give you admission to the farm. This includes all meals and activities, free of charge.
When you get to Jay's farm, you will meet Jay's cousin Billy Neck Bob at the entrance. He's usually seen working the fields and getting everything in check while Jay's running his YouTube channels. He may look aggressive, but he don't bite.
He will collect your ticket and let you in on all of the fun.
Be sure to let Drunk3PO know how excited you are to attend his barnyard party. #JaysBarnYardParty2021
It's gonna be amazing!