Christmas Leftovers: Five Christmas-Adjacent Movies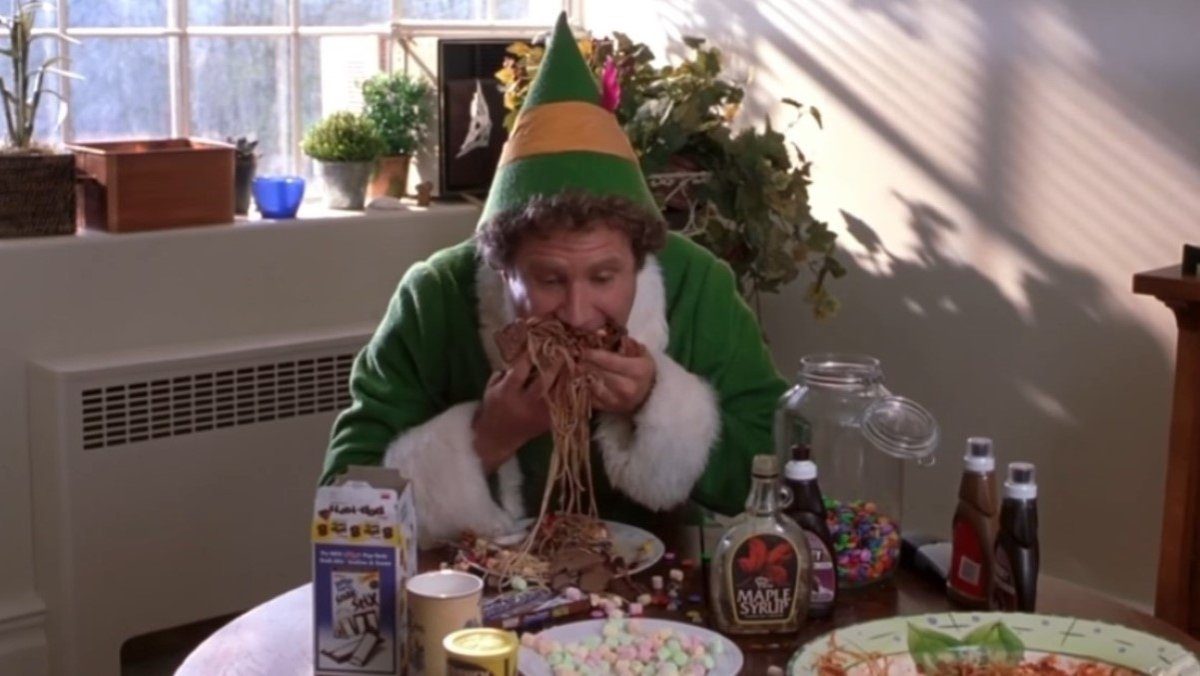 Christmas Day is over, but you've got enough food for a week, enough booze for – let's be honest, an evening – and you're still feeling merry and bright. Trouble is, you've exhausted your Christmas Movie Watch List, but you still want some boughs of holly in your entertainment. Well, consider this a belated Christmas present, friends. (It's okay if you didn't get me anything; 'tis better to give.) Here are five movies that are kind of Christmas movies, but not quite Christmas movies – they're Christmas-adjacent, as I like to call them. But they're all great, and more than worth a watch as you slowly unpack your stuffed refrigerator.
The Apartment (1960)
"Why do people have to love people anyway?"
CC Baxter (Jack Lemmon), a sad, lonely insurance agent, allows his bosses to use his apartment to cheat on their wives while beginning a flirtation of his own with the building's elevator girl, Fran (Shirley MacLaine). When the big boss, Jeff Sheldrake (Fred MacMurray), agrees to give Baxter a big promotion in exchange for his own use of the apartment, Baxter agrees – only to discover that Sheldrake's mistress is Fran. Through circumstances I don't want to spoil, Baxter ends up spending Christmas with Fran, and the two realize they have more in common than they thought.
Billy Wilder's dramedy about the lengths we'll go to get what we think we want and finding a miracle when you least expect one is a movie you can watch at any point during the Christmas Season. It begins on Thanksgiving, the second act (and the meat of the plot) takes place on Christmas Day, and then the finale – which features one the best movie endings of all time – is on New Year's Eve. For this reason, I don't quite consider it a Christmas movie, but I certainly understand why anyone would. It's funny, human, and, given the subject matter and the way Christmas goes for Baxter and Fran, surprisingly uplifting. Jack Lemmon and Shirley MacLaine are outstanding, making you feel every bit of their pain and joy.
On Her Majesty's Secret Service (1969)
"Merry Christmas, 007."
While on holiday in Portugal, James Bond (George Lazenby in his sole 007 outing) encounters a beautiful woman (Diana Rigg) trying to commit suicide and rescues her from herself – and what appear to be two would-be killers. After romancing her a bit, he's asked by her father, crime lord Marc Ange Draco (Gabriele Ferzetti), to marry her, to which Bond agrees – in exchange for help in locating his archenemy, Ernst Stavro Blofeld (Telly Savalas this time), leader of international criminal organization SPECTRE. Bond infiltrates Blofeld's stronghold in the Swiss Alps during the Christmas Season, where the evil mastermind is planning to initiate biological warfare on the West.
I love James Bond, and On Her Majesty's Secret Service is a landmark in the series for several reasons, most of which I don't want to give away. (Virginia and I discuss it in-depth here, particularly Diana Rigg's inimitable Tracy di Vincenzo.) While the film certainly has a Christmas setting – the snowy Alps, a Christmas celebration masking Bond's eventual escape as SPECTRE agents tail him, even Blofeld decorating a Christmas Tree as he reveals his evil plan – it's mostly in the background, with the themes not really revolving around the Season (although I suppose you could make a case for love). Also, as will make sense to anyone who's seen it, I can't watch the end of On Her Majesty's Secret Service without immediately following it up with Diamonds Are Forever, and with the size of my Christmas Movie Watch List, I have to be economical.
Three Days of the Condor (1975)
"Boy, what is it with you people? You think not getting caught in a lie is the same thing as telling the truth?"
CIA analyst Joe Turner (Robert Redford) works out of a Manhattan brownstone with a team that reads books – literally, all the books that are published, or as many as they can – to scan for possible secret codes. One day, Turner leaves to pick up lunch and returns to find that everyone in the building has been murdered. Going on the run, Turner finds himself thrust into a dangerous world he never imagined he'd have to navigate, dodging assassins led by the proudly professional Joubert (Max Von Sydow), wrestling with whether he can trust the CIA bigwigs (personified by Cliff Robertson, later the Uncle Ben to Toby Maguire's Peter Parker), and romancing an unsuspecting woman played by Faye Dunaway, because he may be running for his life, but he's still Redford, dammit.
Did you notice I didn't mention Christmas in that synopsis? That's because it's firmly in the background of Sydney Pollack's contribution to 70s paranoia cinema. I had to see it several times before I remembered it took place during the Christmas Season, and the only evidence is the occasional Christmas carol and a Tree here and there. Three Days of the Condor is one of my favorite spy movies, and up there with my favorite movies, period. The performances are all stellar, with Redford playing down his movie-star persona to portray what is ultimately a regular guy caught up in a nightmare for which he's unprepared. ("I am not a spy. I just read books!") Max Von Sydow is iconic as Joubert, a ruthless assassin with more honor than the "respectable" men who hire him. And Redford's dialogue with Faye Dunaway is legendary, with byplay they'd never allow in the MeToo era. (And aren't we just all the better for it, he asked sarcastically.)
The Matador (2005)
"Just consider me the best cocktail party story you ever met."
Julian Noble (Pierce Brosnan), a hedonistic hitman losing his touch, bumps into Danny Wright (Greg Kinnear) in a Mexican hotel bar. Both men find themselves in dire straits; Julian is having an existential crisis that's causing him to botch hits, and Danny and his wife Bean (Hope Davis) are reeling from the death of their young son and the impending implosion of Danny's career. The pair forges an odd connection, and several months later – on Christmas – Julian shows up at Danny's door looking for some Christmas cheer, preferably the kind found at the bottom of a Scotch glass. But Julian also has a favor to ask and reminds Danny that he owes him… but for what?
When it was released, The Matador was considered a commentary, subversion, or whatever term the critic in question thought made him sound smartest of Brosnan's tenure as James Bond (also see The Tailor of Panama), but that's reductive and unfair to this great movie. Julian is a sad, lonely man who realizes that a life spent killing and bedding whoever he came across has left him broken and alone – okay, maybe I get the comparison. But when Danny unexpectedly walks into his life, Julian finds something he never thought he'd have: a friend. Danny is a beacon of hope, so it's no wonder Julian seeks him out at Christmas, both to make him merry and to help him save himself from his sudden inability to pull the trigger. Like The Apartment, it's the second act that takes place on Christmas, so I don't quite count it as a Christmas movie, but it's certainly thematically relevant, and it's absolutely worth a watch, for the humor as much as the humanity.
Tinker Tailor Soldier Spy (2011)
"There's a rotten apple, Jim. We have to find it."
When the Circus – a code name for British Intelligence – discovers that a traitor exists among its top echelon, they bring back retired agent George Smiley (Gary Oldman, who should've won the Oscar) to smoke him out, with help from some of his old colleagues… and hindrance from others. Benedict Cumberbatch, Toby Jones, Colin Firth, Ciarán Hinds, Mark Strong, Tom Hardy, and John Hurt round out the cast, with the hunt for the Soviet mole jumping backwards and forwards in time as Smiley recalls the suggestion of communist penetration of the Circus by his old boss while he uses the keenest intellect in espionage to find the man who drove his mentor to an early grave.
Can you tell I like spy movies? I'll get one of my more controversial opinions out of the way early: I greatly prefer the movie version of Tinker Tailor Solider Spy to John le Carré's legendary novel. (In fact, I tend to prefer the cinematic adaptations to le Carré's original texts.) I've read the book twice and found it dull and tedious both times, with endless scenes of nothing happening. The film cuts the fat, and the result is a much tighter, tenser spy thriller with a fantastic performance by Gary Oldman as spymaster extraordinaire George Smiley. Oldman's eyes – encased behind Smiley's trademark glasses – are the windows not to his soul but to his mind, showing the big brain of British Intelligence going in four directions at once, always outthinking his adversaries. Only one scene takes place at Christmastime, but it's a pivotal one: a Circus Christmas party where some secrets are revealed, others are hidden, and still more are hiding in plain sight. The keys to the mystery are found at Christmas, as are the explanations as to why they haven't been found.
***
That should be a good starting place. If you haven't seen any of these films and you think they might be up your alley (as opposed to down your chimney), I hope you'll check one, some, or all of them out this week, or whenever you feel like it. Like a hot roast or Christmas cookies, they're just as good all year 'round.