Clerks III Trailer Works on Its Day Off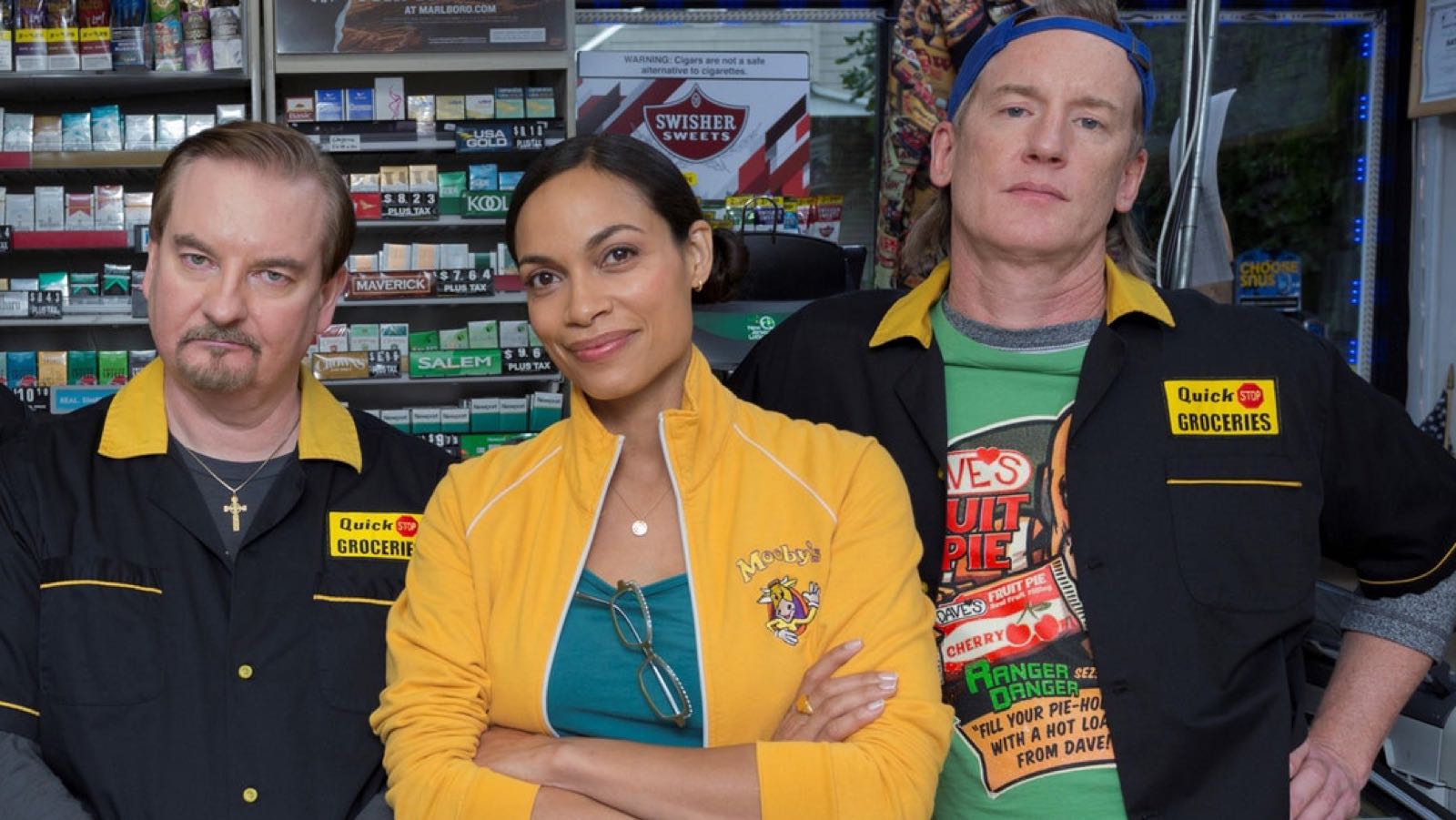 The Quick Stop is open for business again. Earlier today, Lionsgate and Kevin Smith unveiled the trailer for Clerks III, the latest in Smith's View Askewniverse series. Clerks III catches up with Dante Hicks and Randal Graves, who, when last we saw them, bought their old places of employment, the Quick Stop convenience store and the RST video rental. (If you want to know where that mysterious middle door leads, check out the Clerks comic books, which buck the trend of continuation comics by actually being good.) Now, the clerks are ready to enter the next phase of their lives, with Jay and Silent Bob in tow. Brian O'Halloran and Jeff Anderson return as Dante and Randal, with Rosario Dawson as Dante's now-wife Becky, Marilyn Ghigliotti as Dante's former girlfriend Veronica, Trevor Fehrman as Randal's punching bag Elias, a slew of cameos, and, as always, Jason Mewes and Kevin Smith as the immortal Jay and Silent Bob. Clerks III is scheduled to release on September 13, 2022 (although the trailer only says "early fall"), with Smith hosting a roadshow of screenings throughout September and October. Check out the Clerks III trailer below:
First off, I'm not going to pretend I'm capable of being objective about this movie. The View Askewniverse is one of my happy places, and I'm predisposed to love each entry. (Although I've disliked several of Smith's other films.) So, unsurprisingly, I love this trailer and can't wait to see Clerks III. Smith has always drawn on his personal life, to varying degrees, when making his films, and that's ramped up in this stage of his career. Jay and Silent Bob Reboot dealt with fatherhood, and it sounds like Twilight of the Mallrats will too. Clerks III takes inspiration from other aspects of his personal history, specifically his heart attack from several years ago and the making of Clerks. I'm glad about that; I don't mind him talking about being a dad, but I don't want it to drive every movie he makes. And based on the trailer, Clerks III will be heavily self-referential, with jokes about making a sequel to his films, inserting Jay and Silent Bob into each one (Smith has referred to them as C-3PO and R2-D2 in interviews going way back), and the original ending of Clerks where Dante was shot in a robbery. My only complaint is that I'd have preferred not to know some of these gags, including the string of cameos auditioning for roles in whatever Randal calls his film. (I wouldn't be surprised if it's Clerks.) But, knowing Smith, these are probably the only jokes that could make into a general-audiences trailer. Unless I missed her, Marilyn Ghigliotti wasn't revealed, and that's good; I'm interested to see what role she plays and how she and Dante interact now that they're (presumably) in different stages of their lives. Here's another reason for me to wish away the summer.
What did you think of the Clerks III trailer? Are you a fan of Kevin Smith's? Will Scott Mosier make an appearance as Willam to assure us something is beautiful (and explain "snowballing" to a mortified Elias)? Let us know in the comments, and stick around Geeks + Gamers for more throwbacks to the good old days!