Elden Ring Sales Break Records, Best-Selling New IP in Years
Over 10 Million in First Week, Fastest-Selling New IP Since The Division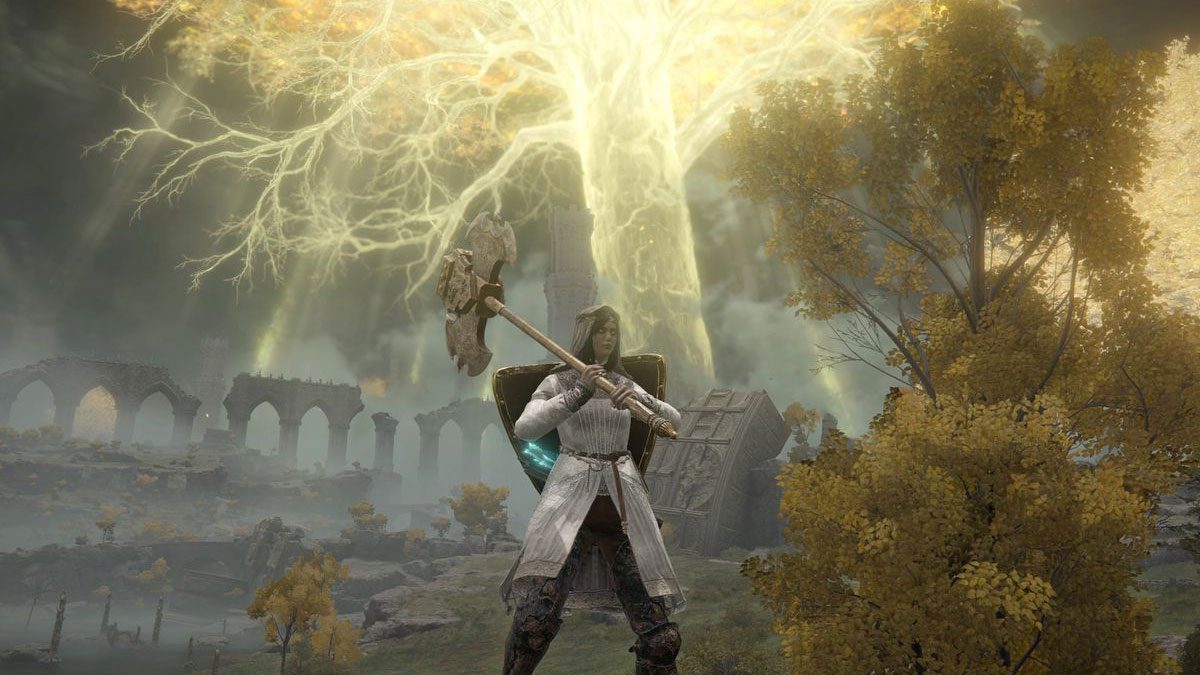 FromSoftware's latest dark fantasy epic, Elden Ring, released on February 25th to near-universal acclaim. The reviews were pretty much 10s across the board, with a few review bombs on PC due to optimization issues. Currently, the Metacritic score for Elden Ring stands around 95 for the combined platforms. It wasn't just critically acclaimed, though; it also sold remarkably well and continues to do so. Here's the official GSD Sales chart data for UK sales.
GSD February 2022 Top 10 Games (Digital + Physical)

1 Elden Ring (Bandai Namco)

2 Horizon Forbidden West (Sony)

3 FIFA 22 (EA)

4 Pokémon Legends: Arceus (Nintendo)*

5 Grand Theft Auto 5 (Rockstar)

6 Dying Light 2: Stay Human (Techland)*

7 Total War: Warhammer III (Sega)

8 Call of Duty: Vanguard (Activision Blizzard)

9 Red Dead Redemption 2 (Rockstar)

10 NBA 2K22 (2K Games)

*GSD digital data includes games from participating companies sold via Steam, Xbox Live, PlayStation Network, Nintendo Eshop. Participating companies are Activision Blizzard, Bandai Namco, Big Ben Interactive, Capcom, Codemasters, Electronic Arts, Focus Home Interactive, Koch Media, Konami, Microids, Microsoft, Milestone, Paradox Interactive, Quantic Dream, Sega, Sony, Square Enix, Strelka, Take-Two, Ubisoft and Warner Bros. Nintendo and Bethesda are the notable absentees, alongside smaller studios.
Check out Gamesindustry.biz for the full breakdown of sales through February and March here.
The first two weeks garnered over 10 million copies sold across all platforms for Elden Ring. This is over twice as many as Horizon Forbidden West on its opening week – 2.5 times more, to be exact. Some Horizon devs didn't take too kindly to their game getting overshadowed so soon. A handful of the developers over at Guerrilla Games complained about bad UX and poor quest design in Elden Ring over on their Twitter (it's always on Twitter, isn't it?).
The developers recently locked their Twitter accounts after posting the inane criticism. Here's the Twitter exchange from the devs.
Keep in mind that FromSoftware doesn't make traditional games with formulaic quest design; it's just a part of its charm and always has been. There's a fan-made meme about the optimal UI for Elden Ring going around, and it's simply amazing. This is probably not far from how Ubisoft and/or Guerrilla would have designed Elden Ring's UI!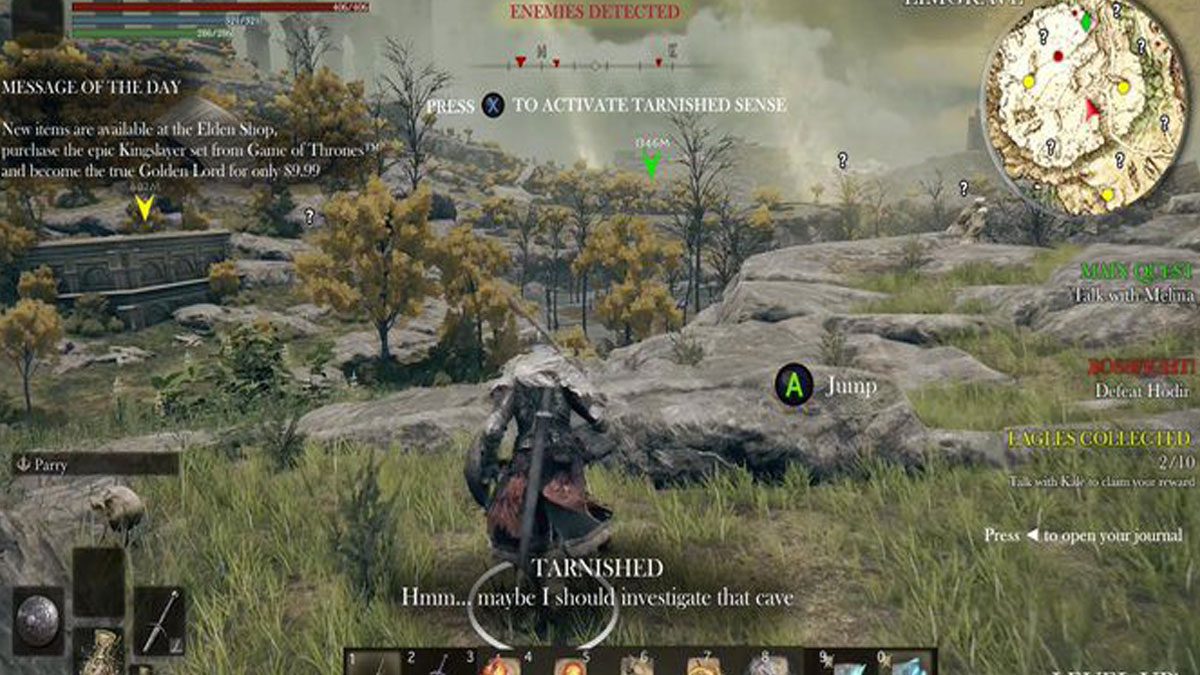 Eww, we'll keep the minimalistic UI display, thanks. Honestly, it's been quite a while since game devs openly threw shade at a competing game for being successful, and it's kind of refreshing. We're so used to the Doom devs posting Tweets of Animal Crossing's Isabelle holding hands with Doomguy:
…or just general good sportsmanship between companies as they play each other's games and generally say they enjoy them. A little food fight is fun to see every once in a while, even if the shade thrown at Elden Ring is a failure to understand the type of game it is.
Anyway, let's continue our evaluation of Elden Ring's sales figures. The week-1 sales for Elden Ring out-performed comparable single-player AAA releases of the past couple of years, such as Assassin's Creed Valhalla and the now-infamous Cyberpunk 2077. If you had told me a FromSoftware game would have sold more than Cyberpunk a couple of years ago, I would have said you were out to lunch, but here we are.
Elden Ring did so well, in fact, there hasn't been a bigger game launch in the UK since 2021's Call of Duty Vanguard. And what's really impressive is when you don't count EA or CoD games, Elden Ring is the largest game release since Red Dead Redemption 2 sold up to 15 million copies in its first couple of weeks back in 2018. We haven't seen a faster-selling new IP since 2016's The Division was released.
Steam has a more easily accessible sales chart than console sales in the UK or US, so here's some hard data straight from Steam. Elden Ring is now the 6th game on Steam with the most concurrent players at a time. With a remarkable 953,426 concurrent players as its current record, it beats New World, Valheim, and Terraria in the 6th slot.
Sales are slowing down very steadily for Elden Ring since launch, though it's still doing incredibly well. Recently, Elden Ring was overtaken by Gran Turismo 7 in the UK Boxed Sales charts.
| Last Week | This Week | Title |
| --- | --- | --- |
| New Entry | 1 | Gran Turismo 7 |
| 1 | 2 | Elden Ring |
| 3 | 3 | Pokémon Legends: Arceus |
| 2 | 4 | Horizon: Forbidden West |
| 5 | 5 | FIFA 22 |
| 4 | 6 | Mario Kart 8: Deluxe |
| New Entry | 7 | Triangle Strategy |
| 8 | 8 | Animal Crossing: New Horizons |
| 7 | 9 | Dying Light 2: Stay Human |
| 9 | 10 | Minecraft (Switch) |
What's surprising to me is that Gran Turismo 7 sold far more physical copies than digital in the UK. 76% of sales were boxed copies, the rest being digital. Even I, someone who always has, and usually still do, take the boxed copy route of a new game, went digital with GT7. This shift to digital on my part was mostly because my physical pre-order experience with Elden Ring was a disaster and took over a week to ship via Gamestop. Much of the sales information we know about Elden Ring so far comes from Gamesindustry.biz, so credit to them for disclosing the figures and charts.
The success of Elden Ring leaves me and many other gamers thankful that deep role-playing elements and immersive worldbuilding are still being done in entertainment without woke politics or corporate restructuring getting in the way. Elden Ring remains true to its roots, going as far back as King's Field in terms of the kind of game it is. It hasn't pandered or bowed down to quarterly returns demand or market trends. It's so refreshing it still hasn't been ruined or watered down after all these years. Let's hope more media can withstand the test of time and remain true to themselves like FromSoftware's games have thus far.