EVO Online Shouldn't be Cancelled
Justice can be served with unity instead of mob mentality.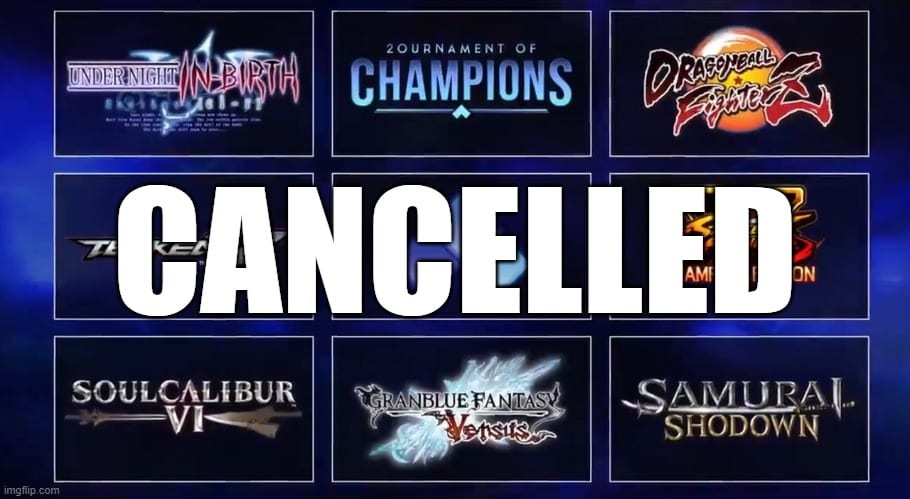 At the height of the so-called "cancel culture" in 2020, accusations against Joey Cuellar, co-founder and former EVO CEO, were made online, exposing him as an alleged sexual abuser against minors (as reported in this Gamasutra article). These serious accusations have not been denied at all by Cuellar; he has even made a public apology, presumably accepting responsibility for this past criminal behavior.
I want to be crystal clear regarding this: putting out an apology is not enough, or even commendable. He should turn himself in to the authorities so a criminal investigation and trial can occur to serve justice for the people he has affected.
Having said this and made obvious how Joey Cuellar deserves the full capacity of the American criminal justice system, EVO, as an FGC (fighting game community) institution, bears no responsibility for the criminal actions of this individual. In fact, the correct decision to replace him with Tony Cannon going forward while the company is cutting all ties with the former CEO was taken swiftly. I, personally, applaud this.
Sadly, what ensued was the raging power of cancel culture targeting EVO Online as an event, not Joe Cuellar as a sex criminal. Companies such as Capcom, Arc System Works, and NetherRealm pulled their games from the tournament. Commentators and high-profile players also joined the misguided protests by severing ties with the organization. 
The following image was shared by EVO's official Twitter account: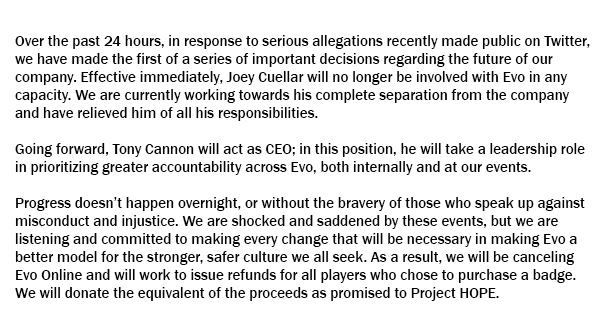 Justice for the victims is not being served at all with these gestures. On the contrary, EVO employees, participants, and the FGC – in general – are also becoming victims of the crimes of Cuellar as an individual. EVO did not provoke or endorse the crimes, nor did the companies and their games, the competitors, or the fans.
Let's be constructive here. What if the fighting game community as a whole unites to actually help the victims and use this massive platform called EVO to raise money for their legal representation and the treatment they might need? We are gamers and solving problems to make things better is the description of our hobby. Let's punish this bad move and make it a net positive. We can show them and everyone else the support system this community was always meant to be and represent. We have to actually fight for them like Ryu or Terry Bogard would. These are the values I've learned from these games since I was a kid playing arcades like Street Fighter II and Fatal Fury in 1992.