"F-ck Joe Biden" Chants Taking Over NASCAR and all Live Events
The Most Popular President in History's Aura Precedes Himself!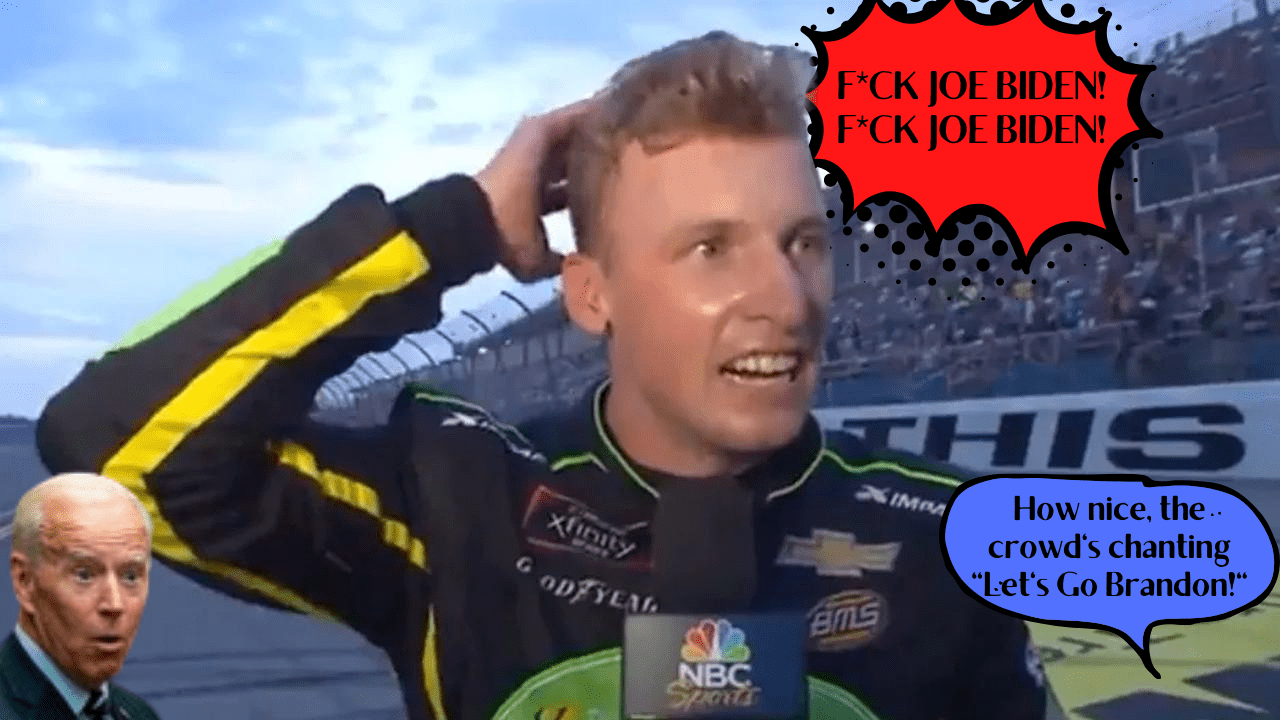 Brandon Brown took his first NASCAR Xfinity Series victory on Saturday at Alabama's Talladega Superspeedway. He gave a very jubilant and excited interview to NBC reporter Kelli Stavast and gave shoutouts to his father: "Dad, we did it, let's go!" But more importantly, the fans wanted to get in on the celebration. What a memorable day it was.
While Stavast may have told the audience at home that the crowd was chanting "Let's Go Brandon" (weird thing to chant after the guy won the race, but whatever; that's the best lie she could come up with on the spot, I guess), what they were chanting was more akin to that of college football fans from a few weeks ago, something that has not stopped either. Check out this clip from the Wisconsin/Notre Dame game from CHICAGO'S SOLDIER FIELD of all places. What should be friendly territory is no longer for the career politician.
https://twitter.com/OldRowSports/status/1441846723203125248?ref_src=twsrc%5Etfw
NASCAR officials called the race with five laps to go, citing darkness and visibility concerns, cutting short the 113-lap race and allowing the "Battle of the Brandons" to take place, as Brandon Brown ultimately defeated Brandon Jones in the last scoring loop.
https://twitter.com/YouKnowMares/status/1441841785702129668?ref_src=twsrc%5Etfw
These are not the only instances of these chants breaking out at sporting events, either. At last weekend's Ryder Cup, during the Americans' drubbing of the European squad 19-9, more "political smears," as Newsweek reports, broke out from the stands in Whistling Straits in Wisconsin (smashing that "dumb Southerners" narrative just a bit). Golf, as you might be aware, is not really known for its rowdy fans. It goes to show how universally loved ol' Uncle Joe is.
https://twitter.com/NCblonde704/status/1441961623938379788
During a concert, country singer Aaron Lewis led those in attendance at his Scranton, Pennsylvania concert (Joe Biden's hometown, no less) in a welcoming chant for the hometown kid. So it's not just sports fans getting in on the action, and it's not just one country music star.
Jason Aldean's wife Brittany fitted herself and their two children with some snazzy threads. Circa 2016, Jason Aldean was more reserved about his political opinions, but since the ascension of President Biden, his stance has changed. "I will never apologize for my beliefs or my love for my family and country. This is the greatest country in the world and I want to keep it that way," he posted on his Instagram account.
Different vocations and the same results. It's obvious what these crowds were chanting: "Fuck Joe Biden." Whether it be for strict Coronavirus policies that seemingly multiply daily, the disastrous Afghanistan withdrawal debacle (when a suicide bomber outside Hamid Karzai Airport in Kabul took out 13 service men and women from the U.S. Marine Corps and Army and the subsequent retaliatory drone strike killing 10 innocents, 7 of which were children), or gleaming the results of the Maricopa County audit and questioning the legitimacy of the President with the highest vote totals in history. It could be a multitude of things, but what is certain is that whenever you get enough freedom-loving individuals together, they seem to instinctively know what 3 words to chant to trigger the elitists.