The 2016 Fantasy Football Season is in the books. Hopefully, you embarrassed your competition, won some prize money, or, at the very least, "had fun" (whatever that means). Looking back at least year's mission statement, I hit home-runs with Chris Hogan and James White, completely whiffed on Will Fuller, and had some nice mid-round success with Moncrief and McKinnon. My philosophy this year has changed just a tad. When the mainstream, average fans zig I try to zag. Fantasy is always about staying one step ahead of the competition. My focus this year is to gather value at the running back position in the middle and late rounds. You do not need a "work horse and cowbell" to win a league. So, without further ado, let's get into it.
Players I Love
Tom Brady
Let's just get it out of the way. If you have read any of my previous articles, you know that I am President of the Thomas Edward Brady Fan Club. However, fantasy football is all about analytics and not about fanfare. Let's ignore what happened last year: different team, different year, different philosophy. Yes, I said "philosophy." I think the coaching staff in New England realizes Brady is getting older and they have to prolong his career. The recipe to do that is simple – make sure he gets hit less. Workhorse running back LeGarrette Blount had 139 first-half carries. Formerly, that was only good for 22nd in the league in first half passes (57%). They signed Rex Burkhead and Mike Gillislee who ran 85% of running plays last year out of the shotgun in Buffalo. When Brady passed out of shotgun, he had a quarterback rating of 112. By contrast, he had a rating of 97 under center. I will be completely shocked if New England runs less than 75% of plays out of shotgun formation next year. They ran 56% of plays as such last year. Now, am I going to say that Brady breaks the records he set in 2007? Absolutely not. But, when you can pass and throw completely out of shotgun, it will wear out the defense and give him even more time to make decisions.
Andy Dalton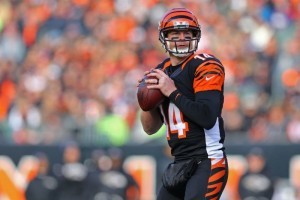 The red headed rocket saw his 2016 numbers dip dramatically. However, if you really dive into the statistics, it was complete aberration. Star receiver AJ Green missed six games. Tyler Eifert missed eight games. With his top two passing weapons on the sideline, Dalton still threw for over 4,200 yards. His touchdowns dropped to eighteen last year (1.12 per game). In the previous four years, he averaged 1.70 per game. Do the math. His ADP is in the tenth round and the sixteenth QB.
LeGarrette Blount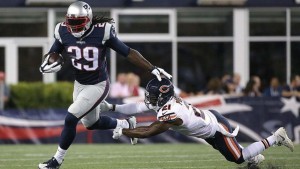 Blount Force Trauma was shown the door in Foxboro, but he landed in a great situation in Philly. We all know Blount is a goal line work horse. He did lead the NFL in rushing touchdowns last year. Of Blount's forty touchdowns in the last two years, eighteen of them came inside the five-yard line. Blount took 60% of his carries inside the five-yard line to touchdowns. Why is that important? The Eagles had the fifth-most rush attempts inside their opponents five-yard line last season. He is currently the 25th running back taken.
Spencer Ware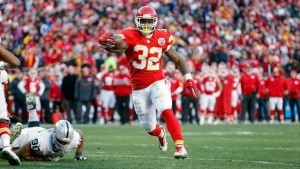 I absolutely think the Kansas City Chiefs will be a dumpster fire this year. However, there is a little value in Spencer Ware. He averaged 4.30 yards per carry on 214 carries in 2016. That was tenth-highest of all the running-backs with at least 200 carries. To put that into perspective, that was higher than David Johnson, Lamar Miller, and Melvin Gordon. His ADP is the 21st running back taken off the board. Marshawn Lynch is being taken two rounds ahead of him, but don't worry . . . I'll get to him soon.
Jonathan Stewart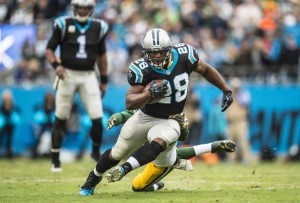 Stewart played in twelve full games last year, averaging 17.7 attempts per game. Jay Ajayi had 17.3, David Johnson had 18.3. He may be old, and not the shiny new toy that Carolina drafted (Christian McCaffery), but the Carolina higher ups already made it crystal clear that they are going to limit Cam Newton's rushing attempts. With that being said, the Panthers have ranked seventh, first, and eighth in rushing attempts over the last three years. Stewart ADP is in the 11th round. He is a clear value, especially when his average draft position is the 38th running back off the board.
Jesse James
He may not be the Wild Wild West Gun Slinger, but James is a solid tight end option in the later rounds. The Steelers released Ladarius Green due to health issues, but when he played he was targeted on 25% of the snaps, the highest rate in the NFL with a minimum of 30 targets. Now, Green's departure ensures Antonio Brown, Le'veon Bell, and Martavis Bryant will dominate the market share. However, Pittsburgh did not draft a tight end. They like what James can bring. Let's not forget James averaged 7.2 fantasy points per game in the ten games Green was out.
Now, before I get into the players that I will be avoiding like the plague, here is a quick graph to possibly dissuade you if you were thinking of drafting a rookie (in non-dynasty format leagues):
ROOKIE Scale (2007-2016)
Round 1 Draft Pick Averages – QB attempts 344, RB touches 201, WR targets 75, TE targets 65
Round 2 Draft Pick Averages – QB attempts 158, RB touches 150, WR targets 56, TE targets 39
To put that into perspective, Sam Bradford had 529 attempts, Isiah Crowell had 251 touches, and Cole Beasley had 98 targets.
Ty Montgomery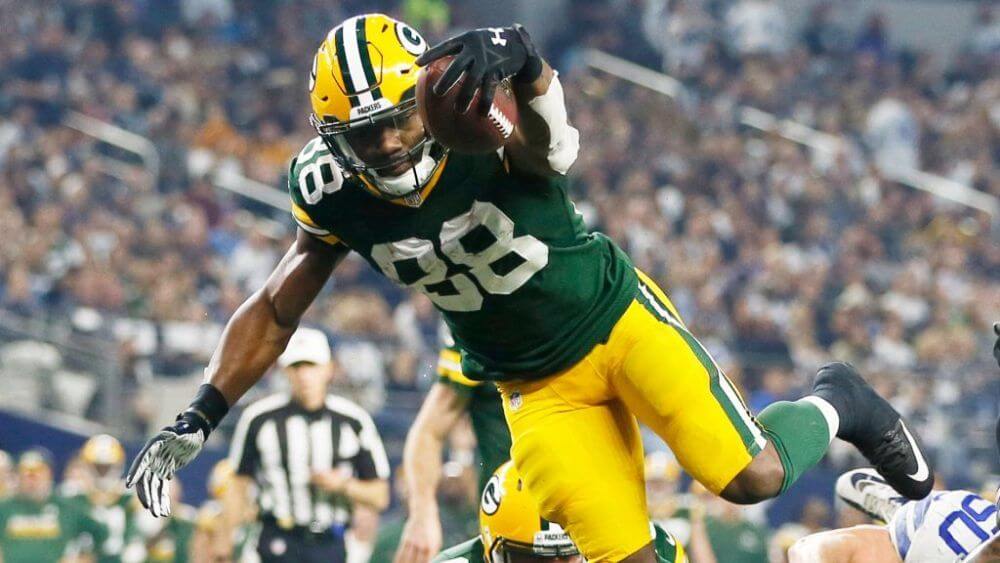 Now, this is going to sound like a negative on Ezekiel Elliot, but I promise it is not. He is worth every Top 3 pick that drafts him. I am just showing that there are other options that are very similar to him without giving up such a high pick.
Player A: 6.0" 223 lbs., 5.9 YPC – Average Draft Position 38.5
Player B: 6.0" 220 lbs., 5.4 YPC – Average Draft Position 3.1
One such substitute is Ezekiel Elliot. The other prime option is Ty Montgomery. Just because one wears a wide receiver number doesn't mean he can't carry the load for a playoff-caliber team.
Now to my favorite part of the mission statement, the "nope" section.
Players I Hate
Dez Bryant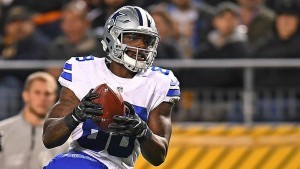 I get the attraction, he is a huge name, he makes outstanding catches, and he's got that silver star on his helmet. Everything is all nice and well until you actually break down numbers. Dez is the most cornerback sensitive WR in the Top 25. I'll just let the numbers speak for themselves:
2014-2016 (a three year split):
Dez vs bottom 25 CBs: 49 Targets, 32 receptions, 578 yards, 12 TDs, 3.30 FFPS per target
Dez vs top 25 CBs: 61 Targets, 30 receptions, 376 yards, 1 TD, 1.12 FFPS per target
(A difference of 2.18 FPPS per target)
To put this into perspective, compare those numbers with Bengal's star receiver AJ Green:
AJ Green vs top 25 CBs: 73 targets, 1.51 FFPS per target.
AJ Green vs bottom 25 CBs: 48 targets, 2.67 FFPS per target
(A difference of 1.16 FPPS per target)
The difference is almost double. Dez is going in the first two rounds. You have been warned.
Marshawn Lynch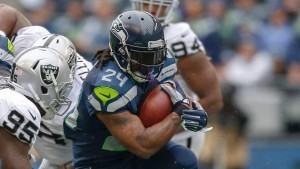 I get it. He is fun guy to root for. Beast Mode coming back home is a compelling narrative. I said it from the beginning, everything about Lynch is a public relations move instead of a football move. Here is why: the 31-year-old running-back has a 15% decrease in rushing attempts, 18% decrease in rushing yards, and 11% decrease in TDs compared to running backs two years younger. The last time we saw Lynch (which was in 2015 for just seven games) he averaged 3.75 yards per carry. Blame it on the offensive line? Blame it on the injuries? I'd say give credit to Father Time. Give me Deandre Washington or Jalen Richard eight or nine rounds later.
At the end of the day, Fantasy Football is about analytics and projecting ahead to what specific teams or schemes can do throughout the year. Granted, there will always be a few unknowns like injuries or weather, but if you dive into the numbers you will always give yourself a better chance than those who don't. Remember, chance favors the prepared mind.