Geeks + Gamers Staff Halloween Picks: Comic Books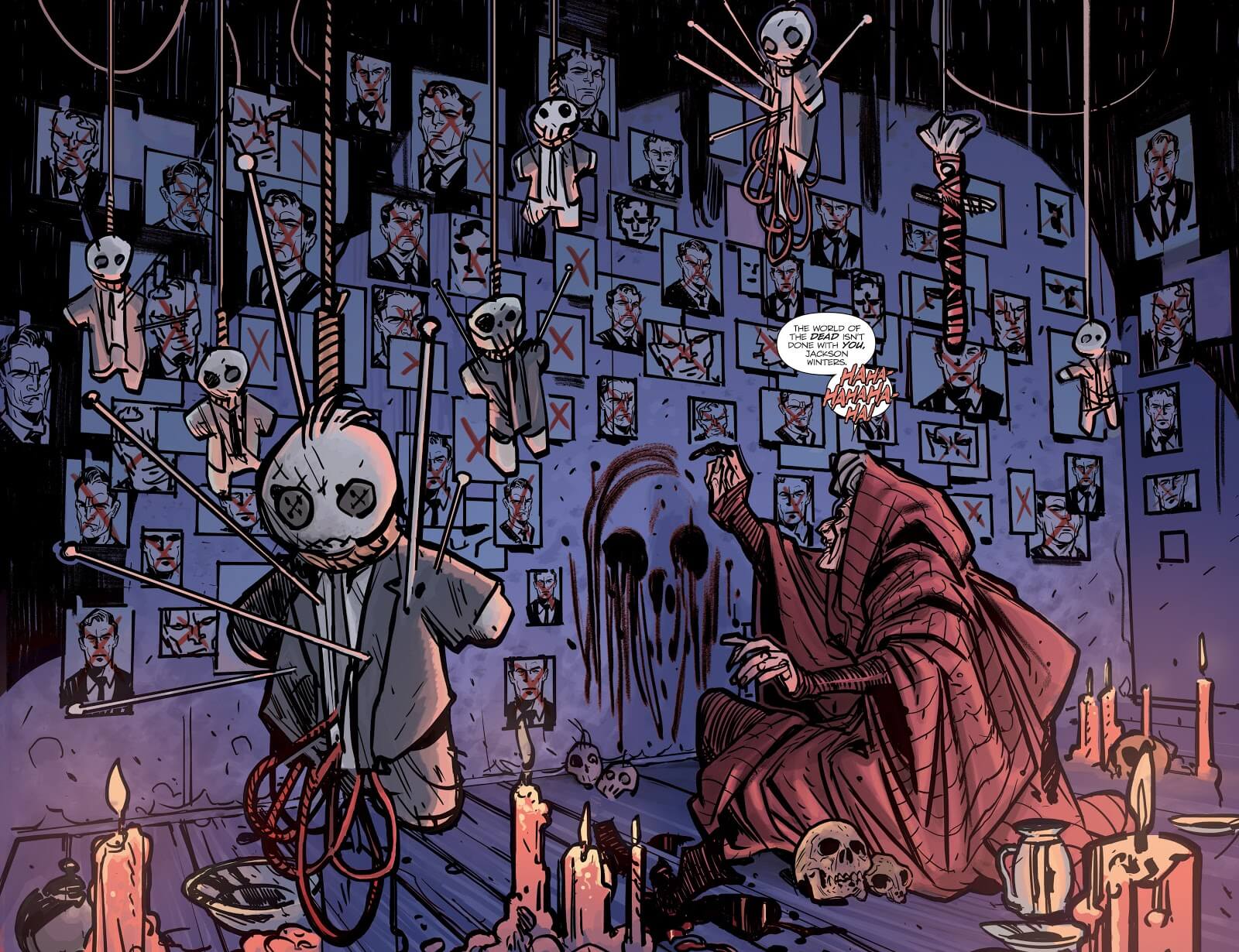 The spookiest of seasons is upon us, and to appease the Ancient Gods of junk culture, nothing is closer to those old penny dreadfuls which saw the birth of Gothic Romances from Victorian times (spawning those scary, gory, and graphic stories appealing to humanity's most primal and darkest instincts) than comic books. Unlike these magazines and the more modern American pulps, comic books also engage us in visual form, complimenting the daring and versatile storytelling with a very important aspect of horror: how to scare the hell out of us and make us imagine the most repulsive of aesthetics to appeal to our morbid curiosity.
Alex, Andrew and I have put together this list of comic books you should check out this Halloween season to get in the right mood:
Andrew – Witchblade
The 90's were far and away my favorite era of the American comic book entertainment medium. No other decade quite exemplified exactly what comic books should be the way that it did (certainly not the current one, #movetheneedle). Male heroes/protagonists were shredded and powerful in their designs, making guys want to be them. Villains truly looked menacing, and the women of comics were drop-dead gorgeous, exuding equal parts power and beauty. Of those comic books during the '90s, and into the early 2000s, was a story about a New York City Police department detective named Sara Pezzini, who, during an undercover bust gone bad, becomes bonded to an ancient artifact weapon known as the Witchblade, and uses the gauntlet to face off with demons and other supernatural monsters. The aptly titled series Witchblade was co-created by industry legend Marc Silvestri (The Darkness) and the now late, great Michael Turner, who would go on to create his own publishing company, Aspen. The blend of gritty horror, high-octane panel action, and Turner's seductive style made the brand new comic artist a break-out star and the new series a runaway hit. I've loved Witchblade since it first released (admittedly, I may have been at an age deemed too young for its mature themes, but hell – can't knock my taste in comic art, or women, for that matter). Sara Pezzini is a certified badass that would put most comic book characters to absolute shame with her strong personality, sense of justice, and overall presence on the page. This, of course, is part and parcel of the talents of Michael Turner, who immediately became my favorite artist and whose work to this day is plastered (framed really) all over my walls. The excellent blend of supernatural horror and Detective Comics mystery that perfectly personified the beat cop TV shows of its time, were a great draw that made for even greater storytelling and, again, some of the coolest looking panels in comics even to this day! While the '90s certainly brought their own stigma with them, I'll refer back to what I said before: Witchblade perfectly exemplified everything that made '90s comics great by having a catching narrative, great memorable characters, and a gorgeous female badass as its focal character. Maybe more of today's comic book creators should take a beat and read a few issues. If you want to check out the best run of the series, pick up Witchblade (Vol 1) #1-25.
Alex – Arkham Asylum: A Serious House on Serious Earth
I haven't read any true horror comics, so this may be a bit of a cheat, but there's certainly a good amount of nightmarish imagery in Arkham Asylum to send shivers up your spine. When the inmates at Gotham's infamous nuthouse take over, Batman must give himself up to them to avoid a staff massacre. What he finds is a twisted fairytale world run by monsters who are the result of all-too-human psychoses. Dealing with several of his major nemeses one by one, Batman slowly makes his way to the inner reaches of the Gothic horror setting until he uncovers the reason behind the revolt. The horror in Arkham Asylum is found mostly in the dark recesses of each villain's mind. The torture Two-Face feels at his devotion to a coin flip, for example, is made clear in the results of his being deprived of his inanimate master. The idea that the Joker is not actually insane, but rather afflicted with entirely too much sanity for a man to endure without devolving into madness, is suggested here for the first time as well. The artwork is beautifully creepy, with surreal images of Batman and his villains seeming to glide through the pages like phantoms haunting the asylum. There is one large picture of a bat – the one Bruce Wayne saw all those years ago – that encapsulates the terror at the heart of Batman and his fearsome persona. If you want unease this Halloween, you could do worse than Arkham Asylum. Written by Grant Morrison and illustrated by Dave McKean.
Spike – Revival
The death of a loved one is probably the hardest thing any person can deal with. Can you even imagine what it would be like going through all the grief when, all of a sudden, the one for whom you mourn comes back? This is the question the Rural Noir published through Image by writer Tim Seeley and penciler Mike Norton asks when, on one weird day, all the people who passed just come back to life and have to adjust to a literal new life with paranormal activity and the intrigues and secrets kept in the small towns of Wisconsin.
If you could put Fargo, Poltergeist, Twin Peaks and The Walking Dead into a blender, this is the story you would get.
Silver
Decades after the Dracula incident, where the Transylvanian aristocrat attacking the bride of a real estate agent from England, the swindler Jim Finnegan and his con men can't help but pull a job robbing the luxurious Harker estate – amassed by the aforementioned agent – and outwit & mock law enforcement, a little hobby of his. Little did he know that pursuing those treasures will lead him right into the fanged jaw of peril. Luckily, Rosalynd Van Helsing upholds the tradition of her lineage and comes across the care-free master thief during his journey to Dracula's Castle to catch the biggest of scores.
Stephan Franck really puts the "fun" in funeral with his pulpy, crowdfunded black & white indie title. He's found success completely independently for his own stories since 2014, though it is not surprising because Mr. Franck is an animation titan with legendary works such as The Iron Giant to his name.
Ghosted
Jackson Winters is a scoundrel who can steal anything he sets his mind on, but in spite of his reputation and ability, he has been imprisoned after the gruesome death of his teammates. Life just won't get easier behind bars, and he might end up like his former crew. Lucky for him, a wealthy man has offered to pull him out from the joint if he agrees to pull the job of his life: go into a haunted mansion and steal a ghost, something he is not even sure exists.
Joshua Williamson (The Flash) has plotted one of the most out-there ghost stories around but still manages to bring it out organically, while the Croatian artists Goran Sudžuka & Miroslav Mrva make the Image/Skybound comic book extremely spooky with their macabre linework.
What are some of your favorite horror comic books? Let us know in the comments and stick around Geeks + Gamers for more Halloween fun!