Whether you're getting your content in the form of microwaves received by the "rabbit ears" of your TV set or through a cable which delivers digital data to your Apple TV so you can watch Netflix and YouTube on your flat screen, TV is, without a doubt, the staple of entertainment of the modern age. Back in the "Atomic Age" of the Cold War, when the Western world gained some stability after the Second World War, TV started becoming a common appliance for the everyday citizen. It was then that movies themselves started being broadcast to fill up the airwaves and accommodate the commercial advertisements to make a buck with already existing content studios could re-use. And nothing was larger than those nuclear monsters in the '50s pictures. Horror cinema was still going strong after its boom in the '30s with the Universal Monster features, and something equally commercial, spooky and sexy had to tie together the popular movies with the newly popular medium.
Enter the original Scream Queen, Vampira, a creation of gorgeous cheesecake model and Hollywood wannabe Maila Nurmi, inspired by the comic strip character Morticia by Charles Addams This very genuine and off-beat glamour ghoul was the birth of Punk, Goth, Cosplay and Scream Queen all-in-one. Hell, the term "Scream Queen" actually comes from her scream at the beginning of her show. Nobody screamed on TV back then, and she was certainly the undisputed horror queen of the airwaves. Having a show with a vampire goddess host to present terror films was such an out-there concept that magazines such as Newsweek, Life, and TV Guide dedicated editorials and photo spreads to Vampira, a movie presenter who had around 5 minutes of actual air time during her presentation of The Mystery of the 13th Guest (an updated remake of the public domain thriller The Thirteenth Guest, the 1932 adaptation of the novel by crime fiction legend Armitage Trail, who also penned Scarface, the source material for that Scarface you're thinking of).
Of course, I'm no Vampira, and I certainly can't scream here, but we at Geeks +Gamers honor her ghastly spirit with this list of horror TV shows which probably wouldn't have existed without her induction of the genre to the TV screen.
Alex – Buffy the Vampire Slayer
It's been off the air for quite some time, so I don't really get to talk about it much nowadays, but Buffy the Vampire Slayer is pretty much my favorite piece of fiction. I've never cared about characters the way I care (present tense) about Buffy and her friends and enemies. More than anything else, almost every episode of Buffy felt like it was written specifically for me, highlighting something I felt at some point in my adolescence or young adulthood (the way it seamlessly moved between these stages of life was staggering) and making me feel like I wasn't alone. This is how the show dealt with its horror: by making it a commentary on our everyday lives. Stripped of his vampirism, what is Angelus but an object of affection who only reveals his true, twisted nature after our feelings are fully invested? Is a werewolf all that different from a teenager unable to control his hormones? A teacher who seduces her students is a literal praying mantis, a college frat party turns into a human sacrifice by a demon cult, a letterman jacket makes all the girls supernaturally weak in the knees, Buffy's college roommate is a soul-sucking demon, and on and on. These situations become scary because we understand the real-life underpinnings and see ourselves in the show's heroes.
Even taken at face value, there were some truly terrifying episodes of Buffy. "Hush" featured the Gentlemen, monsters out of a fairy tale who would steal the voices of whatever town they happened upon and cut out five hearts to sustain themselves. (They even came with their own Freddy Krueger style nursery rhyme!)In "Killed by Death," Der Kindestod appeared only to sick children and killed them while their parents believed they were simply delirious with fever. "Gingerbread" had the ghosts of two dead children whip Sunnydale's adults into a witch hunting frenzy until the actually tried to burn Buffy at the stake; the children were manifestations of a giant demon who fomented authoritarian violence through fear (and, amusingly, inspired the Hansel and Gretel story). If you want to have a mini-marathon today, there are also three Halloween episodes: season 2's "Halloween," season 4's "Fear Itself" and season 6's "All the Way."
Jorge – Soul Eater
When I think of Halloween, I think of witches, grim reapers, weird costumes, and people having fun. Soul Eater is an anime that embodies all of those qualities. It's not meant to be a horror anime, but maintains a Halloween-inspired aesthetic. The series actually takes on a more comedic approach, with dark humor sprinkled in to compliment some of the darker tones of the series. The characters are extremely quirky and have great chemistry with each other. It's also produced by Studio Bones, who are responsible for anime like My Hero Academia and Fullmetal Alchemist: Brotherhood. It's safe to say that the animation is bold and vibrant. If you're looking for a show to sit down and watch that has a genuine Halloween vibe, Soul Eater is a fantastic choice.
Spike – In the Flesh
This short-lived zombie drama from BBC3 – sadly, it only lasted two seasons, spread through nine episodes – is certainly one of the best subversions of the done-to-death zombie apocalypse theme. The scary thing about zombies is that they could be your father, your brother, or even you. We tend to think about human cannibal killers as the bottom of the barrel of our society, so what happens when you are in recovery from being a zombie after a great apocalyptic war where the humans successfully manage to contain the epidemic and are reinserting the victims of the "rotter" disease into humanity? This is the case of Kieren Walker (Luke Newberry), who suffers PTSD from the time he spent being the living dead and committing atrocities over which he had no control. He also has to deal with discrimination  because, well, he used to be an undead who ate human flesh in a small British town where a lot of veterans fought to contain those affected with PDS (partially deceased syndrome). Funny how being dead can give you a new perspective in life, isn't it? George A. Romero would certainly be proud of the finesse of the social themes portrayed in this zombie series by Dominic Mitchell.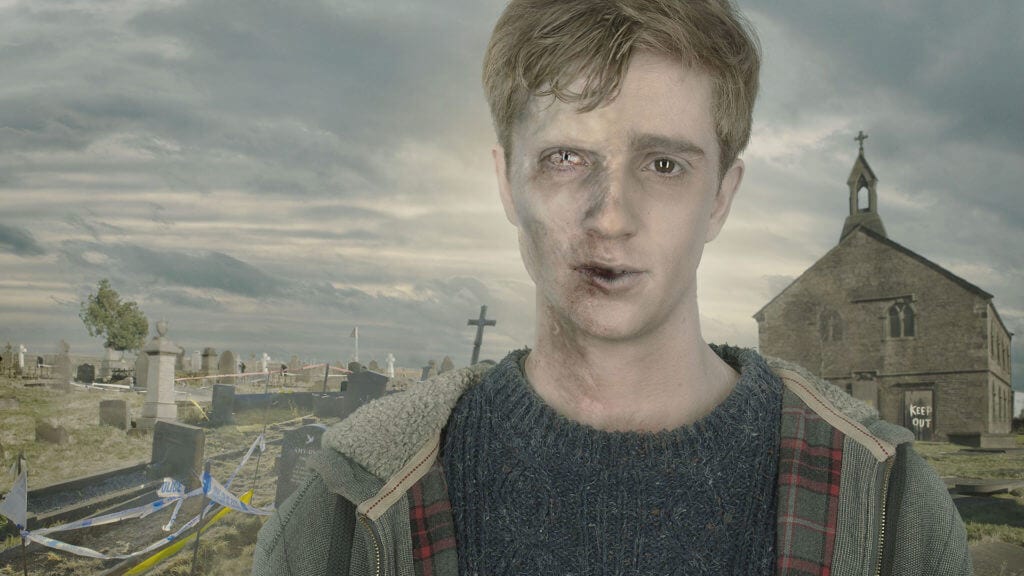 Tony – The Walking Dead
Back before Negan and his barbed-wire-wrapped baseball bat, Lucille, and before the show had jumped the shark on many occasions and had massive dips in its rating and viewership, a brand new horror series came onto the scene. It was 2010, at the height of the major zombie fad that was taking over the globe like a plague, that Image Comics' The Walking Dead debuted on AMC. Fans of the comic knew to expect greatness based on the source material, but for the rest of the world, we just weren't sure. Little did we know, that show so many of us tuned into the first episode of on Halloween night 2010 would become a global phenomenon, and at one time, the number 1 rated television show on the planet. The Walking Dead had the blood, guts, and gore you'd expect from a TV show with zombies on a cable network, but it also had excellent acting, superb storytelling, and compelling characters we would all come to fall in love with. Now in its ninth season, the show has seen better days, but that first handful of seasons are some of the best I've witnessed on television, and I would recommend them to fans of horror and drama alike. It may not be in its best form currently, but some of us still have hope that The Walking Dead can somehow get back to its glory days.
Virginia – Penny Dreadful
When Showtime premiered this Victorian horror drama, the cast is what really drew me in. Veterans of the James Bond franchise Timothy Dalton, Eva Green and Rory Kinnear all portray major characters, and in the second season Helen McRory joins them. Josh Hartnett is an actor I hadn't previously appreciated much, but he's amazing in the series as well. Aside from the fantastic cast, the John Logan creation sports beautiful music, impressive costumes and plenty of terrors for the Halloween season. 
Did your favorite scary TV shows make the list? What did we leave off? What will you be watching this year? Let us know in the comments and come back to Geeks + Gamers throughout Halloween for more spooky scribblings!