INTERVIEW: Thom Glunt, Director of Soviet Jump Game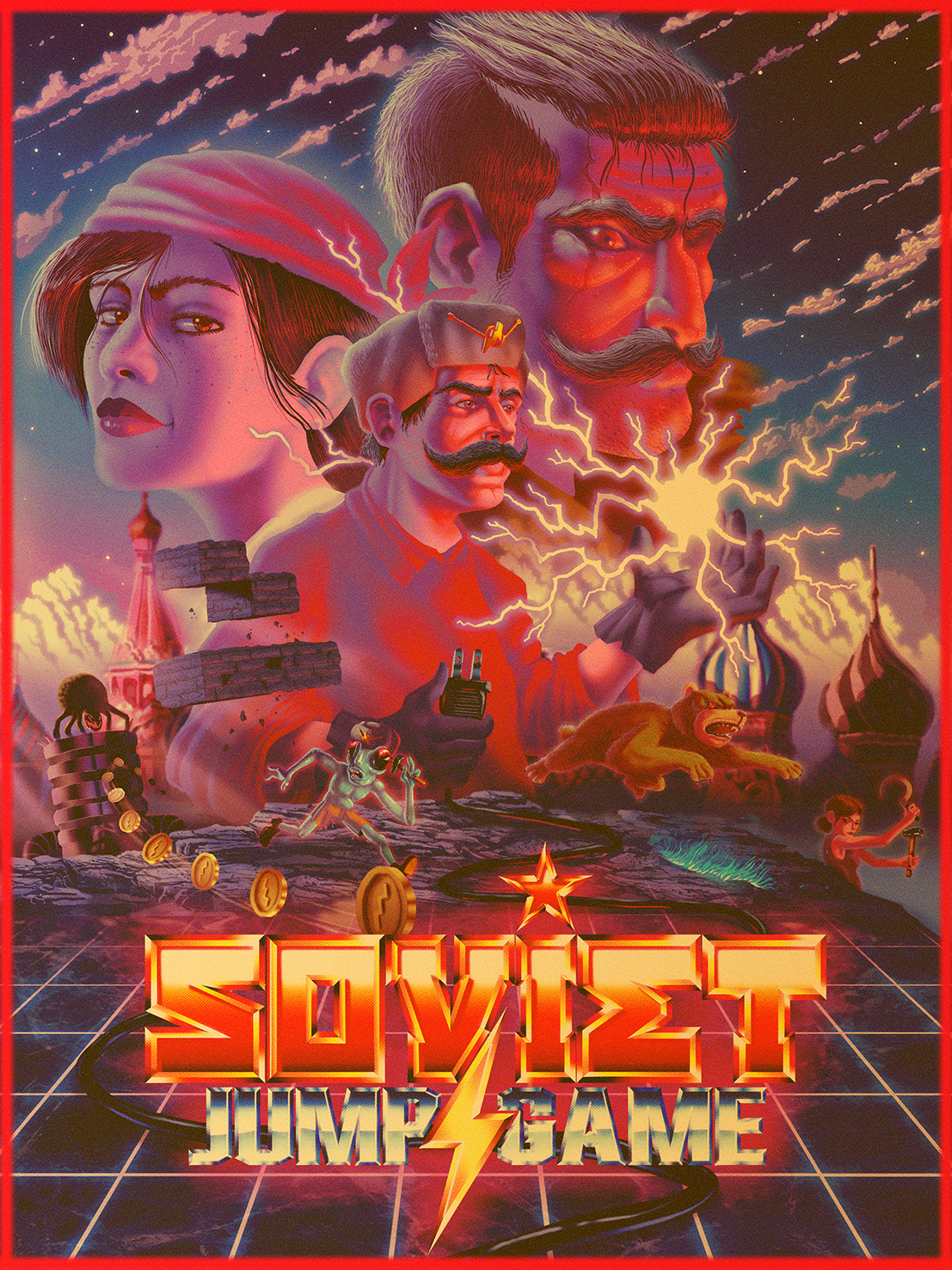 I've been following Game Grumps since my friends showed me their videos a few years ago. I was excited to get the chance to speak with Thom Glunt, the director behind their latest gaming collaboration, Soviet Jump Game, via e-mail, as I've been fascinated by what goes into creating a game like this. Here, Mr. Glunt and I discussed the battle royale genre, Game Grumps' involvement in the process, and what sets Soviet Jump Game apart from other games out there.
What was the genesis of Soviet Jump Game?
Around 2017 the battle royale genre was exploding and seemed to be adapted into almost every game. At the time, I was joking that the only genres it hadn't taken over yet were Tetris and 2D platformers, thinking those were bad ideas. Once Tetris 99 dropped and it was great, I started to play around designing a 2D platformer BR for the fun of it and realized it was a game that I really wanted to play.
Have you played Game Grumps' previous game, Dream Daddy, and did that influence your approach to Soviet Jump Game?
Yeah! Dream Daddy is cool, but it's a very different game than what we have made. I don't believe that my experience with it has influenced Soviet Jump Game, but Greg, Arin and Vernon's involvement during development definitely brought over some of the same DNA.
What was the collaboration process like with both Game Grumps and Fantastic Passion?
Game Grumps are a great partner! They trusted us and the idea, so they preferred to mostly stay hands off while the game took shape. Early on, we had a big meeting together where we laid the designs groundwork, with a few other big meetings along the way. Greg and I would check in weekly and I frequently ask for the Grumps input on copy, ideas or mechanics. Design for a game like this is very iterative and the Grumps understood that and provided great feedback at crucial times.
What goes into directing a game like this, and how does it differ from other games?
Soviet Jump Game has a big focus on game mechanics with very little narrative. Designing a multiplayer game has been a very different experience than making a single-player game, with its own unique challenges. We didn't have to worry about narrative beats, scripted sequences or enemy AI variants, yet the challenges associated with networking and human opponents were just as time consuming.
How did you decide on the battle royale style for the game?
It was the game! The whole point of making Soviet Jump Game was the enjoyable challenge of adapting the familiar genre of 2D platformer to the very modern genre of battle royale. I hope people feel that we've succeeded.
What is a moment that you'll always remember from the making of Soviet Jump Game?
Most of the team works remotely, so even though we talk most of the day, it's easy to miss that human connection. When we were nearing the release into early access, I took a trip up to Canada to visit Quade (the lead programmer) and spent Halloween up there with him. Around our work schedule, I met his family, got to casually hang out and even took him rock climbing. It was a great week that helped mitigate the stress of releasing a game and helped me to connect with him beyond just work.
What's something you learned from working on this game that you will take with you to your next project?
It's very important to find a healthy balance between work and personal time.
What are you working on next?
After the demanding schedule of directing and producing a game, I'm intentionally leaving things open at the moment. I am moving to a cabin in the mountains to recharge myself and my creativity. I enjoy making cool stuff with great people, so if any opportunities arise I will explore them, but otherwise, I am either going to revisit some of my existing ideas and get them ready to pitch or write a book.
Closing thoughts.
Developing Soviet Jump Game has been an adventure! I am super grateful to the Fantastic Passion team for their time and great work. It's always a pleasure to see a game ship when it was nothing more than an idea a couple [of] years ago.I am also grateful to Game Grumps for believing in this idea and working with us. We've brought something unique and fun into the world and I hope it brings a lot of people some joy. Lastly, thanks to anyone who checks out the game and those who gave us feedback during Early Access.
***
We want to thank Mr. Glunt for his time and wish him well on his future endeavors. Soviet Jump Game is available on Steam today!