NXT Worlds Collide Results (2022)
NXT Worlds Collide Results
NXT Worlds Collide Results and commentary from Danny Damage!
NXT Worlds Collide Results 2022
It seems that this town ain't big enough for both of them, as most of the belts from the two brands are being unified tonight. The crowd's obviously a lot smaller than last night's, but the NXT audience is just as pre-configured as their WWE Thunderdome counterpart, so they make noise at all the right moments.
Carmelo Hayes vs. Ricochet (North American Title)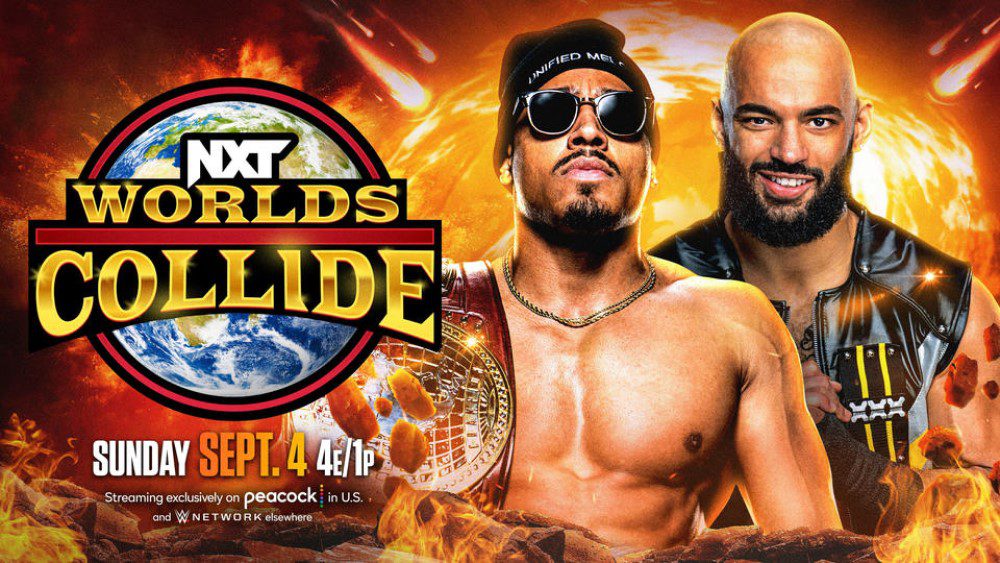 Winner: Carmello Hayes (pinfall)
There was a lot of pointless posing and pointing early on; with all the flips and spins, it was more like a dance-off than a fight. They settled down after a little while and started wrestling briefly. But then it devolved into no-selling, obvious cooperation while on the top rope for a while, and near-falls like it's the main event of WrestleMania.
Ricochet went for a shooting star and saw Hayes moving; Ricochet corrected himself and landed on his feet, but Hayes locked in a small package for the win.
Gallus vs. Pretty Deadly vs. Briggs & Jenson vs. Creed Brothers (Tag Team Title Unification)
Winners: Pretty Deadly (pinfall)
Before the bell had a chance to sound, all eight men just started scrapping until two were left in the ring. The match being Elimination rules made more sense with a fatal four-way; at least there's a risk of disqualification, and there's something actually stopping people from entering the ring whenever. With that said, it didn't take long until everyone had a turn jumping out of the ring into the coiled group of men standing, waiting to catch them.
Briggs and Jenson were the first to get eliminated, followed by Gallus. While the two remaining teams tried to settle things, the losing teams caused a distraction outside, and the referee got trampled. Damon Kemp then turned on the Creeds, swung a chair, and woke the referee up to count the pinfall. Oh yeah, this is a much better use of Lash Legend; those awful fake chat show bits were dire.
Mandy Rose vs. Meiko Satomura vs. Blair Davenport (Women's Title Unification Match)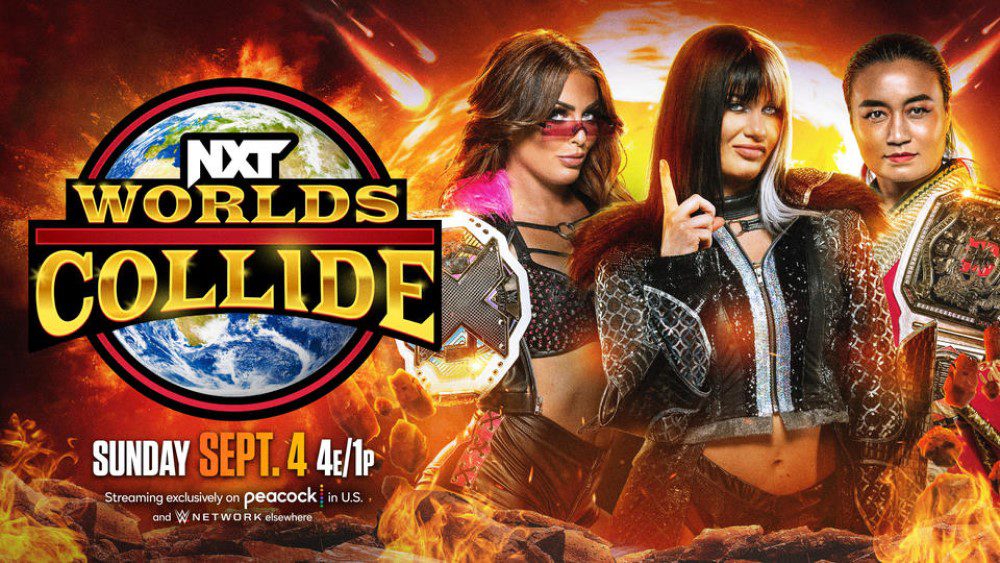 Winner: Mandy Rose (pinfall)
Meiko Satomura looked quite emotional on her way to the ring; she looked like she was savoring each moment. Mandy Rose's thighs could still be used to cut someone out of a wrecked car if the fire brigade weren't nearby.
Rose and Blair Davenport teamed up against Satomura early on, and the majority of the match consisted of one of the lasses recovering on the outside while the other two went one-on-one for a little while. The finish saw all three throwing everything at each other until Mandy knocked Davenport out and pinned her.
Katana Chance & Kayden Carter vs. Doudrop & Nikki A.S.H.
Winners: Kayden Carter & Katana Chance (pinfall)
Poor Nikki Cross; she's still doing the stupid superhero shite despite being in something new with Doudrop. I've always liked Carter, but much of Chance's "offense" is questionable and turns what's meant to be a legitimate contest into blatant cooperation. Collectively, Carter and Chance's gimmick is that they're two mega young-looking girls that go to gigs, clubs, and festivals to gyrate like Duracell bunnies.
Nikki and Doudrop kept Chance in their corner for the majority of the match, and Carter's comeback only lasted so long. However, when it looked like Carter was done, Toxic Attraction ran down and caused a distraction. This allowed Carter to push Doudrop off the top to get pinned.
Bron Breakker vs. Tyler Bate (World Title Unification Match)
Winner: Bron Breakker (pinfall)
A great showing from these two young lads; they're much better than others their age and older. Plus, they've got loads more room to grow, as Bate is only 25 and Breakker is younger than that at 24.
Both men played on their strengths, and the crowd didn't know which way it was going. Bron finally managed to catch Bate and hit his power slam, but Bate got his foot on the rope, much to the fans' disbelief. The closing moments saw Bate spring off the ropes to level Bron, but he ran straight into a spear, which scored Breakker the win.
After the bell, Bate handed the belts to Bron, and they hugged and celebrated together. The show wasn't as big and overhyped as the main roster show, Clash at the Castle, last night, but at least it didn't leave a nasty taste in my mouth.
–  OLDER RESULTS –
Thanks for reading these NXT Worlds Collide results! Feel free to get in touch on Twitter, SUBSCRIBE to my YouTube channel, and check out everything else I write about over on: