Peyton Manning is Cold Calling Indiana Liquor Stores to Market his Sweetens Cove Bourbon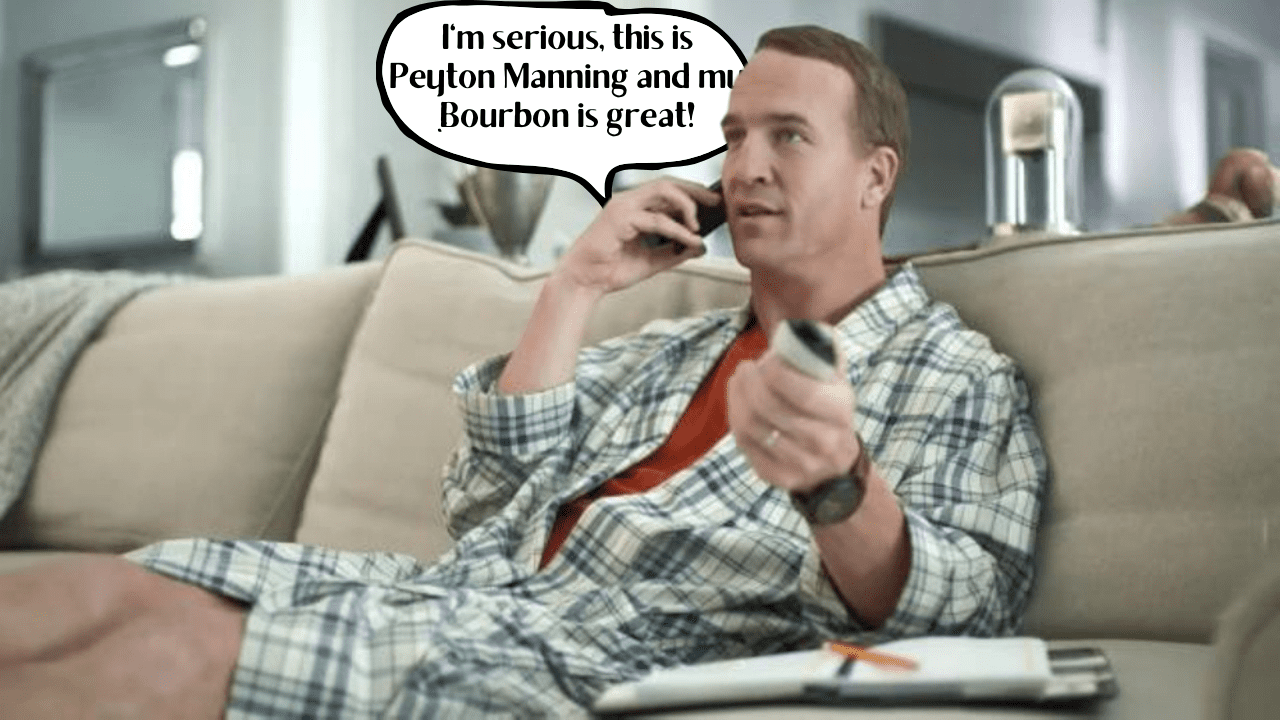 Recently enshrined Hall of Fame quarterback Peyton Manning is staying very busy in retirement. He and brother Eli are providing tolerable commentary as an adequate alternative to Monday Night Football on ESPN. Additionally, he has been reconnecting with old friends in the Indianapolis area in an incredibly odd way.
The middle Manning has entered into the liquor business – specifically, the high-end world of bourbon – with his brand, "Sweetens Cove" Tennessee Bourbon. The breakdown, for those who know these things, is 84% corn, 8% rye, and 8% malted barley. If you're interested in being part of "The Sheriff's" new endeavor, it goes on sale in Indiana this upcoming Wednesday (September 29th). Peyton is once again on the hustle, ensuring that release happens, making cold calls himself, and shocking anyone on the other end of the line.
According to Manning, care of the Indianapolis Star, the key to the liquor world is hustling. Known for his decision-making and quick wit on the field, his knack for the buzz biz shouldn't come as any surprise. Imagine being a Colts fan from back in the day, running a local liquor store. You hear, "Good afternoon, my name is Peyton Manning, and I have this great new brand of bourbon that your customers would thoroughly enjoy. Perhaps you've heard of me and would like to be on the ground floor for our initial launch?" If the other person on the call isn't immediately taken aback by the Indy legend spinning his wares, it rests on the bourbon to be good. After all, this is a business.
There is also another famous name attached to this seemingly random business venture. Peyton is a self-described "authentic beer drinker," and Michelob Ultra is a dear friend of his. The name Sweetens Cove comes from a golf course in South Pittsburg, Tennessee, of the same name. Originally, it was a 9-hole course built on the remnants of a larger course (Sequatchie Valley) from a bygone era. The managing partner of Sweetens Cove (the course, not the bourbon) was Mark Rivers, a local real estate developer who is friends with tennis star Andy Roddick. Long story short, all three men's appreciation for the course led to them purchasing and expanding the land to incorporate their 18-hole vision. That's where Roddick and Manning floated the idea of getting into the bourbon game.
Even if it flops in Indiana, residents in Texas, Kentucky, Louisiana, Colorado, and South Carolina already know of the luxury brand. One bottle of Sweetens Cove will set you back $200. It is the No. 1 celebrity-owned spirit in the world, according to Esquire. Meanwhile, the Rock's tequila came in at 6, Michael Jordan's at 7, and LeBron's Lobos tequila at 12. It's not just a flash in the pan outing for a man who seemingly won't let retirement be anything less than the success his career was.