REVIEW: American Horror Story – Season 8, Episode 3 "Forbidden Fruit"
"Who are you?"
"I don't know. Who are you?"
*Spoilers*
"Forbidden Fruit" opens with Michael talking to Timothy, Mr. Gallant and other characters individually. He asks if Mallory wants to kill Coco, tells Coco she's too shallow to have any darkness below the surface and tells Dinah it's good to see her again (oooooh!). Mallory manifests witchcraft abilities, much to Michael's shock. He then performs a Satanic ritual and begs for guidance. We then see Mrs. Mead's first Halloween, first date and first murder, after which she reveals that they were programmed and that she's never had a family or felt love. Mrs. Mead tells Ms. Venable that she has family with her. They conspire to get out of the Outpost alive together. Coco's boyfriend Brock from the first episode stumbles upon some victims of the blast and asks if they know where the Outpost is. They say no and he kills them. He continues following Coco's trail.
A carriage arrives outside the Outpost, but all they find inside is a box of apples. Brock is hiding under the carriage. Mrs. Mead and Ms. Venable plan a Halloween party during which they'll poison the apples and feed them to the inmates. Mallory tells Gallant and Coco what happened and Coco challenges her to do it again; she fails. At the party, Ms. Venable gives a speech about the small things and how everyone should be thankful to have made it. Everyone dances. Coco is approached by a mystery man in a mask and cloak, they dance, and she assumes he's Michael, telling him she knows she'll get into the sanctuary. She takes him back to her room for sex, and he proves to be Brock. She pretends to be happy to see him, and he stabs her in the head. Everyone bobs for apples, but they're instructed not to eat them just yet.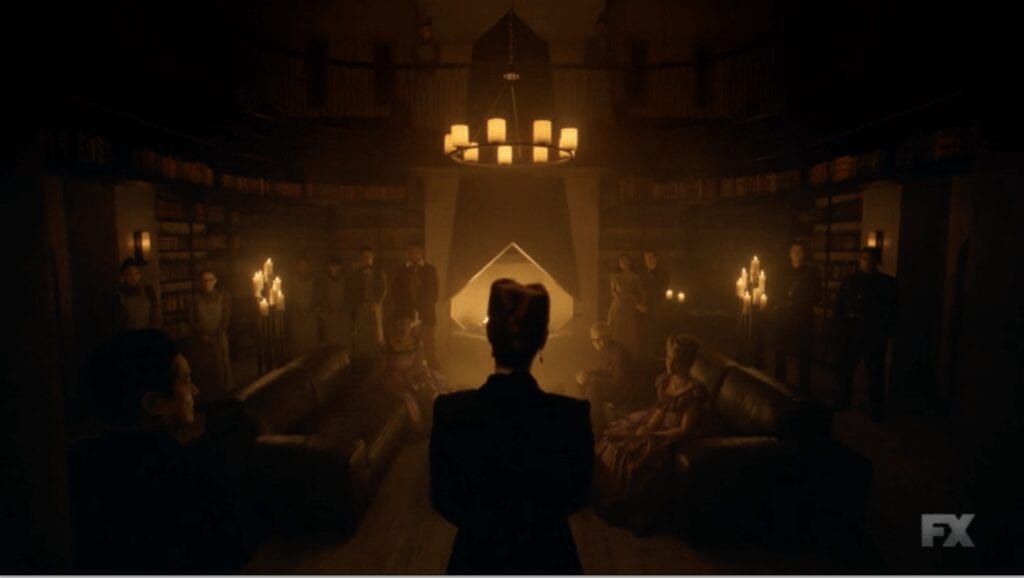 Venable tells everyone to eat their apples; sure enough, people start choking, vomiting and collapsing. Venable and Mead approach Michael and tell him that they're making the decisions now. He tells Ms. Venable that she's perfect for the sanctuary after all. Mrs. Mead aims her gun at Michael, but ultimately shoots Venable as Michael wishes. He turns out to be the one behind the murders. Mrs. Mead was based on the woman who raised Michael, explaining some of her memories. Three shrouded women arrive, proving to be Madison, Cordelia and Myrtle from Coven. Cordelia revives Coco, Dinah and Mallory.
"Forbidden Fruit" is another really good episode of what's shaping up to be a fantastic season. There are a lot of good reveals here, and even the ones I was expecting are effective. I'm really curious to find out where Michael knows Dinah from; I bet this has something to do with my suspicion in the past episodes that Dinah was being too nice and was likely hiding something. The scene where Mrs. Mead recollects her memories to Venable is very well done. Although these aren't truly her memories, you can practically feel her nostalgia as she talks about them. I'm surprised I didn't realize sooner that the young boy she mentions is Michael; she even goes out of her way to mention his blond hair. While it's awful for her to be forced to kill her only friend Ms. Venable, it's heartwarming in a twisted way when she reunites with Michael and realizes he was the boy she remembered.
I don't think anybody would be shocked to see Brock again, but this is one of those expected twists I mentioned; more-or-less knowing where something is going just gets you hyped up to see the outcome. I was genuinely wondering if he wanted to reunite with Coco at first, but once she started offering sexual favors to "Michael" I figured things were about to get bloody. The actual stabbing is so quick and brutal that I still gasped when it happened. However, now that the Witches from the Coven season have revived Coco, it'll be really interesting to see what happens with her and if her priorities change at all. Probably not, though, because this show specializes in unlikable characters. As I recall we don't actually learn Brock's fate, so one can't help wondering if he'll appear a third time during the season.
As an aside, I wonder why they decided to have the Halloween-themed episode five weeks before the holiday really takes place. I seem to recall previous seasons airing a special Halloween episode the week before the holiday, and while that has little to do with the quality of the episode or the season, it is pretty cool and helps tie the show into what's actually happening. Plus, I just love Halloween and "Forbidden Fruit" is really creepy; it would have been perfect. Since they've been skipping copious amounts of time already this season, maybe there will be another episode set on another Halloween night. That could be my wishful thinking talking, but it's not outside the realm of possibility.
I'm also intrigued by the reveal in "Forbidden Fruit" that Mallory is a witch. Her and Michael's fight is an interesting scene in general; the lighting, makeup and effects are all outstanding here. The look on his face when she conjures fire is pure shock and it is glorious. I get the feeling that once we see them alive again, Coco is going to come to regret her treatment of Mallory, particularly taunting her about her abilities. I was flat-out shocked that all of the people being held in the Outpost were killed so early in the season, and even after this, they're all still dead except for the three women Cordelia refers to as "our sisters;" presumably Dinah and Coco have powers, too. Color me intrigued.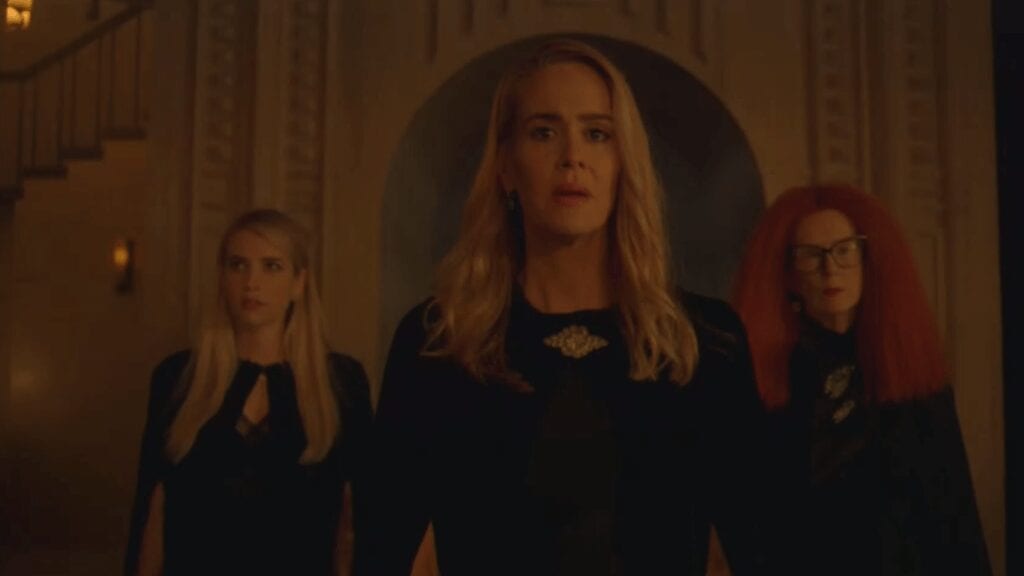 Speaking of Cordelia, while I was somewhat disappointed to see Ms. Venable killed so early, it is clever to kill her just as the witches arrive. It would be interesting to have Sarah Paulson play two characters who interact with one another like in Freak Show, but that could still potentially happen if they bring in Billie Dean Howard, her character from Murder House. I flipped out when Madison said her famous line at the end; this whole episode was just so well planned and put together. There's lots of good stuff in "Forbidden Fruit" for fans of the past seasons, and the tie-ins are finally starting to become apparent. They've managed to do this while also setting up a season with its own potentially thrilling premise and new characters.
Overall, "Forbidden Fruit" is pretty amazing. I don't want to get overly excited, as some seasons of American Horror Story have had pretty mixed quality and I don't want to be let down by later episodes. But so far everything has been great, and it's hard not to be excited about that. "Forbidden Fruit" closes off the boring storyline with Emily and Timothy (oh, thank God!), introduces a new side of Mrs. Mead, and reintroduces the Coven. It's also the most dramatic episode so far this season; I was gasping and saying "yes!" more and laughing less. I'm thrilled so far, and I can't wait to see where the season goes from here.
Plot - 9
Acting - 9.5
Progression - 9.5
Production Design - 9
Intrigue - 9.5
9.3
Great
"Forbidden Fruit" closes off the boring storyline with Emily and Timothy (oh, thank God!), introduces a new side of Mrs. Mead, and reintroduces the Coven. It's also the most dramatic episode so far this season; I was gasping and saying "yes!" more and laughing less. I'm thrilled so far, and I can't wait to see where the season goes from here.