Battle of the Sexes is a 2017 sports film that tells the true story of the events surrounding the infamous tennis match between retired tennis star Bobby Riggs and women's tennis pioneer Billie Jean King. This film, directed by Jonathan Dayton and Valerie Faris, has a mixed focus between sport and social implications and tries to make the film about the whole nature of these events rather than any one small component. It also spends a significant amount of time exploring the psychology of King, dealing with her romantic and sexuality struggles, and Riggs, dealing with a gambling problem and other issues at home. The film stars Emma Stone, Steve Carrell, Bill Pullman, Andrea Riseborough, Natalie Morales, Alan Cumming, and Sarah Silverman.
In general, the film succeeds at being largely engaging and having a truly excellent press into the finale. Amazingly, this film got the sporting part right (a rarity when it comes to tennis). The final match between Riggs and King, though nothing compared to the actual match (or, indeed, an actual professional tennis match in general) was well shot and choreographed such that you could believe in the quality of these players. Coming into the movie this was my biggest fear (and the early moments of the film didn't ease my fears), but it came together in the end for a gripping finale that will have audience members glued to every shot.
Additionally, the performance work in this film is quite strong. Stone and Carrell particularly shine in their roles as King and Riggs. Stone, who I have seen as something of an overrated actress, particularly following La La Land and her Best Actress trophy, brings an earnestness to this role that makes it one of her strongest on screen performances. Whether it is a quiet relationship moment with her husband or new lover, or a louder moment with her making a political stand or statement on court, Stone brings the essence of this real life character to the screen brilliantly.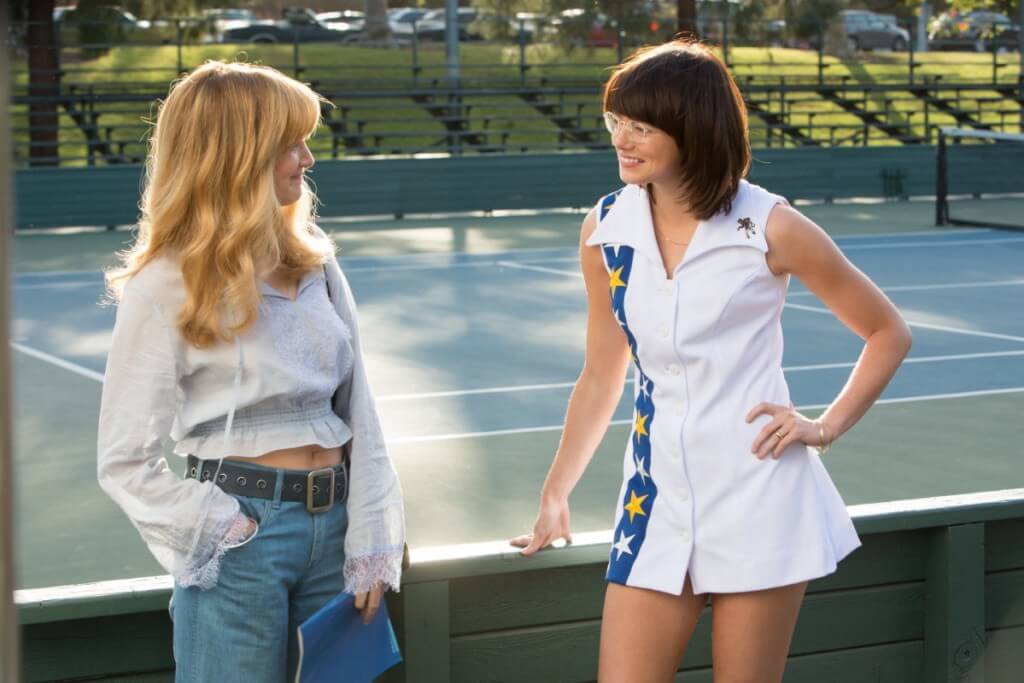 Carrell similarly succeeds on the flip side. This role is actually very much in his wheelhouse, however. Carrell is not known for being a self-styled chauvinist pig and the goofier over the top elements of the real life Riggs fall well within the four corners of his usual work. I say this only to note that this role isn't a stretch for him. That said, he is very good and consistently entertaining.
The remainder of the cast is merely serviceable. No one was bad, but overall none were memorable. I don't in any way wish to suggest that they weren't trying, but overall it felt like a crew largely going through the motions. Cumming plays the role he literally always plays. Silverman and Pullman, though attention grabbing, are incredibly one-dimensional throughout. And, perhaps most disappointing of all, Riseborough as King's new lover fails to hit notes that would have made that relationship ring true on screen.
The final positive feature was the production design. This film had a great period atmosphere that transported me from the modern day back to the 1970s with ease. Everything felt very precise and well selected to make this feel appropriate to the time. The great attention to detail and care is worth noting and separates solid period pieces from merely fine ones.
There are some major structural issues, particularly as this film is written. The most prevalent is the total lack of subtlety. One could be forgiven for not putting any subtlety in the events immediately surrounding the match or having Riggs come off as something of a character in order to encourage to side fully with Billie Jean. But the total lack of subtlety goes far beyond that. The first victim is Bill Pullman. No matter your feelings about the real Jack Kramer, he was not (or I have a near impossible time believing he was) a 100% stereotypical sexist character. Real people have edges and Pullman's character here didn't in ways that made him feel totally out of place.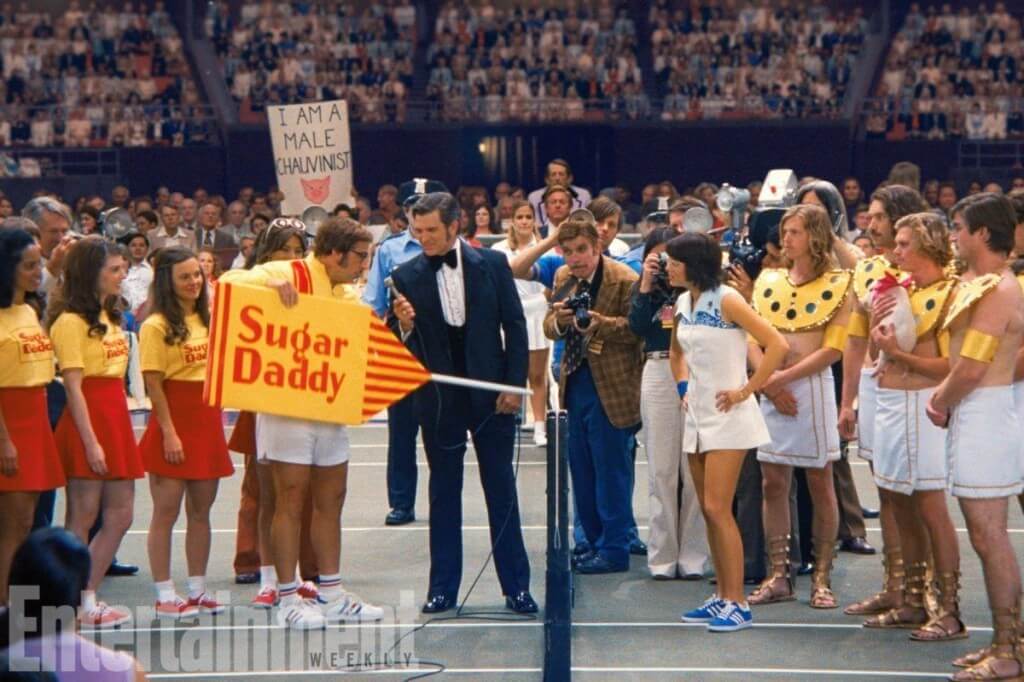 The other area where subtlety was in short supply, but was sorely needed, was with the love story between King and her hairdresser. Riseborough's Marilyn comes on so strong, so fast in the film in ways that make it very hard to buy the romance. Stone sells it as best as she can, but no matter how cute my hairdresser is, there is an absolute zero percent chance any of the very forward moves this character used work. Again, a more real relationship would be less obvious, but the payoff would have been much more effective in the long run.
In addition, this film isn't quite as focused as I would have liked. It covers a fairly substantial period of time (including the creation of the WTA, and the Riggs v. Court Battle of the Sexes match) all that detract from the central narrative audiences came to see in this movie. The more it wove in these events, as well as collateral issues with King's and Riggs' home lives, the less it paid attention to the narrative and events that worked that felt to be, overall, to the film's detriment.
The final issue I want to address is with directorial vision. There seems to be very little here. Everything looks solid, but nothing looks special. Everything is competently made, but nothing will stand out as especially memorable from this as a film. The final match is exciting and feels like a real tennis match, but none of that will stay with the audience for any extended period of time. Beyond that, the remainder of the film are such building block moments that they similarly will not stay with a viewer for any amount of time after they leave the theater.
Overall, Battle of the Sexes is an acceptable sports film with some other goals that are laudable and at least interesting on the margins. However, it commits quite a number of unforced errors in its attempt to be something of note that ends up making it entirely forgettable. This should have been a winner, sadly it wasn't.
Battle of the Sexes
Characters - 6
Story - 6
Structure - 5
5.7
Battle of the Sexes ended up being an acceptable sports film, but failed to achieve anything more due to its total lack of subtlety and vision.