REVIEW: Castlevania Season 3(2020)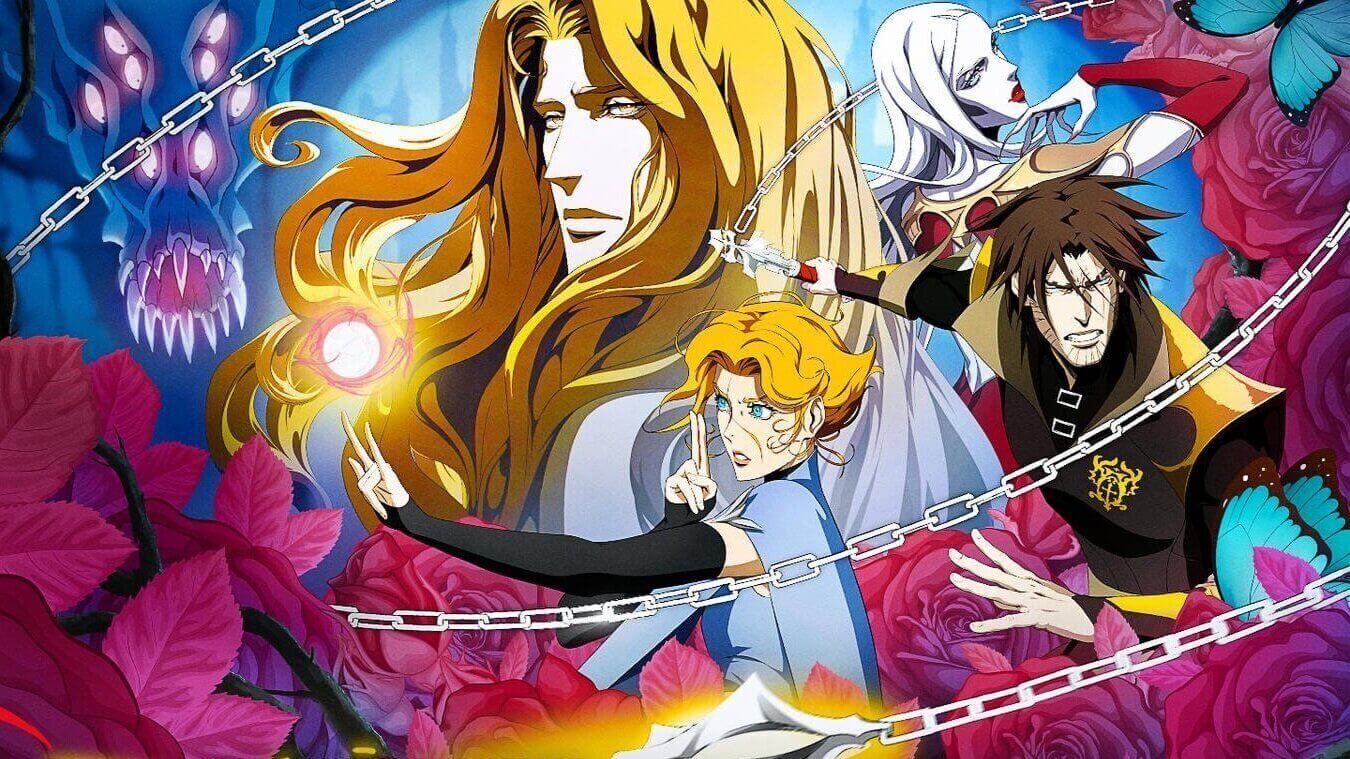 Castlevania is a series that I started watching on a whim. When Netflix released season 1 in 2017, I thought it was an anime about Dracula and put it on to see what it was about. I'm not much of a gamer, so while I knew it was based on a series of games, I didn't know anything about them. I was shocked at how short that initial season was, as well as by the gorgeous animation. I wonder if people debate about Castlevania the way they do Avatar: The Last Airbender or Teen Titans, but personally, I wouldn't call this (or those) anime. The show's art style is inspired by Ayami Kojima's art for the games, and it definitely has an anime-inspired look. However, it's a hybrid Eastern-Western style and the show is animated at Powerhouse Animation Studios in Austin, Texas. I find this trend in American animation to an anime-esque style interesting, and I have to say I much prefer results like Castlevania over, say, Steven Universe. And I mean that in purely visual terms. The first season of Castlevania was so short that it could have been a feature film, with four episodes each running about 25 minutes. It was well received and renewed for an 8-episode second season, which was even better. By that point, I was wholly invested and couldn't wait for season 3, which wouldn't come for about a year and a half. Was it worth the wait? Let's have a look.
Season 3 of Castlevania finds Alucard alone in his father's castle, slowly going mad from loneliness. Meanwhile, Trevor Belmont and Sypha Belnades roam the land in search of more work and excitement. Carmilla returns home with Forgemaster Hector in tow, dragged by chains. Isaac learns of Hector's situation: held captive in Carmilla's dungeon, he is naked and starving. Hector's life soon becomes more complicated as Carmilla's fellow vampire Lenore begins visiting him and offering kindness. Alucard meets Sumi and Taka, a Japanese brother and sister who want his help to kill the vampiress Cho. Sypha and Trevor likewise meet Saint Germain, a magician with his own interests in a priory they're investigating. Lenore tricks Hector into pledging his loyalty to her, making any night creatures he forges loyal to the vampires. Sumi and Taka offer Alucard a "reward" for training them to hunt vampires, but it turns violent. Saint Germain finds what he was looking for, Sypha and Trevor defeat the evil within the priory, and Isaac marches onward with his army of night creatures.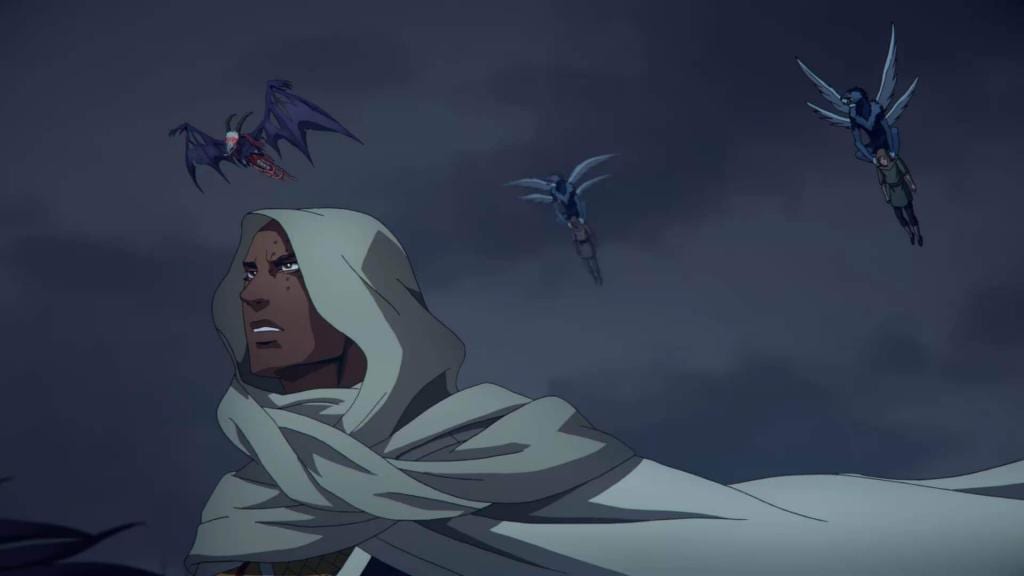 It's a tough call, but this actually may be my favorite season of Castlevania yet. I was wondering how they would continue the story now that Dracula is gone, and I couldn't be more pleasantly surprised. The creators do a remarkable job at balancing existing characters while introducing new ones. This season explores human connection, with Alucard longing for it, Sypha and Trevor holding onto it, and Isaac seeking to escape it. Even Hector, who should know better, falls for Lenore's trick because she claims to care about him and has sex with him. Likewise, Saint Germain wants access to the Infinite Corridor because someone he loves and lost lies within. In episode six, "The Good Dream," his monologue about what this person means to him and how he desperately wants them back is incredible.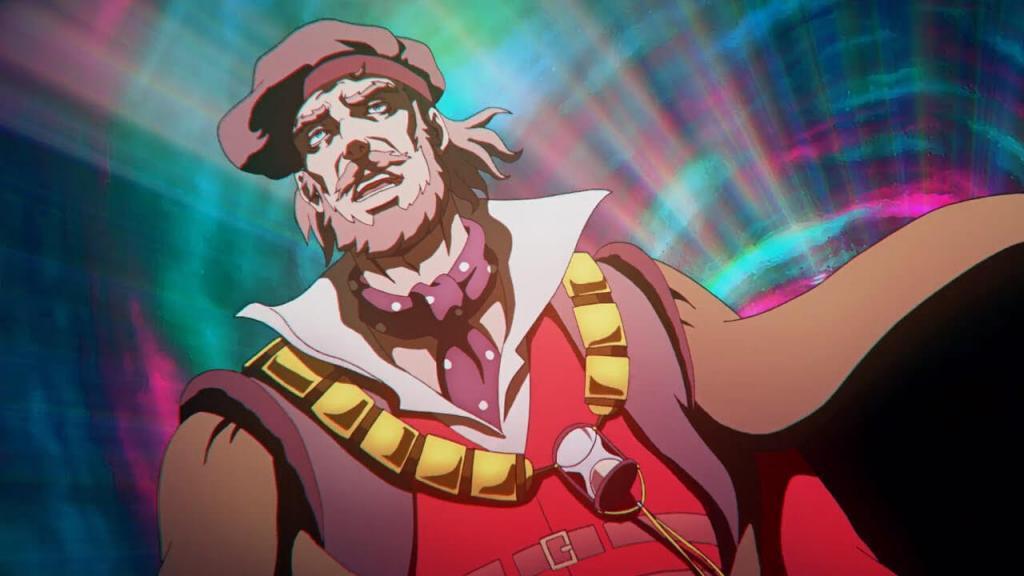 In fact, this season is spattered with moving, memorable dialogues and monologues. Isaac's storyline seems slow-moving when you watch it, but it's never dull, and he meets some fascinating people on his journey. His conversations with the shopkeeper, Captain and his night creature, the former philosopher of Athens, are incredible. I can't tell if I expect Isaac to re-consider his beliefs on humanity, kindness, and Hell, or to become the show's new main villain. Really fantastic stuff here. He says humanity is all bad and that all humans deserve to die, a position that is very much justified by what we see and hear throughout the series. Heck, in season 1, it was hard not to root for Dracula at times. However, throughout season 3, Isaac has these positive encounters with people who help him along his journey, sometimes expecting absolutely nothing in return. Could this lead to some character development down the road? I don't know, and I can't wait to find out. Isaac's voicework by Adetokumboh M'Cormack is one of many that hold this season together. He was good in season 2, but somehow I think Isaac just became one of my favorites in season 3.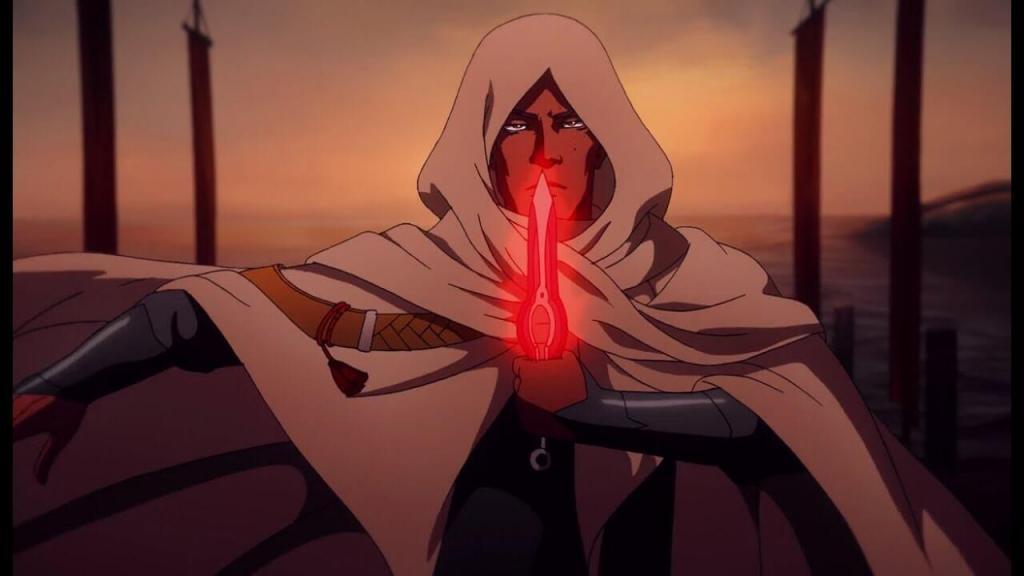 Alucard is another candidate for future big bad of the series. He starts out this season depressed and teetering on the edge of madness, talking to little dolls of Sypha and Trevor. He even does a pretty good impression of both in a scene that's both tragic and pretty funny. I really couldn't tell where the story was going with Sumi and Taka, although it was easy to imagine Alucard seeing them as replacements for his two friends who moved on once the job was done. At first, this storyline seemed somewhat stagnant, but now I get it. Alucard was trying to help the siblings with their goal, but what he really wanted was for them to hang around and keep him company. I was disturbed when they offered him a threesome, and outright shocked when they tried to kill him. Being forced to kill his new friends in self-defense brings Alucard to a new all-time low. His madness seemingly becomes all-consuming as he puts their bodies outside his front door on spikes, becoming very much like what he sought to destroy: his father, Dracula. I can only imagine that Sypha and Trevor, his former allies, may eventually have to fight and kill the dhampir who helped them take down his own father. It would be really poetic if Isaac does have a change of heart and joins them against Alucard, the son of his former master.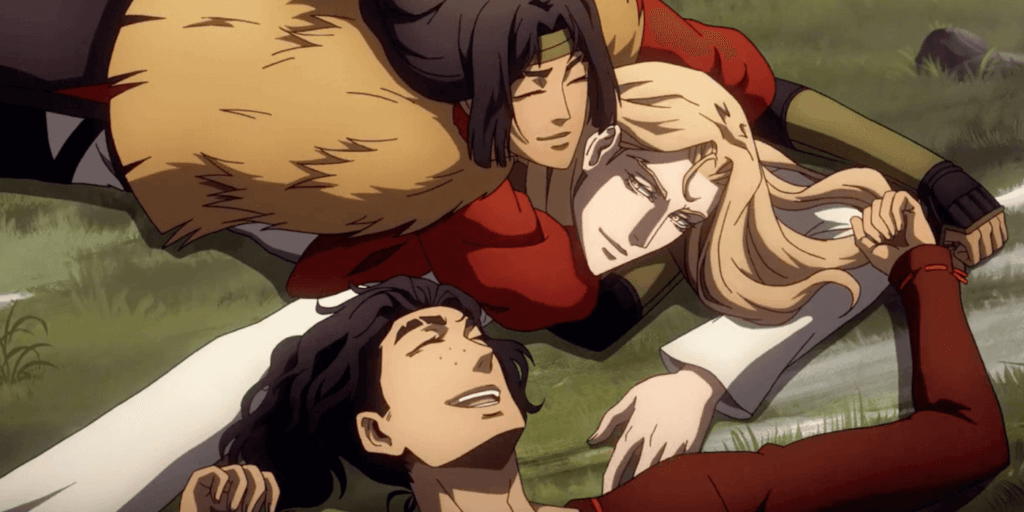 When Saint Germain goes into the Infinite Corridor to close the door into Hell, he thanks Trevor and Sypha, insisting that he'll see them again. I really hope we do see this character again because I loved his storyline, and Bill Nighy is excellent in the role, as always. I like that they kept the backstory of this one character vague. We don't know exactly who it is that he lost or what their relationship was. I'm also curious to see what happens with Hector, and specifically if he'll ever accept his new role as Lenore's reluctant forge master and lover. It seems kind of silly for someone so cynical and hateful to fall for Lenore's games, but maybe he'll find that he enjoys his new life. Time and again this season shocked me, so it's hard not to be ready for anything when the next rolls around. All this being said, I really enjoyed Sypha and Trevor's storyline, too. They seem like an odd pair, but their personalities and abilities actually complement one another quite well. I like that, while they succeeded at killing the night creature and ending the evil within the priory, they learn that the Judge they were working for wasn't such a great person either. This, along with Alucard's situation, leaves the season finale on a rather bleak note. I liked Trevor's remark that the adventuring and victories were their opportunity to live Sypha's life, and now they are living his life.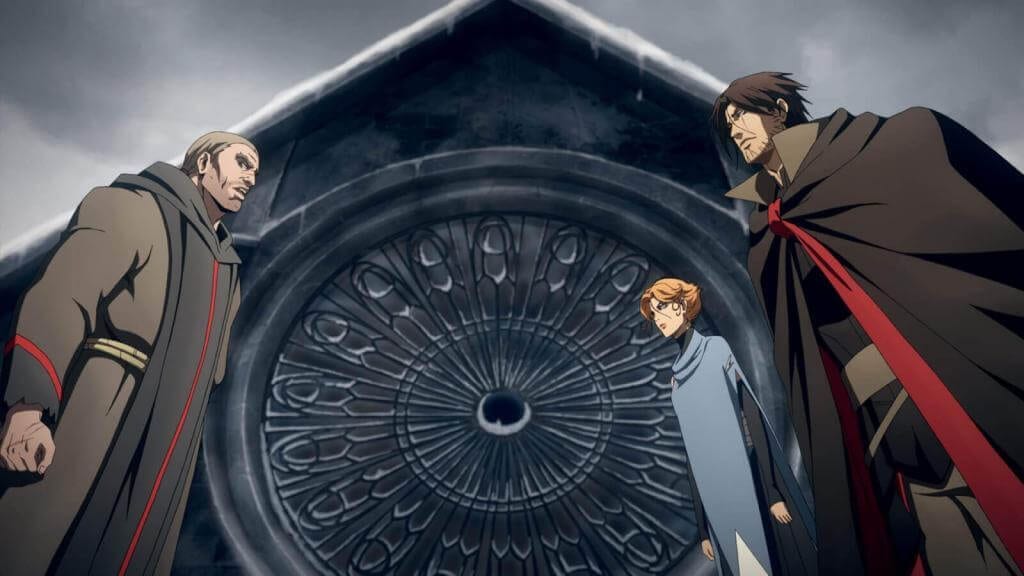 This series has always had impressive animation, but they've reached new highs with season 3. The character animation is nuanced and gorgeous as ever, and the landscapes and buildings look amazing. I love how the animation changes when there's fire or an explosion, and I wonder if this happened in the games as well. The night creature in the priory basement is genuinely horrifying. It's impressive that every season they're able to design new monsters and shock the viewer each time. The music by Trevor Morris is also very impressive, shifting between introspective and intense at all the right moments. Of course, pretty much all of the voice acting is amazing, but aside from the performers I've mentioned, Richard Armitage shines in particular as Trevor. He's funny, fatalistic, and, of course, always ready for a fight. Adi Shankar, Warren Ellis, and everyone on the Castlevania team are doing awe-inspiring work, and I hope it continues for several more seasons.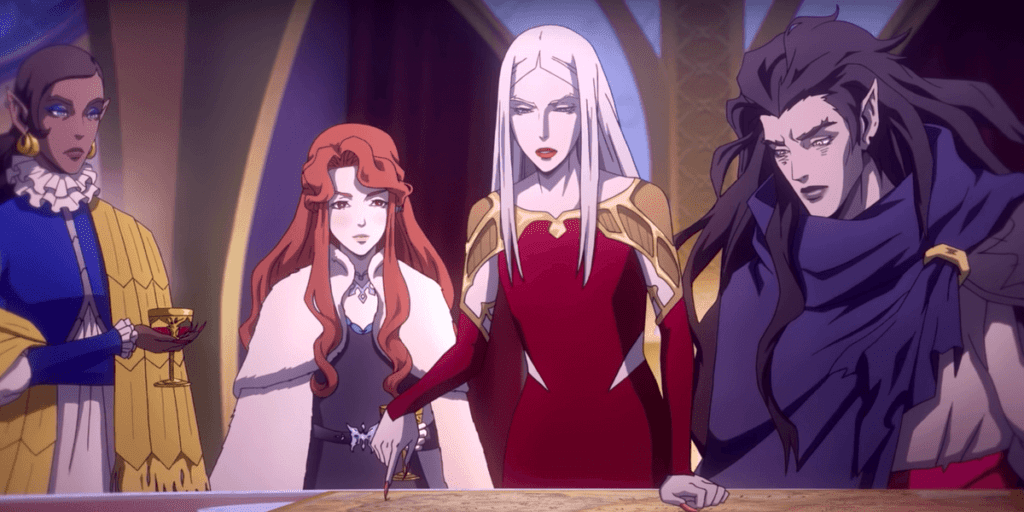 Overall, season 3 of Castlevania is a triumph and my personal favorite yet. The action is heart-racing, the visuals are unique and vibrant, and all of it is led by story and character. This show stars a large cast of wildly different characters, and I really can't even guess what will happen next.
Plot - 8.5
Acting - 10
Production Design - 10
Progression - 10
Horror - 10
9.7
Outstanding
Overall, season three of Castlevania is a triumph and my personal favorite yet. The action is heart-racing, the visuals are unique and vibrant, and all of it is led by story and character.