REVIEW: Creed II (2018)
Everyone thought the Rocky franchise was dead until Creed came out in 2015 and changed our minds. It presented an updated version of the Rocky formula and featured Adonis Creed, who couldn't be more different from Rocky if he tried. Ryan Coogler combined his passion for Rocky's story and his amazing talents as a director to create a film that arguably surpassed anything done in the series. Now Creed II is here, but Ryan Coogler is no longer behind the camera, and a lot of people are questioning the decision to put the franchise in the hands of unknown director Steven Caple Jr. It doesn't take long for those questions to be answered, because Creed II is an excellent sequel.
Creed II follows Adonis Creed three years after his loss to "Pretty" Ricky Conlan. He's a top contender in the division and has a title shot against Danny "Stuntman" Wheeler. At the same time, Ivan Drago's son, Viktor, is dominating his opponents in underground fights. A promoter notices Viktor's talent and brings him over to the states to set up a fight with Adonis. Despite his mother, Rocky, and Bianca telling him not to take the fight, Adonis decides to accept Viktor's challenge. This puts Adonis on a personal journey to rise above the family trauma that has haunted him his entire life, while also making him realize what he's actually fighting for.
I wasn't thrilled when I first heard that Creed II would bring back Ivan Drago. Rocky IV is one of my least favorite Rocky movies, and I didn't think Drago would fit into Creed's story in a serious and grounded way. My doubts were silenced quickly, as the writers found a way to humanize the Drago family and ground their motivations. I was taken back by the depth that was added to both characters, especially Viktor, with whom I completely sympathized by the end of the film. This was a bold move that works on every level, and it's a big reason why Creed II is a success.
Adonis Creed also gets a lot of character development in Creed II. He is in a position to validate himself by conquering his past, but the people around him feel like he has nothing to prove. The amazing part of this journey is watching as he makes sense of the situation and eventually gets clarity on what he should do. This is also hard to watch because it becomes clear that, at his core, Adonis is still that angry kid who can't get over how his dad died. The way he lashes out against Rocky for not understanding how he's feeling is one of the most heartbreaking moments in the film.
Rocky and Bianca also have their own character arcs play out alongside Adonis. Rocky is dealing with reconnecting with his son and getting to know about his grandson, while Bianca's career direction and personal life are both changing in meaningful ways. Rocky's had problems with his son since Rocky Balboa, and it's clear that the disconnect has taken a toll on him. Considering how he didn't care much about his own life in Creed, it shows how much growing he's still doing as a person, even at his old age. Bianca, on the other hand, is dealing with her relationship with Adonis becoming more serious. The fight with Drago puts her in a difficult position because she's always been Adonis' moral support, but it becomes difficult to be that for him when it's clear that he's not thinking straight.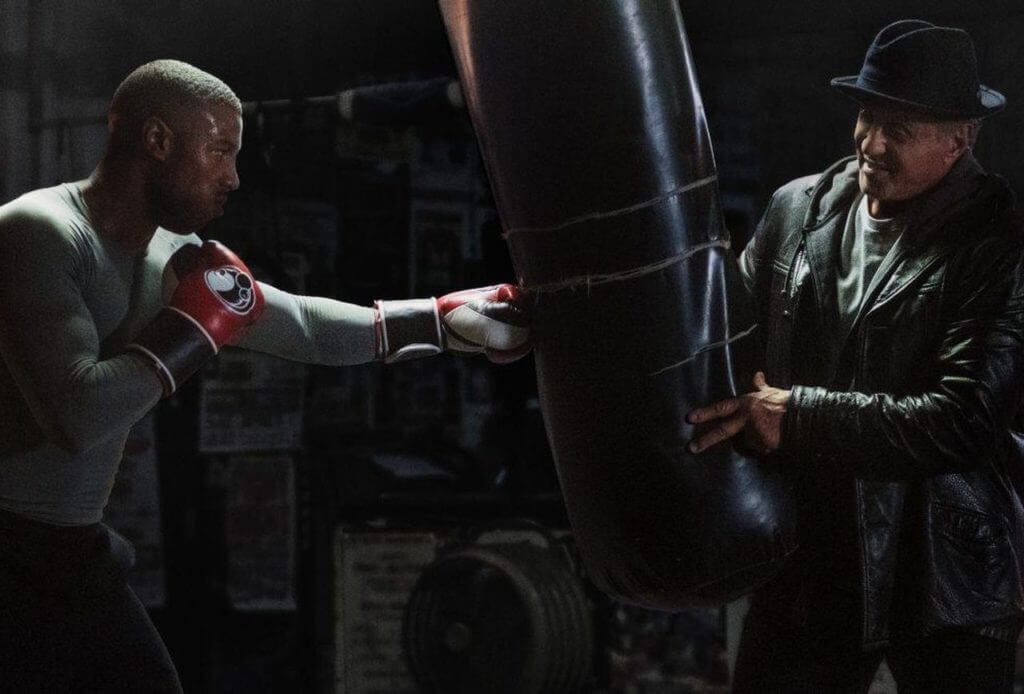 The acting in Creed II is fantastic all around. Michael B. Jordan is once again amazing as Adonis Creed. This is his best acting performance by far. He doesn't share the spotlight with Sylvester Stallone as much as he did in the previous film. This is very much his movie, and he digs deep to deliver some true emotional high notes. Sylvester Stallone is amazing as Rocky Balboa. His delivery is picture perfect, and he still has that larger-than-life presence. Tessa Thompson is great, as always. She works as a great complimentary actor to Michael B. Jordan, and their chemistry is off the charts. Dolph Lundgren surprisingly brings a more grounded performance as Ivan Drago. He keeps some of the characteristics that made Drago who he was, but it feels as if he was actually allowed to act this time around. Florian Munteanu plays Viktor Drago. The character doesn't demand much from him, which helps mask that he's an inexperienced actor. Munteanu successfully tells Viktor's story through his facial expressions.
The biggest question in the lead-up to Creed II was whether Steven Caple Jr. could live up to the standard that Ryan Coogler set. Not only does Caple Jr. prove that he is a great director in his own right, but that he was more than capable of taking over this franchise. The cinematography is beautiful from start to finish. The tracking shots that follow characters into rooms help create a quieter atmosphere. There's also a much better use of lighting and panning shots that help sculpt an entirely different vision than Ryan Coogler's. The fights are shot well, but they lack the visual flare necessary to leave a lasting impression. The fight choreography definitely takes a hit in quality, but in return, the sound design is a lot better this time around. The punches have this weight to them that makes the audience feel Adonis' pain. 
The music in Creed II is fantastic. Ludwig Goransson comes back to compose the score once again, and he does an excellent job. The tracks never really take over a scene like in the previous movie, but they all still sound great. The soundtrack is also fantastic. Hip-hop producer Mike Will Made-It enlisted help from contemporary artists like Kendrick Lamar, J. Cole, Vince Staples, Nas, and Lil Wayne to put together a terrific project.
Creed II is a fitting continuation to Adonis Creed's story and effectively completes his character arc. It also finds a way to continue to develop Rocky as a character and give him some type of closure. Steven Caple Jr. comes in as the director and realizes his vision while making sure that it still feels like a Creed movie. His distinct filming style creates some dynamic shots, including one with Rocky sitting with his back to the screen that will stay with me for a while. There was a conscious effort to make the Dragos more sympathetic than I could've ever imagined by drawing some interesting parallels between Viktor and Adonis. Even the training montage in this film feels unique. In some ways, this is definitely better than Creed and is easily one of my favorite movies of the year.
Plot - 9
Acting - 9.5
Directon/Editing - 9.5
Music/Sound - 9
Action - 9
9.2
Great
Creed II is a fantastic sequel that gets great performances from the cast and director. This is a fitting continuation in Adonis Creed's story that provides plenty of inspirational quotes and boxing thrills.