REVIEW: Disenchantment – Season 1, Part 1
"I want to get rid of all the diseases plaguing mankind… and replace them with worse ones."
Matt Groening's newest adult cartoon series, Disenchantment, has so far been receiving mixed reviews and garnering a lot of unfair comparisons to The Simpsons and Futurama. Personally, I find it annoying and reductive to base a work's quality on its relationship to other works, even those from the same creator. Disenchantment actually fits in well thematically; The Simpsons is a commentary on modern family and society, Futurama envisions an equally absurd future, and Disenchantment does the same for the past. I haven't seen much of The Simpsons, but I did enjoy Futurama, and either way, Disenchantment should be judged on its own merits.
Disenchantment takes us on the misadventures of Tiabeanie of Dreamland, AKA Bean, an alcoholic, rebellious princess whose life is about to change. The Princess spends her wedding day drinking rather than preparing, befriends an elf named Elfo, and is possessed by a demon named Luci. Bean must contend with her controlling father King Zog, hangovers, and all manner of magical creatures. Over the course of ten episodes, Bean learns the truth about diplomacy, her late mother Queen Dagmar, and herself.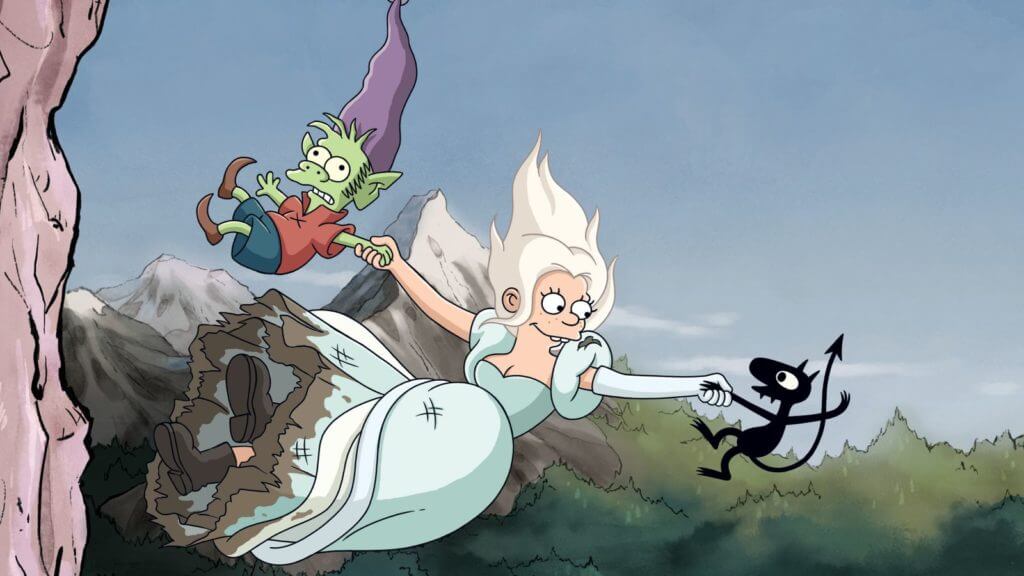 While Disenchantment employs Groening's trademark animation style, I do like the character designs, and there are some impressive feats of animation, such as sweeping shots of Dreamland. The show's original music is provided by Mark Mothersbaugh and I quite like that too, especially the extended theme song in the first episode. I love the costuming for the show, especially the women's dresses. The humor starts off a little rough, but that's not the most important thing to me, and by the middle of part one it gets a lot funnier.
Abbi Jacobson voices Princess Bean, and she's equal parts funny and lovable. You really feel for this character, especially in the last three episodes. Eric Andre and Nat Faxon voice her best (and only) friends, Luci and Elfo. The cast also features veterans from Groening's animated series like John DiMaggio as King Zog, Billy West as Sorcerio, and the great Maurice LaMarche as Odval. Tress MacNeille became a personal favorite as Queen Oona, and I also like Sharon Horan as Dagmar. All of the actors do a good job, and they get better as the show goes on.
And that's exactly how I felt about the series altogether. I actually did enjoy the pilot, unlike some, but it is admittedly a little dry compared to some of the later episodes. It almost feels like the episodes were made in chronological order and the creators didn't have any confidence until about episode three; then the show really hits its stride in episode six. I can understand being turned off by having to wait for a show to get really good, but I think it's worth it. And again, I enjoyed the pilot, just less than some of the other episodes. I'd heard that the pilot was overlong, but I don't think that's true either. Season premieres are sometimes twice as long as normal episodes, and in this case, the premiere is only a few minutes longer than the others. It feels to me like people are being too hard on this show because of Groening's other works, but the consensus seems to be that Futurama and The Simpsons' first seasons weren't their strongest either. I think if Disenchantment gets the same chance to grow, it might get even better over a couple of seasons.
As an aside, I like the episode titles for Disenchantment. They're clever, and I like the references to various literary works. When I first saw the ads for this show, I had the sound turned off and thought Bean was a guy. Then when I found out she was a girl, and a princess no less, I was afraid this would be similar to Brave or Frozen, with a bunch of poorly executed morals about being yourself and what girls can/can't do. Bean is definitely more like Merida from Brave than a traditional fairytale princess, but she's also likable, and the show doesn't feel preachy. I liked the bit about how she likes guys and wants a boyfriend, but the guys in the kingdom are all too afraid of incurring Zog's wrath. Bean also desperately wants her father's approval, something he very rarely gives. Her sadness over her mother is also endearing and heartbreaking.
*Spoilers*
Although Bean is the most complex character, I like Luci just as much. I love that he's supposedly an evil demon, but he's more interested in messing with people than killing them (most of the time). He's the literal devil on Bean's shoulder, always daring her to drink more and causing disasters. But he also shows that he does grow to care for Bean, and even Elfo, who with whom he's usually at odds. Elfo is funny, and I am shocked and upset about his fate in the last two episodes, but overall he's my least favorite of the three. I liked his introduction and the elf village, but he acts so childish at times. This is clearly intentional and probably done to leave room for growth when he inevitably comes back.
The last episode, "Dreamland Falls," is packed with surprises and reveals. Initially, they set up Oona as a potential threat to Zog, Bean and all of Dreamland; this is easy to accept, given that neither of them has treated her very well and she is originally from the Kingdom of Dankmire. When Bean revives her mother Dagmar, and it's revealed that she's really the one plotting, it genuinely comes as a shock. I can't remember a recent villain-related plot twist that was this well done. Hopefully, in a future episode, she reveals more about her motivation and plan, but this was a wild ride, and it makes sense to save details for later. I very much liked Oona throughout the season, and she has shown that she does care about Zog and what he thinks. Now I feel that much worse for her, after the way Zog treats her when Dagmar comes back in the picture, and knowing that she's innocent. It's unclear what her fate is in the episode, and the same goes for Prince Derek, who was last locked in the tower on Zog's orders.
Overall, I really enjoyed season one, part one of Disenchantment. The show has some interesting characters, pretty animation and an amazing voice cast. It's not perfect and starts off a little dry, but the comedy and story have both already improved tremendously over the course of the first ten episodes. I can't wait for part 2; I want to know what happens and find out more about Dagmar, but also because it has the potential to get even better.
Plot - 7
Acting - 10
Progression - 7
Production Design - 8
Animation - 8
8
Good
Overall, I really enjoyed season one, part one of Disenchantment. The show has some interesting characters, pretty animation and an amazing voice cast. It's not perfect and starts off a little dry, but the comedy and story have both already improved tremendously over the course of the first ten episodes.