REVIEW: Downton Abbey: A New Era (2022)
It's hard to remember a time before I became a Downton Abbey fan. The show originally started airing in 2010, almost half my life ago. I was instantly swept up by the beautiful cinematography, stunning sets, and charismatic actors. It's also easy to get into a show that opens with a huge bang; we're introduced to the Crawleys as they discover a relative has died on the Titanic. From the very beginning, through triumph and tribulation alike, Downton Abbey chronicled the fictional lives of the Crawley family and their servants through the real-life hardships and societal shifts that transpired in the early 1900s. I was sad to see the show go in 2015, but I was willing to accept a six-season run, and Julian Fellowes and crew had always been generous with things like feature-length Christmas episodes. Some of my favorite shows had far less content, and I was satisfied with the ending season 6 offered. However, you bet your bottom I was excited when news broke that a film was being made with the involvement of Fellowes and most of the show's main cast. This is the rare occasion where you can say "most of the main cast" because this show had a lot of characters! As was to be expected, the first film was a huge success, and talk began of a sequel, and here we are about three years later and twelve after season 1 first aired. Let's dig in before they pop the next one out!
Downton Abbey: A New Era delivers the paradigm shift the title promises and then some. Tom (Allen Leech) and Lucy (Tuppence Middleton) have a beautiful wedding as Lady Violet (Maggie Smith) discovers that she's inherited a villa in southern France. Lady Grantham (Elizabeth McGovern) develops a dubious malady while Mary (Michelle Dockery) takes on more duties around the estate. A film crew descends on Downton, seeking to use the house as a set. In the latest chapter in the Downton Abbey story, change manifests in all its forms. 
I've talked about the series and the first film before, so I've already praised composer John Lunn and the costuming and set pieces to the high heavens. But it just wouldn't be right to neglect these facets of production; the music and trappings of the setting are always on point in Downton Abbey. The acting is wonderful as always, and it's great to see this cast working together again. It's interesting to me the variety of actors the franchise features. I tend to think of Hugh Bonneville and Maggie Smith, for example, as well-established actors, if not household names. I've seen Penelope Wilton (Isobel) and Samantha Bond (Rosamund) in a few other things. Meanwhile, Downton was my introduction to performers I adore now, like Michelle Dockery and Lily James. Hugh Bonneville is particularly good in A New Era, having to display a wide array of big emotions. Lord Grantham really gets put through the emotional wringer this time.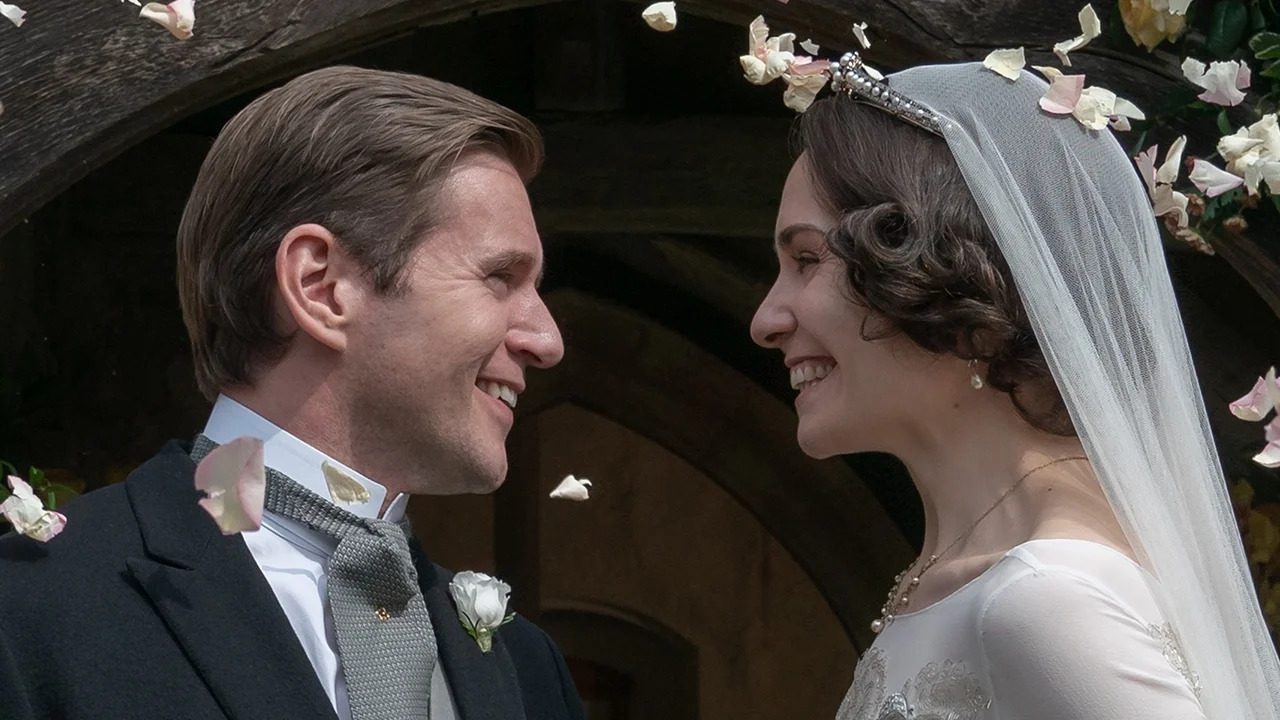 That being said, I don't think A New Era is perfect, and as of right now, I prefer the first film. The pacing is off, particularly near the beginning. The first few scenes of A New Era are rushed and don't give the feeling of a theatrical film. The sweeping shots of the castle are always appreciated, but these first couple of sequences are choppy and don't give the viewer time to absorb what's happening. A character will say or do something, then boom, instantly it's a different scene with more information to convey with no transition. This gets better as the film goes along, and by the middle or so, at least, I didn't notice it anymore. I also take issue with the handling of the movie's fictional film starlet, Myrna Dalgleish (Laura Haddock, AKA Meredith Quill in Guardians of the Galaxy). She's absolutely horrible to the film crew, as well as the Crawley family and servants, throughout A New Era. A reason is presented for her behavior, Daisy calls her out, and she stops. No apologies are offered, and she never seeks to make amends, yet all is forgiven.
Although I love Downton Abbey, the series has done this before. Characters sometimes won't face any real consequences for their behavior, or said bad actions are simply forgotten about going forward. A point could have been made here that Ms. Dalgleish gets away with having poor manners and no respect because of her position within the film industry. But the movie isn't saying that at all; it just acknowledges how awful she is, and she immediately stops but never shows remorse. You can't call it character development when there's no growth, just an instantaneous, unearned heel-face-turn. Another occasional Downton problem rears its ugly head in the form of characters meddling and keeping secrets unnecessarily. Daisy meddles in the relationship between Mrs. Patmore and Mr. Mason, tricking them into moving in together and presumably marrying, given the time period. This is presented as a good thing despite the fact that this is none of her business; she's being uppity and deceitful. Then you have Lady Grantham lying to her husband and daughters about being gravely ill. She's done this before, like helping Mary hide a dead body back in season 1 and never telling her husband. 
The plot with Lady Violet's not-so-secret admirer isn't handled the best, either. A conflict is presented that would reveal her as a liar and change things considerably for her son, Lord Grantham. This ends exactly as I thought it would; nothing actually changes, and the issue is resolved neatly with a bow on top. Why do it, then? There's no tension when you can guess where they're going, and the drama stirred up by these implications adds nothing to the story. Accepting the villa also paints Lord Grantham in a questionable light once all is said and done, given what we as the audience know. I ended up feeling sorry for the dead man's wife above all, which I don't think was the movie's intention. This woman loses her home and realizes that this whole time, all these decades, her husband loved an Englishwoman he barely knew more than her. How am I supposed to feel good about this?
A New Era also further solidifies Henry's failure as a husband and father. He's absent from the entire film due to Matthew Goode's scheduling conflicts. But in-story, he's an absentee who regularly abandons Mary and their children for extended intervals so he can go race cars. He's no Matthew (Dan Stevens), that's for sure. Mary even remarks multiple times that she misses him, hopes he still loves her, etc. This guy is a dirtbag! Mary never stoops to his level, though. She's loyal through and through. I love a lot of the series' major characters, but this is my girl. Team Mary for life. I also enjoyed the various Easter eggs, such as a joke about Lady Bagshaw being married to Carson. Their actors, Imelda Staunton and Jim Carter, are married in real life. 
Overall, Downton Abbey: A New Era has its warts, for sure, but I still like it more than not. The visuals, music, and acting are up to the series' usual standards. Plenty of meaningful changes take place to justify the movie's plot, and the ending is cathartic, if a little heartbreaking.
Plot - 6
Acting - 10
Music/Sound - 10
Direction/Editing - 5
Character development - 6
7.4
Okay
Overall, Downton Abbey: A New Era has its warts for sure, but I still like it more than not. The visuals, music and acting are up to the series' usual standards. Plenty of meaningful changes take place to justify the movie's plot and the ending is cathartic, if a little heartbreaking.