REVIEW: Over the Moon (2020)
A lot of Netflix's original content doesn't appeal to me. Or, maybe I should say that their shows and movies that they actually bother promoting don't appeal to me. Occasionally I've found a hidden gem on the service, usually due to enthusiastic recommendations from friends or the presence of an actor, director, or composer I like. Animation is one area in which Netflix offers a surprisingly vast and unique array of content. On Friday the 23rd, they released a movie you probably haven't heard of but boasts some impressive talent. Over the Moon is directed by Glen Keane, who directed animated short films like Dear Basketball and has designed some of the most iconic Disney characters. It also stars John Cho, Sandra Oh, Margaret Cho, Kimiko Glenn, Ken Jeong, and more. Over the Moon is Glen Keane's feature directorial debut, and that would have been more than enough reason to watch Over the Moon. But I actually heard about this movie from Hamilton fans on Facebook because Philippa Soo (Eliza Hamilton) plays Chang'e, an ancient Chinese Moon Goddess whose story puts this movie's plot into motion. 
Fei Fei leads an idyllic life with her mother (Ruthie Ann Miles) and father (John Cho), who teach her about science, the family's mooncake recipe, and the Goddess Chang'e. The Moon Goddess takes on particular importance to the young girl when her mother gets sick and dies. Chang'e was once a regular human and was in love with a human man, Houyi. According to the movie, the legend says that Chang'e took an immortality pill, which sent her to the moon, leaving her true love behind to die of old age. She lives forever with the memory of Houyi, waiting for him to somehow return someday. Years after her mom's death, when Fei Fei's dad starts bringing a new lady, Mrs. Zhong (Sandra Oh), around the house, her reaction is raw and visceral. She's lived the intervening years consumed with sadness and anger, unable to move on from her mother's death. She sees a parallel between her father's situation and the tragic myth of Chang'e. Fei Fei believes that, like the Goddess, he should wait forever instead of remarrying. Her belief in Chang'e and rejection of Mrs. Zhong and her son Chin motivate Fei Fei to build a rocket to the moon. She believes she'll find Chang'e there, still waiting steadfastly for Houyi to return. Fei Fei's plan doesn't account for the rambunctious Chin, who sneaks aboard her ship, throwing off the weight and stalling the momentum after lift-off. The ship is carried the rest of the way by agents of Chang'e, and Fei Fei is quickly disillusioned of any impression her mother gave her of the Goddess. She has to locate a mysterious gift the Goddess needs to bring Houyi back before time runs out. In exchange, Chang'e will give her a photo to prove to her father the story is true.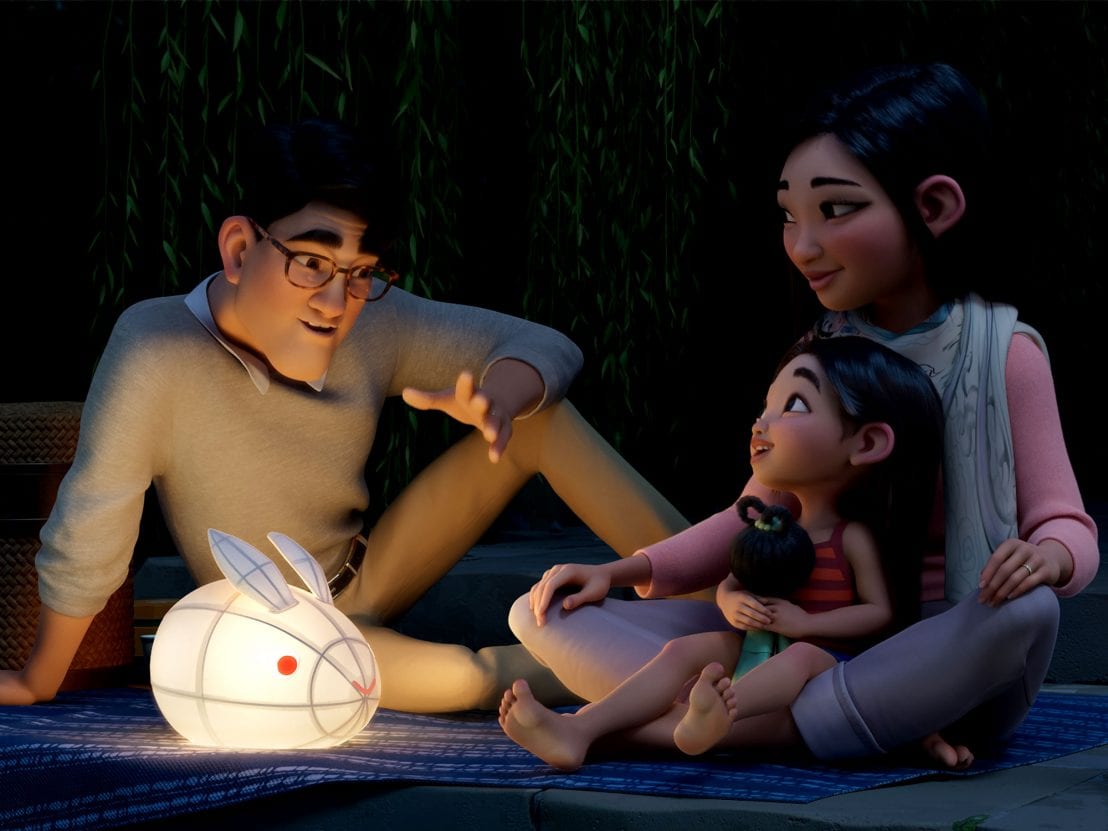 I'm surprised this film hasn't been marketed better, or at least I would be if it wasn't a Netflix exclusive. If it isn't Stranger Things or a seasonal horror series, you never hear anything about new Netflix releases. There is surprisingly a decent amount of merchandise out for this movie, from big names like Mattel, too. This is quite an impressive cast, and one that's almost all Asian, something a lot of people want to see. As I said, Glen Keane and Philippa Soo were more than enough of a draw for me. I still find myself surprised by just how entertaining Over the Moon is; I've seen it three times, and it stands up to rewatches very well. Aside from being voiced by Soo, Chang'e was what most interested me because of her character design and origins in real Chinese mythology. I didn't know anything about the mythical figure going into this movie, but the characters quickly build up a very specific idea of what to expect from her. Once Fei Fei, Chin, and Fei Fei's rabbit Bungee arrive on the moon, any assumptions of Chang'e's personality are squashed. Fei Fei was raised with a legend of a benevolent, selfless Goddess who waits forever for her true love. That only ends up being half true; Chang'e does carry a torch for Houyi, but her relentless pursuit of immortality for him has turned her cold, selfish, and demanding. She cheats in a game against a child, tricking and trapping him. Her introduction in the film is a Katy Perry style pop number. "Ultraluminary" does give Soo a chance to display her considerable vocal abilities, and the scene it accompanies is awe-inspiring. It's gorgeous but over-produced. You know there's something manipulative about it, which works really well with what follows. I also like that this song explains how Chang'e turned the moon from the "desert" she found into the visually arresting Kingdom of Luminaria. Much goes unexplained in Over the Moon, but I think they're clever in deciding where to expand on an idea and when to leave the audience to think on it themselves. 
Over the Moon is stunning visually. What I like the most about it is that its look is unique. This doesn't remind me of any Disney, DreamWorks, Pixar, etc. movie that I've seen. The animation is excellent, almost Pixar-quality, while maintaining a very distinct look for its 100-minute run. I think that's spectacular, and I wish we got more animated movies like this in America. When I looked the film up for more information, I saw a couple of reviews saying it couldn't compare to Disney's recent offerings. I don't like the idea of comparing every animated family movie to those by Disney, especially in such a dismissive way. I've seen a lot of animated movies in my lifetime. Of those, quite a few (mainly produced in the 90s) were intentionally ripping off a Disney product, and it was really obvious. Over the Moon is an animated musical, but stylistically it isn't really all that similar to Disney. This movie never made me think of Mulan, for example. I will say that Over the Moon tackles themes that have frequently been explored by major animation studios, but I'd say it does so better in a few cases. 
Over the Moon is spurred on by Fei Fei's grief and inability to move on from the tragic loss of a family member. This is similar to Disney's Big Hero 6 and DreamWorks' Abominable. Big Hero 6 was a little timid around the subject of death, which is kind of silly since that's how the story starts. It's one of the biggest conflicts in the film, yet it's like Disney was afraid to actually say the word "dead," "die," etc. I can barely remember Abominable, which probably says a lot in and of itself. But just like Over the Moon, it starred a Chinese girl who goes on a journey after one of her parents dies, and she can't let it go. The visuals and music in Over the Moon are almost as good as what the big animation houses have been putting out. But more importantly, it's a little more subtle and deft at handling difficult themes and challenging questions.                                                                 
Over the Moon is one of the biggest pleasant surprises in a year full of disappointments and failures. It's not perfect; some of the comedic relief falls flat, mostly once they arrive in Luminaria. The comedy with the family is funnier, as all of their quirks bounce off of one another. I can also see some of the designs on Luminaria not being for everyone; Gobi looks like a dog but with scales and bioluminescence, and the "biker chicks" look exactly like Angry Birds. But the musical score by Steven Price is lovely and understated. The songs do the opposite of what you'd expect in a musical; Over the Moon starts out with big ensemble musical numbers, working its way down to quiet, moving songs about grief and moving on. "Yours Forever," the love theme for Houyi and Chang'e, is sung partially in Chinese. It's tranquil and beautiful, slowly building to a tragic revelation. I can't praise the animation quality and style enough; I'm a sucker for animated films that incorporate a different type of animation as this one does a few times. It's also just gorgeous and unique to experience. I would recommend this movie to anyone, but you should probably have some tissues at the ready. 
Plot - 10
Acting - 10
Music/Sound - 10
Direction/Editing - 8.5
Comedy - 8
9.3
Outstanding
Over the Moon is one of the biggest pleasant surprises in a year full of disappointments and failures. I would recommend this movie to anyone, but you should probably have some tissues at the ready.