REVIEW: Pennyworth – Season 1, Episode 5, "Shirley Bassey"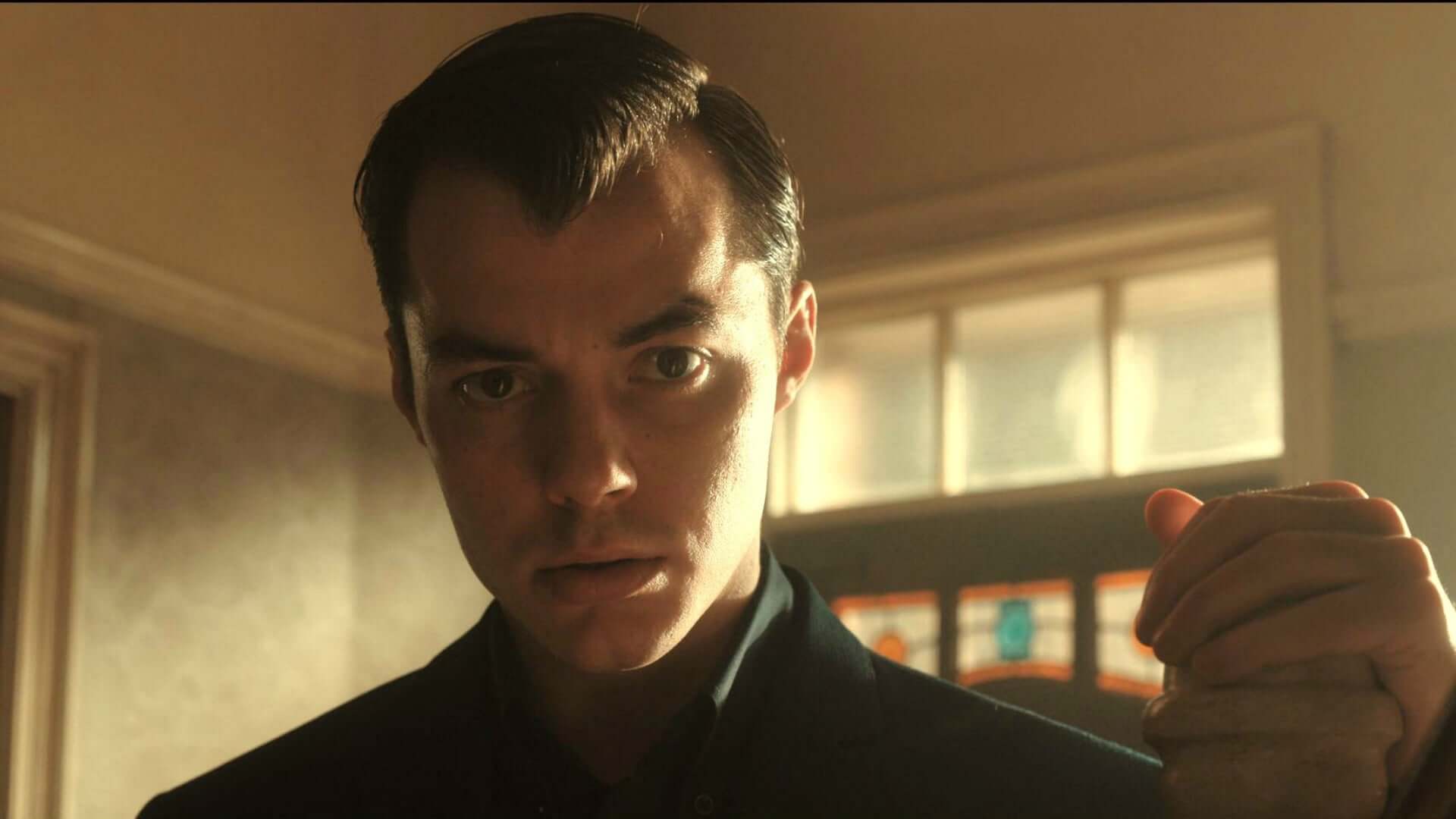 Last week on Pennyworth, Alfred and Martha grew closer and found the name of the leader of the Raven Society, who nearly killed our heroes. When I found out Ripper was going to be involved in "Shirley Bassey," I couldn't wait to see what he could do, as he is one of the most unpredictable elements of the series thus far.
*SPOILERS*
"Shirley Bassey" opens with a shot of London. As the camera pans down, we see Sykes in a phone booth as she gives a voiceover telling her sister that she saw the men who killed Esme, and how much she loved her, as they approach the funeral incognito. Thomas and Martha look on from a distance, with the latter blaming herself for taking Alfred away from Esme. As Alfred nearly falls into the grave, overcome with grief, Dave Boy and Baz catch him. Sykes talks about how Alfred was never good enough for Esme and quickly spots Lord Harwood, who is being treated as a pet. You could almost argue that Harwood is being used to parallel how the downtrodden in Gotham were treated. Sykes takes Harwood with her, much to her sister's chagrin. Back at his parents' house, Alfred is lying in bed, wallowing in his grief, and hallucinates an old war buddy who serves as a manifestation of the all the things he should be doing at the moment. Alfred says how it's his fault because he was with another woman. Meanwhile, Sykes tries to help Harwood, who seems too far gone, proclaiming that he is no longer Harwood.
"Shirley Bassey" then jump ahead several months with a glimpse of a riot breaking out, which is briefly observed by Thomas, who is walking by as all the commotion is going on. Someone approaches Thomas, telling him that the leaders of the No Mame League, the Thwaites, want to see him. Once there, he is told by the Thwaites (who are shaken by the riot) that the No Name League wants a truce with the Raven Society. Thomas tells his CIA contact that he's getting in too deep, but the contact simply tells him to do as the No Name League asks. Thomas goes to see Martha, who tells him they need Alfred. We then get to see a side of our hero that we haven't seen before, which further illustrates why Alfred might have been able to handle Bruce for the eight years between The Dark Knight and The Dark Knight Rises. Alfred's sitting at home, disheveled, eyes glazed over, talking to ghosts as his parents try to take care of him as best they can. Martha attempts to get him to come work, but he turns her down, and Thomas laments the loss of such a useful man. As Harwood is slowly coming back to his former self under Sykes' watchful eye, Ripper arrives at Alfred's doorstep requesting "a good cup of water," and that Alfred do him a favor since he got rid of Jason back in "The Landlord's Daughter." That favor: become his new running partner.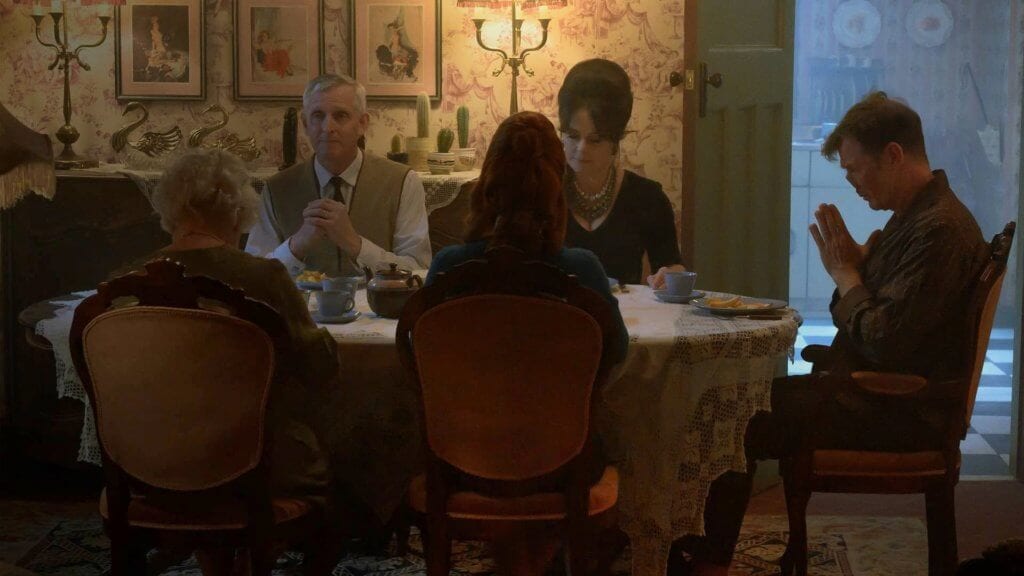 At the club, Thomas requests a warm cup of milk and a meeting with Dave Boy and Baz. They want nothing to do with him until he offers them 500 pounds each, assuming they both agree; if only one of them does, he gets 1000, something that intrigues Dave Boy. "Shirley Bassey" then rejoins Alfred and Ripper on their run, and for the first time in the episode, we see a glimpse of the old Alfred – until they get to Esme's grave. Ripper intimates that he knows someone who could help Alfred, as long as he does him a favor. Alfred looks around for Dave Boy and Baz. He finds a high Baz and asks him whether anyone hates him, seemingly trying to get out of his deal with Ripper, who tells him he has to succeed. Baz tells Alfred that Dave Boy is working for Thomas Wayne for the aforementioned 1000 pounds. As the No Name League and Gault meet at a restaurant, Dave Boy is also there at the behest of Thomas; however, things go awry and Dave Boy is shot. Thankfully, Alfred arrives just in time and gets him out of there, but not before he shoots one of the No Name League leaders. Alfred brings Dave Boy to the bar to patch him up, then sleeps with Sandra. Elsewhere, Aziz is meeting with the Queen to discuss the No Name League killings, about which she is very happy. Finally, the show moves to Mrs. Thwaite, who is now sleeping with Ripper.
"Shirley Bassey" was a good, albeit odd, episode. In many ways, it played like a season 2 premiere rather than the midpoint of the first season. There were many standout performances here, most notably Jack Bannon, Danny Webb, and Jason Flemyng; Flemyng gives what I feel is his best performance of the season. I loved how Ripper was the one to – to borrow Bruce's words in Batman Begins – shake Alfred out of apathy by having him run. It's often said that running can clear the mind, and I like how that was utilized here. However, there were some low points, such as the way Thomas seems to view Alfred as a tool rather than a person, and Sykes was once again barely appearing in the episode. Overall, writer Bruno Heller did a great job and is really zeroing in on what makes Alfred tick. Unfortunately, I don't think he knows what to do with Paloma Faith, so hopefully, that changes in the future. Director Rob Bailey was phenomenal here, and after viewing his work on both of Heller's DC series, I really hope he gets a chance to direct a comic book movie, as he transports you into the world of the narrative. Despite an odd structure and questionable choices with regard to Aldridge and Faith, I'm really excited to see where the second half of the season goes, and judging by Martha's upcoming exploits  with Patricia Wayne, it's sure to be great.
Plot - 7.5
Acting - 9
Progression - 8.5
Production Design - 10
Mythology - 9
8.8
Great
"Shirley Bassey" was a good, albeit odd, episode, with great directing and acting, especially from Jason Flemyng.