REVIEW: Post Malone: Runaway (2022)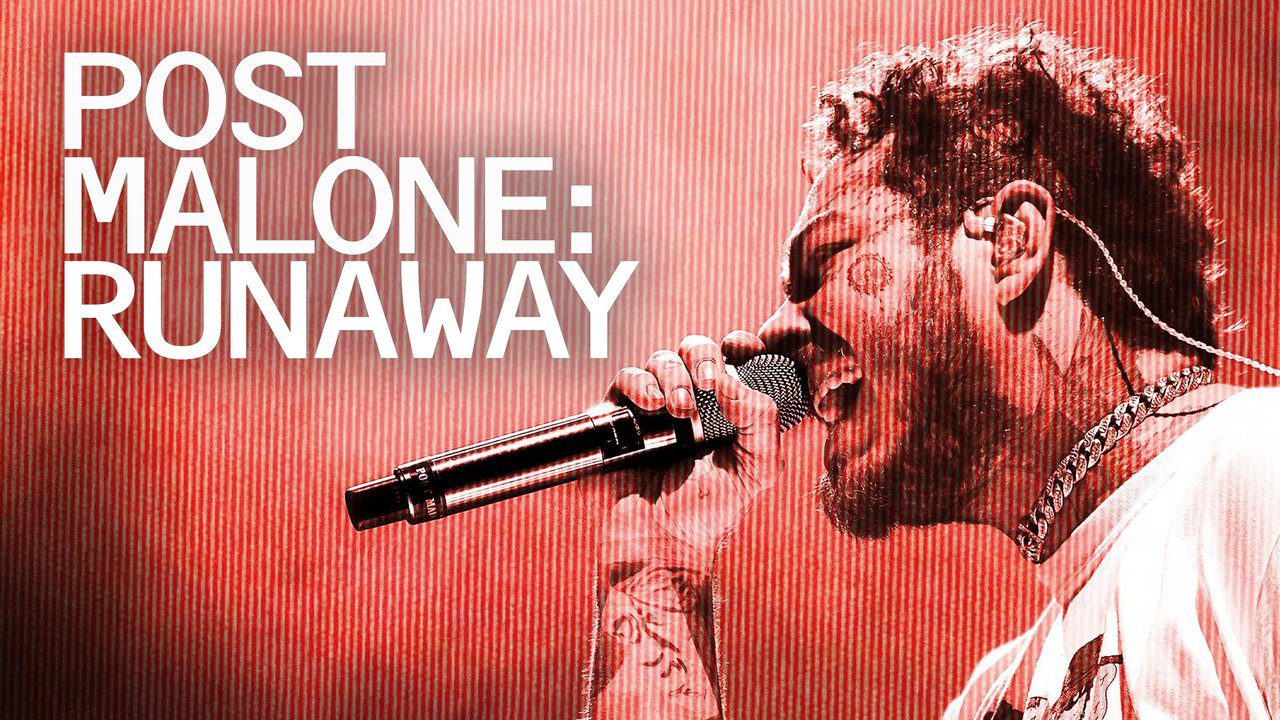 The other night, I watched Freevee's documentary Post Malone: Runaway. It was released on August 12th of this year, but it follows Malone's 2019 "Runaway" tour. This isn't usually the type of thing I would watch, let alone write about. For years, I wrote Malone off for his hair, tattoos, and other superficial reasons. The only one of his songs I had heard before 2022 was "Better Now," and I didn't think that much of it. Friends at work got me into Post's music this year, and I was surprised to find thoughtful, emotionally wrought songs about broken relationships, substance abuse, and the duality of the rock star life. Aside from the powerful meaning behind some of his songs, Post mainly appeals to me because of his appreciation for different types of music. He's categorized as a rapper, but I don't even consider that label appropriate. He has songs influenced by country ("Broken Whiskey Glass, " "Leave"), rock ("Take What You Want," "Paranoid"), pop ("I Like You"), and, yes, rap and RnB ("Die For Me," "Sunflower"). He's even toured and performed with Ozzy Osbourne! All this is to say that I totally misjudged this artist based on his physical appearance and the perceived audience for his music. Speaking only for myself, Post Malone's music has become the soundtrack of 2022 for me in the way the Hamilton soundtrack fills my memories of 2020. Naturally, I was thrilled to find a free documentary on this artist. Let's dive in.
Runaway follows Post Malone, his crew, and fellow musicians like Swae Lee and Ozzy Osbourne on "Runaway," a tour in 2019 when Post's album Hollywood's Bleeding debuted. Various live performances, interviews, and behind-the-scenes footage show a rare glimpse into life on tour.
First, I'd like to say that I misunderstood the purpose of Post Malone: Runaway after reading online that it was Post's life story. You'll be disappointed if you go into Runaway expecting a deep exploration of Post's backstory and journey to international stardom. In that sense, I was disappointed because I expected something more substantial. For example, they don't go into his father's past as a DJ, despite this early exposure to various genres shaping Post's style. They briefly show Rich Post (after whom Post is named; Malone's real name is Austin Richard Post), which excited me. This is the side of Post's life I came to the movie curious to see. I was shocked and disappointed when it cut away from him after only a couple of minutes. That's partly on me, and partly on a synopsis I read online. In Rich's few minutes on screen, he doesn't talk much about anything save how proud he is of his son. That's sweet but not very informative. They also talk about Post growing up in Dallas but not being born in Syracuse, New York, where he also spent part of his childhood. I think this was a missed opportunity, and I hope someone makes a film about his life at some point.
Post Malone: Runaway is unflinchingly honest in its look at Post's substance abuse and the stress of life on tour. His crew and collaborators emphasize the fun; we see them playing beer pong and enjoying different music. But the film directly addresses the strain Post is under when he tours. One can only assume his famous penchant for booze and drugs plays a part in self-regulation. The film neither judges nor glorifies these pastimes; the camera is an objective observer, leaving the audience to make of Post what they will. Studio segments are fun as well, offering a candid, if brief, peek into the creative process. Curiously, I was unfamiliar with most of the songs Post and/or friend and collaborator Swae Lee sang in the booth. They're not on Hollywood's Bleeding or Twelve Carat Toothache, nor are they performed on stage at any point during Runaway. The tour and movie are presumably named for a line in "Circles," which is, coincidentally, the song that convinced me to seek out more of Malone's music. In it, he says that he and an unnamed lover are "running away but (we're) running in circles."
The strongest part of Runaway is undeniably its live segments. While the film fails to give a strong sense of who Post Malone is as a person and artist, it displays his showmanship front and center. It's especially enjoyable to see his duets with the artists who feature in his tracks. The energy he and his collaborators bring to the stage is electrifying; I can only imagine how it feels to be there in person. I've already mentioned Ozzy Osbourne, but the scene where Post meets him for the first time is really cool. I always appreciate an artist who gives credit and respect to their influences. The light shows are also impressive and frame the figures on stage. Runaway probably works best for people who wish they had seen the concert when it was on tour because the performances are expertly filmed. The filmmakers create a distinct atmosphere that can't have been easy to capture.
I'm not sure why it took three years to release a 65-minute documentary comprised chiefly of live footage and interviews. For perspective, Runaway was available to stream on Freevee a little over a month after Post's fourth studio album, Twelve Carat Toothache, came out. This documentary chronicles a tour of his previous album. That just seems odd for a movie that shouldn't have needed much post-production. Was there a rights debacle? I just don't get it. My youngest sister was obsessed with Justin Bieber when she was little, so I heard a lot of his music and learned much about him against my will. His documentary, Never Say Never, also contained live performances and interviews with those close to him. But Never Say Never went beyond that, exploring his rise to fame, what that meant to his family, and his viral YouTube videos. I find it strange that Post only has one documentary, and it's barely an hour long with little substance. This is a diamond-certified, award-winning, record-breaking artist. Overall, I enjoyed Post Malone: Runaway, but I would only recommend it if you love Post's music and want to see and hear him perform.
Have you seen Post Malone: Runaway? What did you think; undercooked ProShot or insightful documentary? Let us know in the comments!
Educational Value - 0
Entertainement Value - 7
Directing/Editing - 10
Objectivity/Fairness - 7
Breadth of Research - 6
6
Lacking
I enjoyed Post Malone: Runaway, but I would only recommend it if you love Post's music and want to see and hear him perform.