REVIEW: The Black Phone (2022)
Hello everyone, it's your resident horror buff back with yet another horror movie review. This time, we're talking about The Black Phone, Blumhouse's latest and one more stepping stone in Ethan Hawke's return to cinematic masterpieces.
The Black Phone follows Finney Shaw (Mason Thames), a shy 13-year-old boy. He's kidnapped by The Grabber (Ethan Hawke), a sadistic killer responsible for the disappearances of several boys in town, and held in a basement. When a disconnected phone on the wall starts to ring, Finney discovers the voices on the other end of the line are previous victims, and they are hell-bent on making sure what happened to them doesn't happen to Finney.
The Black Phone is better than I expected, and that surprised me. I thought maybe it was going to be just a good movie, but it turned out to be the best horror movie this year (so far). It's presented as a typical horror film with ghosts, but it's not that. In actuality, it's the perfect balance of horror, thriller, and drama, and it kept me on the edge of my seat the whole time. Its vibe is very reminiscent of the old horror movies from the 70s and 80s. There are several points in the film where you think it's going to go one way, but it ends up going in a different direction. The most surprising part of the film is that underneath it all, it's a bit of a coming-of-age story for Finney; he goes from extremely shy and bullied to confident in himself. It's under the most horrific of circumstances, but it's a nice touch to see his character develop in that way.
The acting in The Black Phone is phenomenal. Ethan Hawke is always brilliant; we all know this. His role in this film is genuinely terrifying, and he plays it so well. Hawke is not known for playing villainous roles, so The Grabber is completely out of his realm, but he does an absolutely fantastic job. He's unnerving and twisted. There is no sympathy in his character, and that makes it all the better. For his first big role, Mason Thames does a terrific job as Finney. He's a great actor and has really good range for someone so young. He'll rise quickly, for sure. Finney's sister Gwen is played by Madeleine McGraw (American Sniper), who should get an award for her acting in this film. There's a rough scene with her father (Jeremy Davies), a drunk, that has her sobbing hysterically; it's very realistic, and she's brilliant. I definitely can't wait to see what the future holds for her. The rest of the cast stays pretty secondary, but they're all very good as well. Even the kids we briefly meet throughout the movie are decent actors, and that can be hard to find when working with younger people.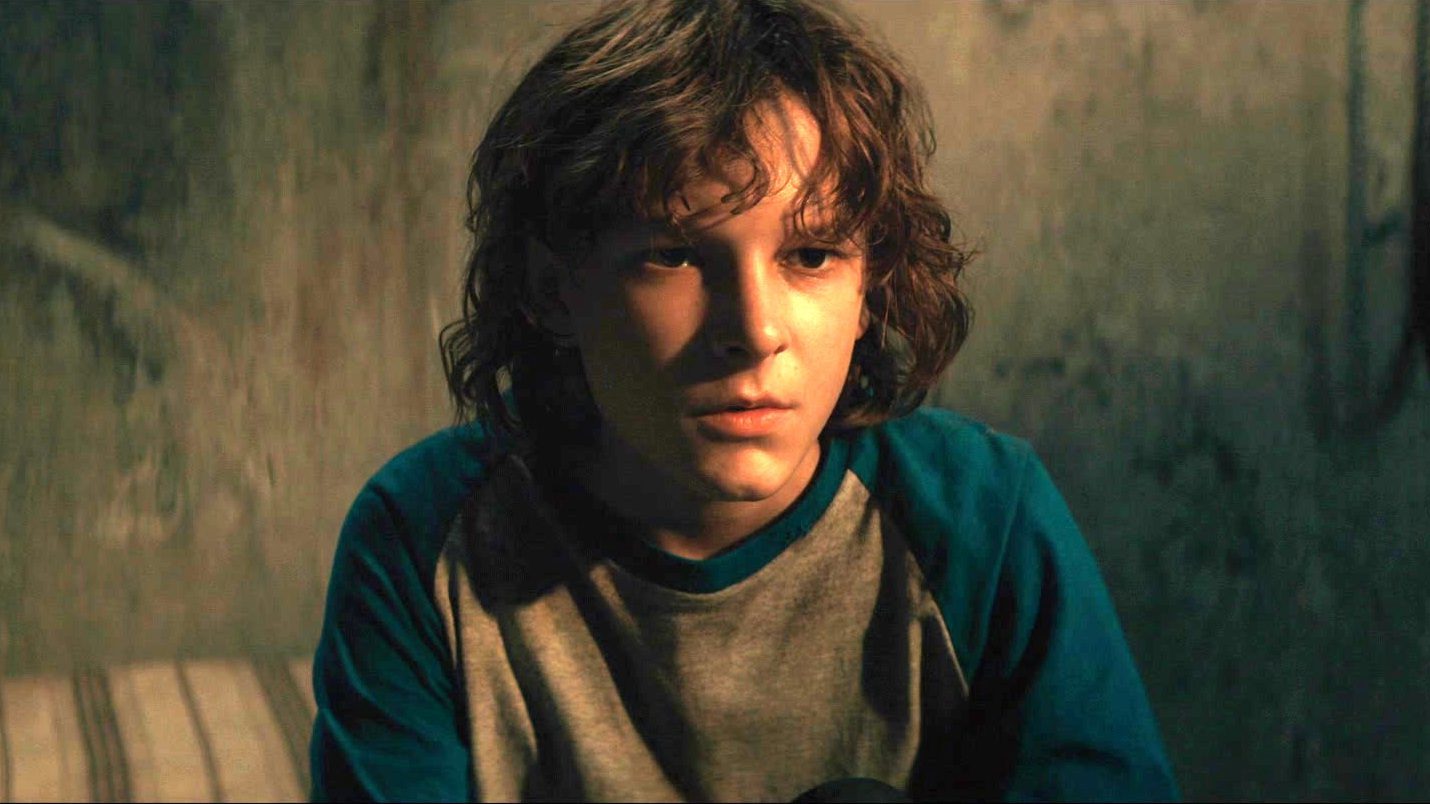 The directorial mind behind this movie is Scott Derrickson, which I didn't know until I was in the theater. Right then, I knew The Black Phone was going to be a treat. Derrickson is no stranger to horror: he also directed Sinister and The Exorcism of Emily Rose, both of which are fantastic films that are terrifying and beautiful at the same time. The Black Phone is right in line with those movies, if not better. He's also behind the first Doctor Strange film, which I highly enjoyed. He's a versatile director who only gets better at his craft as he goes along. I love his films.
Unlike Derrickson's previous horror movies, though, The Black Phone isn't just straight-up demons, ghosts, and evil spirits. This one is about real-world evil, with a bit of old-fashioned horror elements thrown in, like sprinkles on a cupcake. It's raw, and the most frightening part about it is that there are real people like The Grabber out there. That doesn't mean the film isn't without the traditional scares; there are ghosts, after all, and the jump scares we do get are worthy and got me and a few others in the theater real good. It's a subtle kind of horror, and it works perfectly.
The Black Phone is in theaters now.
Plot - 8.7
Acting - 10
Directing/Editing - 8.9
Music/Sound - 9.3
Horror - 8.6
9.1
Great
The Black Phone isn't just straight up demons, ghosts and evil spirits. This one is about real world evil, with a bit of old-fashioned horror elements thrown in, like sprinkles on a cupcake.