REVIEW: The Mitchells vs. The Machines (2021)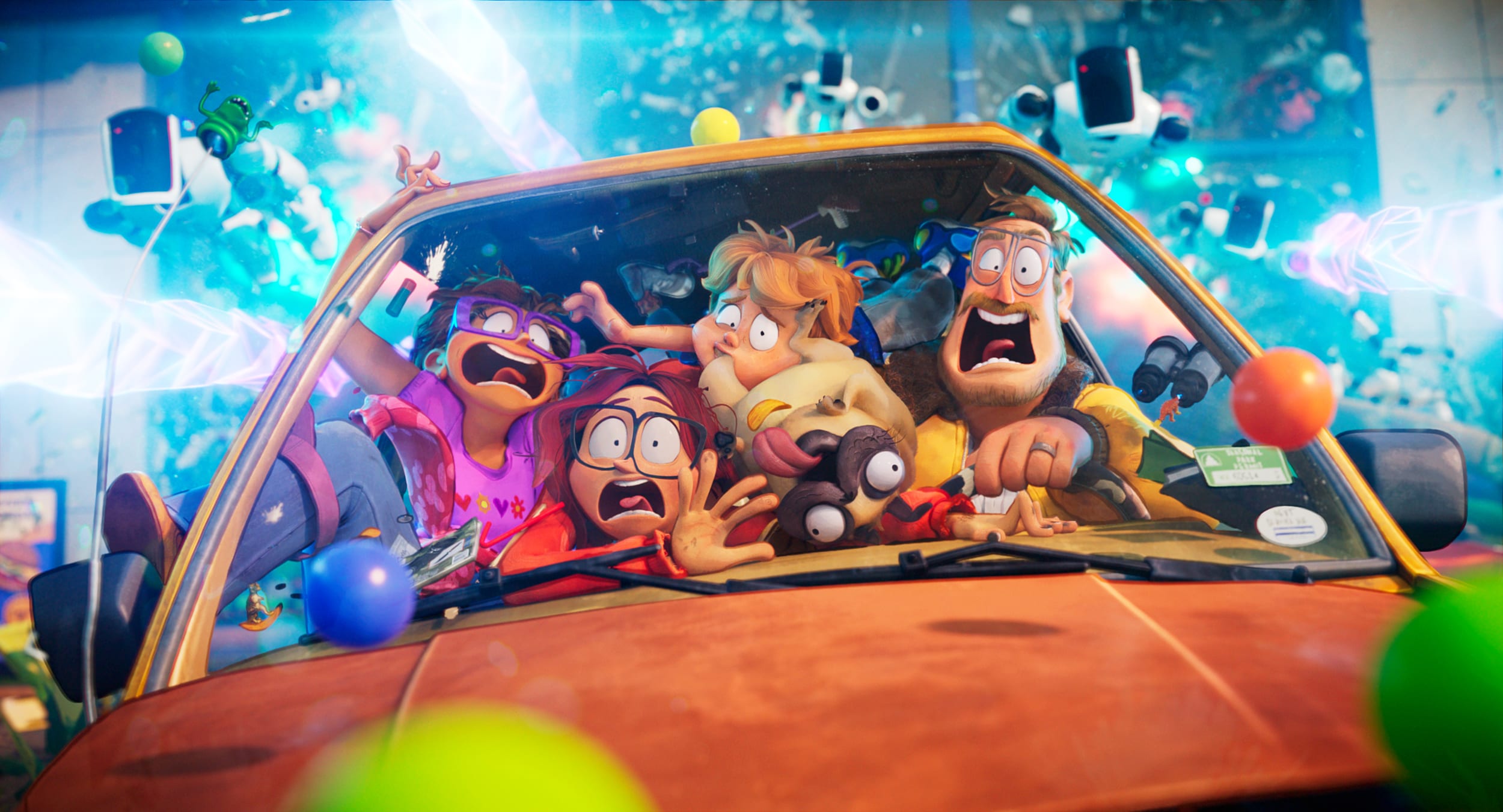 On Friday, April 30th, Netflix released the latest film from Sony Pictures Animation, The Mitchells vs. The Machines. Coming from executive producers Phil Lord and Chris Miller (The Lego Movie, Cloudy With a Chance of Meatballs, 21 Jump Street, Spider-Man: Into the Spider-Verse), the film follows a dysfunctional family on a road trip that turns messy. I remember hearing about this movie when it was still titled Connected and slated for a theatrical release before you know what happened. I had actually forgotten about the film in the mix of everything else going on. I recognized the characters immediately when I saw it pop up retitled on Netflix and couldn't help being curious about it. The talent behind The Mitchells vs. The Machines is beyond impressive; I love everything Lord and Miller have touched except for Solo, which I don't blame them for. I was surprised to see that Gravity Falls writers Michael Rianda and Jeff Rowe were writing and directing the film. The show's creator, Alex Hirsch, also voiced a character and served as a creative consultant. In a typical, non-pandemic-plagued year, this movie would have been big news among animation fans. As is, The Mitchells vs. The Machines is a pleasant surprise that warrants discussion. Let's have a look. 
Katie Mitchell (Abbi Jacobson) is an awkward young girl with a penchant for watching and making movies. Katie gets along well with her dinosaur-obsessed brother Aaron (Michael Rianda). Still, she feels her parents Rick (Danny McBride) and Linda (Maya Rudolph) don't understand her. Rick is skeptical of technology at best and thinks Katie needs a fallback in case she can't make it in the movies. Linda tries her best to support and hold the family together, but she isn't very in tune with Katie's interests either. When Rick breaks Katie's laptop, he decides to make amends by taking the whole family on a road trip to drop her off at college. This annoys Katie at first, but soon, the whole family is having fun… until the robot apocalypse breaks out thanks to a careless tech CEO. Can Katie save the world, live her cinematic dreams, and reconnect with her family before it's too late?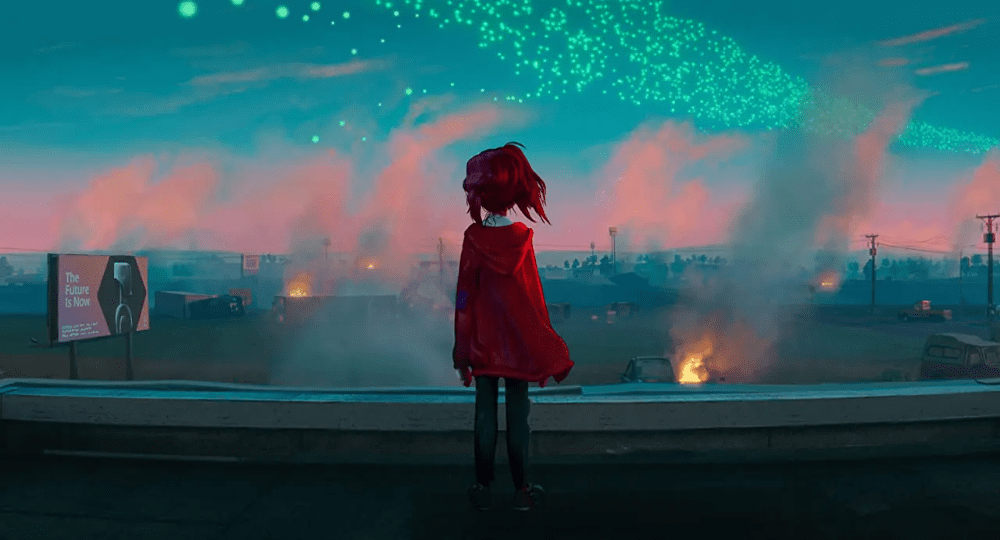 Not knowing all of the impressive names attached and only having seen a poster last year, I had no idea what to expect going into The Mitchells vs. The Machines. Sony has made surprisingly good films like Cloudy With a Chance of Meatballs and Into the Spider-Verse, but this is also the studio that made The Emoji Movie. They're never going to live that one down. I tend to give weird-looking movies the benefit of the doubt because unconventional ideas can breed excellent products. Naturally, the animation style quickly stood out to me when I put the movie on. This film is absolutely, eye-poppingly gorgeous! As glad as I am to watch it for free on a streaming service I already have, it's a shame The Mitchells vs. The Machines won't be released wide to cinemas. The character designs remind me of hyper-cartoony shows like Close Enough and Bob's Burgers, but the textures, colors, and backgrounds are very similar to Into the Spider-Verse. The contrast between the exaggerated characters and somewhat realistic environments reminds me of The Good Dinosaur. However, the concept is implemented far better here. At first, I found the characters' googly eyes and oddly shaped faces distracting, but they grew on me fast, especially Rick and Katie. It's a nice change of pace to see animated characters whose designs prioritize creativity and personality over conventional beauty. The backgrounds in the movie are stunning, and I love how they overlay Katie's doodles on the scenery at certain parts. You can see and feel the love that was poured into every frame of The Mitchells vs. The Machines, and I think the characters are the greatest testament to this.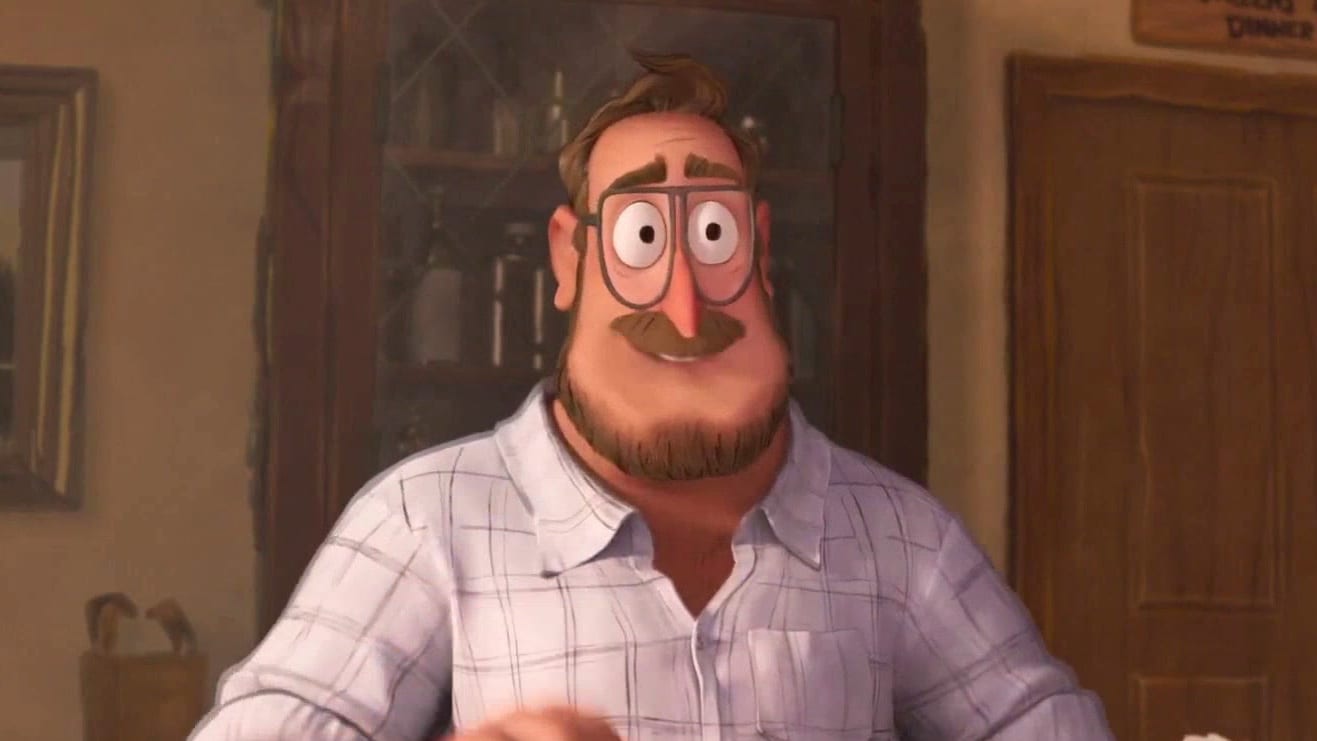 Beyond their designs, the Mitchells' personalities and interests are varied and highly believable. I instantly liked Katie for her wacky personality and love for filmmaking. Rather than painting with broad strokes, The Mitchells vs. The Machines endears the characters to the audience by going for the specific. Aaron's fascination with dinosaurs and poor socialization reminded me of autistic kids like I was. Whether or not that was the film's intention, it's just good character writing. Katie's strained relationship with her father also felt very realistic. Most American animated movies that approach this topic dumb it down considerably. For example, Elinor in Brave is just 100% wrong for forcing Merida to get married, Ariel's dad is controlling and a racist, etc. This isn't always the case, but many times, the struggles between parents and children are oversimplified to suit the audience and runtime. In The Mitchells vs. The Machines, Rick and Linda are characters just as much as Katie and Aaron. We even find out that Rick had his own passion in life that he gave up to support his family, lending context to what otherwise seem like cruel comments to his children. I've had conversations so similar to this with my parents it's spooky. Rick wants to connect with his kids, but he struggles to understand their interests and tries too hard to protect Katie from the harsh realities of adulthood. I like Linda a lot, too; she's hilarious and endlessly loving and supportive of her family. As far as biological, nuclear families go, I haven't liked one this much in a movie since The Incredibles. And I think it's easy to see that's because The Mitchells vs. The Machines, like The Incredibles, takes its characters and their problems very seriously despite the increasingly wacky circumstances surrounding them. My only nitpick here is that I would have liked to see more of Rick and Linda's relationship to one another, rather than just as parents to their kids. But as I said, I admit that's a nitpick and more of a personal thing. Too many married couples in the media are portrayed as hating one another and being totally miserable, and I always appreciate counter-examples. That's a stupid trend, and I personally kind of hate it. 
The characters are brought to life by an impressive array of thespians. The Mitchells are voiced by Danny McBride, Maya Rudolph, director Michael Rianda, and Abbi Jacobson. I don't care for Rianda as Aaron, mainly because it's patently obvious he's a grown man playing a young boy. Adults playing young kids in animation is a pet peeve of mine, and it tends to stick out like a sore thumb. He doesn't do a bad job; he just wasn't right for this part to begin with. Eric André and Olivia Colman play tech executive Mark Bowman and PAL, the smartphone he invented and harbinger of the robot apocalypse. Jacobson and André also both voice characters in Disenchantment on Netflix. Real-life husband and wife John Legend and Chrissy Teigen play the Poseys, the Mitchells' seemingly perfect neighbors whom Linda envies. It's interesting that while Katie uses technology productively to make films that help get her into college, Linda merely leers at people doing well on social media. You'll have to listen carefully for him, but Gravity Falls creator Alex Hirsch voices Katie's friend Dirk. The Mitchells vs. The Machines is also extremely funny, employing both visual comedy and quirky dialogue to great effect. I will say I didn't care as much for the jokes involving two defective robots; they weren't awful or distracting, just not very funny. Mark Mothersbaugh provides the film's musical score, and it's decent. The song choices are also pretty good, but I'll leave those a surprise. This movie deserves to be experienced firsthand. 
The Mitchells vs. The Machines is a big, pleasant surprise. Wildly inventive visuals, hilarious dialogue, and endearing characters make this one a winner. Comedy not directly involving the central family falls flat at times, and I would have liked to see even more of Rick and Linda's side of the story. Nonetheless, The Mitchells vs. The Machines is delightful and too good for the direct-to-streaming release it got. Give it a chance if you have Netflix and a couple of hours to burn. 
Plot - 8
Acting - 10
Direction/Editing - 8
Music/Sound - 8
Animation - 10
8.8
Great
Wildly inventive visuals, hilarious dialogue, and endearing characters make this one a winner. The Mitchells vs. The Machines is delightful and too good for the direct-to-streaming release it got. Give it a chance if you have Netflix and a couple of hours to burn.