REVIEW: Top Gun: Maverick (2022)
Top Gun: Maverick, the highly anticipated sequel to the 1986 film Top Gun, has finally made its way into theaters. It's absolutely dominated the box office so far, taking the Memorial Day record from Pirates of the Caribbean: At World's End, which has held the number one spot since 2007. It's passed 300 million dollars worldwide in just a few days, and everyone is raving about it. For good reason, too.
I've been writing about Top Gun for this website for a little while now. It's one of my favorite movies of all time, and its sequel has been my most anticipated movie for the last two years. It didn't just fail to disappoint; it flew by my expectations while the pattern was full, and I spilled my coffee.
When I tell you Maverick is a love letter to Top Gun, I don't mean a schoolboy note being passed under the desk with a "check yes or no."
I mean Mr. Darcy confessing his love to Elizabeth Bennet.
I mean a military wife writing her husband while he's off at war.
I mean Beethoven writing to his "Immortal Beloved."
I mean Johnny Cash's letters to June Carter.
Tom Cruise put his heart and soul into this project, and it shows. There are nods to just about everything in the original Top Gun, right down to the same font used in the opening title screen. The inside jokes, the callbacks, the opening scene, even the camera angle focusing on Maverick's watch as he walks into a room (an homage to Charlie [Kelly McGillis] entering the classroom in the original film) are all crafted with care to bring the audience back while still moving forward.
In Maverick, we reunite with Pete "Maverick" Mitchell (Tom Cruise), now a captain in the Navy. He's still reckless, he's still got an ego that's writing checks his body can't cash, and he's still as suave as ever, dodging any promotion that would get him grounded permanently. The problem is, the Navy has about had it with his shenanigans, and after 30 years, they're ready to cut him loose once and for all. One phone call changes that, and Maverick finds himself back at Top Gun, training a new set of Top Gun's finest pilots for a special assignment – including the son of his late best friend, which has Maverick confronting ghosts of his past and his deepest fears.
In this new film, we're introduced to a new set of young pilots: "Hangman" (Glen Powell, Expendables 3), "Phoenix" (Monica Barbaro, Chicago PD), "Bob" (Lewis Pullman, The Strangers: Prey at Night), "Fanboy" (Danny Ramirez, Tales of the Walking Dead), "Payback" (Jay Ellis, Escape Room), and Bradley "Rooster" Bradshaw (Miles Teller, Fantastic Four, Divergent). Most of these are secondary characters, but they are all fantastic actors. Everyone does a great job. Monica's Phoenix is the only female in the new group, but they don't mention it at all. She's one of them, the best of the best, and that's it. She handles her own and doesn't get treated any differently. Glen Powell's Hangman is one of my favorites of the new guys; he's a bit of a jerk. He's brash, egotistical, and challenges Rooster at every turn. Their relationship is butting heads, much like Iceman and Maverick in Top Gun.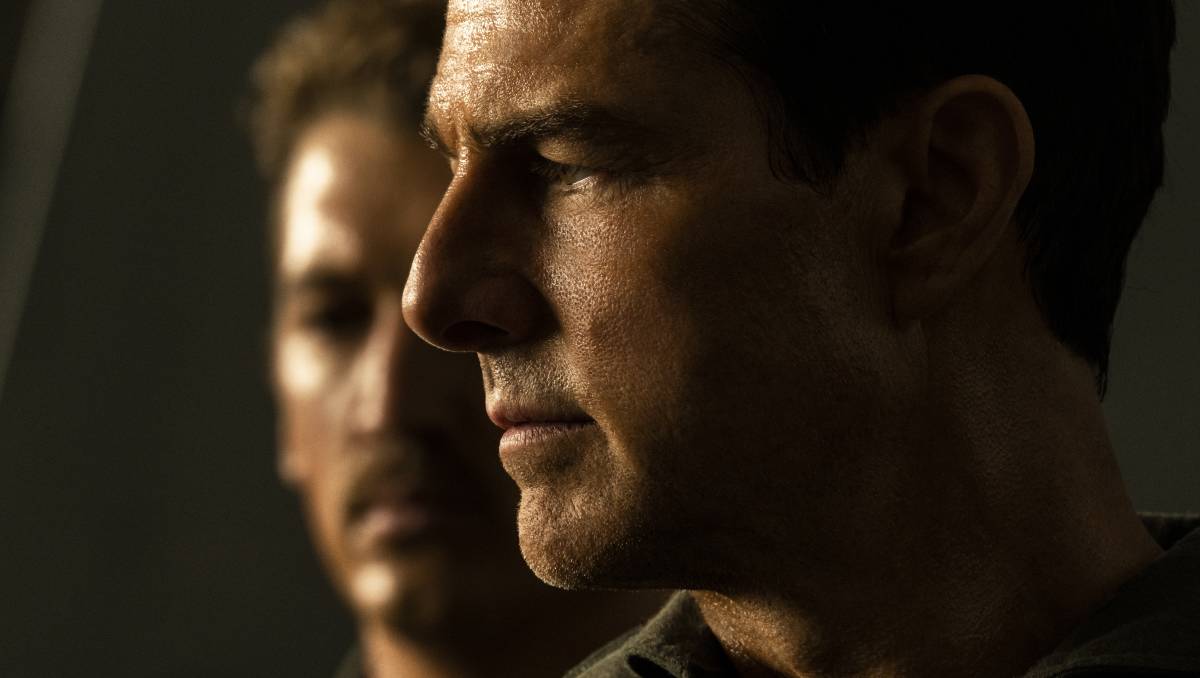 The show-stealer, however, is Miles Teller. I know it's cliché and obvious, but it's true. Miles is a fantastic actor any day of the week, but he was born to play this role. The way he embodies Anthony Edwards is downright scary. He not only looks just like him, he moves like him, talks like him. There were times when he would turn a certain way, and, I swear, it was actually Anthony and not him. He's the perfect casting to play Goose's son. His chemistry with Cruise is incredible. The way their relationship develops over the course of the film is so believable, raw, and real.
Also in this film are Admiral Beau "Cyclone" Simpson (Jon Hamm, Mad Men) and Penny Benjamin (Jennifer Connelly, Hulk, He's Just Not That Into You). Yes, long-time Top Gun fans, THAT Penny Benjamin; we finally have a face to the name, and Jennifer is fantastic. For those who maybe haven't put two and two together, Penny is a long-time fling of Maverick's that's only mentioned briefly in the first film; once by Commander Stinger and again by Goose's wife Carole (Meg Ryan): "He told me all about that time you went ballistic with Penny Benjamin!" She's the daughter of an admiral, and though we only hear about her, you get a great sense of what their relationship was like. I love that they decided to bring her into this movie. They really expand on her character, and Connelly and Cruise fit very well together. Jon Hamm's character, Cyclone, is just downright unlikable, but in a good way. I never have any complaints about Hamm's acting, and I don't here either. He's great.
Cruise, of course, is once again a phenomenon. He slips right back into Maverick's aviators like no time has passed. And honestly, I'm not sure any time has actually passed. The man looks incredible for his age, and he once again does all his own stunts; he gave the younger cast a training regime and took them on real military flights so they knew what they were doing. Glen Powell even got his pilot's license because of Tom's training. He's been setting the bar for years, and this movie is no different. Tom's acting chops are high in this, too, as we're seeing a side of Maverick we haven't seen before. He's older, he's lost people, and he's never really dealt with those losses and the guilt that comes with them. He's never let go. Maverick is already a beloved character, but this film makes you love him even more, and it's all Tom's doing. He loves the character and does him justice when so many other franchise reboots don't. Maverick is the heart of Top Gun, and he stays that way.
Oh, and for those of you who, like me, were extremely worried about what they were going to do about Val Kilmer and Iceman?
I won't give any spoilers, but believe me, as a long-time fan of Val's and Iceman being my favorite character, I am very pleased with his role in his movie. I'm getting teary-eyed just typing this because I'm thinking about it. It's perfect. Trust me when I say this: they are both treated with the utmost respect.
There are a lot of emotions in this movie. Our theater was packed, and a lot of us cried several times during the film. I know I did. They bring back the old Top Gun theme and other music from the original movie, and it's brilliantly done. Goose's presence is very prominent in this film, and it's heartbreaking and beautiful at the same time. Director Joseph Kosinski did a phenomenal job, and I thank him for it.
Top Gun: Maverick is the bar to reach when it comes to doing a sequel to an older franchise. It treats its legacy characters with respect, it honors the fans, and the new blood it brings in ties it all together without overshadowing what came before. It's not preachy, it's pro-America, it's funny, it's heartwarming; it's everything a film should be. It's the best movie of the year, easily. I definitely recommend you go to the theater for this one; there's just something about those jets on the big screen!
Huge thank you to the entire cast and crew, especially Tom, for this film. It really is everything people are saying it is, and I am 100% prime-time in love with it.
Top Gun: Maverick is in theaters now.
Plot - 9.5
Acting - 10
Directing/Editing - 10
Music/Sound - 10
Theming - 10
Homage - 10
9.9
Outstanding
Top Gun: Maverick is the bar to reach when it comes to doing a sequel to an older franchise.