REVIEW: Trust – Season 1, Episodes 1 and 2 "The House of Getty" and "Lone Star"
John Paul Getty Sr. was determined to be the world's wealthiest private citizen. He owned numerous oil fields and companies, which came to be known collectively as the Getty Oil Company. He was an extremely shrewd businessman who re-invented the oil industry, but his legacy seems to be intertwined with the 1973 kidnapping of his grandson, John Paul Getty III.
FX's new docudrama Trust details the events surrounding and including the kidnapping of John Paul Getty III. From the opening scene panning up from a field of sunflowers, the first episode has a unique atmosphere that's hard to describe. These initial episodes do exactly what they should do: give us a good understanding of John Paul Getty and his lifestyle, the relationships between members of his family, staff and his girlfriends, and act as a setup for what's to come.
*Spoilers*
The first episode's plot begins with the suicide of Getty's oldest son George; he skewers himself with a barbecue fork in a garage as party guests watch in horror. When Getty Sr. learns the cause of death, he remarks that he "won't have suicide." At George's funeral, a familial power struggle brims just below the surface, as Paul Getty Jr. wants to take his brother's place in the family business, but his attempts to broach the subject are repeatedly interrupted and lost in various developments. John Paul Getty III unceremoniously staggers in wearing jeans and a t-shirt, to the shock of everyone except his grandfather. After his grandson shows an interest in fine art and the family oil business, Paul Sr. informs Jr. that III will be taking George's place in the company. Naturally, this leads to a confrontation in which Jr. informs Sr. that III has been posing for nude magazines. Getty III is asked to leave, and the episode ends with his kidnapping.
Episode two, "Lone Star," focuses on Getty employee Fletcher Chase. Getty Sr. sends Chase, a former CIA operative, to Italy to find and ransom Paul III. We are also introduced to Paul III's mother Gail Getty, who spends the episode trying to convince everyone that Paul actually has been kidnapped; Fletcher, Gail's boyfriend, and seemingly everyone else think Paul has simply run away and demanded ransom money for his own faked kidnapping. In the end Gail's fears are confirmed, as we see Paul restrained in a well with a bag over his head.
Donald Sutherland is amazing as the Getty family's patriarch. His character isn't likable, but he's definitely interesting. He keeps several different women around for his various moods, which they seem to resent, and has each one sign a waiver relinquishing all her rights before engaging with them. He keeps his family at a distance, disgusted by their vices and their constant petitions for money. Michael Esper and Harris Dickinson shine as Getty Jr. and III, respectively. We don't see very much of Jr.; all we know at this point is that he messed up in the past and has a tense relationship with his father. He also seems to have issues with his son, even aside from the jealousy of not being picked by Sr. to inherit the company.
Fletcher Chase is played by Brendan Fraser, and that was actually the show's main draw for me. In the 90s and early 2000s this guy was in everything, and then he seemed to disappear after the second horrible Mummy sequel. I know he has his haters, but I don't know why. He has a lot of charisma and seems to do well with the roles he accepts. I'm really excited to see him in this, and I hope he has a great comeback like Michael Keaton's been enjoying recently.
Gail Getty is played by Hilary Swank, lending an emotional side to the story. Gail is the only one who really seems concerned about Paul's wellbeing, while her father-in-law is more worried about protecting the rest of his family and Fletcher suspects Paul staged his own ransom. The other women in the series include Jr.'s wife who has little dialogue, Paul III's friends and Sr.'s women who vie for his attention and affection. These are just the first couple of episodes, but the only one that has any impact so far is Anna Chancellor as Penelope Kittson, Getty's main and seemingly first girlfriend. She stands out from his other women as fearless, loyal and smart. Chancellor may be recognized for minor roles in Penny Dreadful, Downton Abbey and The Crown.  
There's a fantastic scene in episode 1 where Getty Sr. is talking to III about how oil is everything; there's oil in shampoo, toothbrushes and sneakers. In fact, the best part of this episode is Getty Sr.'s relationship with his grandson. I was genuinely disappointed to see him reject III because of the salacious photos. Getty Jr. claims to have sabotaged his son's standing so he wouldn't have the money to buy drugs, but you get the feeling his own jealousy has more to do with his actions. The members of this family don't seem to be very close, or to have any respect for each other. If oil is everything, does that leave any room for familial relationships?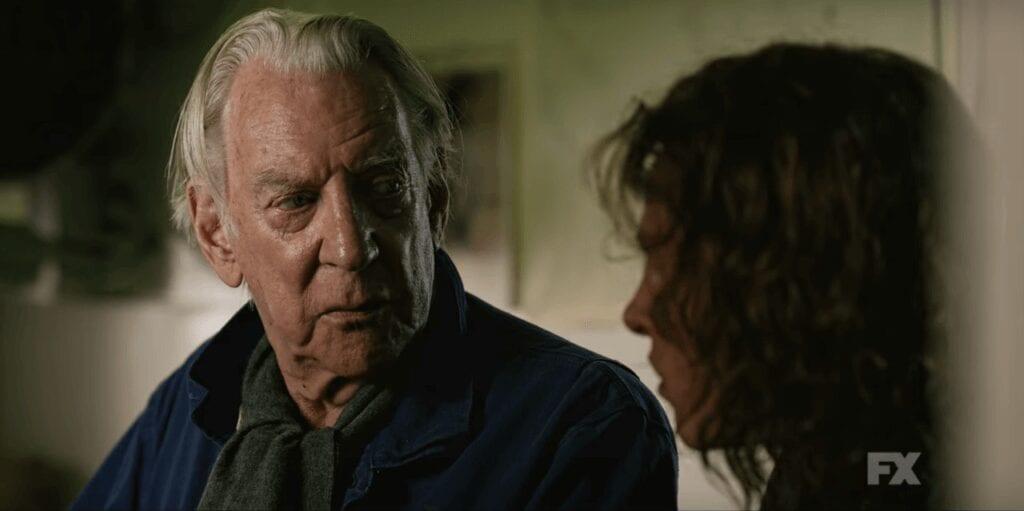 You can also see the effect J. Paul Getty Sr.'s fame and fortune have had on his own children. George is the most obvious example, but Jr. is disgusted with his father and seems to be a whiny, jealous loser. We don't see much of the other sons, but based on the scene where their father urges them to obtain extra security, they don't think much of him. His girlfriends seem disenchanted at best, and presumably stick around for the lavish lifestyle.
These first two episodes have done a great job introducing the characters and setting. Trust appears to be the next in a line of lavish dramatic productions from FX, with all the usual trappings: period-appropriate music, fantastic cinematography and impressive costuming. The cast is also an impressive collection of relative newcomers and seasoned veterans of the screen. This is one to watch.

Plot - 8.4
Acting - 9
Progression - 6.5
Production Design - 7
Suspense - 8
7.8
Good
Trust appears to be the next in a line of lavish dramatic productions from FX, with all the usual trappings: period-appropriate music, fantastic cinematography and impressive costuming.