Movie Reviews
REVIEW: Valerian and the City of a Thousand Planets
2017 has been a very interesting year for comic book movies. So far, every major comic book adaptation has been fairly well received, some of them even ranked among the top films of the year. Furthermore, each has brought something unique to the table, from the noir/western flavor of Logan, to the classic war film/Greek mythology-influenced Wonder Woman, and culminating recently with the John Hughes vibes of Spider-Man: Homecoming. One of this week's biggest releases has been an in-development passion project of EuropaCorp's founder, Luc Besson, for a very long time. This week, we look at Valerian and the City of a Thousand Planets.
 Based on the French comic series Valérian and Laureline by Pierre Christin and Jean-Claude Mézières, our story takes place in the 28th Century, where special operatives Valerian (Dane DeHaan) and Laureline (Cara Delevingne) work together to maintain order throughout the universe's human territories. Under assignment from the Minister of Defense, the duo embark on a mission to Alpha, an ever-expanding metropolis where diverse species gather to share knowledge and culture. When a dark force threatens the peaceful city, Valerian and Laureline must race against time to identify the menace that also jeopardizes the future of the universe. I can't say that this movie was perfect, but it hit a very specific sweet spot for me that not a lot of movies today have accomplished. Before delving into specifics, I just have to thank Luc Besson for throwing caution to the wind and bringing this passion project to life.
Even with his vision firmly in hand, Besson could not have done this massive project alone. He had help from Industrial Light & Magic, one of the greatest visual effects companies of all time. It feels like things are coming full circle for George Lucas, who has cited the original Valérian comics as one of his many influences for Star Wars, as now a company that he founded gets to return the favor by bringing that influence to life. When it comes to big CGI-heavy films in this genre, realism is a minor concern. Not every movie needs to be War for the Planet of the Apes, as long as the style is captivating and sucks audiences into the world, which Valerian pulls off beautifully. Between all the different worlds and the alien designs, the movie just oozes creativity.
Luc Besson, who wears many hats in this production as, not only the director, but also the screenwriter and producer, is back in this adventure. After falling short of the mark in the rather disappointing 2014 film Lucy, the experienced director really hits a sweet spot in terms of the tone and style of his newest movie, which is very pulp sci-fi in the same vein as Flash Gordon, John Carter of Mars, Star Wars, and obviously the original Valerian comics. There's just as much room within this genre for lighter fare such as this, as there is for hard sci-fi like Arrival, Ex Machina, or Sunshine. Valerian's pacing isn't always at 100%, though. With the film running at roughly 140 minutes, there are some scenes that could have been abridged or cut out altogether in order to increase momentum.
 As far as casting goes, everyone's commitment to the material they are bringing to the screen elevates the entire project. Dane DeHaan and Cara Delevingne have a fun dynamic as main protagonists, and their chemistry is believable enough to get you through the story. Clive Owen is not in nearly enough anymore, so he was a solid addition as Commander Fillitt. He sells his role as both a stern leader of the space patrol and as a sort of antagonist to the alien race that Valerian and Laureline are sworn to protect. Marketing has shown that Rihanna has a minor supporting role as Bubble, the shapeshifting alien entertainer, but she is not the only musician featured in this ensemble. I definitely was not expecting Herbie Hancock to show up as the Defense Minister. All things considered, the performances in Valerian add to the general feel of the film and further demonstrate Besson's skill as a director.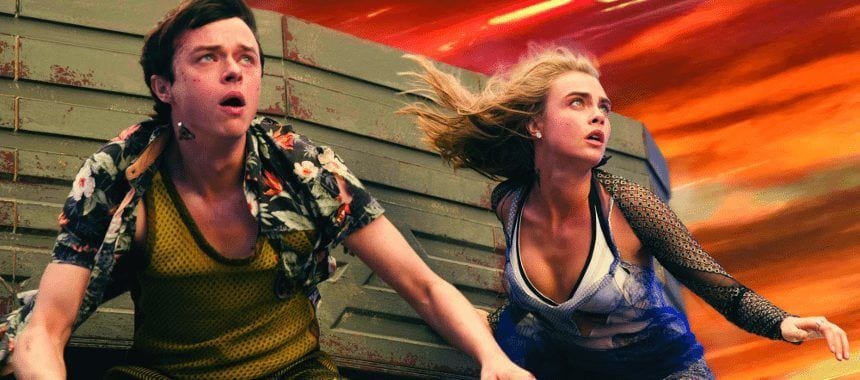 Aside from imperfect pacing, the only other major problem that this movie has to face is an external one commonly known as the "John Carter Effect." The original Valerian comics began in the late 60s and have been very influential in the sci-fi genre. But, much like Disney's criminally underrated John Carter, by the time fans finally got a proper adaptation of the source material, everything is unfortunately doomed to come across as "been there, done that" to an audience that is experiencing it for the first time five decades later.
That being said, Valerian and the City of a Thousand Planets is, in a word, fun. Between this, Guardians of the Galaxy: Vol. 2 and Star Wars Episode VIII: The Last Jedi, it is definitely going to be a great year for stories set in outer space. Audiences should also give some much-deserved appreciation to Alexandre Desplat's score, along with the soundtrack as a whole. Congratulations to Luc Besson for finally bringing one of his childhood favorites onto the big screen, and I hope audiences take some time in between viewings of Dunkirk and Girls Trip to give this one a chance.