I'm starting this thread in celebration of my first day of work… in a comic shop!
Enjoy these (hopefully) funny stories, and please share any funny work stories you have :3
Customre n. 1: Dad looking for manga recs to read with son
Dad: I'm lookin for something to read with my son, something similar to Dragon Ball, but not One Piece
Me: Maybe he'll like Naruto…
Dad: Is it suitable for a kid his age? (points at 5 year old)
My brain remembering what episode of Naruto i've just watched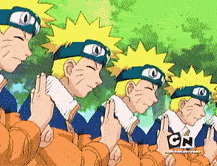 Me: (stutters) yeah… it should be fine
Dad: You don't seem so sure (worried)
Me: (shrugs) I watched it as a kid
Customer n. 2: Girl in crutches
Girl: (has Girls Last Tour vol. 6 in hand) Do you have the first 5 volumes of this?
Me: I'll check, lemme see who publishes it, i'm new … it's your lucky day, we got all af 'em
Girl: Thanks (tries to manuver around crutches to carry manga)
Me: I can help carry them if you wanna look around somemore
Girl: No it's ok, i'll just put them in my backpack
Me: No, it's fine, i'll help (DO YOU TAKE ME FOR AN IDIOT?!!)
Customer n. 3: I'm looking for lgbt manga recs
My total BL experience:
Nakamura-kun
Given
No.6
One crappy 90s OVA
Me: (Tries to sound knowledgeble) Do you prefere something more comedic or romantic? (please say comedic, please say comedic)
C3: I like finny stuff
Me: (i'm saved) How about Nakamura-kun?
Customer n. 4: That is not for kids!
What's better than a nice trip to the comic shop with your kids? These nice parents who actually let their kids buy something (seriously the amount of a-hole parents who dragged their kids there buying stacks of manga for themselves and not even letting their kids get a miserly pack of pokemon cards) might think otherwise after this trip
Kid: Mommy daddy, can i get this one?
Holds up a manga that's:
Plastic wrapped
Has big volumptious anime tiddies on cover
And character wearing lengerie 5 sizes too small
That my dear Watson, is a Hentai
Mom: (rippes the manga out of kid's hands in a panic) N-no darling, this one is not for kids
The dreadded look on the parents face as they await the inevitable "Whyyyyyy?"
All in all i'd say it was a good first day of work, and i did manage to sell some shit :D
Total merch sold:
– Naruto vol. 1
– Jujutsu Kaisen vol. 0
– Girls' Last Tour vol. 1-6
– Dandandan vol. 3-4
– Daredevil n. 5
– Happy Shitty Life vol. 3
– Girl From The Other Side vol. 1
– Naruto funko pop
– Dragon Ball Goku funko pop
– Bleach Ichigo funko pop
– Naruto Sasuke action figure
– Death Note poster
– Haikyu vol. 1
– Attack On Titan vol. 27
– Jujutsu Kaisen Itadori & Gojo funko pops
– Made In Abyss vol. 7-8
– 20th Century Boys perfect edition vol. 1