That's Not Wrestling #21: Tiny Tony's Echo Chamber
AEW Mass-Reporting Fans
Welcome, and thanks for joining me at Geeks + Gamers! Today, "That's Not Wrestling" returns, as I discuss AEW mass-reporting fans, Tony Khan, Aubrey Edwards, Donald Stevens, comments from AEWBotches, and more!
A few years ago, the planets looked to be aligning for a fantastic shift in the realm of pro-wrestling. Talk of a smashing new promotion with a television deal and "serious, sport-based wrestling" was on everyone's lips. Finally, the modern wrestling fan's life of "eating shit and learning to love the taste" was over. Or was it? Meet me here to pick apart the actions of the daft, the dangerous, and the desperate in pro-wrestling… well, in AEW.
<That's Not Wrestling Issue #20!
<<<That's Not Wrestling Issue #1!
It's tough to find any constructive, let alone negative, comments from certain pro-wrestling "journalists" who get the good seats in the AEW post-PPV media scrums, and it's even harder to find people talking about AEW mass-reporting fans. If someone even just dreamt of WWE behaving like this, everyone and their dog would be clawing at the ground to find the answers. But when it's AEW misbehaving and muzzling fans? That's right; radio silence.
Don't get me wrong; this is the sort of thing Vince McMahon/WWE has engaged in vigorously in the past. But it seems Tony Khan's Utopia of Wrestling is proving to be further and further from that ideal with every passing day.
In the early days of AEW, fans were sold a lie about the new promotion offering "a serious sport-based product" and that it was super fan-friendly. Some even went as far as encouraging the use of .gifs and clips on Social Marketing.
In reality, this doesn't seem to be the case. Sure, Tony and pals love it when you give every single mouthful of their product a seven-star review, but if you have something critical to say, or even if you just hold up the mirror in their faces, the gloves fluffy mittens come off.
Tony told the millions of lapsed wrestling fans that what he enjoys rubbing one out to is the same as what they were craving. So, he booked it, filmed it, televised it, and then threw his teddy bear out of the pram when the laughter and constructive criticism came flooding in.
I'm not a massive fan of the whole "watching someone else watch something else" form of entertainment, but many others are, and it's become a big thing. This is a popular way for people to give their opinions on wrestling, and everyone that employs this method of entertainment needs to tread lightly, as Tony Khan and his minion(s) have been very busy ensuring the echo chamber remains airtight.
Donald Stevens & AEW Mass-Reporting Fans
LoveByLife has been vocal about the story, which I'll summarize below.
Aubrey Edwards Accused Of Filing Mass DMCA Takedown Notices For AEW Under Fake Name
+
Aubrey Edwards Accused Of Using Dead Man's Name To File Fraudulent DMCA Takedown Notices For AEW

If you want to read both pieces in full, go ahead; I'll be here waiting when you get back.
If you didn't read them, the meat of the matter is that AEW has apparently been throwing mass copyright claims/strikes at fans who make videos about AEW that don't follow the prescribed line of OMGAEWISAMAZEBALLSITNEVERDOESANYTHINGSTUPID!!!
Furthermore, constant spotlight leech Aubrey Edwards, A.K.A. Ms. Mime, A.K.A. Sugar the Show-Pony, appears to have been Tony Khan's main cohort in this operation, posing as a man called Donald Stevens while keeping the disobedient fans quiet.
Buck Starsky took to Twitter to make the initial claims about Aubrey's behavior and what he'd found after a little digging. This included AEW mass-reporting fans, Aubrey's use of a fake name, that looking up the name Donald Stevens brings up an obituary, and that the phone number provided goes through to the Jacksonville Jaguars ticket office.
RingsideNews also covered this with extra details and screenshots/receipts of Starsky's claims here.
Those two outlets weren't the only ones to chime in; podcasting heavyweight Jim Cornette gave it almost seven minutes last week. But a lot of it focused on Aubrey's futility as a referee, which I've also covered at length.
However, the general message from the AEW transmitters is that Cornette is old, out of touch, and a toxic meanie. Not to mention the suggestion that it's best to block and ignore him in advance. Funnily enough, I've also discussed how AEW talent and management have cried at Jim Cornette and Jim Ross on more than one occasion.
Cornette's coverage echoed Starsky's side of the story, but there's more to analyze if his testimony isn't enough for you. It's not like the art of striking and banning YouTube, Twitter, and other Social Marketing users isn't something we haven't seen plenty of before.
Play Nice or Not at All
Maffew Gregg of Botchamania has always dealt with copyright strikes and starting new channels, but it's usually WWE who's to blame. Lately, he's encountered strikes and channel deletions for using AEW clips in his videos. For those unfamiliar, Botchamania is a long-running series that holds wrestlers and wrestling promotions (big and small) accountable for blips, blunders, and botches. It's been a staple of the wrestling fan's online habits for well over a decade, and it's even loved by many people in the wrestling business.
Remembering the rule of comedy, where everything's fair game, or nothing's fair game, I've also enjoyed watching Botchamania for a long time. In the years where I've not watched wrestling on a weekly basis, BM is great for keeping you in the loop and keeping you entertained.
Let's see how Maffew's issues with AEW began last year.
Thanks, Aubrey. Seeing you openly show your involvement in this role answers a few questions and suggests you're still in that position… even if using a different name.
One week later…
Maffew now has an entirely different channel with only a handful of videos available, so it's safe to say the resolution above was only short-lived.
If Botchamania, who covers all of wrestling, gets shit thrown its way, it'll come as no surprise that someone who exclusively showcases AEW's botches had been leaned on hard too.
AEWBotches has been targeted for over a year now. The person running the account has dealt with bans, death threats, doxing, and even threats to family members from AEW's diehard fans. I reached out for a comment on the situation:
"They have cornered me to the extent that I can't even post a GIF of something remotely related to the promotion. Heck they even sent DMCA notice for a video made on Instagram by Kris Statlander. It's their intellectual property no doubt, however double standards are on display. Pro AEW accounts are never hit on here, only my account or those criticizing their product." – @AEWBotches
After AEW's recent Barbed Wire Everywhere Deathmatch between Eddie "Cartman" Kingston and Chris "Midlife Crisis" Jericho, there were muck-ups by the truckload – so much so that the AEW Twitter account made a joke and posted a clip of Jericho and Sammy Guevara getting tangled up with each other, despite being on the same side.
Many people, myself included, pointed out that they were doing AEWBotches' job for them, all while highlighting how amateur a production they were running. They deleted the post not long after the ratio started to climb.
Girl on Cinema (@GOC_Wrestling) has also had trouble for being too honest for some, even interacting with Tony Khan himself on Twitter. She's not had the exact same treatment, but the results have been similar.
https://twitter.com/GOC_Wrestling/status/1519421666606125057?s=20&t=f2xxamcPLApdbDUQGnB67A
She has been outspoken about AEW mass-reporting fans, she doesn't back down and gives the angry little trolls more than what they bring, including Tony.
GOC appears on YouTube and Twitch and co-hosts the Wrestling Obituary podcast. Here's a song she recorded for Tony.
Another streamer here who was punished for his reactions:
RingsideNews was linked earlier, and they've been on this topic a few times.
However, RSN has been tarred as transphobic (and therefore unreliable/unworthy) and blacklisted by AEW's swarm since criticizing Tony Khan's choice of Nyla Rose as women's champion.
Thanks, Nyla. That's just the porn-soaked response that I'd expect from you. Keep at it, mate. The profile just writes itself! This was almost as enlightening as your reply to that elderly man who had it in his bio that he was recently widowed…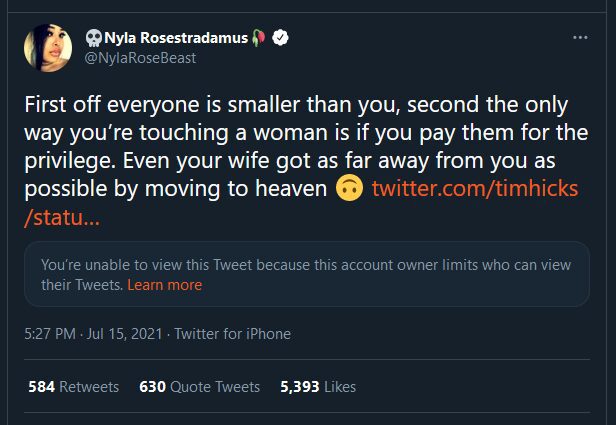 Such compassion and acceptance. That's some great company you keep, Tony Khan. It's good to see you've got a bunch of loyal keyboard warriors at hand to do thy bidding and protect the narrative. Remember, #BeKind!
I've also been told of AEW mass-reporting fans on Twitch too.  Several streamers have been flagged for discussing AEW, but I didn't get anything concrete before posting this. So, feel free to get in touch below or on Twitter if this applies to you or someone you know.
Well, is that all?
AHAHAHAHA! Nope.
Since I had to get out of my chair to deal with this shit storm, I'm gonna have my fill before I sit back down. AEW mass-reporting fans and Tiny Tony getting shitty with them isn't the only thing that further suggests Tony's more like Vince McMahon than he wishes to admit. The wheels may not be falling off the AEW cart just yet, but they're loose. It's only a matter of time before there's a serious accident, as nuts and bolts have been flying off for months now.
I'll start with a simple one. As well as the promise of a sport-based product, saying he was bringing something new and not just rehashing old spots/angles, and saying he didn't start a promotion to take cheap shots at/talk about the competition, Tony Khan said he wasn't going to be on TV as a character or as himself. Well, that didn't last long. Here's his Herb Abrams cosplay.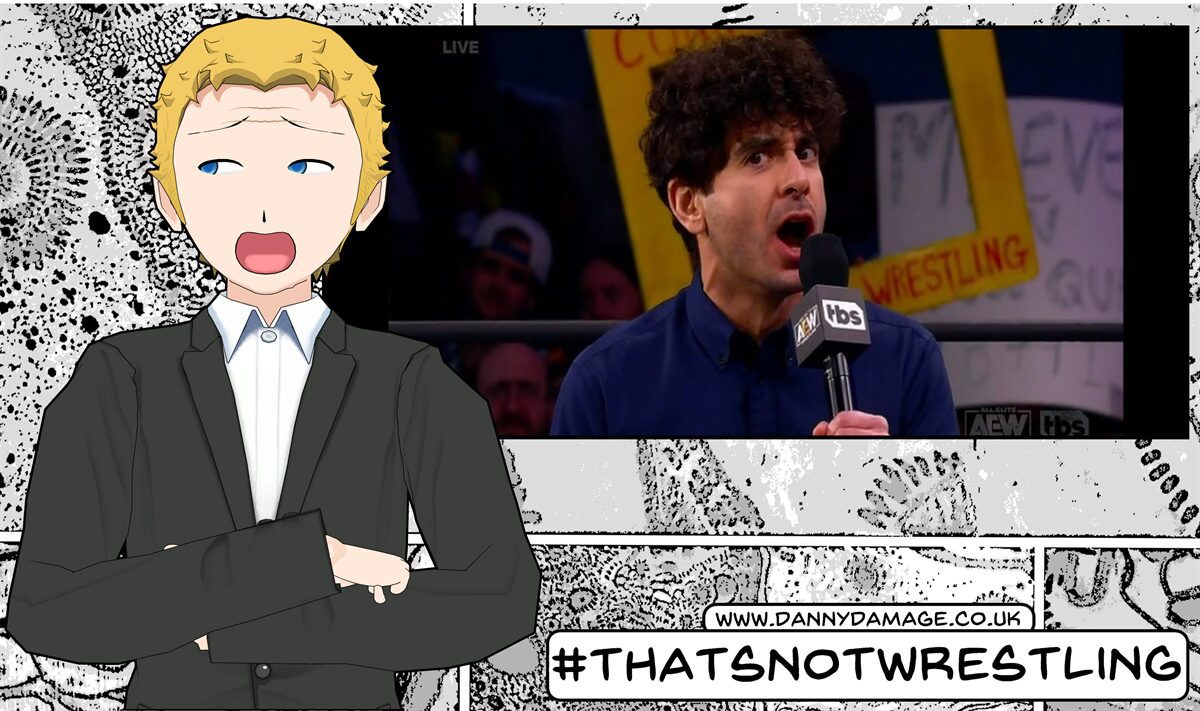 Since that first time he wandered down the ramp looking like he'd just woken up from his dad's converted garage, Tony hasn't been able to help himself. He flapped around when he needed to announce he'd just bought ROH, looked like an unsupervised child when announcing the Forbidden Door crossover, and now he's CONSTANTLY talking like Oh-my-God Reese Witherspoon in like, 95% of the roles she plays during those media scrums. It's bloody embarrassing!
Here's Tony going against his word again to try to get his sad face over and prove that he's the antithesis of Vince McMahon.
As the well-known saying goes, "Philanthropy is the future of marketing. It's the way brands are going to win."
Scared of Confrontation
Even though his gimmick is that he's the most friendly, approachable boss in the whole world, Tony Khan's managed to upset members of his roster on several occasions. These are just a few that have been made public so far; give it some time, and I'm confident more will come out.
Big Swole wasn't happy with Tony on her way out of the company. As far as she knew, everything was fine between her and the boss. But Khan would eventually let Swole's contract run out and then say it was because of her work. He's not wrong with that assessment – she's not the greatest – but he could have been straight up with her to her face. As Swole mentioned, Tony was happy to scrounge a bit of weed off her in the parking lot.
"I felt like there were a lot of things, and I told them in my exit interview, there are a lot of things that need to change. I know fans of the company don't take criticism well sometimes, certain ones. Know this, this is somebody from the inside, the structure is a little off. It's fine to be loose, but I like to have a little bit more structure.

I felt like the women shouldn't have gone through everything they went through just to get on TV or get time. You're signed to this big company, you should get time. All these men are getting time, but the women weren't getting anything or you're not putting people on TV because more people are coming in." – Big Swole (via Callin, transcribed by the Sportster)

Chavo Guerrero also got mucked around by Tony. He was browsing the AEW website one day to find he'd been removed from the roster page. Chavo then posted this in a now-deleted tweet:
"That's news to me! I guess having @TonyKhan telling me to go film Young Rock Season 2, & my job will be waiting for me when I'm done, didn't mean much." – Chavo Guerrero via Twitter.
Jonathan Gresham is the most recent member of the ghosted by Tony crew. The former ROH World Champion dropped his belt to Claudio Castagnoli at ROH Death Before Dishonor last weekend. Gresham and Tony Khan clashed backstage and left the vibe feeling "ugly and unprofessional," by several accounts. Not all reports mention that Gresham "cussed out" Khan, but they all end in Gresham being unhappy. He has since asked for his release, and it looks like there may be a chance he's done with wrestling altogether.
Puffing His Little Chest Out
Here's another one for the "Just Like Vince" folder. This is Tony's gloating Tweet from the night of Vince McMahon's retirement announcement.
Obviously, Tony didn't win the race. The other guy got too old, made it really easy to overtake him, and then pulled out.
Panic Sets In
Lastly, and most recently, Tony's paranoia may be seeping through now that changes are being made in WWE. After the announcement that Triple H is at WWE's helm, Tony started looking at his roster and wondering who was thinking about running back to Daddy H. There are a lot of former top guys from NXT in AEW now, and Tony is starting to sweat because Vince is out of the way. I would have also added the fact that Tony might have let MJF slip out of his fingers, but I'm not going to subscribe to that one until I see him elsewhere.
"I am a little amused that changes in the competition (McMahon leaving, Levesque taking over as WWE's booker), people think that it's going to magically change the landscape. …Some of the narratives that I've seen (on Twitter) for the last week are really amusing me. I've got people signed here for five years and people think just because the CEO, the Chairman, the Head of Creative, those positions change in the competition, people that I have five-year contracts with are just going to magically switch teams? Good luck with that. Adam Cole is signed until about 2027 now. I wouldn't expect to see him go anywhere any time soon…So just because these guys had some success under a previous administration, they're not going to magically be going anywhere else." – Tony Khan (via 27-July-22's Busted Open Radio, transcribed by ComicBook)
Tony Khan is so amused and totally not concerned by this development that he started extending the contracts of people who are out with an injury. Nice touch, Tony. That's certainly not the sort of thing Vinny Mac would do! </sarcasm>
Tony is also adamant that we're all going to smile while eating the shit he serves, which is another Vince-ism. AEW has a solid 700,000 or so diehard fans. The millions and millions of wrestling fans in the world that don't buy into Tony's fantasy see Tony's attempt at force-feeding the same as Vince's; they're just different flavors of shit.
So, now that we've seen elements of Herb Abrams and Vince McMahon dribble out of Tony's frazzled little mind, the future seems a bit clearer. I've stated before that it's only a matter of time before baby oil, a baseball bat, and office furniture get involved.
I'll see you at the next PPV review!
Thanks for reading about AEW mass-reporting fans. Feel free to get in touch on Twitter, SUBSCRIBE to my YouTube channel, and check out everything else I write about over on: