That's Not Wrestling #3: Matt & Nick, The Hardy Soyz
The Young Bucks, AEW Dynamite, Tony Khan, Kenny Omega, & more!
Welcome, and thanks for joining me at Geeks+Gamers! This week I discuss The Young Bucks, AEW Dynamite, Tony Khan, Kenny Omega, & more!
A couple of years ago, the planets looked to be aligning for a fantastic shift in the realm of pro-wrestling. Talk of a smashing new promotion with a television deal and "serious, sport-based wrestling" was on everyone's lips. Finally, the modern wrestling fan's life of "eating shit and learning to love the taste" was over. Or was it? Meet me here every Thursday to pick apart the actions of the daft, the dangerous, and the desperate in pro-wrestling… well, in AEW anyway.
<Last Week's That's Not Wrestling!
While I'm still working my way through two years of historic AEW material, That's Not Wrestling will meander between the latest episode of Dynamite and something from my big bag of bugbears.
This week's focus: two of the most slappable faces in pro-wrestling… and not for the right reasons!
The Hardy Soyz
Nick and Matt Jackson's venture would go from two brothers cosplaying as The Hardy Boyz in their backyard, to them being praised as the best by many an indie wrestling fan, to starring in their own YouTube show, and most recently, to Tony Khan's swimming pool full of coins and AEW.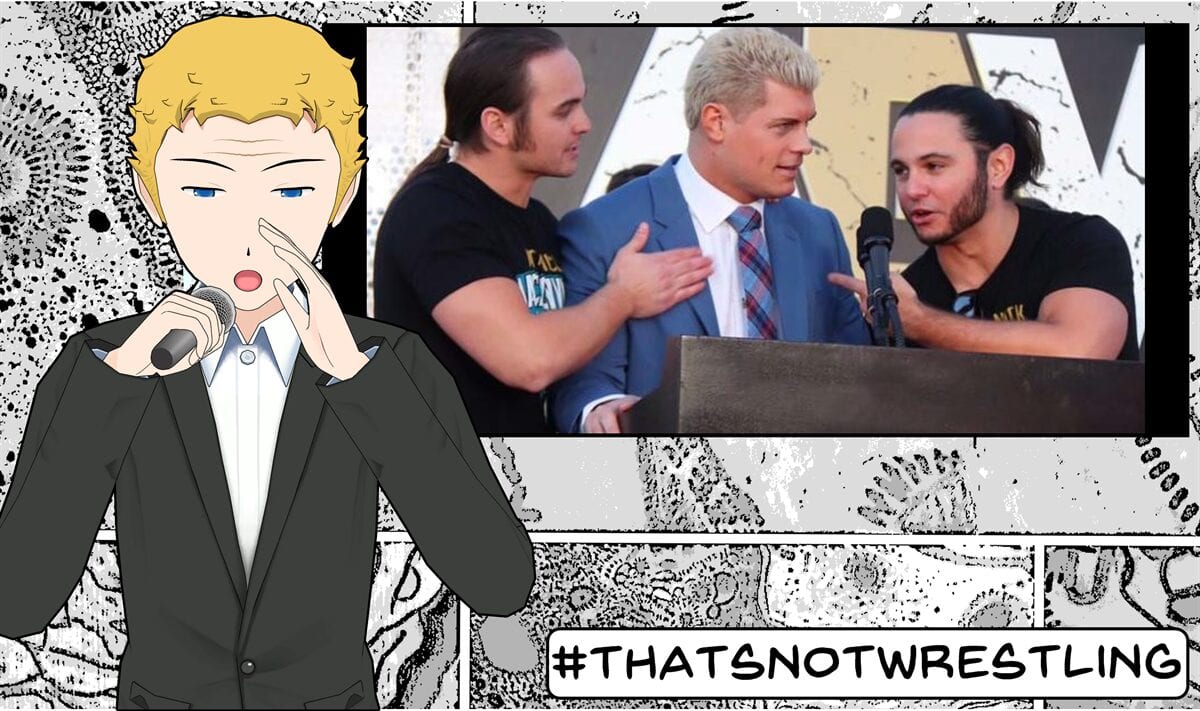 Credit to Matt Jackson first. He has a naturally slapable face, and that works wonders now that they're pretending to be wrestling heels. Credit also goes to Nick Jackson, who's starting to look older and tougher each week. Well, by that, I mean he looks like he started puberty not that long ago… unless he's not wearing his Alice band/hairline denier, of course.
As I always try and offer some balance in these, I'll say that The Young Bucks are not without ANY merit. Even Matt can make a claim of being a great athlete and gymnast, even if he's a terrible pro-wrestler. Both of The Bucks can do all the flips, and the dives, and the twirling, just like everyone else can and does. But this doesn't mean they can put on a great wrestling match. They just happen to have found a bigger platform for their YouTube show and love emulating what they do when they play as themselves on wrestling video games.
Everyone goes 100 miles per hour from the bell and runs through the shit that THEY need to get into the match. The crowd is rarely a factor in what happens, other than to satisfy the egos of needy spot-monkeys when they find something to jump off. The matches don't stand out from each other, and they're soon forgotten about.
Up until recently, just about every Young Bucks match went 10-20 minutes too long, seeing everyone's finish five times and having far too many near-falls. They have video footage of themselves kicking out of just about everything… twice.
Notably, they almost had a good match with a sensible finish this week on Dynamite. But they couldn't help themselves, and they used the aerosol can another couple of times before getting the win.
I wonder why this is allowed to continue when more and more people on the roster actually understand what makes a good tag-team match. Hell, this is a problem with singles matches too. I wonder who else loves this short-sighted key-jingling…
There you go! Of course, that's what the problem is. One of the other Executive Vice Presidents is resident Final Fantasy 7 cosplayer Kenny Omega. The final EVP is (as always) off doing his own thing, which just leaves cash-cow Khan. As mentioned a couple of weeks ago, there's a certain way to rub Tony Khan to make money and TV time fall out, and it hasn't taken people long to learn the technique. Tony loves the high spots, not much of a fan of the journey, though. It seems to be beyond his attention span.
I wonder, how long will harmony last in the land of the elite? Whisperings have made the rounds that suggest the EVPs have already been butting heads. The Hardy Soyz disabled their Twitter account the first time they got lots of customer complaints a year or so ago – blaming fan toxicity and not the fact they heard some constructive criticism and ridicule and proceeded to run home crying. They're obviously not fans of differing opinions or hearing the word "no." I don't think any of them are.
Keep trying, kiddies.
Good Stuff
Last week, Pac power-bombed Orange Cassidy into a daze, causing the finish of the match to be changed on the fly.
I'm happy to see this didn't go any further or get any worse, especially with the ever-growing pile of injuries incurred in AEW so far. It's never too late to employ a bit of common sense and acknowledge that there is more to wrestling than hurting yourself (or someone else) just for the attention. Let's take a look at who's been hurt/on the shelf so far.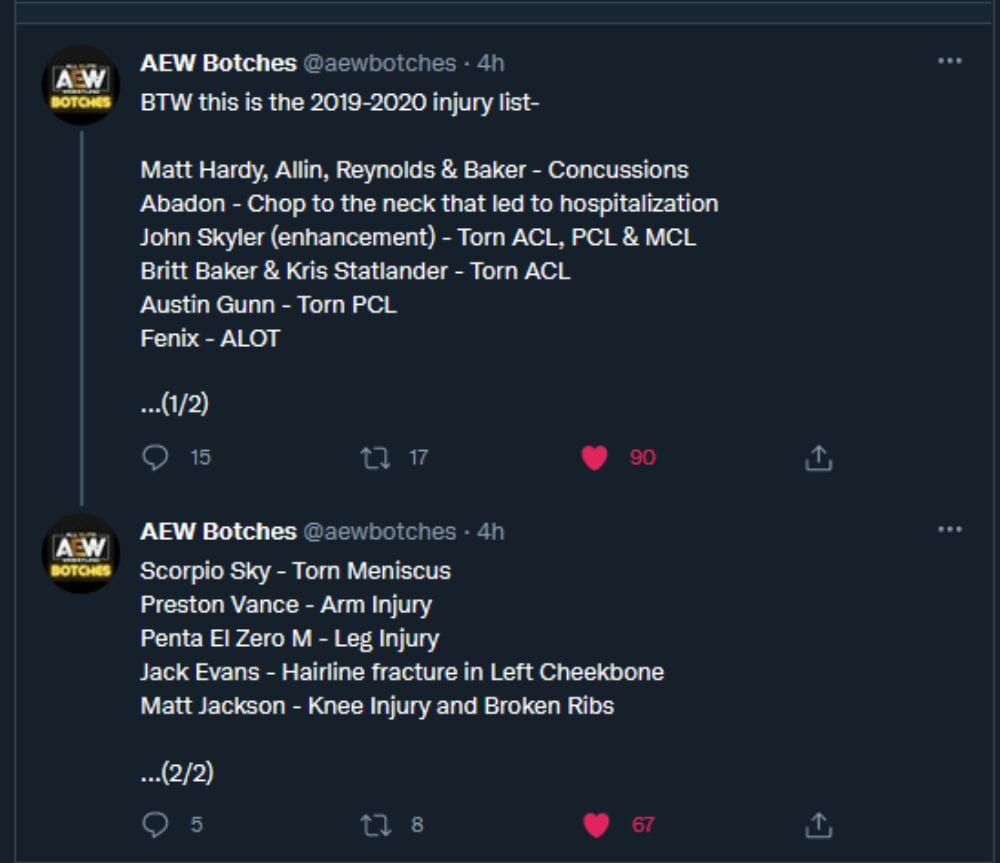 @AEWBotches does a great job on Twitter. Let's hope AEW pays attention to this before they have no talent left to showcase. Thumbs up for now, though!
It's taken two years, but it's almost like AEW is beginning to listen to advice from people that have been there and done that before. They're still going to deny this and continue to slag off certain old-timers for being out of touch and angry, but some of the basics MAY actually be sinking in. Production meetings, protecting the health of their staff, not having every match be a Shawn Michaels vs. Bret Hart Iron Man Match epic – all of these are pointing vaguely in the right direction.
This Week's Dynamite
Christian and Matt Sydal had a good opener. It looked like a contest, it didn't go on for too long, and it ended once Christian hit his finish; good stuff. More of this, please.
Eddie Kingston and Jon Moxley's promo went nowhere, but them stealing The Young Buck's pointlessly expensive shoes after knocking them out at the end of the show made up for it.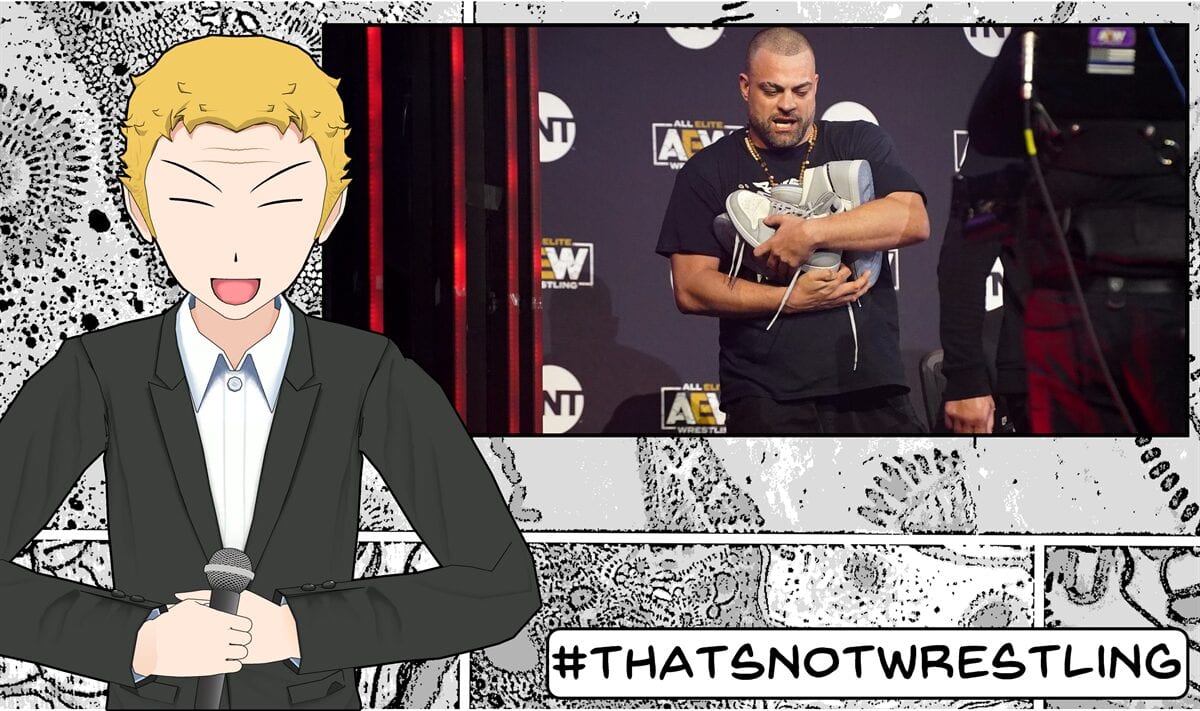 Max Caster is proving to be highly entertaining in and out of the ring. I've not seen a great deal of him, but I look forward to seeing what he's gonna say/do.
The same goes for Anthony Ogogo. We got to see him annihilate Austin Gunn with minimal effort, and AEW has gone so far as reporting that Gunn will miss 8-10 weeks of action because of injuries sustained against Ogogo. Let's hope this monster isn't ruined by Cody Rhodes and this silly Britain vs. America corner he's painted them both into.
Miro has become The BEAST Man (to me, at least), and he and Lance Archer are set to clash for the TNT title at Double or Nothing on May 30th. Before that, however, Miro will also defend his title against Dante Martin on the May 28th episode of Dynamite. It's one thing to have Miro in action before his title defense, but no one's buying that the title will change hands before the PPV, and Archer's opportunity seems less impressive if people can just jump in front of him.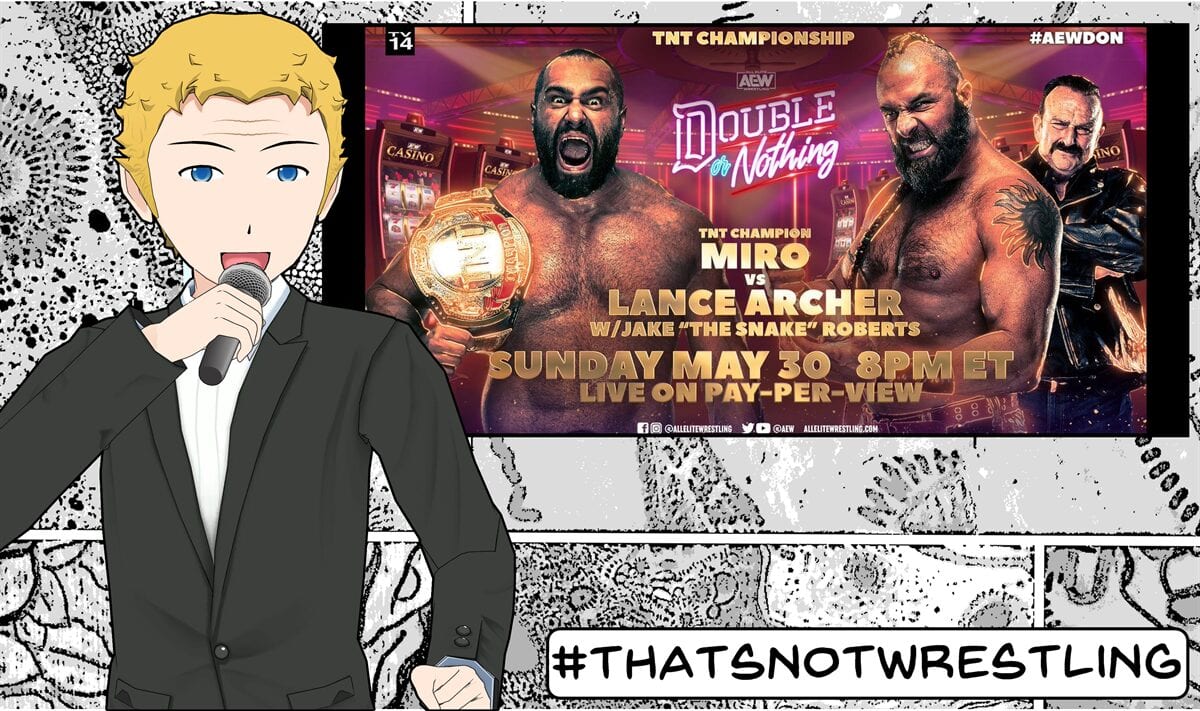 Kenny Omega had a conversation with Orange Cassidy for about ten minutes, and it was as much use as tits are to a bull.
While The Inner Circle stood in the ring and recited their lines, Chris Jericho reminded everyone that they've already had the most brutal feud-ending match type, and now their escalation leads to a Stadium Stampede match. It was obvious that another Stadium Night Live sketch would rear its ugly head, but it makes no sense to go from Blood & Guts to this nonsense.
Still Needs Some Work
I know it seems like I've talked about enough positive stuff to relax a little, but that's not the case. Just because a little bit of wrestling is seen sporadically doesn't mean AEW should put their feet up.
As I  mentioned in my WrestleMania Backlash Review, WWE whoring airtime to zombies was bad, real bad. It was one giant, steaming turd in the middle of the show that pulled you out of the moment and shot dead any chance of escapism for the rest of the event. However, even if everything that isn't the actual wrestling is ridiculous, WWE talent is trained to a certain level which brings some consistency in quality. I can't take that away from them.
AEW doesn't have the assurance of minimal training to fall back on. They prefer to distribute their muck in the same way a garden sprinkler gets little bits of water everywhere, lowering the bar throughout.
Having semi-convincing contests divided up with Kenny Omega waffling shite for ten minutes, Chris Jericho clinging onto his youth, Cody Rhodes sniffing his own farts, or Marco Stunt flailing around in obviously choreographed routines isn't doing much for the overall product.
That's me being generous, too. More often than not, the matches are botch-filled, the same as all the others, or in Luther's out-of-shape case, embarrassing to watch. So, when something good does come along, it will stand out that bit more.
Jim Ross being surprised that "a wrestling match may break out" way back when still brings a smile to my face. His passive-aggression for what's presented in front of him is one of the things I look forward to the most each week!
That does it for this week. Thanks for stopping by. I'll see you again Monday for #AnotherWeekOfWrestling and next Thursday for more #ThatsNotWrestling!
Background Artwork Designed by Rachael Hope.
NEXT ISSUE:
Thanks for reading! Feel free to get in touch on Twitter, subscribe to my YouTube channel, and/or check out everything else I write about over on: