That's Not Wrestling #9: Turn The Page, Please!
Ethan Page, The Karate Man, The North, Impact Wrestling, AEW, and more!
Welcome, and thanks for joining me! A couple of years ago, the planets looked to be aligning for a fantastic shift in the realm of pro-wrestling. Talk of a smashing new promotion with a television deal and "serious, sport-based wrestling" was on everyone's lips. Finally, the modern wrestling fan's life of "eating shit and learning to love the taste" was over. Or was it? Meet me here every Thursday to pick apart the actions of the daft, the dangerous, and the desperate in pro-wrestling… well, in AEW anyway.
<Last Week's That's Not Wrestling!
It's a bittersweet issue of That's Not Wrestling this week. It's not nice when something you enjoy gets overdone or goes off and changes into something else entirely. This is no different with wrestling. I've mentioned before that there are a few people in AEW that I have my eye on, that if handled properly, will turn into big stars. Here's someone that should be right up there but who has also shown that he's capable of taking a piss on wrestling for the sake of cheap pops and quick yuks. I'm hoping that he can turn the page on this chapter of his career, and we move far, far away from it and into something better than ever… but he is in AEW, so I won't hold my breath.
Before we get going, here's a little treat from me to you. It's only an entrance song, so no need to get distracted. Hit play and keep on scrolling down!
The North & Impact!
If like me, you were brave enough to wade around in the sewer-like waters of Impact Wrestling last year, there's a chance you spotted something other than floating turds and Don Callis. As well as Moose, Taya Valkyrie, Tasha Steelz, Rohit Raju, Kylie Rae, Eric Young, Deonna Purrazzo, and a couple of others, there was also a dominative tag team known as The North.
The pairing consisted of "The Walking Weapon" Josh Alexander and someone we've seen quite a bit of recently, "All Ego" Ethan Page. Without reducing the abilities of anyone, I'm going to make some generalized comparisons to save time. Imagine Ethan Page as somewhere in the middle of Die-Rocky-Die era The Rock, mixed with The Miz. Well, Josh Alexander fell somewhere between Kurt Angle and Ken Shamrock. Page would mouth off, distract, and belittle; Alexander would pull arms off and grind faces into mush. It was an entertaining setup.

The North had an impressive title reign from July 5th, 2019, to July 19th, 2020, and they also held the gold for a second time when The Good Brothers turned up and played hot potato with the belts with them and The Motor City Machine Guns. Not long after that, The North split up and went their separate ways, Page obviously leaving the company altogether to join AEW.
I know that looking like a superstar in Impact Wrestling may not be that impressive to some. The only reason I allowed Impact to try and woo me again was because of WWE and AEW hitting a wall with the lack of live crowds and ideas. I figured Impact had a chance to sneak up on everyone with something a bit more serious and mature, which they did, in part, but it didn't last long.
In my opinion, Impact had the better women's division momentarily (see: Jordan Grace vs. Deonna Purrazzo), and their tag-team matches made sense… most of the time. Impact started to overdo it with the pre-filmed nonsense during the lockdown, and they didn't get out of the habit; in fact, it got worse. Thanks to the first five minutes of Wrestle House being mildly amusing, Impact got addicted to the format, and they inevitably craved The Karate Man.
The Karate Man
Just like The Young Bucks, and just like The Good Brothers, and just like many others, Ethan Page also makes his own extra-curricular entertainment on the internet. Some of it is footage from fan-fests, him and others trolling people into buying their merch. Some of the videos show Page's love for figures, toys, food, and fitness. Sometimes Page films backstage clips from wrestling shows, but now and again, he likes to tell stories about The Karate Man.
I've always suggested people find a productive/relaxing hobby that they enjoy and jump in as often as they can. Being a keen filmmaker in his spare time has certainly been a way for Page to maintain his sanity when traveling/living away from home/being locked down for a while, so I absolutely understand where this has come from. I suppose it wouldn't have hurt his online following and attention at fan-fests, either! Some of the fan interaction footage is entertaining, and MJF even shows up from time to time. As good as some of that is, however, I didn't see this next part coming… and I wish I hadn't seen it once it got here.
Ethan Page vs. The Karate Man

I'm obviously not going to slander anyone that plays around with multiple and/or dissociated personalities on the internet. I am going to slander where one of these matters should have remained as nothing more than beef on social media. Page and The Karate Man began feuding on Twitter, The Karate Man challenged Page to a fight, and this eventually turned into Page making a fight scene between himself and his YouTube persona.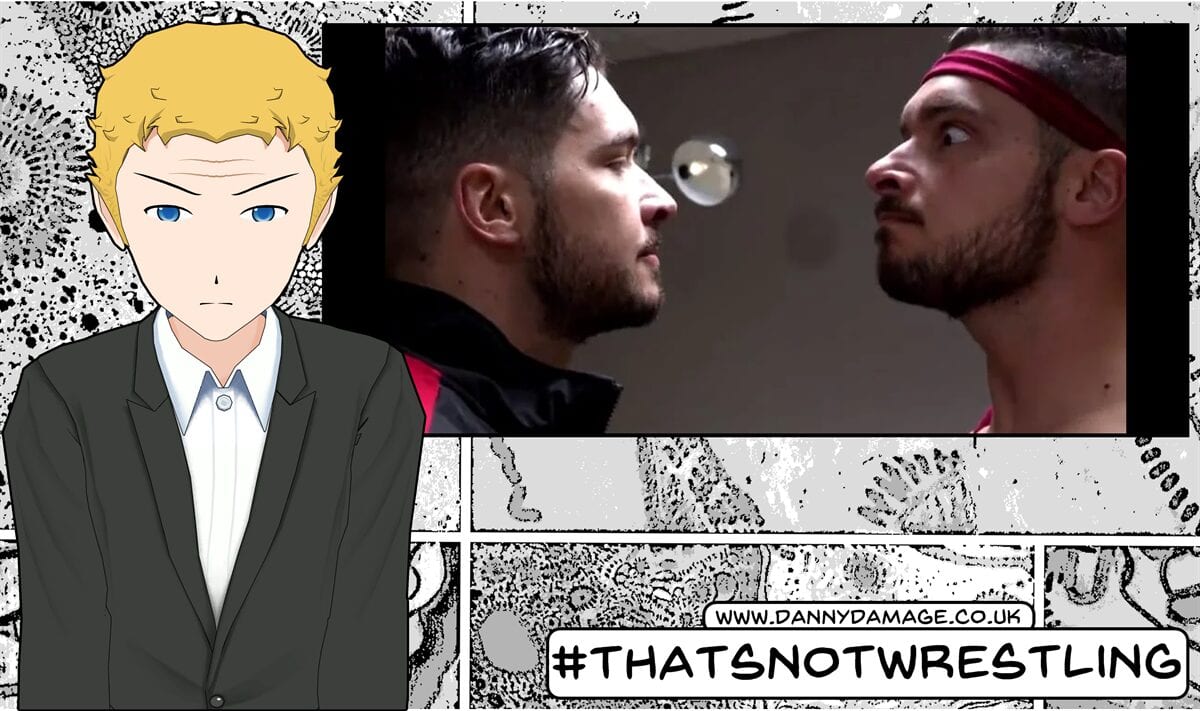 It would have been one thing if this was just a case of "I'm a filmmaker and I'm locked down; here's something on my personal channel that I made to pass the time," but it wasn't. Impact/TNA aired it as part of a pay-per-fucking-view! Apparently, Page agrees with me and didn't agree with Impact regarding it being aired, but it wouldn't be the first time someone in wrestling back-peddles when things don't land as well as they'd expected.
"I'm so embarrassed with how IMPACT! lazily edited that segment last night & forced it to be a joke. I felt the thought of the same guys fighting each other was comedy enough & the more serious we took it the better the reaction would be. But cuz I left the company, they lied to my face & just did what they wanted the whole time. I'm sorry if any of my fans paid for that PPV & felt cheated. I honestly feel the free version I gave away was made with more love, care & attention to detail. Sadly I had no control over the creative or the final product & the editor refused to send it to me beforehand …. so I saw it live with you guys & was surrounded by family. All scratching their heads at that high school project level delivery on a PPV." -Ethan Page

Even if there is a "more serious" edit of this on his channel, we're still swimming in waters ever so close to Kenny Omega wrestling kids and blow-up dolls. I wish it weren't true, but these things happen.
"I actually begged IMPACT! Not to even have Karate man on TV. I only wanted it for my YouTube channel. But … we don't write the shows. We just get the scripts & do our best. Idk what else to say. Breaks my heart this company refuses to respect its talent or it's fan base on a regular basis." -Ethan Page
Speaking of disrespecting the fanbase and disrespecting the talent… ahem. AEW has proven in two short years that making shit up when things go wrong is perfectly fine over there, so I'm cautious of Page's attempt to distance himself from it. Sadly, there will be enough people backstage and online clapping like a line of sea lions that this sort of shit belongs on a TV wrestling show and not just a YouTube channel.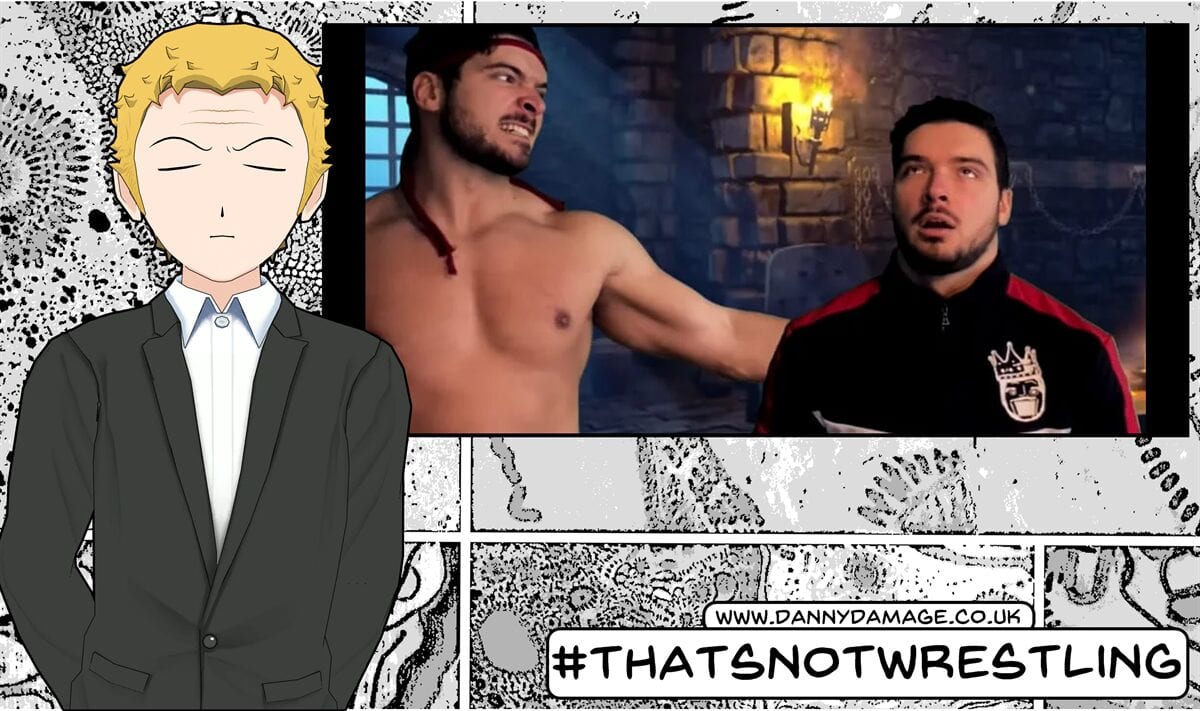 This video (both versions, if we're being honest) has now become as embarrassing to Page as a sex tape is a news anchor. Sure, there are a few of the lads that will cheer Page on because they've seen him in an unflattering situation and they feel better about themselves by proxy, but everyone else points and laughs at the footage, then at Page. After mortifying me with this hideous transformation of great talent into tacky comedy, this was the last straw; I stopped watching Impact and didn't look back.
AEW Debut
It was a pleasant surprise this March at AEW Revolution to see that Ethan Page had joined AEW and that he had signed a three-year deal. Once the excitement wore off, however, I wondered what Page was bringing with him to a promotion that isn't exactly known for its "sports-based presentation." At the end of the day, Page still has his YouTube channel, and The Young Bucks still see AEW as an extension of their online show. Whatever happens in that world can (and probably will) crossover into this one.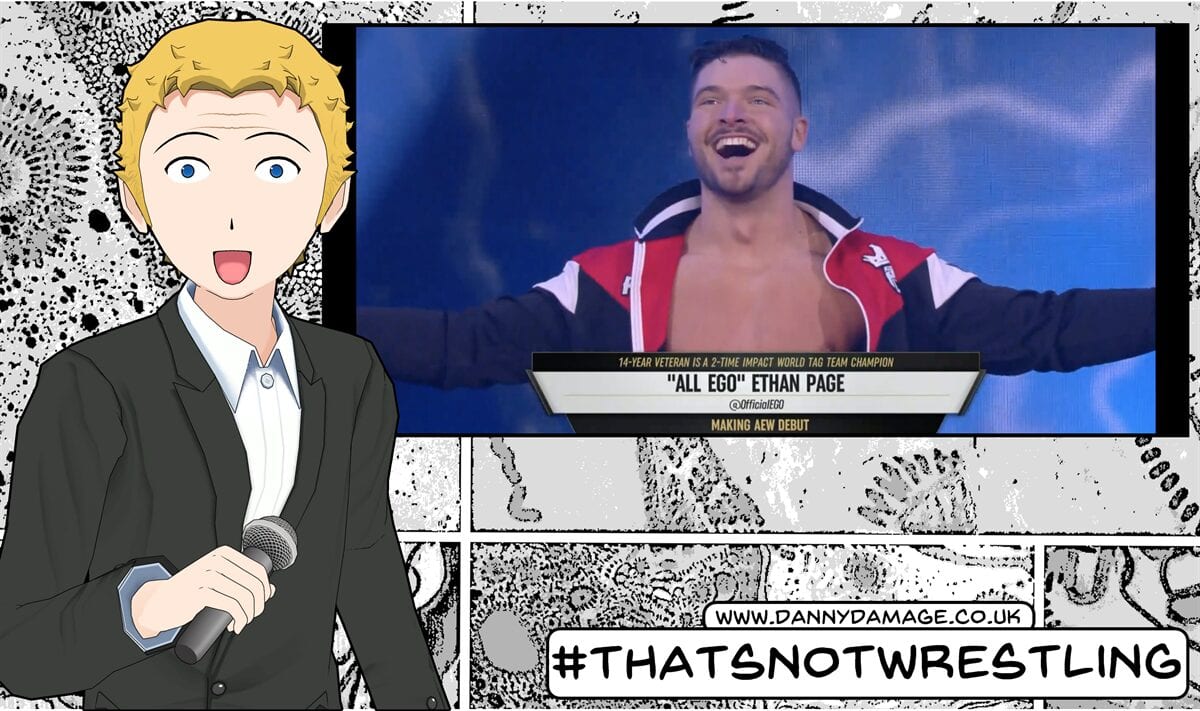 Fortunately, Page initially focused on Darby Allin and feuded with him. These guys know each other really well and work together nicely. This grudge soon extended beyond the two men; Allin found back-up in the form of Sting, and Page teamed up with Scorpio Sky. Sky and Page have proven they're great as both single wrestlers and tag team wrestlers; on paper, this looks like quite the formidable duo.
Fingers Crossed
Page and Sky have displayed good chemistry together; they know what to do when the ref's back is turned, they're efficient at aggravating a crowd, and I even think I've seen the tag-rope being used! Let's be honest; they're both over-qualified to work with the Redundant Referees in AEW, and hopefully, Page will get to show that he knows what he's doing in there, week in and week out. So far, he's had a couple of great showings, but all in all, he's just beaten up Old Man Face-Paint and his grandkid a few times, then lost in the official match at the PPV. Oh yeah, he dresses like a beach bum now instead of an obnoxious sports jock. It's still essentially the same character.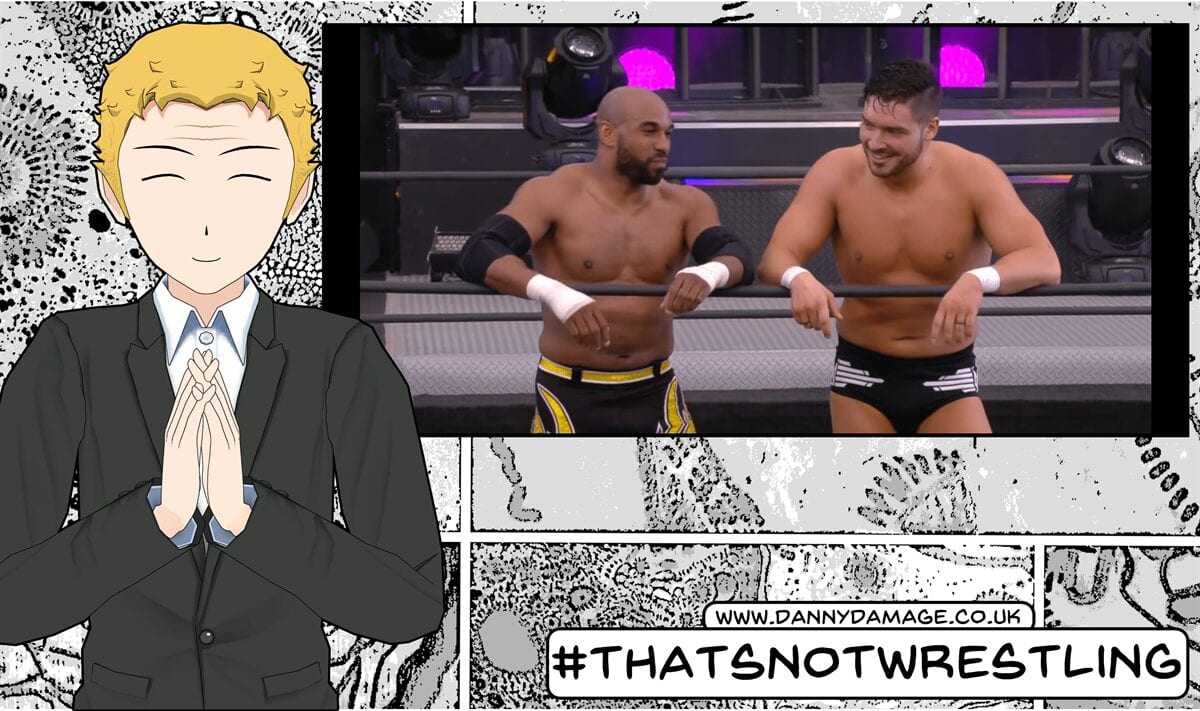 Please, Page, please; I know the smell of your own and everyone else's farts may be intoxicating and offer quite the rush, but the novelty of School-Yard Era AEW will pass. Keep your head down, work hard, and crack on with standing out from the pack… without competing in any competitions of self-humiliation. This bollocks is just the "New Coke" story but within wrestling. Tradition and appreciation for the basics will return once people realize they're not enjoying themselves as much now and remember how glorious, fun, and profitable things once were.
The main problem is that certain people have lots of time, money, and clout invested in this modern cosplay wrestling model already. If they get their way, they aren't going to go back to the original recipe any time soon, if they remember it. Perhaps most have forgotten or never knew what proper wrestling was in the first place. It's beginning to look that way, especially when so many get so defensive so easily.
Anyway, my heart hasn't been ripped out entirely yet, so I'm still (cautiously) watching Ethan Page with relatively high hopes.
That does it for this week. Thanks for stopping by. Don't forget to check out the Putting It Bluntly: AEW Double or Nothing review on my YouTube channel. I'll see you again Monday for #AnotherWeekOfWrestling and next Thursday for more #ThatsNotWrestling!
Background Artwork Designed by Rachael Hope.
Thanks for reading! Feel free to get in touch on Twitter, subscribe to my YouTube channel, and/or check out everything else I write about over on: