The Orville Season 2 Trailer Lifts Off at Comic-Con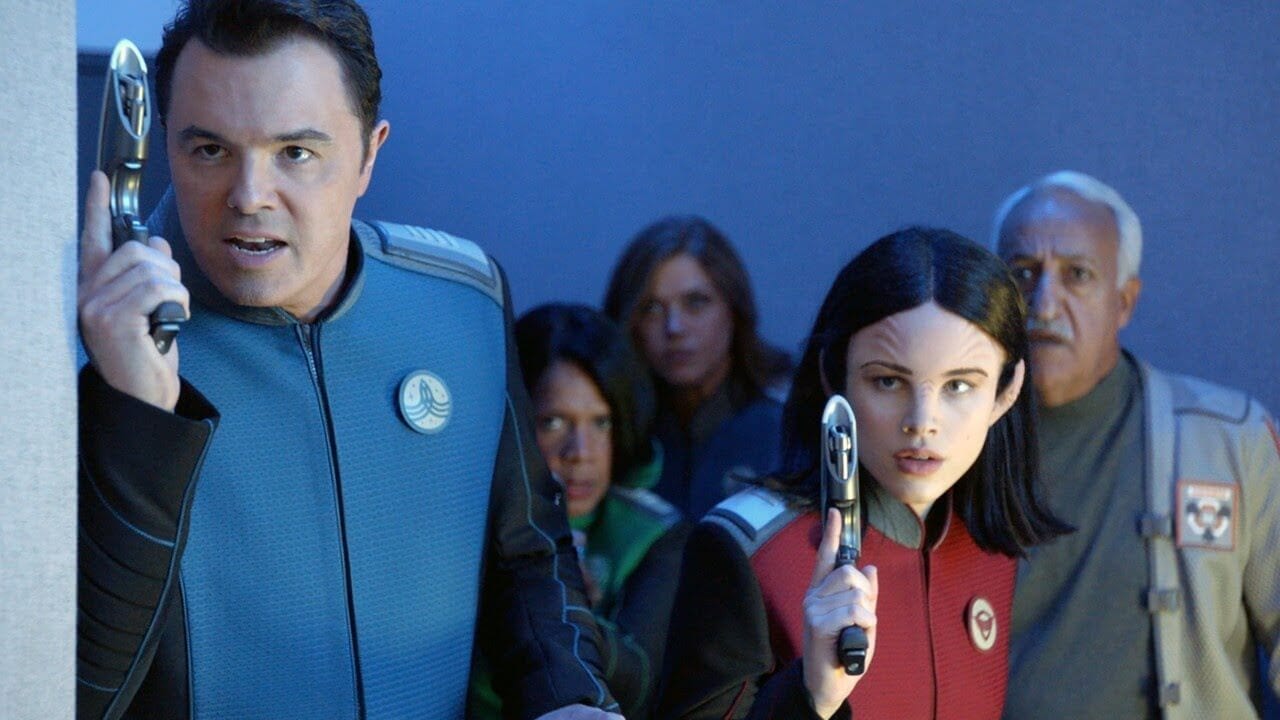 Amidst the epic movies, fan-favorite superhero shows, and long-awaited returning series, one sci-fi show seems to have slipped through the cracks at the San Diego Comic-Con this year: The Orville. The space-faring dramedy's second season promises more of the tonal balance and social commentary its viewers have quickly come to love. Check out the Orville season 2 trailer below:
https://www.youtube.com/watch?v=lavy7qZ1aoo&t=0s
Quick confession: I adore The Orville. It hooked me maybe halfway through the pilot and never let me go. Equal parts a spoof of and homage to Star Trek, the show manages to have insightful allegories and resonant character development while dishing out plenty of Seth MacFarlane's brand of humor (which you either like or you don't, I guess; I love it). I was sure it would never last, but to my surprise, it seems to have caught on and was renewed. The Orville season 2 trailer starts off with a moment that perfectly encapsulates what the show is about: MacFarlane's Captain Ed Mercer makes a speech about embracing different cultures and joining together with the rest of the universe, then quickly makes a self-deprecating joke to keep things from getting boring. What follows is an enticing mix of laughs, action and human drama that intensifies my hate for the long wait till season 2. Production values appear to have risen, and the action scenes look more intense than those in season 1. (Hopefully Jon Cassar, a veteran of 24 who helmed a couple of episodes last year – including my favorite, "Krill" – will get to bring his talents to even more installments.) My biggest relief is seeing Alara be a fairly major presence in the Orville season 2 trailer; she's tied with Ed as my favorite character, and there have been rumors that she's being written out of the show due to conflicts with a Netflix movie that was shooting at the same time. While that's still possible, and there are glimpses of a different security officer, I think it's more likely they just shot around her and maybe gave Halston Sage a hiatus so she could do both. Alara is very popular, and I don't think they'd want to lose her over something like that. (I'd miss the "Alara, you want to open this jar of pickles for me?" running gag.) Not that I'm entirely at ease, but it was nice to see her around. No sign of the Krill either, though after setting them up as the Klingon-like villains of the series, I'd be surprised if they didn't turn up again. I also hope they incorporate the unaired episode from season one at some point. Regardless of what happens (with the exception of jettisoning Alara; seriously, don't do this), I'm excited to see The Orville again. The Orville season 2 premieres Sunday, December 30.
What did you think of the Orville season 2 trailer? Did you love season 1? Will you riot if Alara leaves the show? Let us know in the comments and stick around Geeks + Gamers for great news, reviews and more!