The Real Folk Blues: Cowboy Bebop's Anime Legacy
How the Bebop's ragtag crew of bounty hunters broke the canons of anime to become the stuff of legend.
Autumn, 2001: North America's paradigms were changing, never to look back again. The ruling party changed in Mexico for the first time in almost 80 years, the USA was attacked by Islamist terrorists… and a peculiar cartoon from Japan made its way into the TV sets of the territory.
Cowboy Bebop was born from — of all things — the Star Wars prequel hype of 1997. Bandai planned a line of spacecraft toys to exploit the trend and needed a cartoon to promote it fast. Showrunner Shinichirō Watanabe quickly jumped at this opportunity and was granted full creative control. This situation was ideal for the director's solo debut. Still, Bandai's toy division at the time felt that Cowboy Bebop was too adult and eccentric for a toy line. The future of the ambitious series was uncertain, but sister company Bandai Visual saw the true potential of Watanabe's vision and rescued the project from development hell.
What makes Cowboy Bebop's "bell peppers and beef" so great? This is a complex topic because it is the fine-tuned sum of all its ingredients that made this one of the most celebrated pieces of animation of all time. We have to break them up one by one, so let's jam!
WORLD-BUILDING
One of the things that made the original Star Wars trilogy work was the lived-in ambiance unseen at the time. 21 years later, Cowboy Bebop went above and beyond implementing this concept. Not only does the show have a lived-in sci-fi vibe; I'd go as far as to say the Sunrise Studios team (also known as Hajime Yatate) made a pastiche of themes and settings impossible to not relate to. These ideas and characters feel at home regardless of where you live. Cowboy Bebop mostly takes place on other planets and in outer space, but its themes and vistas are universal. Episodes take place in mean streets similar to the ones in Tijuana, Mexico (Asteroid Blues), a cathedral that looks very similar to Notre Dame in Paris (Ballad of Fallen Angels), casinos in Las Vegas (Honky Tonk Women). All this comes on top of impressive space ships like the Bebop or the Swordfish II. And yes, there are a lot of musical references in this anime, from the name of episodes to the characters like the three old men we constantly find goofing around: Antonio, Carlos, and Jobim. They were named after the Brazilian Bossa Nova legend Antônio Carlos Jobim.
With such a solid, relatable foundation, Hajime Yatate was off to a great start building up a memorable animated TV show.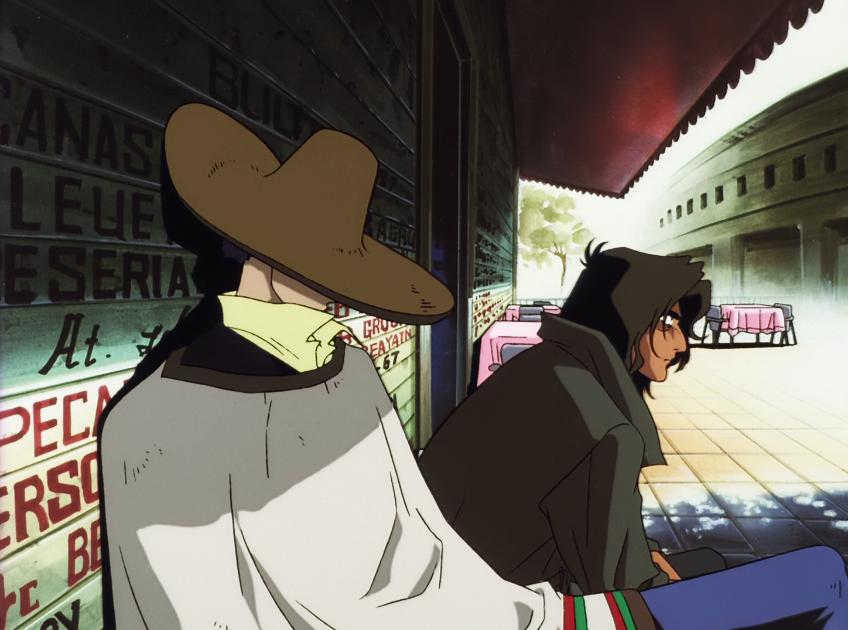 TIMELESS ANIMATION
The anime landscape was already shifting back in the Cowboy Bebop days. Computers were taking over the animation process leaving the complex art of cel animation behind, but this beautiful artistic process went out with a bang. Along with the highly celebrated Trigun anime adaptation, Cowboy Bebop was one of the last animated shows to use traditional hand-drawn animation. It became the shining example of how, with passion for your project, you can make a timeless piece of art unmatched even by today's computer-processed standards. Just looking at Spike's Bruce Lee-inspired fluid-like-water fight scenes puts most modern animation to shame. Hell, it puts to shame the live-action fight sequences we've seen on the Netflix trailer adaptation, and those are real people doing the stunts!
OUT-OF-THIS-WORLD MUSIC
Musical references are not the only splendid thing regarding music in Cowboy Bebop. The show's title itself alludes to the Jazz sub-genre popularized by the likes of Sonny Rollins and Miles Davis. Yoko Kanno put together an international ensemble of musicians for the show to bring home the eclectic ambiance the Cowboy Bebop pastiche was betting on. The result was a world music/world fusion soundtrack in a league of its own. This is quite possibly the most celebrated anime soundtrack of all time; it turned Yoko Kanno into the Ennio Morricone or John Williams of anime overnight.
Here's the "Tank!" opening theme challenge to prove it. Watch it and try not to get pumped for the remainder of your day! 
CHARACTERS WITH CHARACTER
Watanabe and designer Toshihiro Kawamoto created our now-beloved bounty hunters. Watanabe wanted to make characters that reflected both aspects of himself and some which were his complete opposite. Kawamoto focused on making the main cast stand out individually. However, they're thematically tied to each other through their burdensome past and desperate quest to let go of it. The Bebop is effectively a limbo filled with lost souls wandering through space, trying to find some meaning to its journey while going through the motions. But that's a topic we'll expand on later.
Spike Spiegel is the main focus of the story. Spike is inspired by Yūsaku Matsuda's portrayal of Shunsaku Kudō in the Japanese TV series Tantei Monogatari with a little Bruce Lee-style combat sprinkled in. He's an aloof, sometimes goofy former mafia enforcer looking to understand his place between his haunted past and directionless future. His partner-in-crime, Jet Black, is a disillusioned veteran of law enforcement. Jet's mechanical arm reminds him of how corruption can bend or break straight arrows. This pair of bounty hunters live life a-day-at-a-time, scraping up enough Woolongs (₩) to pay for meals and bills.
Their lives turn more interesting when they cross paths with Faye Valentine, Ed, and Ein. Faye is a woman from the '90s trapped out of time due to a cryogenic accident, and Ed's a free-spirited hacker-savant inspired by the playful personality of Yoko Kanno. Ein is a lab-bred, award-winning Corgi that was stolen from his scientist breeders and managed to escape to live the simple life of a dog on the Bebop). Together they will inadvertently help each other shine a light on the answers they didn't even know they were looking for.
And these characters aren't all the show has to offer. Every single episode is filled with secondary and tertiary characters, which facilitate the story and leave something behind to remember long after they appeared. For example, Julia, the iconic femme fatale from Cowboy Bebop, probably has less screentime than half the peculiar criminals the crew hunts down on an episodic basis. Nonetheless, her impact and legendary status were not diminished by this.
THE COMPLEXITY OF SIMPLE STORYTELLING
The best way I've found to describe Cowboy Bebop's story is that it's just like physics; it's just a bunch of stuff moving around. Sounds pretty simple, right? Well, that simplicity hasn't stopped physics from forming stars or even life. That's what the episodic structure of this anime gets you: an existential post-noir sci-fi formed by placing 26 short episodes and a movie together, creating a big panoramic picture. Everyone struggles to put into words why they like Cowboy Bebop because its simplicity makes it just as complex and as large as life itself. It shows us what happens to the people who survive the tragedies of a noir film and are desperate to know if they are even alive anymore.
The counterpoint to this grim paradigm comes in Ed and Ein. Ed has seen hardship herself, but she knows there's always a new day for a new adventure. She doesn't let whatever happened to her before become an anchor dragging down her future. Ein just follows because nature follows its course. It's always seamless to be what you are rather than what others wanted you to be.
This very mature approach to a cartoon was rare even by Rated-M TV series standards from the period, and Cowboy Bebop didn't gain traction initially. Unsurprisingly, Bandai, the same company producing it, was skeptical about what this anime's potential was. Luckily enough, they found out — just like the fans — that there's only one word to describe Cowboy Bebop: revolutionary.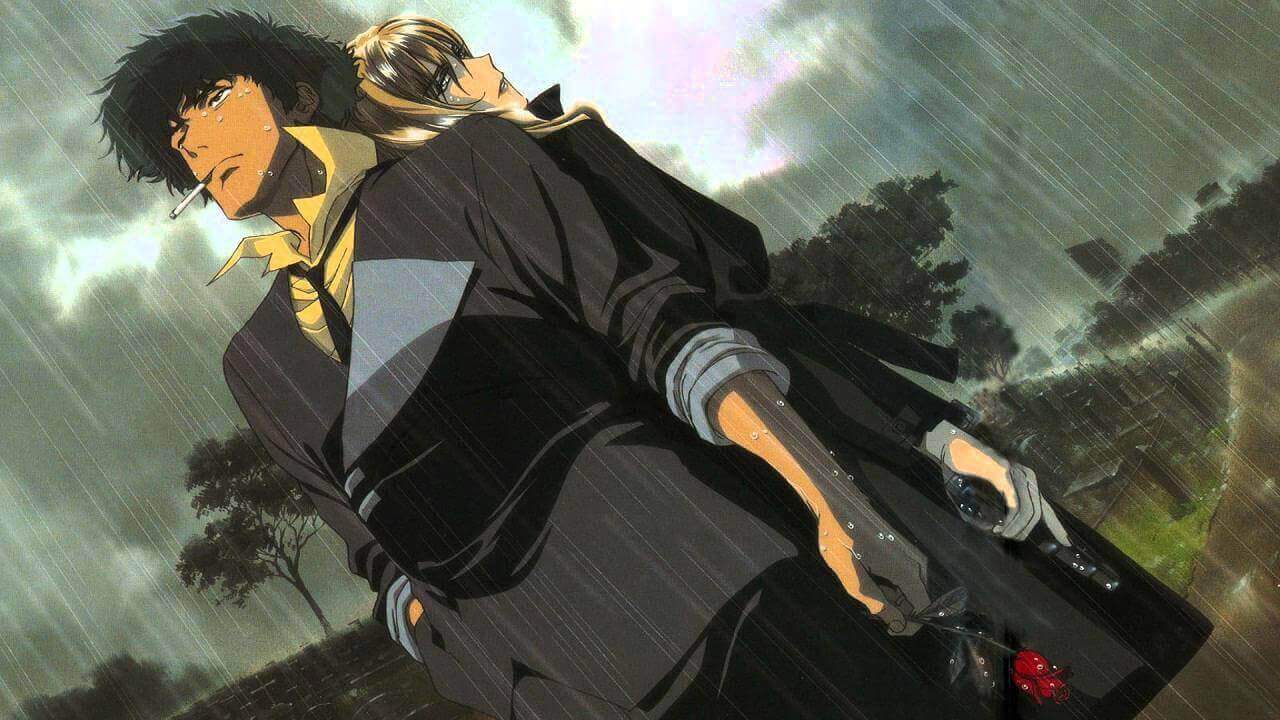 Cowboy Bebop practically has universal appeal, extending to mature audiences that are not even necessarily into the otaku/anime scene. There's something for everyone inside the Bebop. Perhaps the most important legacy it has left behind is how it touched people, from the Sunrise staff who later formed the celebrated Bones studio to all the fans who go back to rewatch this timeless animation again and again to discover something new about the show and ourselves.
See you, space cowboy…