The Suicide Squad Trailer Knows Lots of Bad Words
As director James Gunn promised on his Twitter feed, a red-band trailer for The Suicide Squad arrived online today. Also joining the advertising campaign are some individual character posters – and one outstanding ensemble one. A sequel to David Ayer's 2016 Suicide Squad (though minus a number in the title, probably to sell it as a soft reboot), The Suicide Squad finds Task Force X sent to the island nation Corto Maltese to do some clandestine wet work for the government. Margot Robbie, Joel Kinnaman, Jai Courtney, and Viola Davis return as Harley Quinn, Rick Flag, Boomerang, and Amanda Waller; they're joined by Idris Elba as Bloodsport, Michael Rooker as Savant, Jon Cena as Peacemaker, and Pete Davidson as Blackguard, among others. The Suicide Squad will hit theaters and HBO Max on August 6, 2021. The Suicide Squad trailer is age-restricted and can only be seen here, but check out the poster below: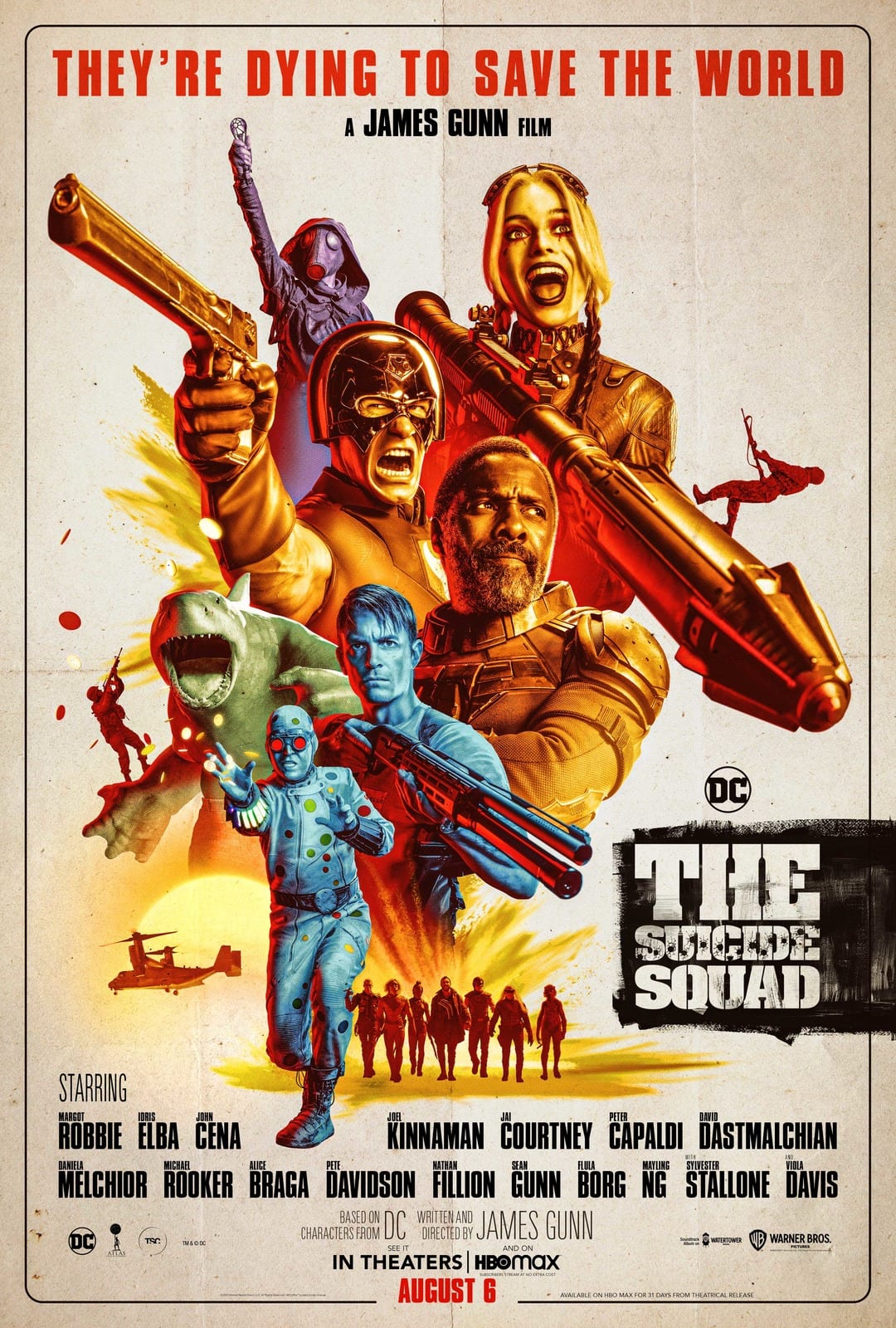 Well, now I have another reason to look on the bright side of Warner Bros.'s 2021 release plan. The Suicide Squad trailer erased any enthusiasm I had for this movie. The footage from last summer's DC FanDome made it look like an old-school action flick with a bunch of crazy comic book characters, and I loved that idea. The poster above perfectly fits that tone, resembling the old men-on-a-mission movies, which is a great fit for the Suicide Squad (more so than fighting a witch lady and her demon army, anyway). The Suicide Squad trailer is a blast of reality, a reminder that this is the DCEU, and they will not let a movie handle its concept well. The jokes are corny, the action looks silly, nobody feels like a danger to anyone, and Alistair MacLean is rolling over in his grave. And they're going overboard with the R-rated language; making it R is fine, but they're cursing like 12-year-olds who've just discovered a new naughty word, not people who naturally use salty language. I've got to learn to stop giving this franchise the benefit of the doubt.
What did you think of the Suicide Squad trailer? Are you looking forward to the movie? Will we be seeing hashtags with "Release the Gunn Cut" a year from now? Let us know in the comments and stick around Geeks + Gamers for more movie news!