This Year in Batman
Five years ago, as I noodled with my blog, I came across a fantastic Bruce Timm-produced Batman animated short featuring our beloved Bat characters Bruce Wayne and Terry McGinnis as they fought to defend the Bat Cave. It was the perfect way to celebrate our dear Dark Knight's 75th anniversary. With the eightieth now upon us, I thought it prudent to take a look at the lead-up to this once-in-a-lifetime event. After all, it's hard not to argue that this anniversary, the Caped Crusader's hardest-fought victory was against someone who could be compared to his legendary rogues: a controversial comic writer.
The comics are always plentiful for Gotham's favorite son, as he is one of DC's perennial sellers (hence why Neal Adams initially let J.M. DeMatteis use Batman in Justice League International back in the day). This year would see the debut of DC Comics 1000, written and drawn by a myriad of Batman creative teams, on hand to represent each decade of the Dark Knight's iconic mythology. The likes of Jock, Bruce Timm, Tony S. Daniel, Jim Lee, Scott Snyder, Geoff Johns, and, of course, Tom King were included. This team of creators all contributed to the milestone issue, be it a story, interior art, or covers. Fans would also witness the culmination of Tom King's much-heralded Batman and Catwoman wedding and, while there were some good moments – particularly with Bruce and Alfred, where our resident billionaire affirms what his butler means to him (much to Alfred's jubilation) – the milestone 50th issue was the subject of much controversy. When our hero fell to Marvel's Jade Giant in sales earlier this year, it left fans perplexed, with King's run becoming more divisive with every issue. As it turned out, Batman was about to go through another transition, with King's 100-issue plan ending at 85 (an announcement made shortly after his meeting at Warner Media) and King moving on to a Batman/Catwoman miniseries and the New Gods film with Oscar winner Ava DuVernay, thus allowing Batman to move beyond King's pen. During the wait for the new team of James Tynion IV and Tony S. Daniel to take over, thanks to the Black Label, we got several more tales announced with the Dark Knight, such as  Three Jokers; Harleen, a dark origin story by Aladdin: Legacy of the Lost artist Stjepan Steljic; and, perhaps best of all, the final Scott Snyder/Greg Capullo  Batman story, Batman: Last Knight on Earth. All of these stories have allowed us to view the denizens of Gotham from different vantage points, at times unshackled from the restraints of continuity. While this may seem like an embarrassment of riches, it was nothing new to fans of the character when it came to the small screen, especially these last five years.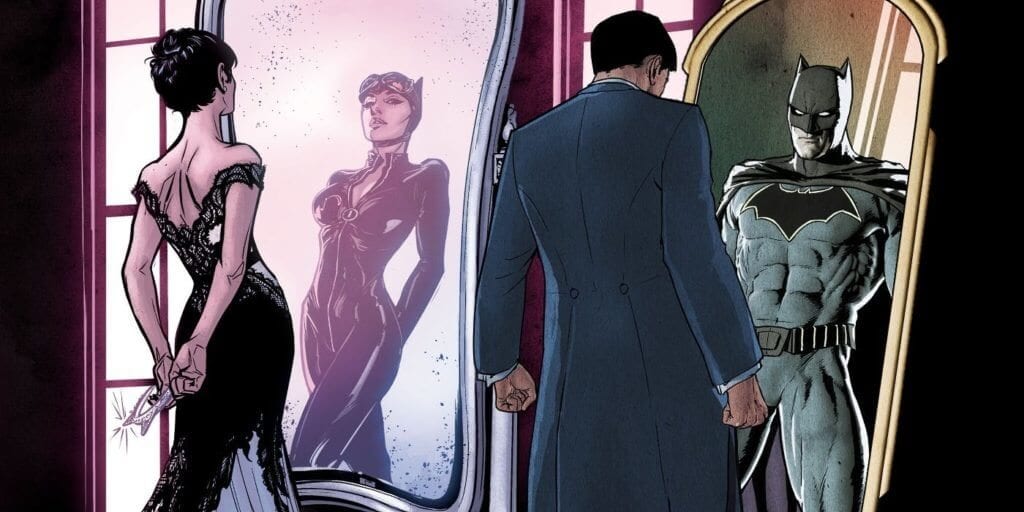 In a way, it seems poetic; the Fox television series Gotham began days after the 75th anniversary, so to have it end in the lead-up to the 80th (on the date of the creation of the Clown Prince of Crime, no less) seems fitting. The Bat Family continued to have their origins delineated in the new show from the creators of Gotham, Pennyworth, which explores the origins of not only Batman's beloved butler but also Thomas and Martha Wayne. While the show has seemed to lose its footing in later weeks, the most recent episode seems to be at least a marginal course correction, so here's hoping it continues for the planned five-year run. Not bad for a mythos that once only had the campy awesomeness of a '60s TV-series and Smallville progenitor Bruce Wayne (my favorite pilot never made).
As ever, animation domination (no, not the Fox Sunday line up) continues for the DC Universe and the year in Batman. Fans need look no further than Justice League vs. The Fatal Five, which brought Kevin Conroy back alongside George Newbern and Susan Blakely as Superman and Wonder Woman for what is, in many ways, a Justice League Animated Series film. I loved seeing the old animation style and even the musical cues; hopefully, we see more of that in the future. For now, though, the fans get to return to the new continuity as Jason O'Mara starred in the latest DC animated movie Batman: Hush, something that O'Mara was particularly excited about because he is a fan of that Batman story. While that adaptation garnered mixed reactions from fans, we still had a lot to look forward to, particularly on the big screen, though it didn't start that way this year. With Ben Affleck's status continually in flux, fans were left wondering what the Dark Knight's cinematic future was going to be. When Affleck officially confirmed he was done as Batman in February 2019, talk officially turned to who would be under the cowl next, with actors such as Jake Gyllenhaal rumored to take on the role. It was not until this summer that the casting rumors began to heat up, with Nicholas Hoult and Robert Pattinson in the lead, the latter of whom was very divisive among the fans who still saw Pattinson as "the guy from "Twilight" rather than considering his body of work outside of the teen romance adaptation. I'm particularly excited to see what the actor will bring to the role. Ironically, however, Pattinson was not, as he stated in an interview that he had panicked once the news leaked and thought that the studio would no longer want him for the role as a result. Fortunately, that turned out to be little more than a case of the jitters and in June 2019 Pattinson was officially confirmed to be our next Batman, with fans becoming more and more accepting of him in the role over the last few months – something that was amplified by the recent potential castings of Jeffrey Wright and Jonah Hill.
Being in the public conscious for 80 years is an achievement not many characters have been able to boast of, yet thanks to the Caped Crusader's generational appeal, there is something for everyone in Gotham City. With a Year in Batman that saw Pennyworth on the rise, Pattinson's casting as Batman coming together, the continued success in the animation department, and James Tynion IV taking over the main Bat book for Tom King in 2020, the future has never been brighter for the Dark Knight. I can't wait to see what tomorrow holds for Gotham's Guardian.