Tom Brady Asked if He Can Play Until He's 50, Can He Do It?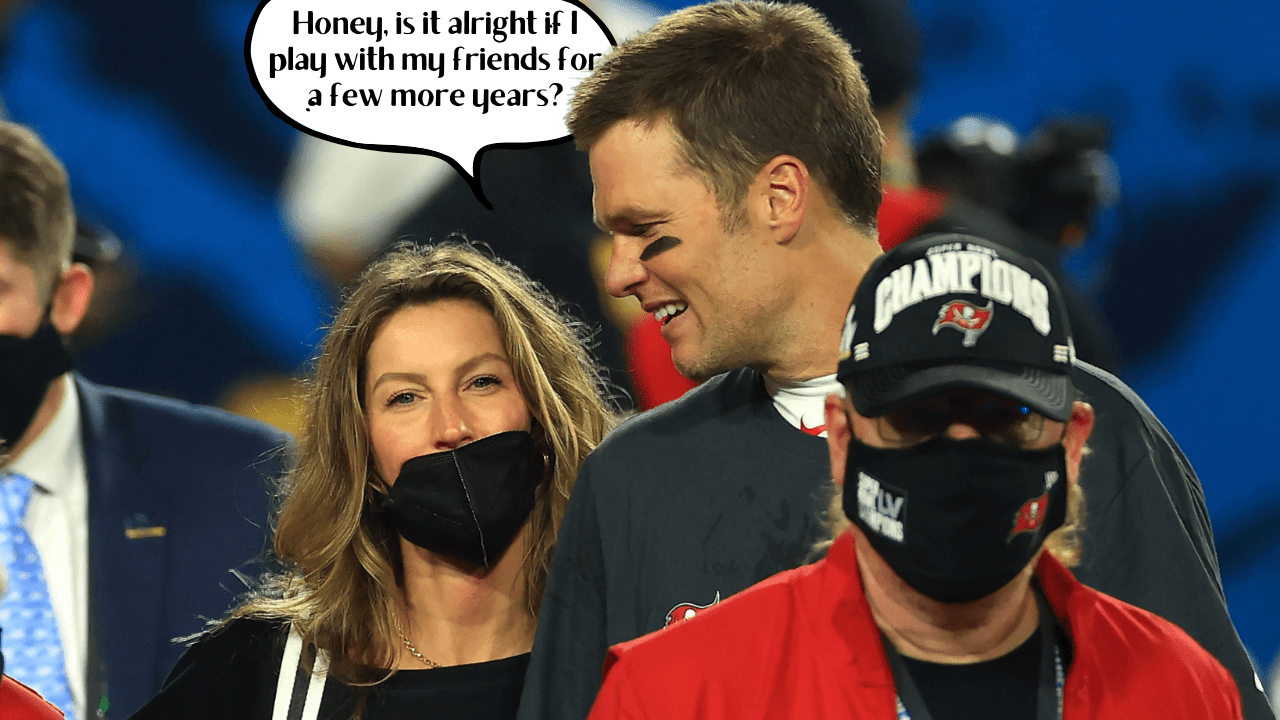 Based on his current level of play, it seems highly likely that Tom Brady could do more than play until he is 50, just six short years away. He could very well outlast the NFL. How many titles could he win if he maintains his twilight statistics with the Buccaneers? What is his current rate of deterioration?
These questions come from a recent episode of Tommy and Gronky. In it, Rob Gronkowski, Tom's long-time, recently-unretired tight end from the New England Patriot days, poses the question, "Can Tom Brady play until he's 50 years old?" The chat show clearly draws inspiration from Zack Galifianakis's Between Two Ferns. 1:39 is the timestamp if you want to jump ahead to the question. Tom's immediate response is, "I don't find it so difficult… so I feel like I can play, then glide into retirement. I think I can. It's a 'yes.'" So, all good so far for anyone who's a fan of great play. What follows next is the catch.
"Will Gisele let Tom play until 50? That's the real question," asked Gronk. "That's a way better question. That was, of course, no, that answer," Brady laughed. Quickly followed up by, "I'm just kidding. I'm sorry, baby, I love you. You would let me. You would let me doing anything as long as I'm happy." So, if he can get the deflated balls out of Gisele's purse, could Brady perform at the same level?
This is a man of considerable talent both on and off the field. Some consider Brady not just the greatest quarterback of all time but the greatest football player of all time. The intangibles are numerous. Look at his leadership ability (some of those scrubby offenses he dragged to 13-win seasons), his defense-reading ability, and his sheer consistency for 20 years, not to mention the fact that he has suffered minimal physical degradation. There is a case to be made as to where he falls on your personal top 5/10/20 list, but what's important is that the production, year over year, is still there.
Brady is not at all injury-prone. Since 2001, his first year as a starter, he has missed a total of 20 games. 15 of those came in 2008 courtesy of Kansas City Chiefs safety Bernard Pollard (if you're sadistic, here's the video). Outside of that, Father Time is the only physical obstacle; he's a big one, and he is undefeated.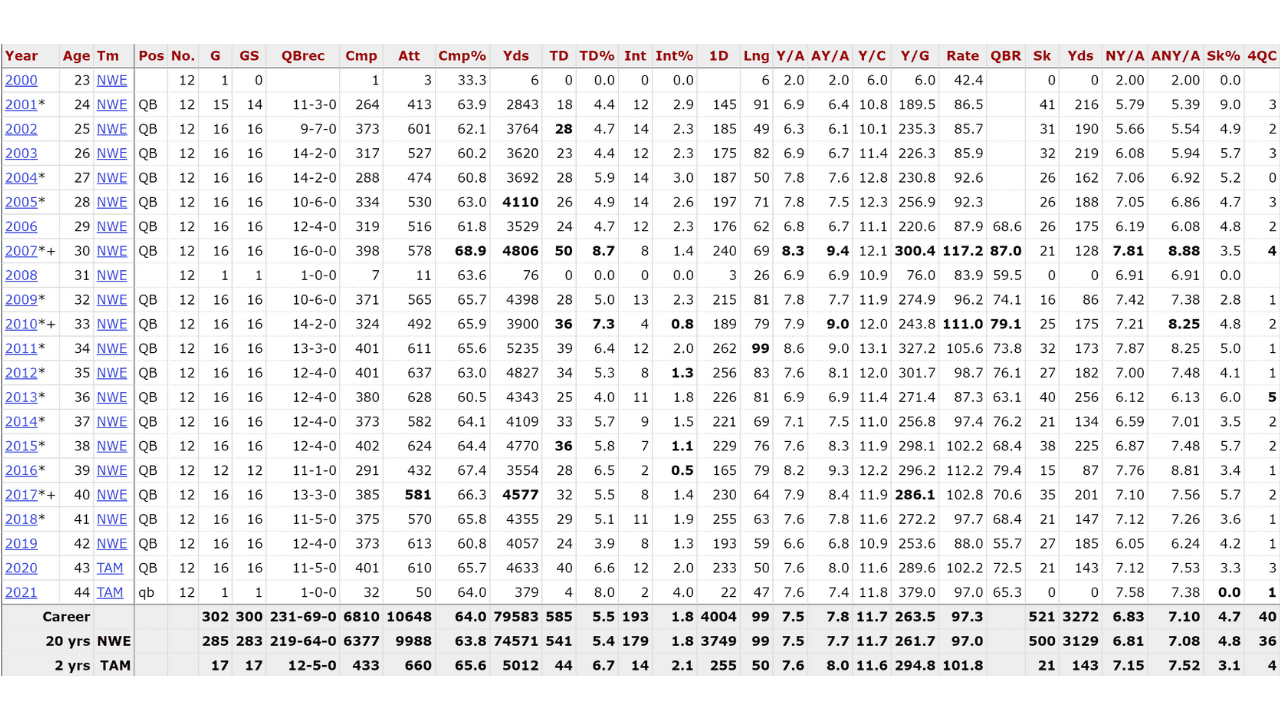 Comparing the numbers (provided by Pro Football Reference), you would see that, perhaps, Tom got better with age. Beyond a couple of dips in 2013 and 2019, the completion percentage post-imperfect season (18-1) has been right in the low-to-mid 60's. His Attempts haven't dropped off; in fact, the 2019 and 2020 seasons produced the 4th and 6th most attempts in his career. Yardage, touchdown%, and interception% have only gotten better with time as well. If you are banking on Tom developing a shaky hand and turning over the ball, that would be an aberration. Expect Brady to throw 10-14 picks a season (something he's done 11 out of 20 seasons), and as for fumbling, he got over that in the early days of his career. 2013 was the high water mark; since then mid-single digits for Terrific Tom.
Back to reality. With one game under Brady's belt for the 2021 season, how did he look in victory over a much-improved Dallas Cowboys Squad? Same old Tom. A couple of picks, four TD's, 379 yards through the air on 32/50 passing (a 64% completion percentage).
Thanks to the enormous upgrade at offensive line with the move to Tampa last season, there is no doubt that the NFL is Tom's sandbox. No one is going to throw him out until it's his time to leave. Unless his much more famous, much richer wife decides to call an early retirement.