Vanity Fair Shares Exclusive New Star Wars Photos
This morning, Vanity Fair unveiled a juicy, exclusive look at the upcoming Disney+ Star Wars shows. The spread is expansive and impressive, packed with details from the showrunners and cast and new photos from the incomparable Annie Leibovitz. Diego Luna, star of the upcoming series Andor, discusses the pressures of keeping details of the show secret even from his own kids. Of the series, he shares this: "It's the journey of a migrant. That feeling of having to move is behind this story, very profoundly and very strong. That shapes you as a person. It defines you in many ways, and what you are willing to do."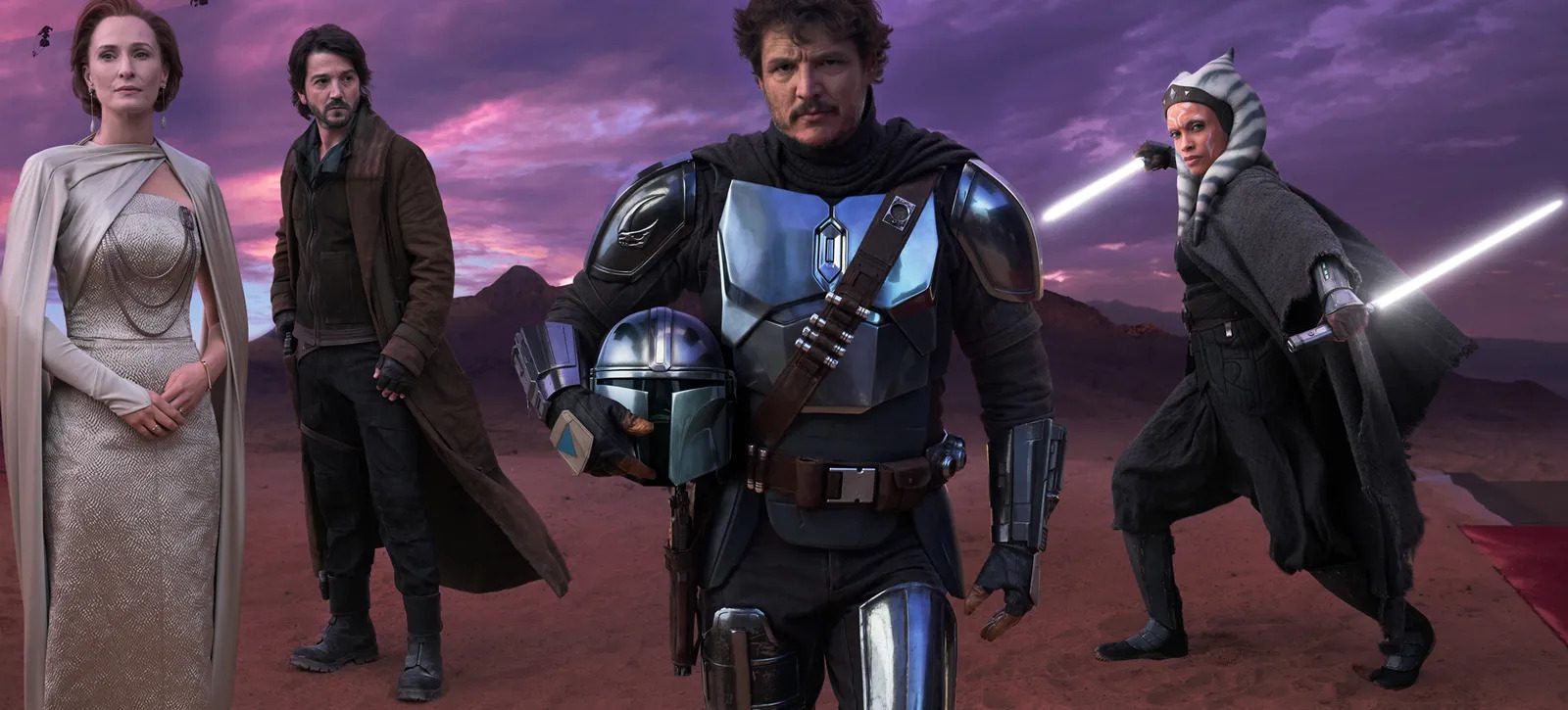 Ewan McGregor inadvertently confirms reports of Mary Elizabeth Winstead's casting for an unknown role in Ahsoka:
"My partner, Mary, is doing that Star Wars series with Rosario and she's about to start. Our little boy has been born into this massive Star Wars family. He will either embrace it or really go the other way. I don't know. Maybe he'll be a Trekkie!"
And Dave Filoni didn't neglect to mention his prized fan-favorite character:
"Ahsoka is a continuous story. It is definitely driving toward a goal, in my mind, as opposed to being little singular adventures. That's what I want the character to be doing, and I think that's what fans want now. They have such a relationship with her. I've only recently started to understand that all those kids that watched Clone Wars are now a lot older—they're very excited about all the things they grew up with, as they should be."
Kathleen Kennedy also discusses bringing Jon Favreau and Dave Filoni together and their brainstorming process for The Mandalorian. Apparently, Dave brought in his famously encyclopedic knowledge of Star Wars (no surprise there), while Jon had big ideas like Grogu and making Mando a lone gunslinger type. She also brushes off questions about Rian Johnson's elusive trilogy of Star Wars films, saying only that he's busy with his Netflix deal. 
It's telling that Boba Fett (Temeura Morrison) doesn't appear in any of the photos, and The Book of Boba Fett is only mentioned in passing in the article. The way Kennedy answers the question about Rian Johnson's trilogy is just funny to me, further cementing that it's the last thing on anyone's mind at Lucasfilm. Of course, the photos are beautiful; my favorites are the one of Favreau and Grogu, and the one with Mando and Ahsoka. I haven't made my mind up about Inquisitor Reva and won't until Kenobi comes out. Still, I'm somewhat disappointed that she'll presumably have a more prominent role than the Grand Inquisitor. Every day I wonder more and more why they're even bringing him into this. I'm the most excited for Ahsoka and Mando season 3, excited but anxious about Kenobi, and Andor is barely on my radar. I still don't know if that character is popular/charismatic enough to sustain a TV series. I recommend reading the whole Vanity Fair spread if you want lots of juicy details, and kudos to them and Annie Leibovitz for the fantastic photos. 
*Pictures courtesy of Vanity Fair*