Venom: Let There Be Carnage and No Time To Die Set Box Office Records
Venom 2 makes $90 million domestically, while Bond pulls $119 million overseas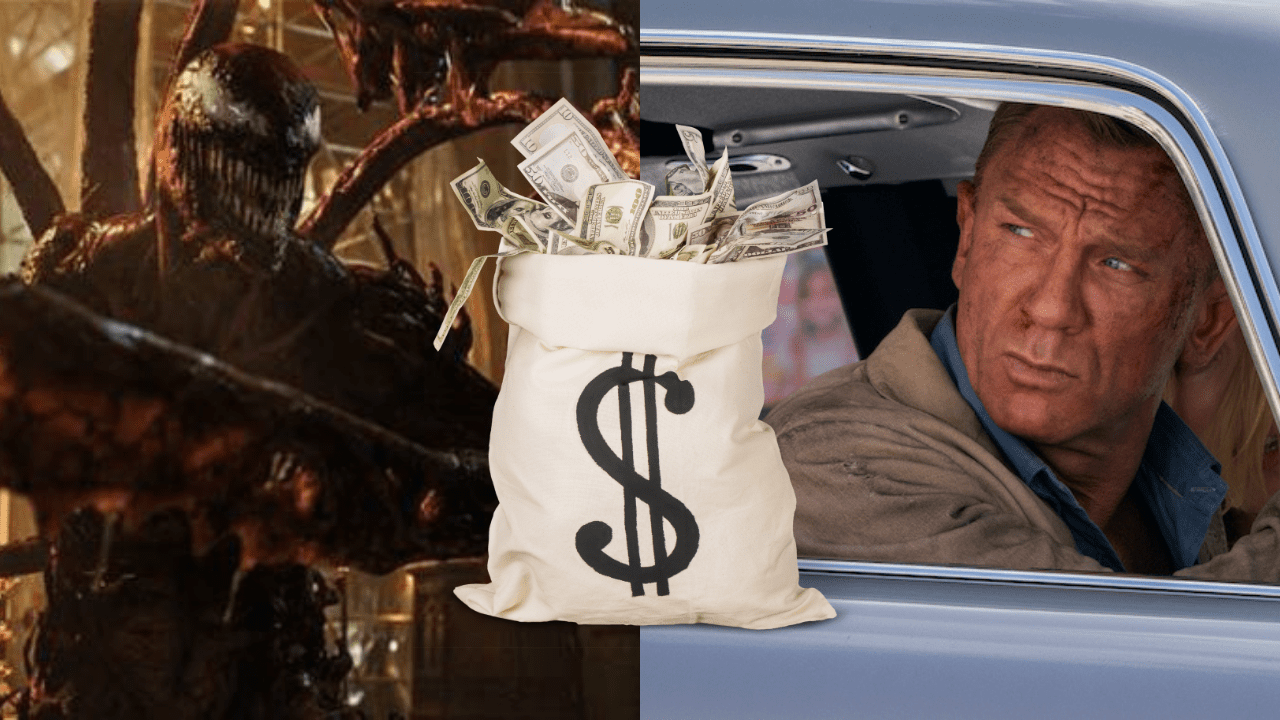 The regular season for blockbusters seemingly erupted a few months later with a huge drop of content this weekend domestically and abroad. As Hollywood tries to maintain the marketing of every release being "record-breaking" or "historic," we have just such a 3-day weekend for the new era of Hollywood.
Domestically, Venom: Let There Be Carnage (live reaction from the Geeks + Gamers crew in Boston here) raked in $90.1 million Friday-Sunday. This set the domestic (U.S./Canada) "pandemic" record, previously held by Black Widow ($80.8 million).
The Tom Hardy-led sequel raked in $37.29 million in early screenings on Thursday and Friday combined. Saturday pulled in $31.6 million, and Sunday is projected to fetch $21.2 million, Deadline reports. The original Venom, released in 2018, made $80.2 million, for reference; ergo, the sequel outpaced the first film by a 12% gross. The Sony/Marvel joint did the best opening weekend numbers since Joker in 2019 ($96.2 million), pre-lockdowns, of course. Sony has yet to detail if and when Let There Be Carnage will be available for home streaming or which platform will host it. This validates the statements of Sony Motion Picture Groups President Josh Greenstein:
"If you look at the history of theatrical, the obituaries have been written many times and they've always been wrong. We had confidence in the theatrical experience, confidence in our big valuable IP and took full advantage and had the patience to weather all of this. That strategy is paying off which we're happy about. It's a nice validation of the theatrical strategy."
Although it will not hit theaters Stateside until October 8th, the 25th James Bond film is pulling in serious cash. No Time to Die, the swansong for Daniel Craig as the titular MI6 agent, broke the coof-era overseas record. Without a Chinese release (putting into perspective the value of the communist market), it pulled down $119 million.
No Time to Die has suffered multiple delays and ties with Pierce Brosnan's Goldeneye for the largest gap (6 years) between Bond films in the franchises' 59-year cinematic history. Two previous 4-year gaps are the next-longest: the transition from Brosnan's Die Another Day in 2002 to Craig's Casino Royale in 2006, and between Quantum of Solace's 2008 release and Skyfall in 2012. Regardless, the fans turned out in 54 separate markets for the "blond Bond's" spin in an Aston Martin.
The Hollywood Reporter… reports that the U.K. and Ireland pulled in $11.4 Million on Saturday, setting an individual-day record for the 007 series as a whole and broadly as a pandemic-era release. Projections have No Time to Die pegged at a $34.8 Million in the U.K. and Ireland, good enough for 3rd best in the franchise and 6th best of all time. Opening in 772 cinemas in the U.K. alone helps, considering it's Universal's widest release in history on the island.
As for other markets and venues, No Time to Die broke IMAX records in 24 countries (Japan, Hong Kong, Germany, Switzerland, Sweden, Italy, etc.) and coof-era records in 21 countries overall.
There are a few more big films slated for theatrical release before the close of 2021; Dune (October 22nd), Eternals (November 5th), Ghostbusters: Afterlife (November 19th), Spider-Man: No Way Home (December 17th), The Matrix Resurrections (December 22nd), just to name a few. We will see if the records stand or if Hollywood is indeed back in some form and fashion.