Violent Night Trailer Promises a Bloody Great Christmas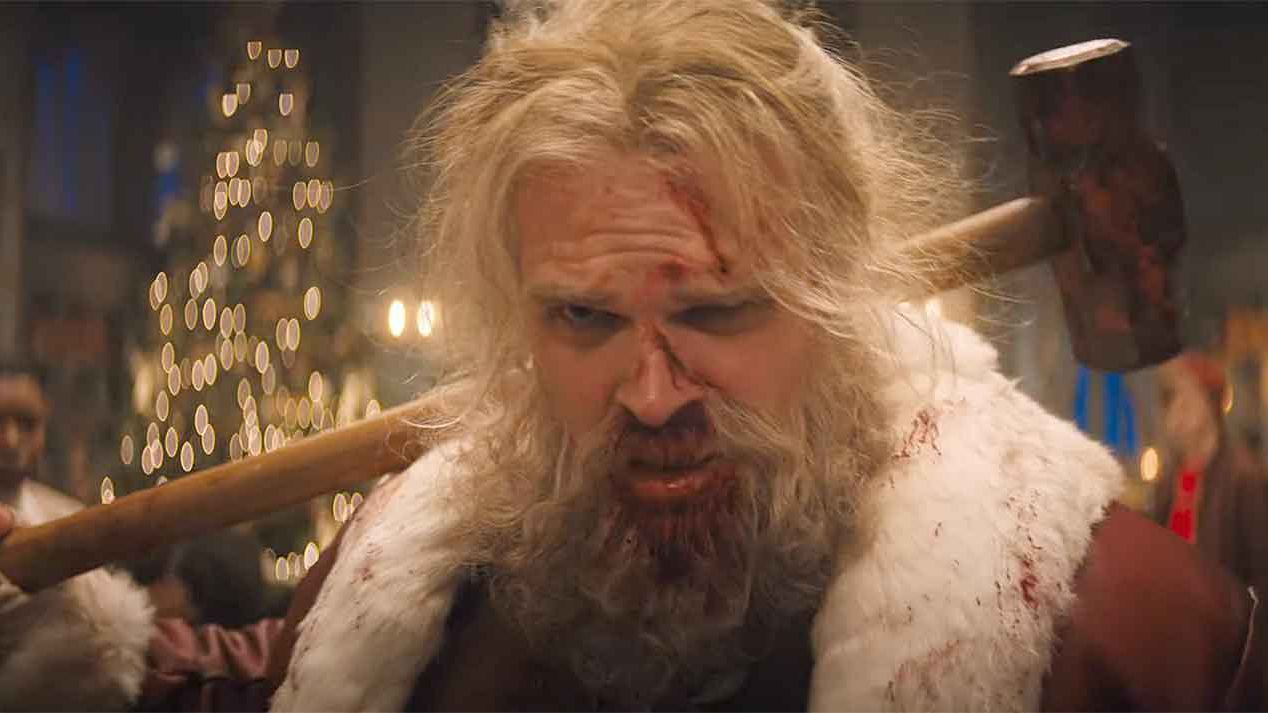 Santa Claus is coming to town, and he's killing his way through the naughty list! Universal Pictures has released a trailer for their upcoming Christmas action movie Violent Night. Directed by Tommy Wirkola (who seems to like making off-kilter Christmas movies – my man), Violent Night sees a wealthy family taken hostage on Christmas Eve – and only Santa Claus can save them. David Harbour stars as Santa Claus, with Beverly D'Angelo as who I assume is the family matriarch and John Leguizamo as the villain. Violent Night will hit theaters on December 2, 2022. Check out the Violent Night trailer below:
This movie looks great! I love Christmas movies, and it feels like a lot of the recent ones have been duds. I had high hopes for Fat Man and Last Christmas, but I found the first underwhelming (Tuggs hates me for that one, I think) and the second a disaster. Based on the trailer, Violent Night has the makings of a new addition to my massive – and still growing – Christmas movie playlist. Letting Santa Claus go into action while maintaining his mystical elements is a terrific idea, and David Harbour is an excellent choice to play an ass-kicking St. Nick. What this reminds me of most is The Night the Reindeer Died, the movie-within-a-movie from Scrooged (a flat-out Christmas classic), where terrorists take over Santa's Workshop in the North Pole, "and only Lee Majors can stop them!" If they can capture half the fun of that set-up, they're golden. I've never heard of Tommy Wirkola, and the writers – Pat Casey and Josh Miller – have done the Sonic the Hedgehog movies and a bunch of shorts and direct-to-video stuff, but what gives me comfort is that David Leitch is one of the producers. Leitch is one of the primo names in action cinema right now, having directed John Wick (with Chad Stahleski), Hobbs & Shaw, Bullet Train, and Atomic Blonde. I don't think he would put his name to something that didn't have good, well-filmed action. Not that I ever need another reason to look forward to the Christmas Season, but Violent Night gave me one anyway.
What did you think of the Violent Night trailer? Do you like Christmas action movies? Dare we – DARE WE – hope for a bloody, violent crossover with Krampus? Let us know in the comments, and stick around Geeks + Gamers for more from the darker side of Christmas!