Week 3 Recap of the 2021 NFL Season | The Importance of Quality Kickers
Here it is, the rundown of all the Week 3 match-ups (Thursday-Monday) in Week 3 of the NFL. Rookie quarterbacks are performing as well as one might expect and booming kicks to stave off embarrassing defeats.
Thursday: Carolina Panthers (3-0) vs. Houston Texans (1-2) (24-9 CAR)
Unless you had money riding on this game, you probably missed this match-up only a mother could love. Texans head coach David Culley blamed the loss on the inability of the Texans to run the ball, 42 total yards on the ground, but to be honest, the 168 that 3rd stringer Davis Mills put up on 19/28 passing wasn't anything to write home about, on the way to getting sacked 4 times by the Carolina defense. Wideout Brandin Cooks had a good one, catching 9 passes for 112 of those previously mentioned yards, but there are serious problems in Houston. (No, there will not be the obligatory "we have a" reference; leave that to the cable hacks to recycle.)
The New York Jets are looking a fool as, once again, Sam Darnold had a really solid day under center (granted, the O-Line is MILES better in Raleigh than at MetLife), going for 304 in the air and scampering in for 2 scores by himself. A bigger story in rushing was the performance of Christian McCaffery after his girlfriend got all the headlines earlier in the week, getting knocked out of the game early in the second quarter. One of the best names in Football, Chubba Hubbard, picked up the rushing slack for the rest of the game. But if the Panthers have a hope of tracking down a wild card berth in the NFC, they are going to need the best running back in the game healthy.
Sunday: Arizona Cardinals (3-0) vs Jacksonville Jaguars (0-3) (31-19 ARI)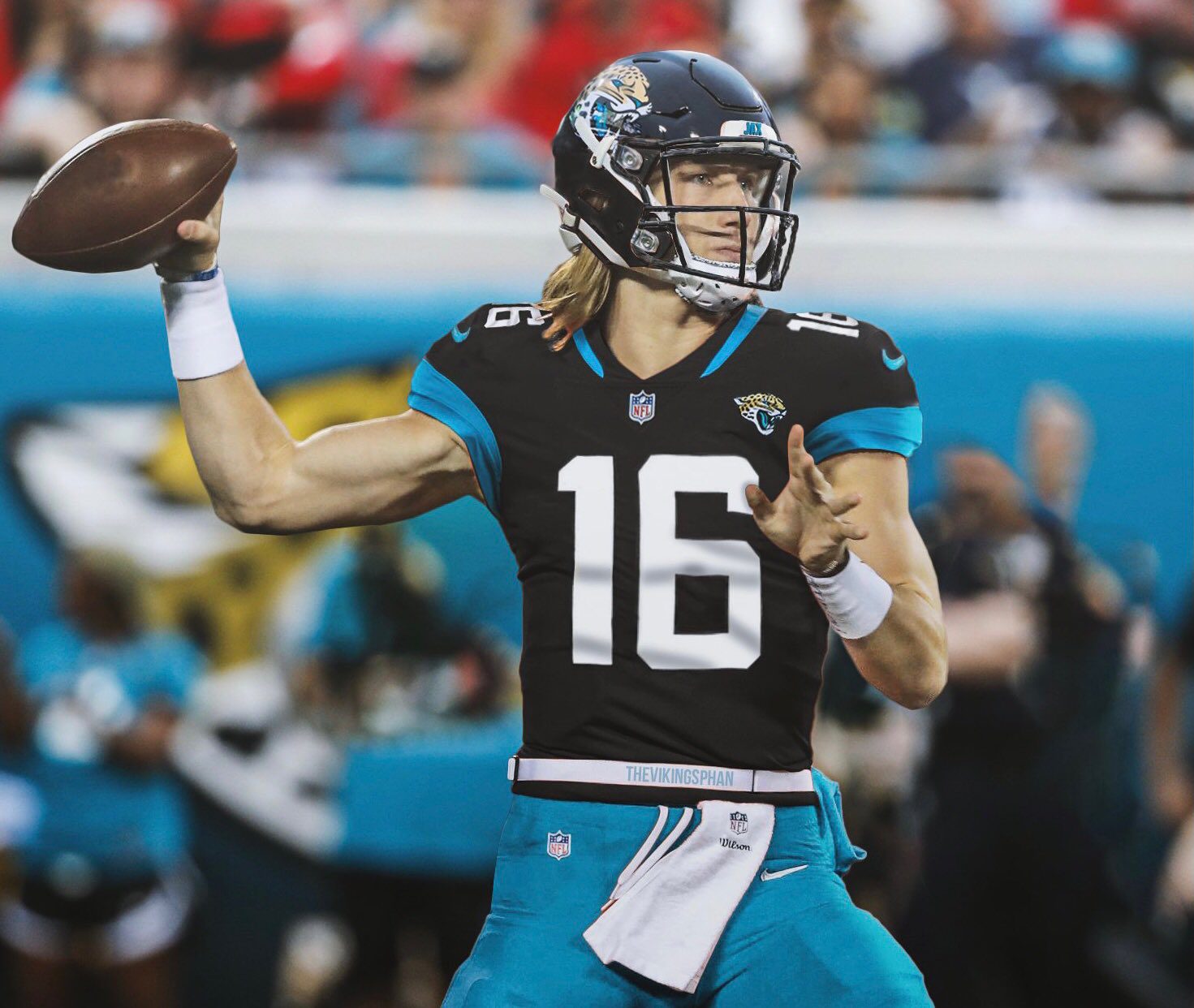 Someday soon, Trevor Lawrence is going to pick up his first victory, or have a game where he doesn't throw a really terrible interception; unfortunately, today was not that day.
Leading into the half, Lawrence heaved a back footer that was snatched up by Byron Murphy, and he ran it back 29 yards to put the game out of reach for good in the 3rd quarter. It wasn't all bad for the first overall pick, throwing 22/34 ball for 219 with a score and an additional pick. Through 3 weeks, though, Lawrence has tossed 7 INT's (some excusable, some baffling); this is quickly becoming Ryan Leaf territory. Good thing Lawrence is a much, MUCH better person than the man who called Crossroads Correctional Facility in Shelby, Montana home for 7 months.
Kyler Murray putting up massive yardage totals under Kliff Kingsbury's system, throwing another 316 (what) with one pick and letting James Conner and the defense do all the scoring. Murray did punch one in on the ground to open up scoring on the day but didn't get one through the air. Next week in Los Angeles against the Rams is going to be a big test to see if the Cards are to be taken seriously or not.
Sunday: Atlanta Falcons (1-2) vs. New York Giants (0-3) (17-14 ATL)
In true G-Men fashion, they lost a squeaker on an important day, celebrating a franchise legend. Eli Manning's retirement ceremony, having his No. 10 jersey retired to the Ring of Honor at MetLife Stadium, was spoiled by a Younghoe Koo 40-yard field goal on the final play of the game to push the Falcons to the 17-14 victory (winning outright, yet not even close to going over the 48-point total).
Matt Ryan played like he wants a competent O-Line or to be traded like Stafford out of a tough situation, tossed up 2 scores and 243 yards, with Cordarrelle Patterson being the prime beneficiary (82 passing yards to go along with 20 on the ground).
Saquon Barkley, one of the only reasons to be cheering for Big Blue right now, picked up 93 total yards and one of the TDs, just before halftime.
Sunday: Baltimore Ravens (2-1) vs. Detroit Lions (0-3) (19-17 BAL)
Justin Tucker is an absolute legend, nailing a final play, record-setting, 66-yard field goal to push the Ravens past the lowly Lions, who looked incredibly game on their home turf.
Lamar Jackson hooked up with Sammy Watkins on a 36-yard pass on a fourth-and-19 to set up the record-breaking score.  Tucker, who last beat the Lions on a last-second 61-yard strike in 2014, decided to one-up himself by 5 more yards. What an all-time great.
Jackson put up good yardage numbers (throwing for 287 and rushing for 58, including snapping off a 31-yarder), but on barely over 50% passing, you have to wonder how much longer this college offense can be effective.
Sunday: Chicago Bears (1-2) vs. Cleveland Browns (2-1) (26-6 CLE)
Be careful what you wish for, Bears fans. Justin Fields, in his first career start, got welcomed to the show by resident helmet aficionado Myles Garret and his franchise-record 4.5 sacks. The rest of the Browns got in on 4.5 more for a total of 9 sacks, resulting in Fields throwing for 68 yards, completing 6 of his 20 passes. To top things off, Fields will most likely miss out on Week 4 after picking up a Hand Injury in the loss.
It's not as if Baker Mayfield had an easier afternoon at home. He was also sacked 5 times but did do enough to get the Browns a W in the toughest division in football.
Sunday: Cincinnati Bengals (2-1) vs. Pittsburgh Steelers (1-2) (24-10 CIN)
Don't look now, but the Bengals are in first place in the AFC North. Granted, the Steelers were missing their best player, T.J. Watt, so Burrows throwing for 3 TDs will come with an asterisk, but you play the cards that are dealt. Completing 14-18 for 178, Joe Burrows put together one of his more efficient performances of his young career, connecting with rookie wideout Ja'Marr Chase for two of the three scores. Joe Mixon ran for 90 to complete the incredibly offensive Bengals' day.
The clock appears to have struck midnight on Big Ben. Playing behind one of the worst offensive lines of his career, the 39-year-old was sacked 4 times, threw 2 picks, and had to throw an insane 58 passes just to be competitive. The Steel Curtain is looking very rusty.
Sunday: Indianapolis Colts (0-3) vs. Tennessee Titans (2-1) (25-16 TEN)
Derrick Henry didn't need to don the cape this week for the last-second heroics. He still had a big day with 113 rushing yards, but Ryan Tannehill did a lot of the heavy lifting. Rushing for 56 of his own and throwing 3 TDs to 3 different targets was impressive enough for the former Dolphin castoff.
Carson Wentz looks lifeless for the Colts so far in his tenure. Getting sacked 2 and hobbling around in the pocket working short passes like a broke-ass Peyton. Perhaps the two would be better suited switching up careers; I'm sure Wentz is a nice guy, and Manning could still sling it in there as well as Carson is playing.
Sunday: Los Angeles Chargers (2-1) vs. Kansas City Chiefs (1-2) (30-24 LAC)
You know, this Chiefs squad could really do something great if they could just hold onto the ball. Two lost fumbles and two interceptions from Patrick Mahomes paved the way for Justin "Fantasy Stat Stuffer" Herbert to hook up with Mike Williams with 32 seconds remaining to push the Chargers to an unexpected victory.
Herbert had 281 yards passing and 4 TDs, making Mahomes look human when comparing them side to side (260/3 TD/2 INT). Clyde Edwards-Helaire had a day on the turf, breaking off a cool 100 rushing yards on 17 carries, but it wasn't enough to keep the Chiefs out of the AFC West Cellar.
Sunday: Washington Football Team (1-2) vs. Buffalo Bills (2-1) (43-21 BUF)
In all fairness, Taylor Heinicke didn't do a terrible job trying to keep Washington in it (212/2/2), but it was simply the Josh Allen show. Hope you had the popcorn ready.
Hopefully, Allen kept a list of his early-season critics, so he knows who to send this week's game tape to; what a clinic. 32/43 passing for 358 yards, 4 TDs that almost trounced the entirety of his first two weeks production alone. The Bills, barring anything catastrophic, are going to reign atop the AFC East Division for a long time.
Sunday: New Orleans Saints (2-1) vs. New England Patriots (1-2) (28-13 NO)
Not exactly the way you want to enter next week's most anticipated regular-season matchup in a very long time, Bill. And yet another bad day for a team honoring a franchise great, as at halftime, the Patriots honored 3-time Superbowl champ, Julian Edelman.
Mac Jones threw up 3 picks, 2 of which resulted in Saints scoring. P.J. Williams took the first pick of the day back the other way, some 46 yards, to set up an easy 7-yard strike from Jameis Winston, who shook off last week's dismal performance, one of the worst of his career.
Malcolm Jenkins took the second INT to the house 34-Yards to put the Saints in a comfortable 21-3 lead they would not relinquish.
Sunday: Miami Dolphins (1-2) vs. Las Vegas Raiders (3-0) (31-28 OT LV)
I guess that vaccine passport system at Reliant Stadium is really paying off. It came down to the Dolphins needing 2 scores in the final minutes of the 4th to force overtime or win. Then, all it took was dueling field goals in overtime to produce one of the most exciting games so far this season.
Scoring started early, with Elandon Roberts returning a Derek Carr pass 15 yards to set the tone. The Raiders took the lead back in the 4th after trailing/tying with the Dolphins previously, even with the Fish rocking their 3rd string quarterback (who had a hell of a game himself). Carr had 386 yards and 2 TDs to go with the previously mentioned pick 6, and Peyton Barber snapped off 111 yards on the ground with a score of his own.
Both kickers had a 50-yarder to their name in this one. Daniel Carlson in the 2nd quarter and a touch more pressure on Jason Sanders to extend the overtime frame to go along with his 46-yard make to get the Dolphins in a position to send the game to overtime.
The Dolphins QB, Jacoby Brisset, rushed in the tying score with 2 seconds remaining, forcing overtime to go along with a decent day through the air. Great game.
Geeks + Gamers' own Lyndon covered the overtime thriller here on the site in much more detail.
Sunday: New York Jets (0-3) vs. Denver Broncos (3-0) (26-0 DEN)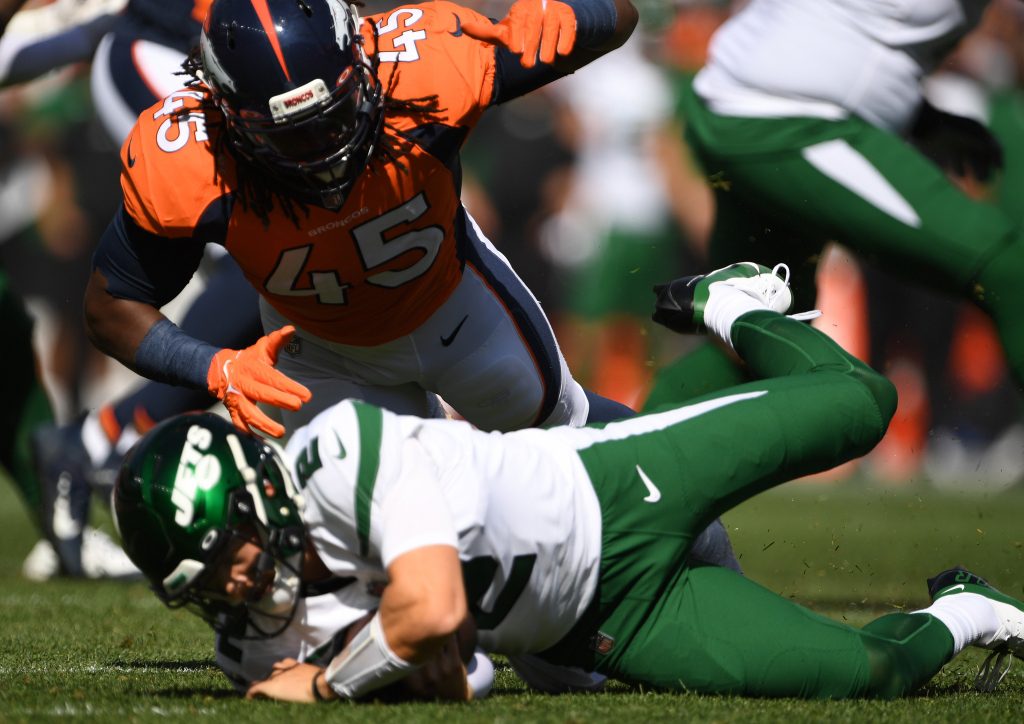 Anyone have Joe Namath's number?
Zack Wilson has absolutely no hope of showing off that cannon of an arm behind that offensive line that couldn't protect an old woman crossing the street, let alone staving off one of the most vicious Front 7 in the NFL. Wilson was sacked 5 times, threw up 2 picks, and barely survived the friendly confines of Mile High. What else can you say about the least talented rosters in the NFL? The Jets are gonna Jet.
Sunday: Seattle Seahawks (1-2) vs. Minnesota Vikings (1-2) (30-17 MIN)
Not about to get their hearts broken again, the Purple People Eaters came out to play. Kirk Cousins threw an efficient 30/38 for 323 with 3 TDs, Alexander Mattison busted through the Seahawk defense for 112 on the ground, and Justin Jefferson had a big 118 of Cousins' yards to go along with one of the TDs for the Vikings.
Tied up at the half thanks to Russell Wilson, D.J. Metcalf, and Chris Carson shouldering the load, the Seahawks didn't score a single point after Carson's 30-yard run at the 11:12 mark of the second quarter.
Sunday: Tampa Bay Buccaneers (2-1) vs Los Angeles Rams (3-0) (34-24 LAR)
What a difference an upgrade at quarterback makes. The Los Angeles Rams never trailed in the game, and Matt Stafford threw for 4 TDs with DeSean Jackson (you remember him?) being on the right side some 3 times for 120 of those Stafford yards, with a score of his own on a 75-yard bomb at 14:02 in the third quarter to seal the game away.
Tom Brady wasn't the reason the Buccaneers lost the game today; he was both the leading passer (432 yards) and the leading rusher (14 hard-fought yards, with a TD trot of his own). TB12 was sacked 3 times, and no one outside of Mike Evans wanted to show up for the offense. Everyone has their eyes set on next week's match-up in Foxboro and summarily overlooked the team they may end up facing in the NFC Championship game when this is all said and done.
Check out Lyndon's much more detailed breakdown here on the site!
Sunday: Green Bay Packers (2-1) vs. San Francisco 49ers (2-1) (30-28 GB)
Aaron Rodgers had an efficient day under center, going 23/33 for 261 with a pair of scores, but when the game was on the line with only 2 seconds on the clock, it came down to the right foot of Mason Crosby to nail a 51-yarder to seal the win on a back-and-forth affair; one hell of a way to cap off a crazy day in the NFL.
Aaron Jones had a good day on the turf for the Packers; racking up 82 yards on 19 carries and delivering the second touchdown of the day for the Cheeseheads, putting them up 17-0 before the Niners' offense stormed back to eventually take the lead with 37 seconds remaining in the 4th.
Jimmy Garoppolo had a decent day for the 49ers faithful. 2 TDs of his own with 257 yards, 92 of which went to the security blanket come to life in tight end George Kittle.
Next week, the Packers face the beleaguered Steelers, and San Francisco welcomes Seattle for a big NFC West Matchup.
Monday: Philadelphia Eagles (1-2) vs. Dallas Cowboys (2-1) (41-21 DAL)
Dak Prescott returned to AT&T Stadium for the first time since his horrific ankle injury that cost him the bulk of his 2020 season and beat the breaks off the Philadelphia Eagles, who looked nowhere near game for this outing.
Ezekiel Elliott ran for 95 yards, a season high, and scored the first touchdown of the game (tacking on a second in the second quarter).
Besides a strip fumble in the end zone by Fletcher Cox, not but 2 plays after Jalen Hurts' first of two interceptions of the night, Dak had a very good game in his return – an incredibly efficient 21/26 through the air for 238 yards with 3 scoring tosses.
Hurts managed to muster enough offense for the Eagles on 25/39, passing with 326 passing yards (adding another 35 on the ground with 9 carries) and 2 TDs with the 2 costly picks, the second of which was picked off by Trevon Diggs and returned to the house some 59 yards. So technically, Hurts had 3 scores and almost a 400-yard game if you think about it…
Incredible week of final play field goals and rookies getting led like lambs to slaughter by much more experienced opponents. Next week will be host to some excellent match-ups; hopefully, they live up to the hype!